Blame It On The Pig
I first met Kevin Jarre at a gathering of Alamo buffs at Joe Musso's apartment. Dan Gagliasso told Kevin of the gathering. So, Kevin popped into Joe's but only stayed for a very brief time.  Dan told me that Kevin might attend. Knowing that Kevin was an aficionado of the Old West, I gave him a copy of the "Pig Picture," telling him that I believed one particular man in the photo was Wyatt Earp.
At that time Kevin was set to direct his first film, which was to be Dracula. However, when word got out that Francis Ford Coppola was set to direct a Dracula film, Kevin's project was abruptly cancelled. Jarre was crestfallen and desperate to develop a new project. Then Kevin's eyes fell upon the "Pig Picture" on his desk, and he immediately decided to make a movie about Earp. Upon hearing Kevin's desire to do a film about Earp, Peter Sherayko, who was a good friend of Kevin's, gave Kevin my phone number and advised him to contact me.
In those days, director John Milius liked to hold a kind of open house on Fridays at his office. So I asked Kevin to meet me at John's office that upcoming Friday. Jarre and I talked about Earp for about 45 minutes. The very next day, Kevin phoned again and asked me to be the historical consultant for his Earp script. So, my advice to you is to present the "Pig Picture" in True West as the photo that inspired Tombstone. You would be telling readers something that hasn't been previously disclosed.
—Jeff Morey (Cordova, Tennessee)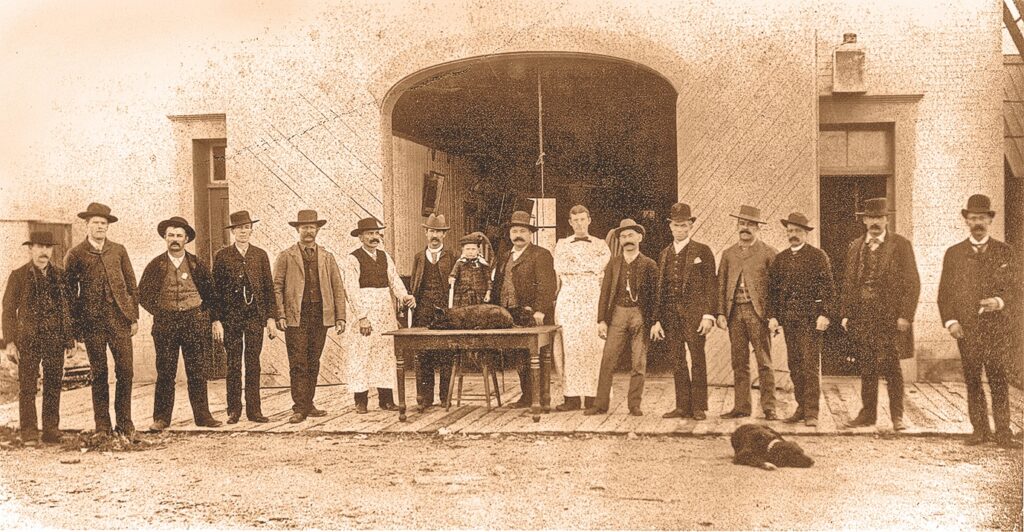 Defining the West
I felt a rant coming on when I read the "Last Call!" article in the May 2023 issue. It wasn't so much the fact that you failed to mention the Santa Fe Saloon in Goldfield, Nevada, as it was your sense of geography that set my blood roiling and my eyes rolling! Nevada and Idaho on the Pacific Coast!?  Nevada is in the heart of the Great Basin, and Idaho is even farther from
the ocean than the Silver State. Oklahoma in the Desert Southwest!? Last I checked it was still located in the middle of the country. But other than that, great magazine.
—Marcus Prazniak (Tonopah, Nevada)
Yes, there are great debates on geographic zones of the West. Those are the divisions we use in the True West Ultimate Historic Travel Guide. And of course, we'd love to tip one back at Goldfield's Santa Fe Saloon!
—SR
Hold the Presses
On page 34 of the June 2023 issue of True West, Chuck Parsons and Thomas Bicknell's "Into the Den of Infamy: The Last Hours of the Notorious King Fisher," states that "Ada Gray was the first woman to star in the extremely popular play East Lynn (sic) in the United States." The play titled East Lynne was an adaptation of a book that was published in 1861. According to Thomas Allston Brown's History of the New York Stage, Miss Lucille Western performed in East Lynne from March 23 to April 15, 1863, in New York. She had purchased the rights to the play from Clifton Taylor for 100 dollars. On May 16, 1863, Lucille Western performed East Lynne in San Francisco, according to the Daily Alta California. Brown's history has Ada Gray performing the play in 1878 and later.
Using the Library of Congress' website for national newspapers, I find the first date of Ada Gray in East Lynne as 1873. An obituary for Ada Gray appeared in the Guthrie Oklahoma Leader on July 10, 1902. It states that Ada Gray died at 52 years old, giving a birth date for her of about 1850. The obituary says she began acting at 16 years old, thus roughly 1866. Therefore, she was a bit too young to have preceded Lucille Western in the play in 1863, and the obituary does not state that she was the first to perform in the play.
—Carolyn Grattan Eichin, Author of From San Francisco Eastward: Victorian Theater in the American West (Campbell, California)
Thank you. The next time we write about an actor and theater in the Victorian West, we will definitely consult you first!
—SR