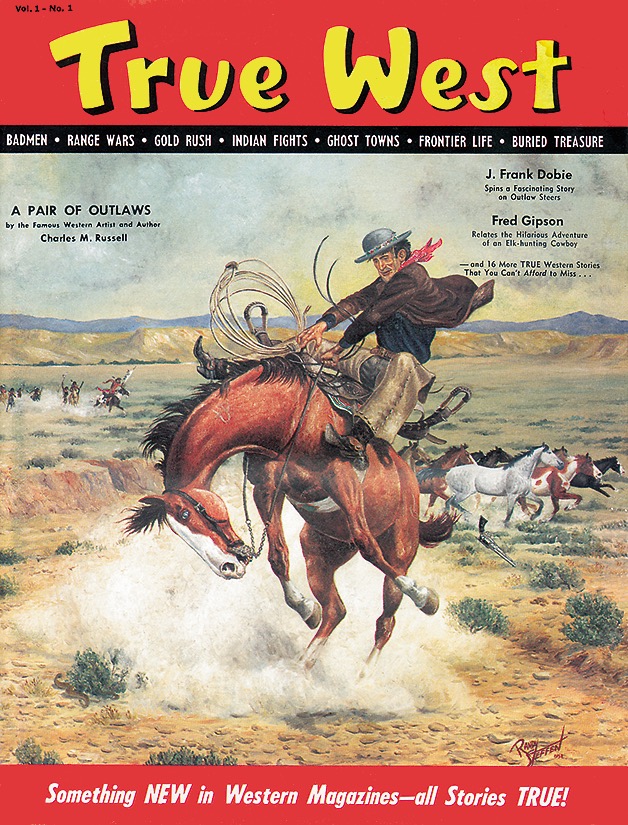 TRUE WEST AT 70
The very first issue of True West magazine appeared during April 1953 when this writer was eight years old (I would turn nine three months later). Whatever I knew about the Wild West at that stage of my life was provided courtesy of Roy Rogers and Gene Autry's TV shows.
My very first published article (on any subject) appeared in the February 1976 issue of True West. At the time it was published this writer was 31 years old (I would turn 32 five months later). That True West article was called "The President and the Gunfighter" and reproduced the 19 surviving letters between Theodore Roosevelt and Bat Masterson.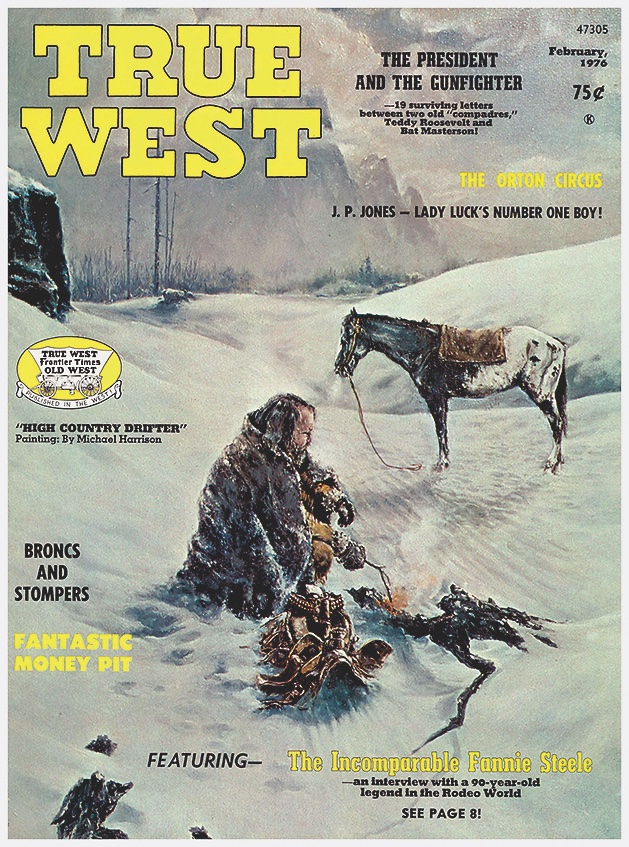 I had the very good fortune to have my article given the top spot on the cover of the magazine, just to the right of the True West logo. The cover price on that February 1976 issue of TW was 75 cents. When you compare that to the $6.99 price on the most recent issue of TW your reaction might be "Wow, the price of TW has really gone up!" That really isn't true once you factor in decades of inflation. The fact is that today's TW is as much of a bargain in 2023 dollars as the 70-year-old version was in 1953.
Added to this is the fact that the interior pages of the 1953 version of TW were on newsprint, similar to what newspapers still use. Compare that to the most recent 2023 version of TW, in which every page of the magazine is printed on high-quality, glossy stock, with numerous color illustrations contained in every issue.
I remember thinking after my very first article appeared in the February 1976 issue of TW that its success was a "one-shot" deal. After all, I wasn't a professional writer or historian. What was I supposed to follow that article with? Yet somehow, over the years, I kept getting ideas for numerous other articles along with several books—and I owe that result to that initial article published by TW back in February 1976.
On this 70th anniversary of True West, I want to offer my sincere congratulations to Bob Boze Bell, Ken Amorosano, Stuart Rosebrook, Beth Deveny and Mark Boardman for playing their part in True West reaching this milestone. There are numerous other people who deserve to be thanked as well, and their names appear at the beginning of the copy of True West that you're holding to the left of Table of Contents. Each and every one of those people deserve our thanks for making True West the invaluable publication that it is. Thank you, one and all.
—Jack DeMattos (North Attleboro, Massachusetts)
Blowback on Billy Book
"I'm reading the Billy issue of TW featuring the new book by Mills and your latest "Classic Gunfight" version of the night of Billy's death, which are very different. In fact, I went back to my earliest Illustrated Billy, and it differs from The Final Word version too. Most of all, in your "Classic Gunfight" counterpunch to Mills's version, you boldly claim. "In my opinion the Kid was unarmed." (What?)
But in The Final Word and "Classic Gunfight," you tell how he "slipped into her bedroom and when he heard a noise he dropped to the floor…and like a cat slipped across the hall into Pete's bedroom to investigate." Do you really believe that Billy the Kid would sneak into Pete's room to investigate the strangers outside the house without taking a gun or knife with him? I just can't see the logic in your claim of "unarmed." You owe your readers an explanation of your thinking. 
—Allen Fossenkemper (Fountain Hills, Arizona)
Short answer: I did the accepted-official version of the Kid's death in my first AND second book on Billy the Kid, but on the third and final version, I had to tell the unpleasant truth, that the Kid was shot down like a dog, unarmed. His worst fear had come true. —BBB
Way Out West in Iowa
I am writing concerning the True West Ultimate Historic Travel Guide. I grew up in Iowa, but never realized the true and interesting history of Iowa until I read the travel guide. It was thrilling to read that Buffalo Bill Cody was born in Iowa, as were John Wayne, Wyatt Earp and many other notable Western personalities. When I go back to Iowa, I will be sure and visit these sites. Thank you again for your beautiful book. I especially enjoy; the photos. It is a book you can look at over and over and enjoy; each time you will find a new adventure.
—Sherrie Walton, (Cave Creek, Arizona)
Thanks, Sherrie! I lived in Iowa City, Iowa, for nine years and loved living so close to the Mississippi River and so much Western history in the Hawkeye State.—SR