Our readers remind us of the variables and vagaries of historic truths, "well-established" facts, headlines and historical photographs.
Thanks for the Love
I want to thank you (and the True West crew) for allowing me to be part of True West's "Best of the West 2023!"
To be in print with Geronimo, Custer, the Kid and rustlers is too much for the young dreamer (the Tom Sawyer) in me. The original artwork is fabulous. Pages and pages of yesteryear and the infamous. The Old West comes alive, and I can hear my grandpa's voice from the past—what a treat for this ole man.
—Raymond V. Carter Jr.
Bandera, Texas
I sincerely appreciate what you and your staff do with the magazine. The truth, as I see it, is your heart, soul and art have made True West into a version of yourself and your childhood dreams. Thanks for letting us dream with you.
—Brad Ireland 
Minneapolis, Minnesota
Bring it on, baby. I just received the Feb/Mar issue in the mail. And once again it blew my boot socks off. How is it possible that EVERY new issue is better than the last?!?!?!
—Jon Rogers
Tucson, Arizona
Thank you! Your gratitude inspires us every day! —SR
Wyatt Earp—Fightin' Illini!
On page 15 of your January 2023 issue, Sherrie Walton claims in her letter that John Wayne, Buffalo Bill Cody and Wyatt Earp were born in Iowa.
Pardon me! Wyatt Earp was born in Monmouth, Illinois, which is across the Mississippi River about 30 miles due east of Iowa. His birthplace is still a small historical attraction in Monmouth.
—Charles Thompson
La Plata, Missouri
You are correct, sir! Thank you for reminding us that Wyatt Earp was born and raised in Monmouth, Illinois, before his parents moved the family to Pella, Iowa, in 1849-50. Of course, the senior Earps weren't finished living in the Prairie State: the family moved to Turtle, Illinois, in 1856. Three years later the Earps returned to Pella, where they stayed until May 1864, when Nicholas Earp loaded up the family and joined a wagon train to San Bernardino, California. Wyatt himself lived with his younger brother Morgan in Peoria from 1871-72, where they made a living running a sporting house. 
We highly recommend if you are traveling through Illinois to take a detour to Monmouth and visit the Wyatt Earp Birthplace Museum. Learn more at VisitForgottonia.com. —SR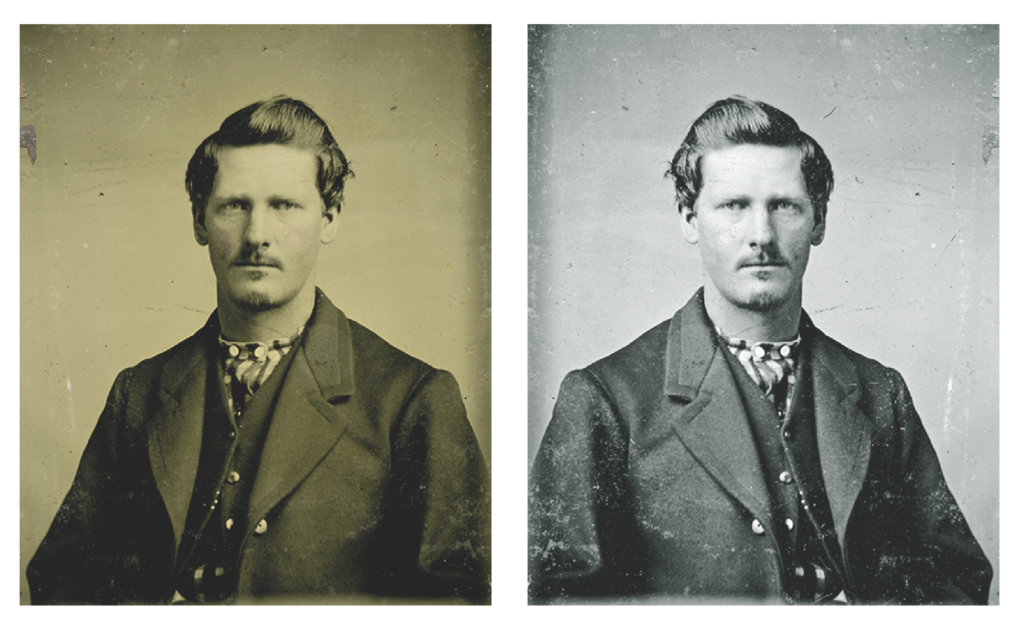 Another Mirror Image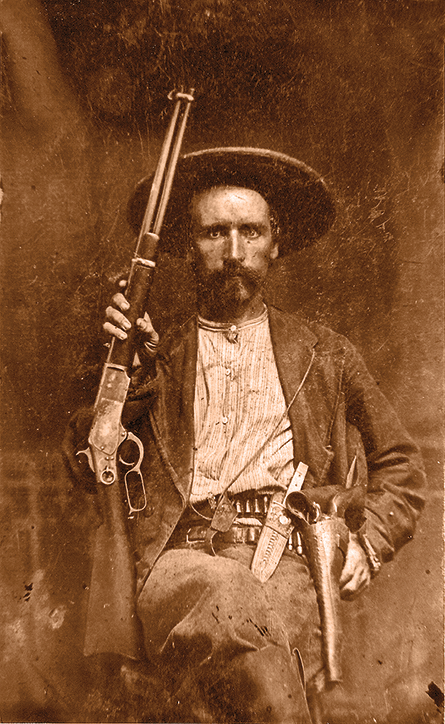 In your January 2023 article "Power of Pictures," there is a photo titled "Loaded for Bear" of James B. "Jim" Hawkins. It would appear that Jim is holding a Winchester 1873 Saddle Ring Carbine. But there appears to be something wrong with this photo or this rifle is very unique. All Saddle Ring Carbines came with a ring on the left-hand side of the rifle, while this one is on the right-hand side. Also, the picture is showing the right-hand side of the Winchester and the loading port is not there. All 1873 Winchester lever-actions have a loading port on the right-hand side. The rifle does not look like a photographer's prop, but it does not appear correct in the photo. Can you clear this up for me?
—Mark J. Bates
Mono, Canada
Great question. The photograph of Texas Ranger James B. "Jim" Hawkins, seen on page 34 of our January 2023 issue is a tintype image. These early photos enjoyed their widest use during the 1860s and 1870s, although the medium persisted with lesser use up into the early 20th century. Tintypes usually produce a mirror image, such as Ranger Hawkins' photograph, reversed left to right from reality. Sometimes the camera was fitted with a mirror or right angle prism so that the result would be right reading. In Hawkins' photo, that was not done, thus the Winchester, as well as everything else in this view is reversed, as if one is looking into a mirror. Hawkins is actually holding his carbine in his left hand, but the reversed image makes it look like his Winchester has its component parts reversed.
—Firearms Editor Phil Spangenberger