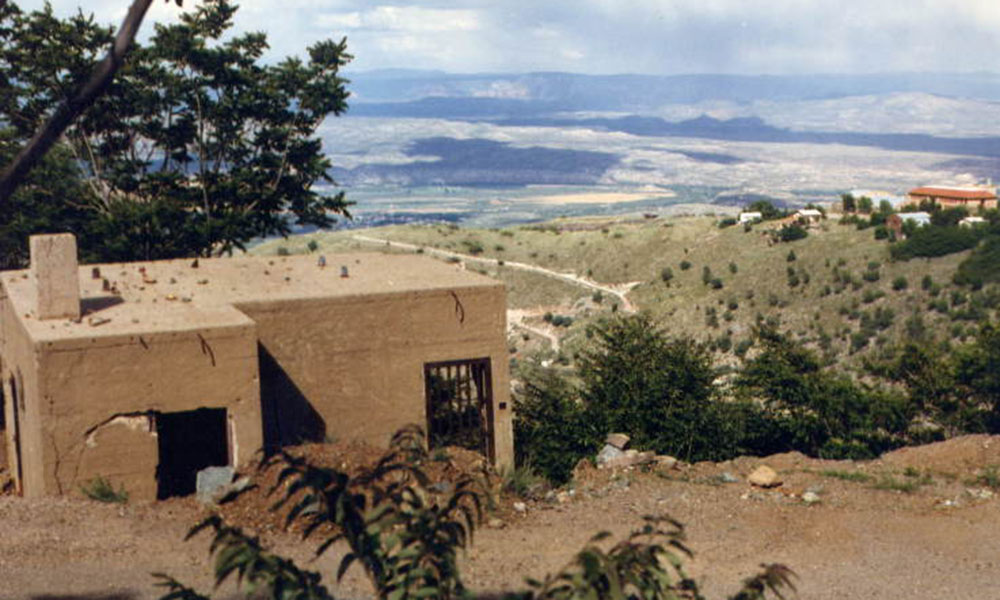 I have many fond memories of Jerome as my home town, Ash Fork was, as the crow flies, just over the hill. I played high school sports against Jerome in the early 1950s when the baseball field sat on a peninsula north of the high school. The left field fence was only about 200 feet down the line. It wasn't all that hard to hit a ball over that fence and with a little luck it might roll all the way to Clarkdale, four miles away. Jerome had gone into decline and the mines finally shut down in 1953.
In its heyday cone-shaped Cleopatra Hill was a veritable mountain of gold, silver and copper making it one of the richest in the West. Its heyday came during World War I. There were periodical slack times when the price of copper dropped. When that happened the local merchants, caught in the squeeze would band together and demand the girls, gambling and booze be banned to make "Jerome a decent place to live." In reality, times were tough and they were protecting their own interests at the expense of those who toiled in unsaintly activities. During one such period it was deemed against the law to even be a spectator at a game of cards.
With the advent of amazing new electrical gadgets that used copper the good times seemed to be coming again but the stock market crash of 1929 brought all that prosperity to a screeching halt. Jerome never really recovered from the devastation.
A few years earlier the United Verde Extension had discovered a rich body of ore directly beneath the town. Hundreds of thousands of tons of explosives were used to wrest the ore from Cleopatra's clutches. Meanwhile, above the ground years of throat-choking smelter smoke had destroyed most of the trees and chaparral on the slopes. With nothing to hold the soil in place Jerome began to slide down the mountain. Buildings crumbled, streets and walls cracked. The old concrete town jail also slid, winding up on the opposite side of the road.
But despite the hard times Jerome's citizens never lost their spirit or their sense of humor. Mayor Harry Mader gave the town a new motto when he proclaimed Jerome, "A City on the Move."
Yep, it certainly was but it was all downhill.