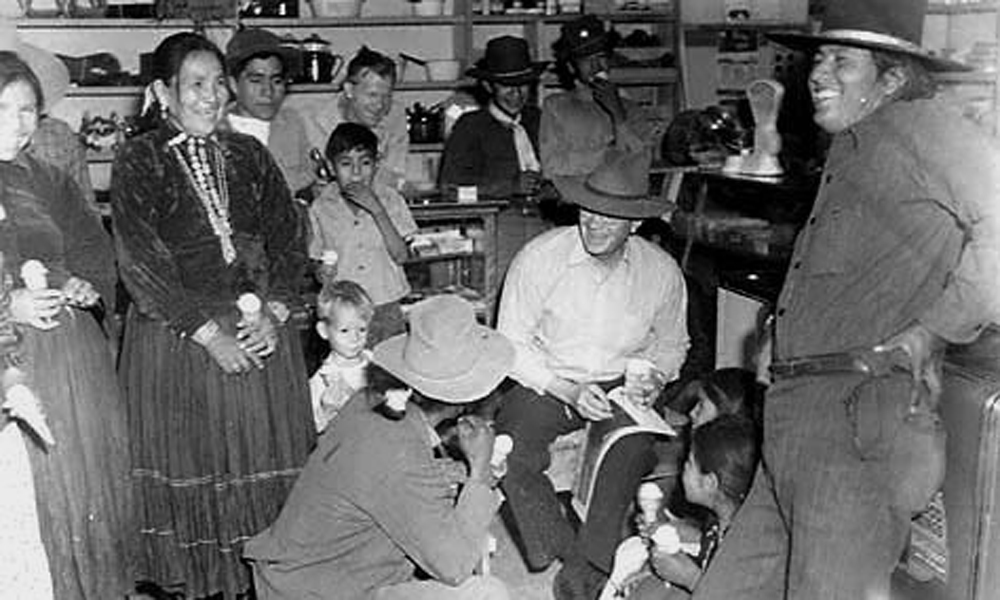 Hugh Dickson "Shine" Smith was ordained a Presbyterian minister in 1912 and assigned to a church in Coleman, Texas where he became a "cowboy preacher for four years. He also became savvy in the cattle business.
By 1917 he was ministering to the Navajo in northern Arizona.  He learned their language while pastoring at a church in Chinle but after three years, he became a freelance missionary working out of Tuba City, covering the vast Navajo Reservation on horseback and later in an old pickup truck where he became one of the most respected Christian workers in the entire Southwest.
He picked up the nickname "Shine" after teaching the Navajo children a hymn that included the word "shine."  He blended Christianity and Native American religions, delivered babies, married couples and buried the dead during the great 1918 Flu Epidemic.
During ceremonies he mixed Native and Anglo customs.  He incurred the wrath of the other missionaries when he gathered Hopi children from the boarding schools and took to Kachina ceremonies so they learn their native religion.  They accused him of causing native children to backslide in their becoming good Christians.
Shine became a friend of Zane Grey. At the time, Hollywood was making a film based on Grey's bestseller, the "Vanished American," a film sympathetic to Indians. In his book and in the movie the Native Americans were the good guys and the missionaries were bad guys.  For helping Grey, Shine was kicked out of the church.
In order to placate the public audiences, Hollywood changed the ending of the movie.  The hero, an Indian played by Richard Dix, wounded badly, accepts Christianity just before he dies.
His name was Hugh Dickson Smith but the Navajo called him "Sunshine" during the Flu Epidemic and Grey shortened it "Shine." He was from Georgia and was a circuit riding preacher in West Texas before coming to Arizona.
Afterwards, he remained on the reservations getting by with donations. He continued to live among the Hopi and Navajo.  Post traders liked having him around and he took odd jobs there.
He took many artists, including Brownell McGrew among the Natives who painted them in their glory.
He began having "Christmas Parties that became popular social gatherings for the Navajo, who didn't celebrate Christmas. Several articles in "Arizona Highways Magazine" during the 1940s devoted articles to Shine.  The first one was in 1939 and the last in 1965.  He died at 84 in 1966. Senator Barry Goldwater and legendary Colorado River Runner, Georgie White, at one time played Santa for these parties.  During these years, Shine collected and distributed tons of food and clothes.
Shine continued to work with the Navajo into his eighties before retiring to Flagstaff. His health began to fail and he entered a rest home a month before he died on December 18, 1966. Shine requested that he be laid to rest in a plain, unadorned pine box and buried in the cemetery at Tuba City.
His sage advice to the government and church was: "Leave them Alone."