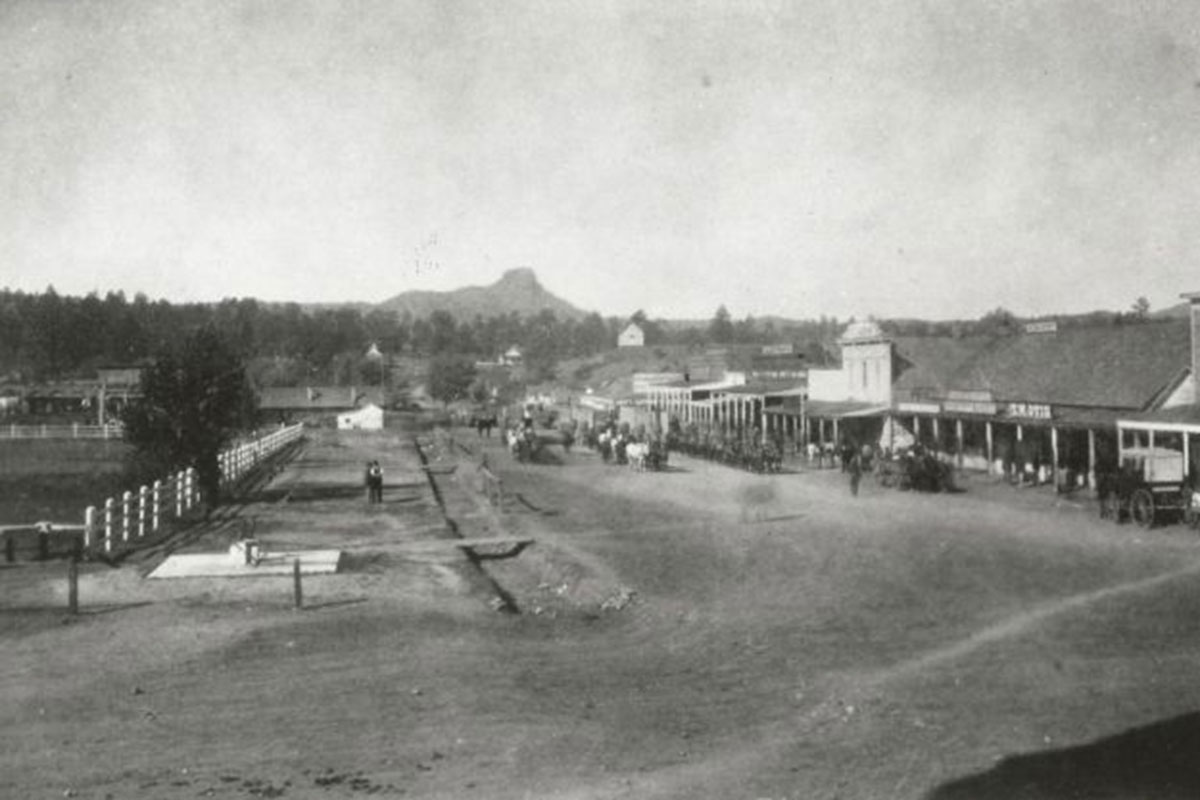 For a man who was slowly dying from consumption, Doc Holliday didn't let any grass grow under his feet. He was diagnosed with the dreaded disease in 1873, the same one that killed his mother when he was only fifteen. He headed for Dallas, Texas in September, in hopes the dry Southwest weather would prolong his life. His dental practice wasn't doing well, so he took up gambling. He also spent time bouncing around other Texas towns including Dennison, Ft. Griffin and Fort Worth. In his new profession Doc would, like all those knights of the green cloth, follow the action.
During the 1870s Doc was in a number of towns outside the Lone Star State including Deadwood, Cheyenne, Denver, Las Vegas, New Mexico before he arrived in Tombstone in September 1880 where he would become the stuff of legends.
In 1874 he arrived in Denver. A year later he was in Ft. Griffin, Texas where. In the winter of 1877-78 he would meet Wyatt Earp on the gambling circuit. Two years later he relocated to Cheyenne and later that year he might have gone to Deadwood until the spring of 1877 or he may have returned to Denver in August, 1876. It's pretty hard to pin him down during the mid-1870s. He wasn't really a household name yet so his comings and goings didn't make the local newspapers unless he was in some kind of mischief or a gunfight. It was during those years he hooked up with Katherine Horony (Kate Elder, Kate Fisher).
His whereabouts though are mostly speculation. He was in Fort Concho and he could have been in Dallas, Denison, even San Antonio or Austin. He wasn't that well-known and didn't generate a lot of attention. By May, 1878, Doc seems to have had enough of Texas or
maybe Texas had enough of Doc so he and Kate headed for Dodge City.
In late March, 1879 Doc joined Ford County Sheriff Bat Masterson's posse to head for Colorado and engage in the Royal Gorge War with the Denver and Rio Grande Railroad. The war ended with a compromise but Bat Masterson claimed Doc got into a shooting scrape with a man named Kid Colton and Doc headed for the new boom town of Las Vegas, New Mexico.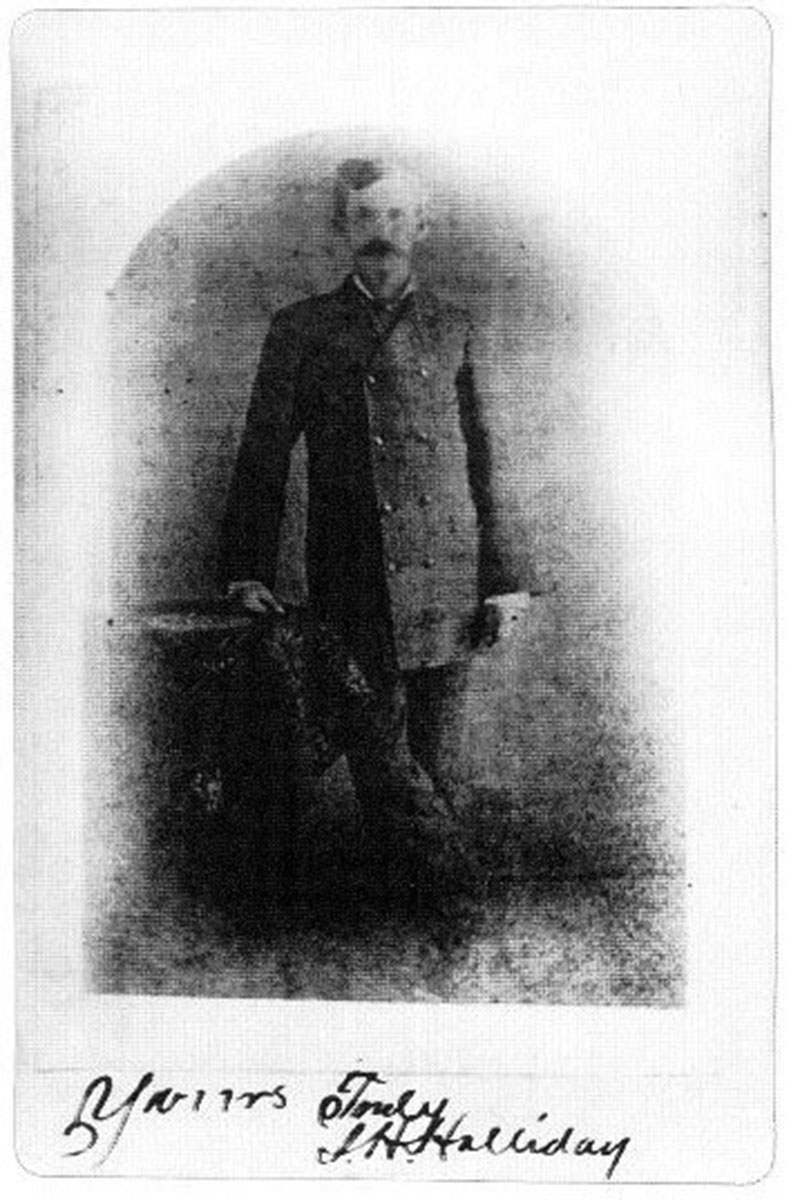 By this time, the Santa Fe Railroad was building west towards Las Vegas, New Mexico where it arrived on July 4, 1879. The railroad had bypassed the original Las Vegas and a new town sprang up a few miles east. Doc was quick to see the business opportunities in what folks were calling New Town and he partnered up with a young man named Jordan Webb and opened a saloon on Center Street.
Like most end of track towns it attracted the usual assortment of hucksters, vagabonds hustlers, gamblers and whores. It didn't take Doc long to get into a fight.
On July 19, Mike Gordon, a ruthless and quarrelsome ex-Army scout named Mike Gordon. Gordon had been in a number of brawls and in one of them his opponent bit off the end of his nose.
That evening he was trying to coerce one of Doc's saloon girls to leave and go party with him. She refused so he decided to shoot up the place. When the smoke cleared Gordon was gone. He was found later, badly wounded and died the next day. There's a good chance Doc fired the fatal bullet.
On August 5th, he got into another shooting scrape and had to leave town, so he headed for Prescott where he met with the Earp brothers. Virgil had been working at several jobs including stage driver and town constable. Morgan had been in Montana, James was in Texas and Kansas. In an exchange of letters the brothers decided to head for Arizona. Wyatt had arrived in September, 1879 and convinced his brothers of the business opportunities in the new boom town of Tombstone.
The Earp brothers would arrive in Tombstone in late 1879. Doc was on a winning streak in Prescott so he remained there for a few months. He then made a quick trip back to Las Vegas to tie up some loose ends before joining the Earp's in Tombstone in the fall of 1880.
Those were Doc's early years. His brief time in Tombstone with the Earp brothers, less than two years, would come to define the life and legend of John Henry Holliday.
Although Doc was sick with tuberculosis, he rode with Wyatt on the Vendetta Ride through Cochise County. Doc was one tough, determined hombre and a loyal friend to Wyatt to the end.
When Wyatt and Doc left Tombstone in the spring of 1882 they headed for New Mexico, where they parted company. Both headed north to different parts of Colorado, Wyatt for Gunnison and Doc for Denver. The two would meet just one more time.
Marshall Trimble is Arizona's official historian and vice president of the Wild West History Association. His latest book is Arizona Outlaws and Lawmen; The History Press, 2015. If you have a question, write: Ask the Marshall, P.O. Box 8008, Cave Creek, AZ 85327 or email him at marshall.trimble@scottsdalecc.edu.