The woman who wanted the West tells her side of the story of Tombstone and more.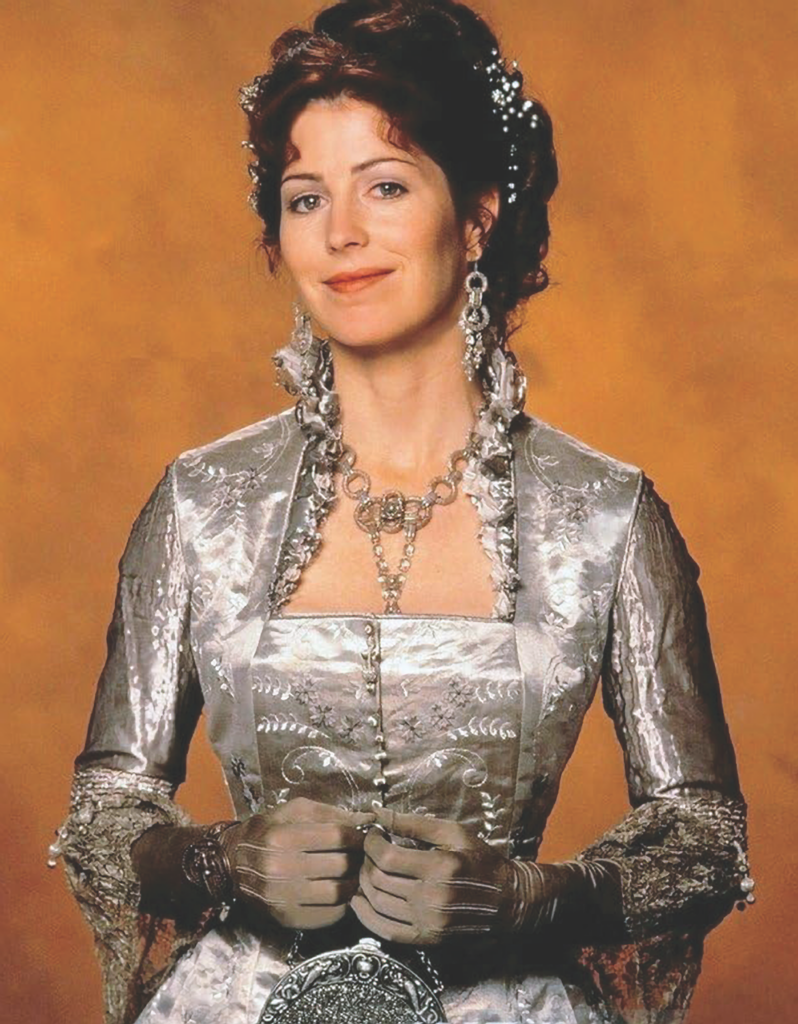 "I'm a huge fan of the Western," Dana Delany says. "I just feel like they define America. I love all the Anthony Manns, all of the John Fords, the Budd Boettichers."
Not a sentiment you might predict from a Connecticut girl. Nor might you guess that she discovered the genre while attending the prestigious Wesleyan University, one of the three "little ivies."
"It's more of an academic school than a theater school. But they had a wonderful film department. I took a course on Western films, and that's where I discovered one of my favorite films of all time, John Ford's My Darling Clementine, which of course is the Wyatt Earp legend, in [Ford's] way of telling it."
Tombstone was her first Western, but not her first period picture. She'd been busy guesting on soaps, episodic TV and small films when, in 1986, Liberty, a three-hour TV movie about the building of the Statue of Liberty, was announced. Being of Irish heritage, the role of Moya Trevor, a just-off-the-boat immigrant, appealed. "Pete Hamill had written it; he was the professional Irishman and a great storyteller. I loved it because my grandfather, John Delany, was actually born in Brooklyn in 1885, before the Statue of Liberty even went up. My Broadway debut had been in an Irish play called A Life, and I'd had to do an Irish accent on that. I read the script for Liberty, and I don't think they were interested in me. I was like, I'm gonna get this! So I flew myself to Baltimore, auditioned for it, and I got the part. And I ended up just loving working with Richard Sarafian, the director, who of course did some fantastic movies," including Man in the Wilderness and Vanishing Point. "And there were so many young actors in that who went on to be great big stars. I remember doing scenes with LeVar Burton and Angela Bassett, Carrie Fisher and Chris Sarandon."
Delany was busy with a wide variety of roles over the next eight years, notably five seasons as Colleen McMurphy on ABC's China Beach, for which she won two Emmys. "Well, when I read the script [for Tombstone], I thought, 'This is me!'" After peals of laughter, she added, "People said to me, 'Was that written for you?' I mean, I've said these lines: I've said the line about room service!"
Wyatt Earp: What's your idea of heaven?
Josephine Marcus: Room service.
"Josephine, she was an actress. She wanted adventure. She wanted a man with adventures. She liked to sing, she liked to dance. She was an equal to the man, and yet she was still a woman: it was a great, great character."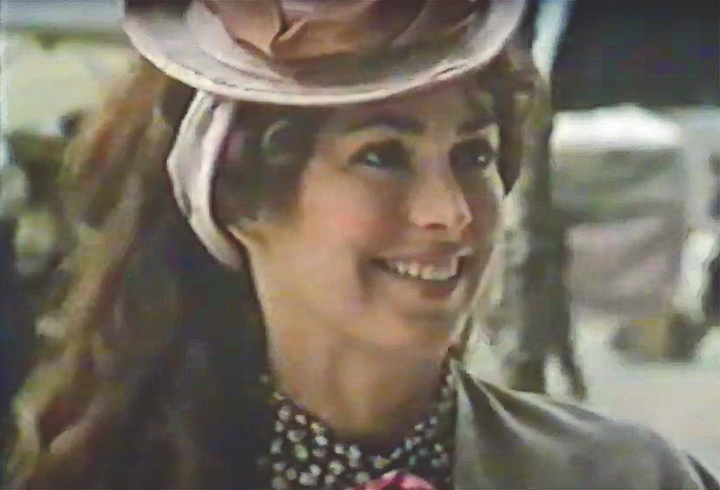 A Great Script and Cast
But, no, it wasn't written for her. "It was written for Lisa Zane. She was [writer/director] Kevin Jarre's girlfriend, and she's a wonderful actress. She actually looked a lot like Josephine Marcus, and Lisa could dance and sing and ride horses. Unfortunately, because it was Kevin's first directing job, the studio thought it would give him too much power to have his girlfriend play the part. I lucked out, getting that part. I know that Lisa would've been great in it.
"It was very exciting, because when I met with Kevin, you could tell how impassioned he was about it. And it was already cast with so many incredible actors, so that I already knew I wanted to be in it. I loved Westerns, and I'd always wanted to work with Kurt Russell. I had just done Housesitter with Goldie [Hawn, his life-partner], so I had met him on the set, but to get to work with him was a childhood dream-come-true. I grew up watching Kurt, and I always had a huge crush on him—and I still have a huge crush on him. I think he's a wonderful actor. He's wonderful in the movie. And he's just such a giving performer and a team player; he's what I have always aspired to be as an actor. He has a good time, he cares about everybody, he doesn't do any kind of star bullshit. He's just a good person, and working with him was really the highlight for me.
"Val Kilmer, I had done a little benefit production of Shakespeare's The Comedy of Errors with him. And I will never forget him on that movie because his father had just died, so he was grieving. And he came to the table-read, and he had the cup right there on the table. He had the coin on the table: he came in knowing exactly what he wanted to do, and he was in character. So it was just fascinating to watch. I loved Powers Booth; he and I went on to do True Women together. And Billy Zane was wonderful. And Jon Tenney, who played Behan, who Josephine was also involved with, he is still a very good friend of mine. Stephen Lang was already a friend, and I knew Jason Priestly. I knew Dana Wheeler-Nicholson (Mattie Earp), and I loved Paula Malcomson (Allie Earp). It was such a 'boy' movie, you know, and the boys were taking their cowboy roles very seriously. So the women had to kind of form their own little union just to protect ourselves from all that testosterone."
About preparing to play Josephine, she says, "I love doing research. It's one of my favorite things about being an actor. And at that time there was no Google. I ordered I Married Wyatt Earp, her autobiography, and I devoured it: that was my Bible. Of course we found out later that it was very much the John Ford thing: 'When the legend becomes the fact, print the legend.' It mattered to her greatly what her image was, and her legend, and also Wyatt's legend. So we now know that she embellished and burnished and made things a little bit prettier than they actually were. She didn't come from a wealthy family in San Francisco, and she was possibly a prostitute, and ran away from home when she was 14, headed southwest. And knew Johnny Behan beforehand, and probably was being kept by him. But it doesn't matter because we printed the legend."
When Delany was picked to play Josephine Marcus in Tombstone in 1993, she had just completed five successful years as Colleen McMurphy in the ABC series China Beach. She won her first of two Best Actress Emmy Awards for the role in 1989.Dana Delany Photo Courtesy Alan Light/"China Beach" Poster Courtesy ABC Pictures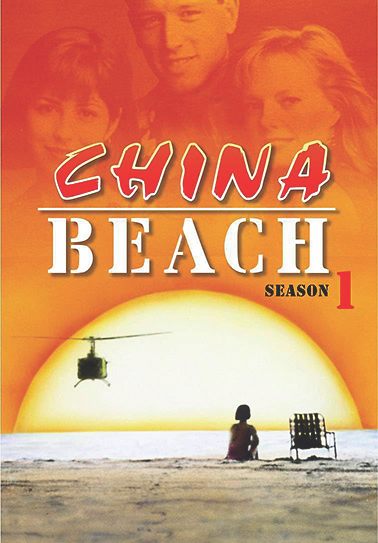 Leather and Lace
Delany's riding in the film is impressive, especially racing Kurt Russell while riding sidesaddle. "I was cast kind of late into the process, and I was not a rider, definitely not a sidesaddle rider. When I was a child, at camp, I had a horse roll on me. Tragically, I did not get back on the horse as you're supposed to do. So I had to sort of unlearn my fear about horses for Tombstone. And I did; I'm very proud of myself. I had a wonderful stunt person named Teri Garland, and she did a lot of it for me, and made me look good. I just would straddle [the horse], and because I was wearing those long skirts, they built me a fake leg to go sideways."
Then there were her costumes. "I think there's a part of me that is from another time. I've always felt like I was from a different era.  And something about the costumes just makes the character. The costumes in Tombstone were probably the best, most authentic costumes I've ever worn. Joseph Porro was the designer, and they should be in a costume institute or even the Smithsonian. It's a shame that they got purloined by various people when we wrapped. Kevin Jarre really insisted on authenticity to the point where Joseph had a corset designed specifically for me. 1881 was not the best period fashion-wise for women, but he was so clear that it had to be authentic. And Kevin Jarre believed that a lot of the clothes in (the town of) Tombstone, if you could afford it, came from Paris; it was not the dirt town that people thought. So they were very fancy, and built from scratch, and stunning, really works of art. I think my favorite was that silver dress in the saloon; we called it the screen door dress. I have to say, and I owe it to Joseph, I did get one piece from the movie, that I am honored to have, which was the black velvet cape that I wore when it was raining, and I'm in the middle of the street, screaming for Wyatt. I do have that cape."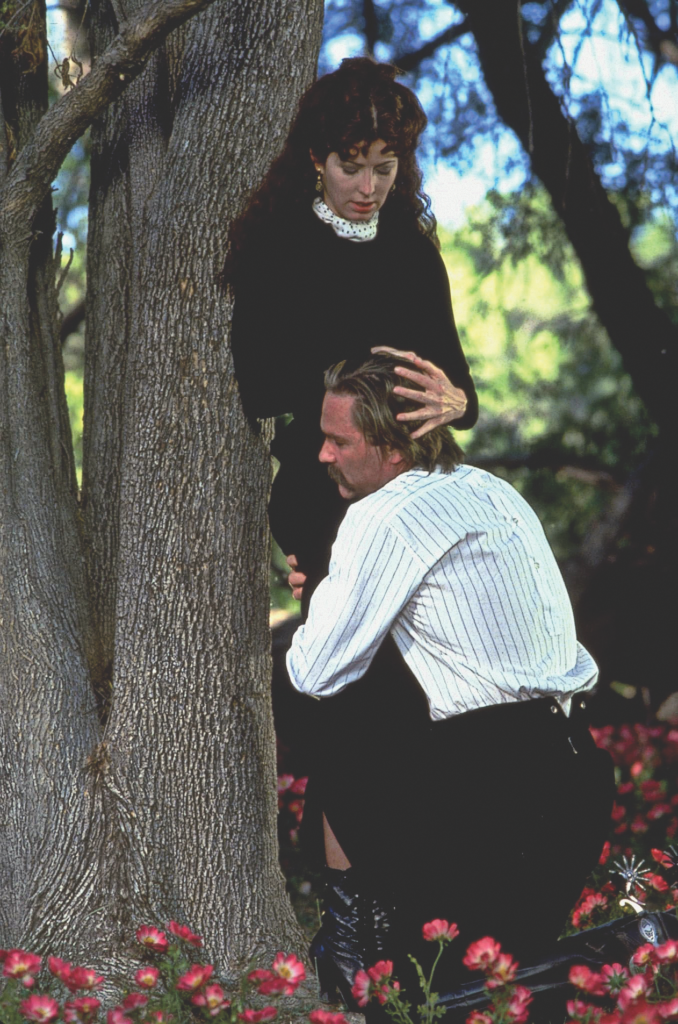 Changes and Challenges
It was famously not an easy shoot. "I truly believe that if it is a difficult shoot, the movie is better for it. I've seen that happen over and over again. When it's a really difficult shoot, there is something about the energy behind that, and people are on their toes, and everybody's antenna is up. That somehow elevates the movie. Whereas sometimes when it's a really fun, nice shoot, the movie's just okay."
About a month into filming, Jarre, behind schedule whether from inexperience or sabotage, was fired. But he'd directed several of Delany's scenes, including when Behan and the cowboys stop the stagecoach and find Josephine and the dead Fabian, murdered for defending her. "That was another hard day because all the cowboys were there, we were losing the light, and we had to shoot in both directions. And I don't think we got it; I think they had to go back another day.  [Jarre] directed the scene where [she and Earp] meet, the 'fortuitous' scene. And a lot of horse stuff up, up, up in the mountains."
After Jarre was fired, she says, "We had a few days where we didn't have a director, and Kurt was definitely the cheerleader, keeping everybody's morale up. Then they brought on George Cosmatos. And it was hard because you have a new director who's trying to set his tone. His first day they wanted to start easy, which was a little unfortunate for me: his first day directing was all of my big scenes, especially the big love scene in the field with me and Kurt. It was kind of like, 'let's do the girl stuff first; let's get that outta the way.' It wasn't really fair to me, you know? I probably should have fought for myself a little bit more. Mostly his direction to me that day reminded me very much of what Lawrence Olivier said to Marilyn Monroe ("All you have to do is be sexy, dear Marilyn."). George said to me, 'Just be fun! Just be girly! And I was like, oh my God!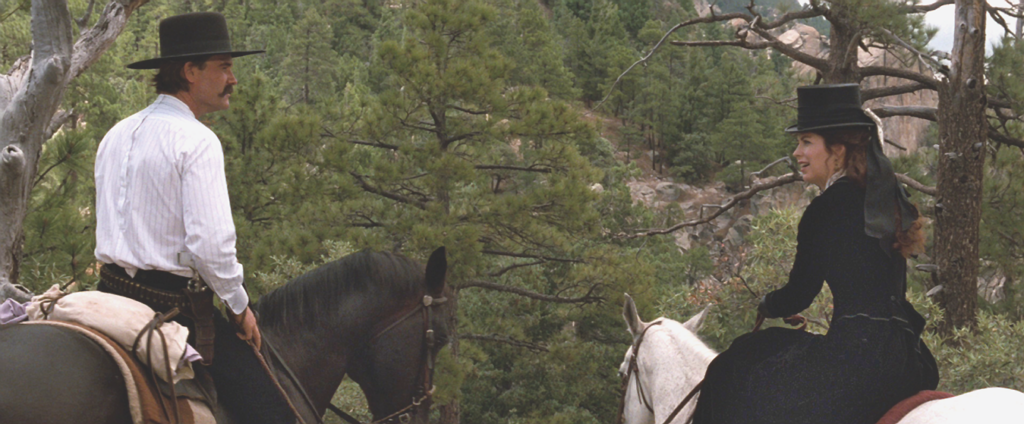 "But I ended up really liking George, and he and I got along great. He was in a very difficult position, but I knew that he was highly sensitive underneath it all. He really wanted to make a good movie, and he cared deeply about it. I'm sure there's always going to be camps, pro or con against George. But in my mind, he really cared about it."
Writer John Fasano was brought in to cut the script down, and several major male characters had their roles drastically altered. Delany doesn't remember any big changes, although, "I have to be honest with you; I've only seen the movie once. I don't really like watching myself. And all I could see was the things that I wish I had done, because like I said, almost all of my big scenes were shot in one day. I feel like now I could go back and watch it."
Although Jarre was off the Tombstone set, he still let Delany know what he thought. "There are two things that Kevin was not happy about changing. One was that I sang 'Red River Valley.' Originally it was 'Frankie and Johnny,' which Kevin thought was more right for the period. But George didn't really like the song, and it's not an easy song to sing. I mentioned 'Red River Valley' because one of my favorite Westerns was Red River—a great Howard Hawks movie. So I said to George, 'My father and I used to sing 'Red River Valley.' And he said, 'Oh, I like that better. Let's do that.' So I sang 'Red River Valley' slightly in an homage to my own father.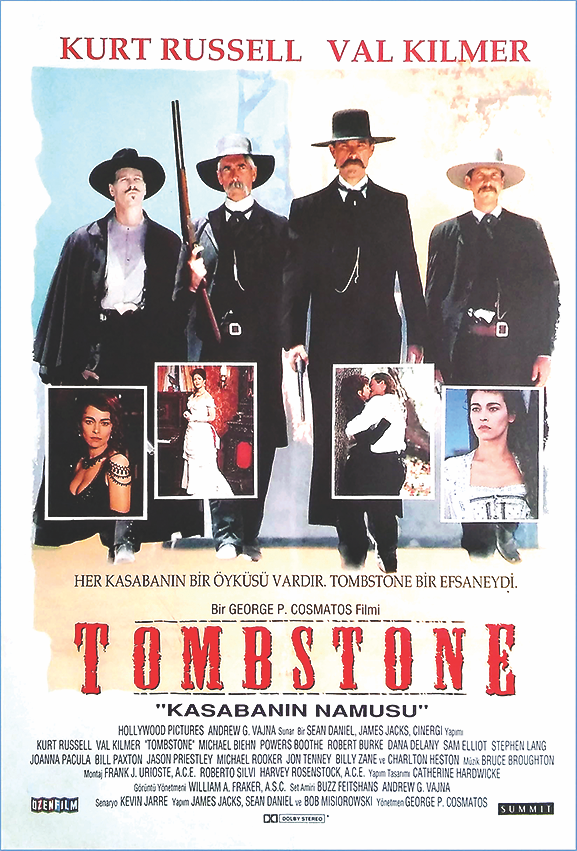 "The other thing that changed, and you are the first person that I'm ever telling this, was when I got off the coach for the first time in Tombstone," and saw Wyatt Earp in the distance. "I say that line, 'Who is that tall drink of water?' And then I say, 'I want one.' Kevin wrote 'I want one,' which is a fantastic line, and it says everything about Josephine. But the original first line was, 'Who is that tall man over there?'" They'd shot it that way. "And then somebody on the crew said, 'Why don't you just call him a tall drink of water?' I said, 'Oh, I like that!' And George ended up using that. And [producer] Jim Jacks, who's no longer with us, said to me, 'Why did you change that line? Kevin's not happy about that.' I said, I don't know. Someone told me to say it."
Recalling some of her favorite memories from Tombstone, Delany said, "Catherine Hardwicke—her sets were fantastic. I loved meeting her, and she and I are still friends, and it was great to work with her. And what a great dancer Sam Elliot was! He could two-step as good as any cowboy, and just as gentlemanly."
Looking back on Tombstone, she says, "I think its reputation has grown; people have come to appreciate it more. In the beginning a lot of people didn't like my performance in it, and now I get a lot more compliments. If a man comes up to me and says, 'I just gotta tell you,' I know they're going to talk about Tombstone; and women will talk about Desperate Housewives."
"I did a movie called Spin (2003) that Jamie Redford, Robert Redford's son, directed, with Stanley Tucci. And it was wonderful to be back in Tucson. I really have great fondness for that town, and Old Tucson. I like that whole area of Arizona."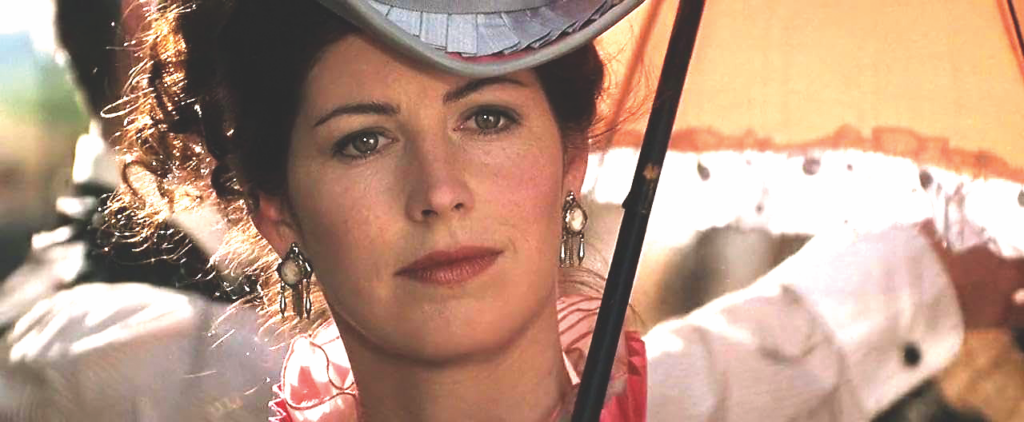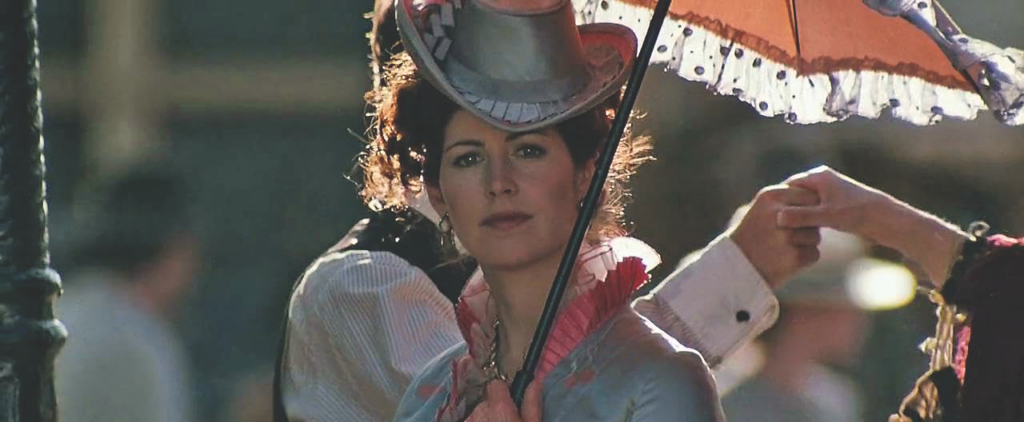 Back in the Saddle
Four years after Tombstone, Delany starred in a Western miniseries that was as much a "girl" movie as Tombstone had been a "boy" one. "Yes. I was very happy to have it reversed. True Women was the female pioneer story, how the women settled Texas. It was a true story based on Janice Windlel's family, and I was playing her—I think—great-grandmother. So that was wonderful. And it gave me a chance to actually ride the horse, get out of that sidesaddle, and I got to carry the gun this time. I got to work with Powers [Boothe], which is great. And of course, it was the only time in my career I will ever have top billing over Angelina Jolie. I think she was 19 years old, and she was a star even then. And that's when I first met Annabeth Gish. She was to become a lifelong friend."
Not only was the story about women, but it was also directed by Bob Fosse dancer-turned-actress-turned-director Karen Arthur. "Her husband (Tom Neuwirth) shot the movie. He was the D.P. What I like about when actors direct is they trust that you know what you're doing. They don't try to get in your way. They just try to create a situation where you're comfortable. And I appreciate that.
"Michael Greyeyes was in it; he's just gone on to do wonderful things. I think if the miniseries were made now, we would have to revise some things, because it was a bit of that cliche of the 'Indian and the white woman having the romance that can't be,' kind of thing.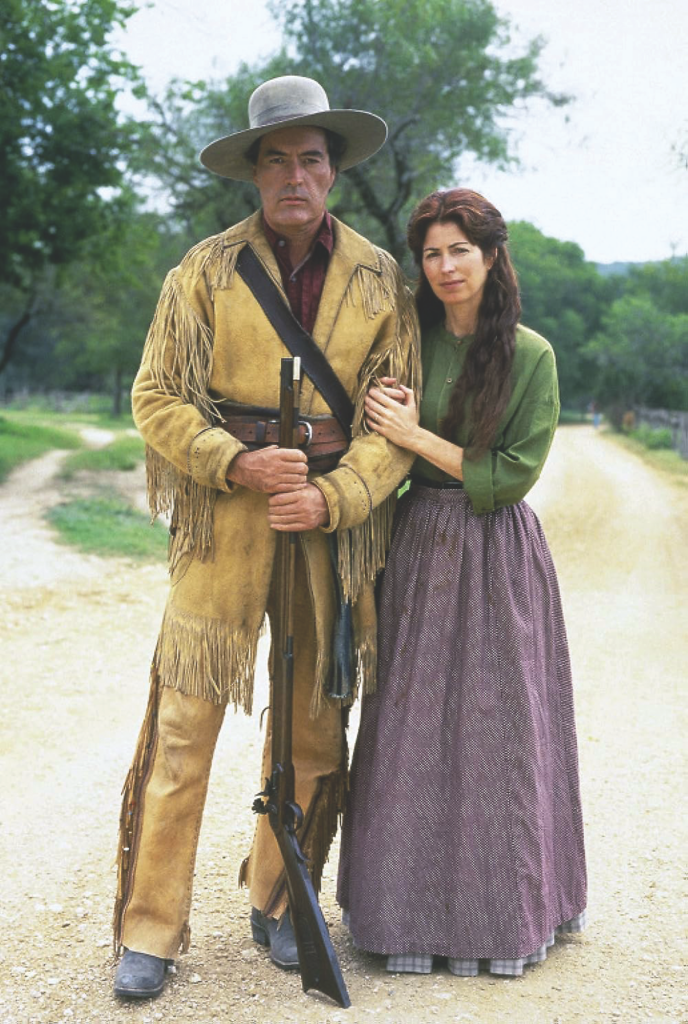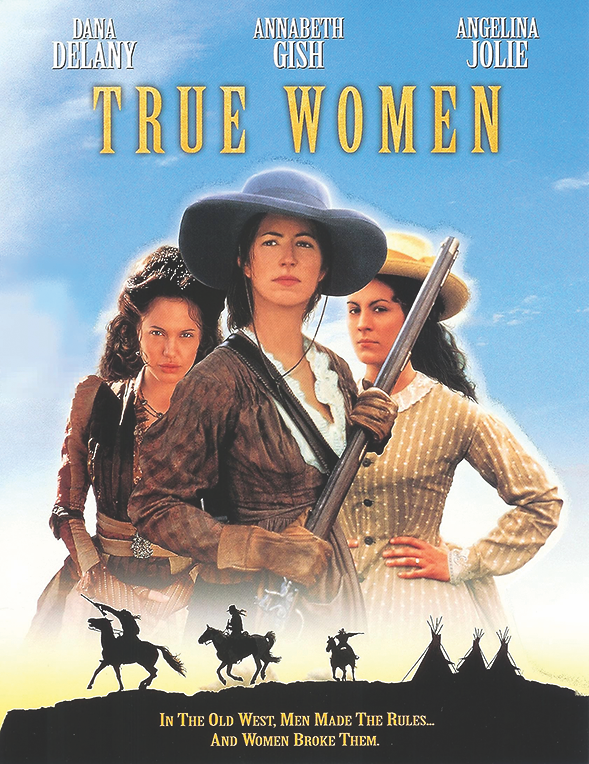 "I really love my character. I loved Tina Majorino, who played the young Annabeth. It's just a great story. And the final line, we're at the grave site and I say, 'We endured.' And I think it's just such a great finish to a woman of the West story, because they did, man, they endured."
Earlier this year she starred opposite Sylvester Stallone in the contemporary Western series Tulsa King. He's a paroled New York gangster deported by his own mob to Oklahoma; she's the lovely divorcee rancher who's boarding his horse, and succumbing to his charm. "It was fun. I'd never been to Oklahoma before, and a great thing about being an actor is that you get to discover your own country. We mostly shot in Oklahoma City during the summer, and it was 110 degrees every day, which is fine by me, but I don't think Sly liked it as much. It's a Taylor Sheridan-produced Western, and I think we all thought
we were doing, like, a Yellowstone drama. I remember going to the premiere in New York, on the red carpet, and then I watched it, and I thought, it's a comedy! With a lot of violence, but it's funny. But Sly knew it was comedy. I really, really like working with Sly. He's very smart, and he knows what he is good at. He is on the set before anybody. He is prepared. He's ready to go. He's happy to work every single day. He just loves doing what he does."
Would she want to do another Western? "Oh, I would do a Western anytime. It would be so much fun just to be the old lady with the braid down her back"
Both Josephine Marcus and Wyatt Earp lived into their 80s. Would she be interested in playing a more mature Josephine? "Yes! Wouldn't it be great if Kurt would do it? I would love that! Kurt and I could be in mining towns in California and Nevada. We could be this married couple that have squabbles around the campfire. Then he could go to Hollywood and hang out with the stars there. Oh, my God, I would love it. It would be so much fun!"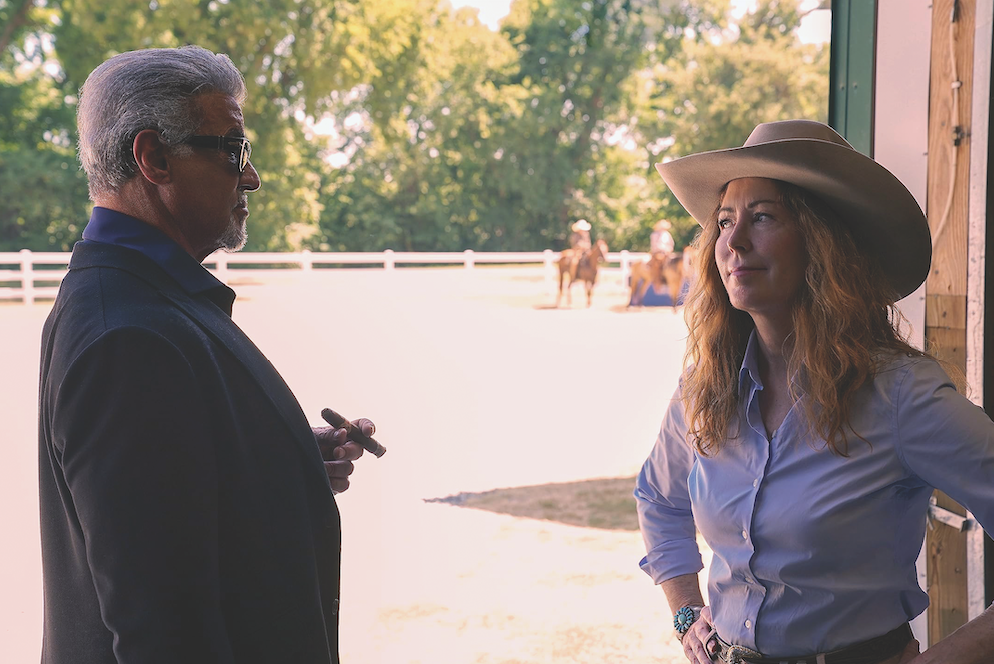 DVD REVIEW
Tombstone—The Director's Cut 
(Hollywood Pictures–Vista Series; $31.11) I've never reviewed a 19-year-old DVD before, but luckily, many copies of the Tombstone Director's Cut—never released as a Blu-ray—are available online. While there's not a lot of difference between the released film and this four-minute-longer version, George Cosmatos's audio commentary definitely makes Tombstone worth buying again. Scene by scene, shot by shot, his explanations of hundreds of choices made for camera placement, use of color, costume—all the film's visual elements—disprove the claim that Cosmatos was no more than a traffic cop on the set. He cheerfully details shooting dawn and passing it off as dusk, the cuts that helped—removing the kiss from Wyatt and Josephine's riding scene—and the ones that hurt. Fascinating!