It wasn't even called The West—was still the 'New World'—when the foundation was laid.
By all rights, there shouldn't be a San Xavier del Bac sitting gleaming white and irresistible just outside Tucson, Arizona.
It should have crumbled decades ago under the harsh Sonoran Desert sun.
This certainly shouldn't be a functioning mission, as it has been since Franciscans built the magnificent two-tower church in 1756. (It replaced the simple lean-to "mission" Father Eusebio Francisco Kino originally created here in 1692, when he came to convert the Wa:k O'odham Tribe to Catholicism.)
And it certainly shouldn't be among the world's top restoration projects, as it has been since 1978. 
That's right—the world's. Not just America's. Not just the Southwest's, but a preservation effort so precious, the experts who helped restore the Sistine Chapel in Rome came here from that project to save our nation's finest example of Mexican baroque architecture.
We have The Patronato San Xavier to thank. Forty-five years ago, a group of Tucson citizens made it their mission in life to save this mission.
The "mother" of this effort was Gloria Giffords, an art conservator and leading authority on Spanish colonial art. Her daughter, Gabby Giffords, would go to the United States House of Representatives from southern Arizona—then survive a 2011 assassination attempt, living to see her husband, Mark Kelly, win a seat in the U.S. Senate.
"Gloria did the conservation mapping on this mission, and based on that, Patronato reached out to the Guggenheim Museum," remembers Miles Green, the executive director of the conservation group.
The reach in 1978 forecast disaster: plaster was falling from the ceiling; priceless artwork was crumbling; the towers were unstable. Patronato believed it could reverse all that. Of course, it didn't hurt that over 180 angels, from paintings to sculptures, were inside.
Today, while restoration is still underway, the mission has become a major tourist attraction, and it gleams so beautifully in the Arizona sun that it has been called "The White Dove of the Desert."
Green says there are surprises still ahead. Although the facade around the main entrance looks like dark terracotta, he says it once was a riot of color—"a rainbow above the door"—and plans are to restore that too. "If Franciscans had known about neon, they probably would have used it," he jokes. 
So far, private money and grants have spent $15.5 million restoring the mission, with another $7 million needed for the final phases, which Green projects will be done in 2030.
And no, he says, they will never finish the East Tower that lacks a dome: "In preservation, you never put on what wasn't there."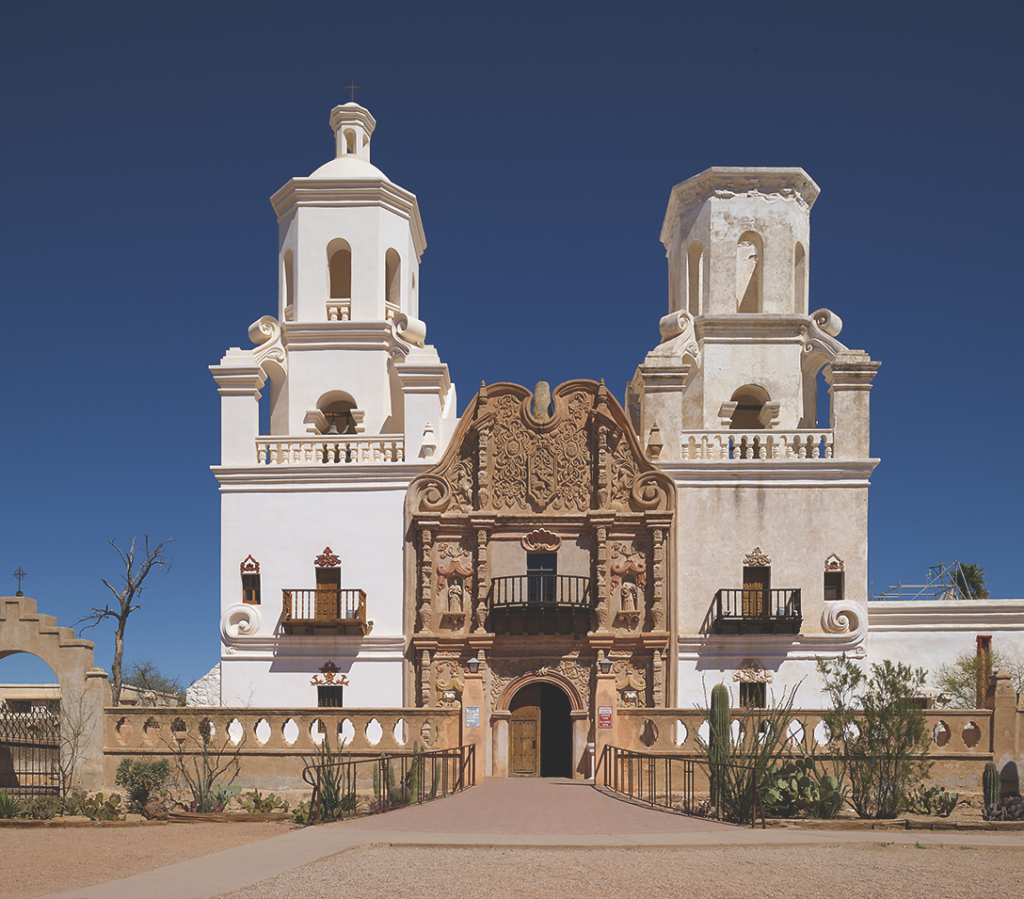 In 1868, Carlo "Charles" Gentile was the first to photograph Mission San Xavier del Bac near Tucson, Arizona. He first published his photos in 1870. In 2018, Carol M. Highsmith's images reveal the masterful restoration of the ornate interior sanctuary (very bottom), as well as the church's trademark towers (above), which Gentile had photographed 155 years ago (below).
Photos Courtesy Library of Congress