For seven decades, True West has chronicled the legendary history of Tombstone and its notorious citizenry.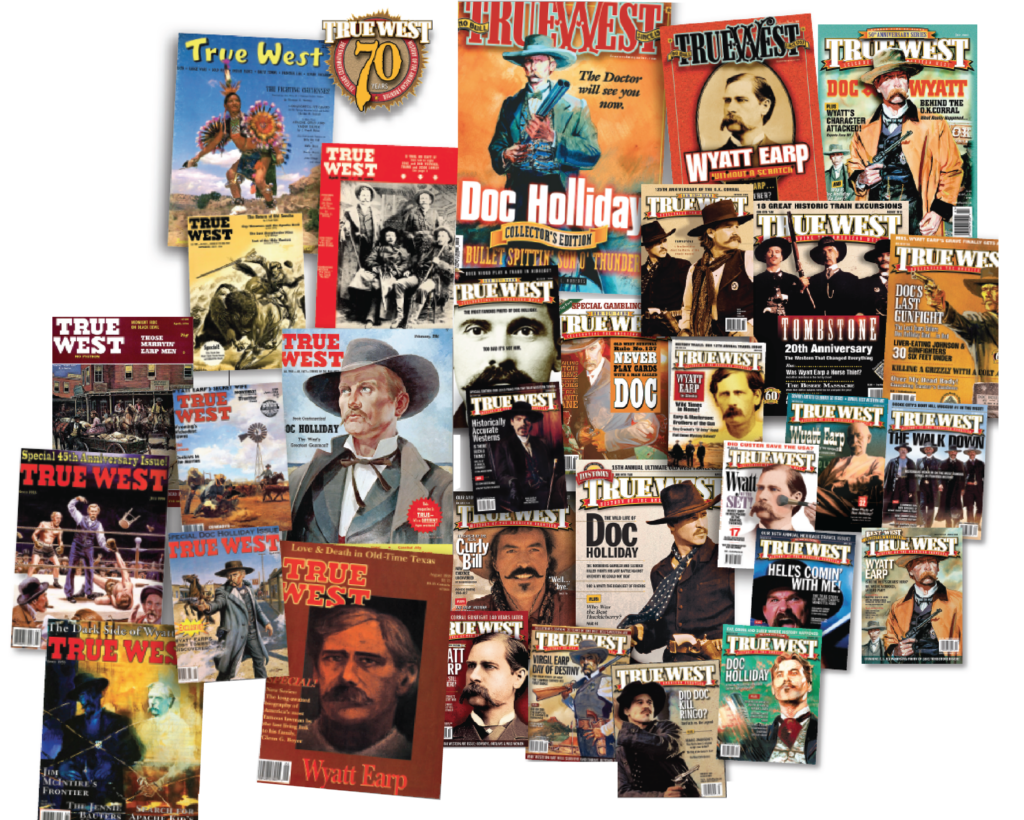 As it is the 30th anniversary of the Western movie Tombstone (see Tombstone), we decided to look back on how the editors of the magazine since 1953 have covered the history of the town of Tombstone and the men and women who contributed to its legendary infamy.
And, boy, were we surprised by what we discovered in the archives.
First, some firsts: 
Johnny Ringo was the first of Tombstone's lawmen or outlaws to be featured in the magazine: Fall 1953, the second issue.
Tombstone finally got a headline on the cover of the magazine in April 1955.
Wyatt Earp's first mention on a cover: October 1957
Doc Holliday's first cover: February 1960
Wyatt Earp's first cover: August 1993
That's right, Wyatt Earp's visage did not appear on the cover of True West in its first 39 years of publication. On top of that, Tombstone and its infamous citizens only warranted two cover blurbs in the '50s, four in the '60s, three in the '70s and four in the '80s.
But, with the hoopla surrounding the release of the movies Tombstone and Wyatt Earp (1994), TW's then-editor John Joerschke went all in on Earp and the town too tough to die. For 14 issues, from August 1993 to September 1994, Joerschke published a Glenn G. Boyer feature on Tombstone and Wyatt Earp. 
For the rest of the 1990s, Tombstone is a cover blurb five times. Earp makes the cover twice and Doc Holliday once. The February 1999 cover of Wyatt Earp was a Bob Boze Bell original, just a few months before he purchased the magazine with Bob McCubbin and moved its headquarters to Cave Creek, Arizona. 
And as they say, the rest is history.
You might describe the past 23 years as TW's golden era of Wyatt Earp, Doc Holliday and Tombstone. With the movie on the current issue, it will be the second time for the "walk down" from the film and the 27th time that Arizona's legendary town and its icons have been featured on the cover.
And, guaranteed, it won't be the last, for Tombstone is truly the town too tough to die.