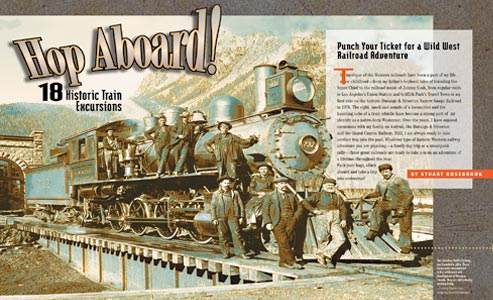 The mystique of the Western railroads have been a part of my life since childhood—from my father's boyhood tales of traveling the Super Chief to the railroad music of Johnny Cash
, from regular visits to Los Angeles's Union Station and Griffith Park's Travel Town to my first ride on the historic Durango & Silverton Narrow Gauge Railroad in 1976.
The sight, smell and sounds of a locomotive and the haunting echo of a train whistle have become a strong part of my identity as a native-born Westerner. Over the years, I have enjoyed excursions with my family on Amtrak, the Durango & Silverton and the Grand Canyon Railway. Still, I am always ready to take another trip into the past. Whatever type of historic Western railway adventure you are planning—a family day trip or a steampunk rally—these great railroads are ready to take you on an adventure of a lifetime throughout the year. Pack your bags, climb aboard and take a trip into yesteryear!
Click on the image and watch the slideshow of 18 historic Western railway adventures.
Photo Gallery