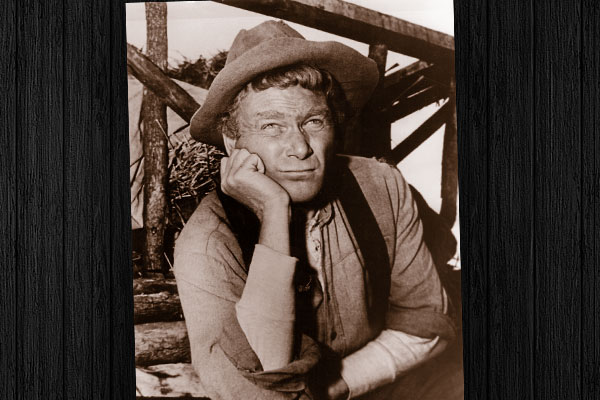 "I'm riding Old Paint, I'm Leading Old Dan. I'm going to Montana just to throw the Houlihan. They feed in the coulees, they water in the draw. Their tails are all matted, their backs are all raw.…"
In Howard Hawks's 1948 Western, Red River, Harry "Dobe" Carey Jr. is cast as the nighthawk Dan Latimer, who sings the cowboy lullaby "I'm Riding Old Paint" to a herd of 10,000 cattle just before his cow bosses, played by John Wayne and Montgomery Clift, ride up to check on their young cowhand.
We empathize with Dobe's character. His dreams laid ahead of him; his fear was tangible as he tried to prove his worth to the older men—and himself. But Dobe's boyish cowboy in the checkered pants with a stutter did not make it to Abilene or back to Texas at all, nor to his young bride; he ended up trampled to death in the night stampede.
Dobe went on to play many more Dan Latimers in his career, a role he played so naturally that anyone could identify with the easygoing cowboy so eager to prove himself and earn his spurs.
Harry's movie star father, Harry Carey Sr., gave his son the nickname Dobe, for his reddish blond hair, the same color found in adobe bricks. Dobe was raised on his parents' 1,000-acre ranch in Saugus, California, the "Harry Carey Rancho." His parents had built a major tourist attraction on the working cattle ranch, including the Harry Carey Trading Post, an adobe frequented by the painter Charlie Russell, tourist cabins and bunk houses for the vaqueros and about 50 Navajos who lived and worked at his ranch. The cowboys worked the ranch, while the Navajo women tended the sheep and made blankets to sell in the trading post.
Will Rogers, Will James, John Ford and William S. Hart were regular visitors at the ranch, Dobe recalled in his autobiography, Company of Heroes. Ford was actually at the ranch the night Dobe was born, which was why the famed director asked young Harry to always call him "Uncle Jack."
A natural on horseback, Dobe and his sisters learned to ride at an early age. Michael McGreevey, who first met Dobe as a child actor when both were guest starring on Lassie in 1961 and later worked with him on The Way West and The Last Gunfighter, warmly remembers his friend's ability on horseback. "Next to his best friend Ben Johnson, there wasn't a better horseman on the set than Dobe. That's why he rides so much in Ford's films and always looks so comfortable in his roles in Westerns. He made it look so easy."
Dobe married Marilyn Fix, daughter of actor Paul Fix, in 1944, while he was in the Navy, first as a medic and then with Capt. John Ford's famed OSS Field Photographic Branch. They returned to Los Angeles in 1946, with Dobe intent to make a career as a singer.  Serendipitously, he was cast in a bit part as a cowboy in 1946's Rolling Home. Thanks to this first film, acting became his career, although Dobe admitted he never gave up on singing until he was 50.
Then Hawks cast him in Red River, with a hand up from Wayne and even his father; this was his father's last Western role before his death in 1947. Uncle Ford, ever loyal to Carey Sr., who had helped start his directing career at Universal in 1917, cast Dobe in The Three Godfathers, marking the actor's second film with Wayne.
Dobe was now an official member of the Ford Stock Company; from 1948 to 1964, he costarred in nine more Ford films, including Western classics She Wore a Yellow Ribbon, Wagonmaster, Rio Grande, Two Rode Together and Cheyenne Autumn. Dobe, side by side with Wayne, Ben Johnson, Ward Bond, Victor McGlaglen and Maureen O'Hara, helped make Monument Valley the international icon of the American West.
His career spanned 64 years, including four decades as a TV Western guest star, appearing in popular shows that included Gunsmoke, Have Gun, Will Travel, Spin and Marty and Wagon Train. Wayne kept Dobe in his stock company, casting him in The Undefeated, Big Jake and Cahill U.S. Marshal. In later years, Dobe made special appearances as a cowboy in Back to the Future III, Tombstone and Wyatt Earp: Return to Tombstone. He continued to work until just a few years ago, focusing on documentary films about cinema history, including his last work, in 2010, at the age of 88, Harry Carey Hosts Tales from the Set.
With his passing on December 27, 2012, Dobe has re-joined his folks and Ford's Stock Company. Uncle Jack has the camera set, and the cavalry is riding again in Monument Valley, into the sunset, with Carey's gentle voice singing in the background, "When I die, take my saddle from the wall, and put it on my pony, and lead him from his stall, tie my bones to his back, turn our faces to the west, and we'll ride the prairies that we love the best."
Stuart Rosebrook grew up near the film studios in North Hollywood, California, and identified with Dobe Carey's roles as the young cowboy always working to earn his spurs.
Photo Gallery