California's grape growers discovered a gold mine in distilling aged brandy.
Until the mid-1800s mission grapes were the primary wine-making grape in California. As time progressed, mission grapes were used for brandy, table wine and Angelica, which was a fortified wine. A few 19th-century wine makers experimented with brandy.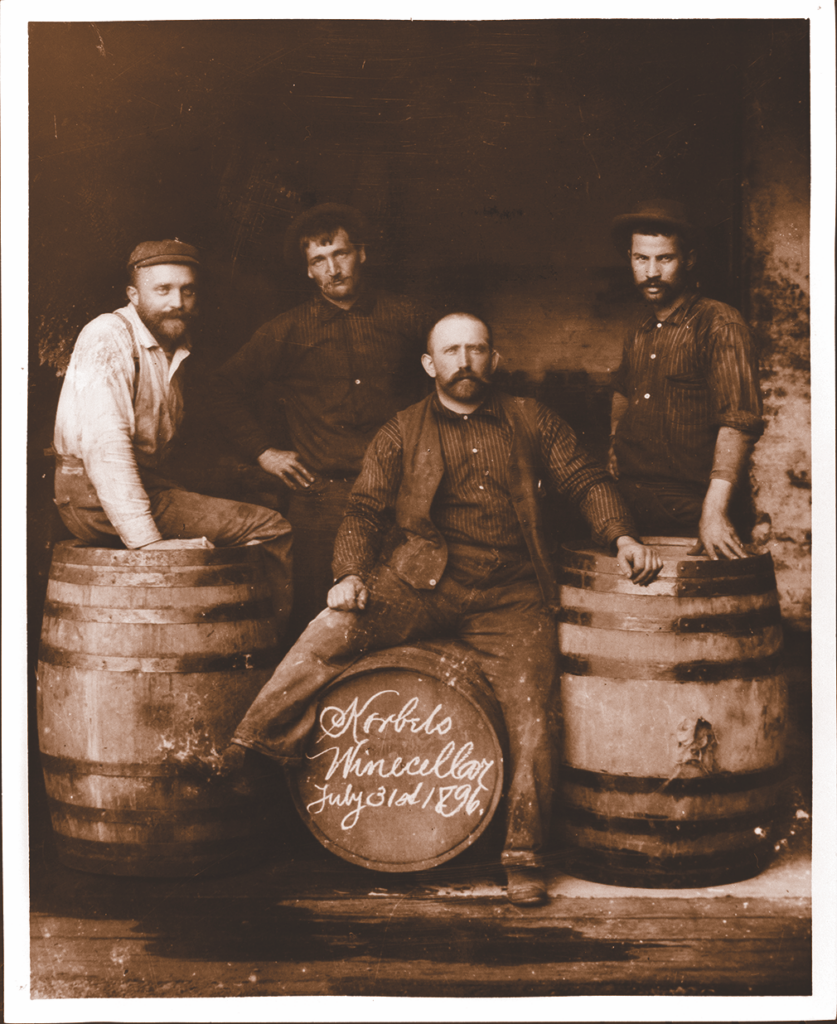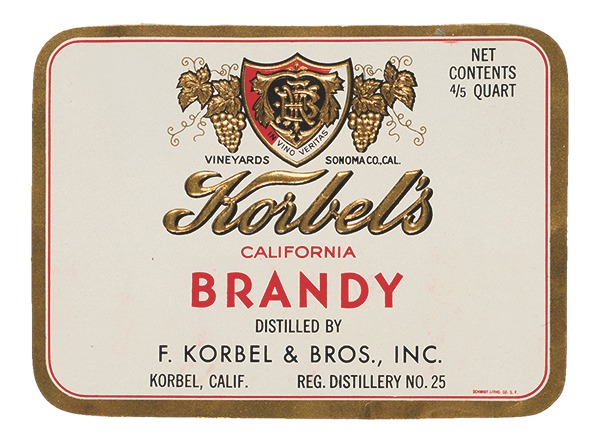 Jacob Beringer left his home in Mainz, Germany, in 1868 to start a new life in the U.S. He was enticed by his brother, Frederick, who had sailed to New York five years earlier and constantly wrote home about the grand opportunities in the vast new world. Jacob had enjoyed working in wine cellars in Germany when he was younger and had heard the warm, sunny climate of California was ideal for growing wine grapes. So, in 1870 he traveled West by train, first to San Francisco and then on to Napa Valley. Upon his arrival he discovered rocky, well-drained soils similar to those in his native Rhine Valley. In 1875, the brothers bought 215 acres that had a 28-acre vineyard already planted with white Riesling, Chappellet and grapes to blend Cabernet Sauvignon. In 1876 they founded the Beringer Brothers Winery and crushed 40,000 gallons of wine. 
In 1883, Frederick permanently moved to the Napa Valley and began construction of a 17-room mansion that was to be his home, which was a recreation of the Beringer family home on the Rhine River in Germany. The "Rhine House" is the center of Beringer's reserve and library tastings. An 1888 Napa Journal article stated, "Beringer Bros. have withdrawn 250 barrels of grape brandy from the bonded warehouse for export to Bremen, to be shipped from San Francisco by the Clipper ship Deutschland. They have also withdrawn from the Santa Rosa warehouse the same amount for the same place."
In 1854 Gen. William "Tecumseh" Sherman and Gen. "Fightin' Joe" Hooker ventured into the wine-making business and planted grapes on their land. They only kept the Madrone Ranch a few years. In 1863, Virginia-born George Washington Whitman purchased it. By 1876 Whitman's vineyard was producing 50,000 gallons of brandy. In 1883 Eli T. Sheppard bought the winery and named it Madrone. Because of poor health, Sheppard sold Madrone to U.S. Senator George Hearst and father of publisher William Randolph Hearst in 1888. The sale included 400 acres, including a winery, distillery, wine cellar and 80,000 gallons of wine and brandy.
Christian Brothers brandy was started by The Christians Brothers, the largest religious community of men devoted entirely to education worldwide. The Brothers were priests and laymen who were dedicated to living and working in a teaching congregation. They began in 1882 in San Joaquin Valley when The Order purchased vineyards to make sacramental wine for their community. Their reputation for creating excellent wine grew, and they began producing and selling it to benefit their schools.
Francis and Joseph Korbel were nativ-es of Bohemia, now part of Czechoslo-vakia, and landed in New York. They arrived in San Francisco in the early 1860s, and by the late 1860s they opened the Korbel Cigar Box Factory. During the 1870s, the Korbels grew prunes, beets, wheat and corn and ran a commercial dairy in the Russian River Valley. They entered the wine business in the early 1880s and experimented with several grape varieties, including Pinot Noir. Despite Pinot Noir being unusual for California's vineyards, the Korbels chose to work with them. As their wine business grew throughout the 1880s, they sent for Prague winemaker Frank Hasek. After the debut of his champagne-like sparkling wine, Francis Korbel began producing his premium Korbel California brandy in 1889.
On February 25, 1900, Joseph Korbel died after a brief illness. Francis Korbel ran the business in 1901 and saw an opportunity to utilize the many prunes growing on his land. He experimented for more than a year trying to turn them into brandy. The San Jose Evening News concluded, "He made a brandy which was fairly good, but which had neither cheapness of production nor any special quality…" Thanks to a long legacy, you can still enjoy their brandy…just not the prune kind!