Historic saloons, hotels and ranches are ready to serve you up a slice of the Old West.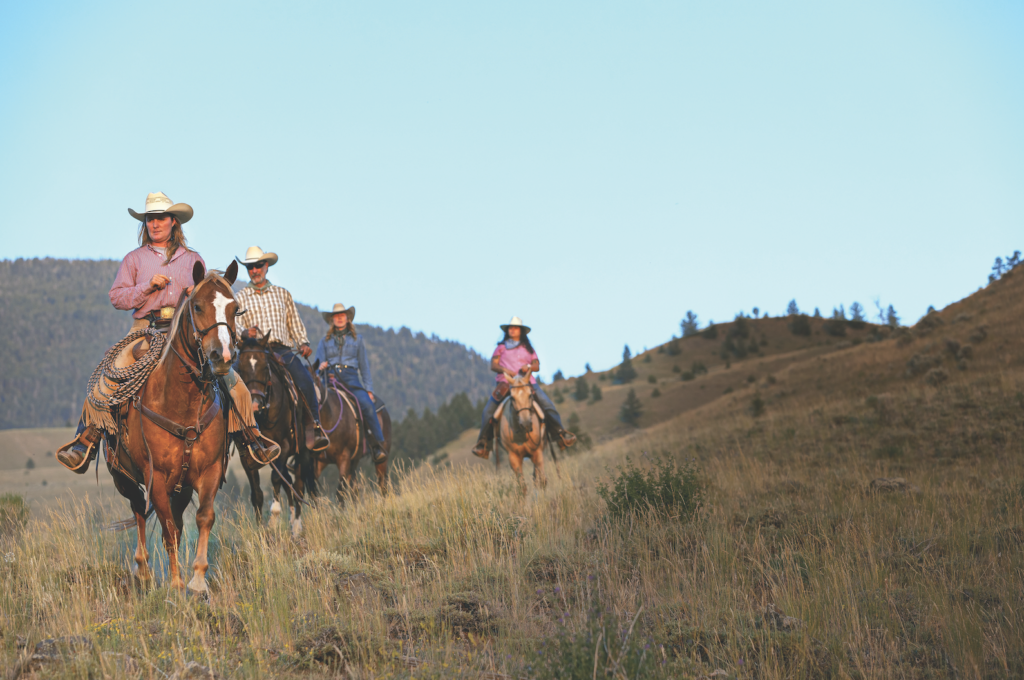 If you're like me, tendrils of the Old West wrap around your heart and tug. Everywhere you look, remnants of times past are still evident. Go ahead, put your elbow on a saloon's bar where Wyatt Earp and Doc Holliday did, or stay in a room where Clark Gable once slept. 
Seeking Old West venues, I've stayed at Durango's Strater Hotel, where I met astronaut Harrison "Jack" Schmitt. And I've sipped and dined at Tombstone's Big Nose Kate's. But nothing beats hearing saddle leather creak beneath me as my horse trots across pristine desert or mountain trails while Nature smiles back.
Whether you're looking for "me time," family fun or unique experiences of the Old West, look no further than this guide to hotels, saloons and guest ranches. Many of the featured places have historic beginnings but include modern accommodations. For over 100 years visitors have been drawn to the area with its blue skies, unyielding views and majestic soul.
The West of yesterday is alive and well in many towns throughout the Western states. If you're hankering to ride horses, lounge around a campfire, eat s'mores over mesquite flames, hoist a cold one over a beautiful Brunswick bar, breathe in insanely clean air or simply stay still and listen to eagles soar through turquoise skies, these places are for you. 
A deep love of the Southwest grounds Melody Groves. She has explored ghost towns, ridden horses and traipsed through the desert. Melody recently won the coveted Spur Award for her book Before Billy the Kid. She lives in Albuquerque.
ARIZONA
Big Nose Kate's Saloon
417 E Allen St. Tombstone, AZ 85638
520-457-3107 • BigNoseKatesTombstone.com
Kate Cummings, Doc Holliday's girlfriend, did not have a big nose. She got the moniker because she was nosey. Mystery solved. Stepping into the saloon-restaurant is like reliving the 1800s. The authentic 1880s bar and wood floors harken back to days when miners, prospectors, cowboys and drifters came through, each seeking food, alcohol and a relaxing time. Today, this family-friendly saloon offers a variety of food and drinks and an intriguing underground shopping shaft. The saloon's long bar, one of two 1882 Great Fire survivors, served the Earps, Doc Holliday, the Clantons, possibly Kate herself, and continues to serve thirsty patrons today.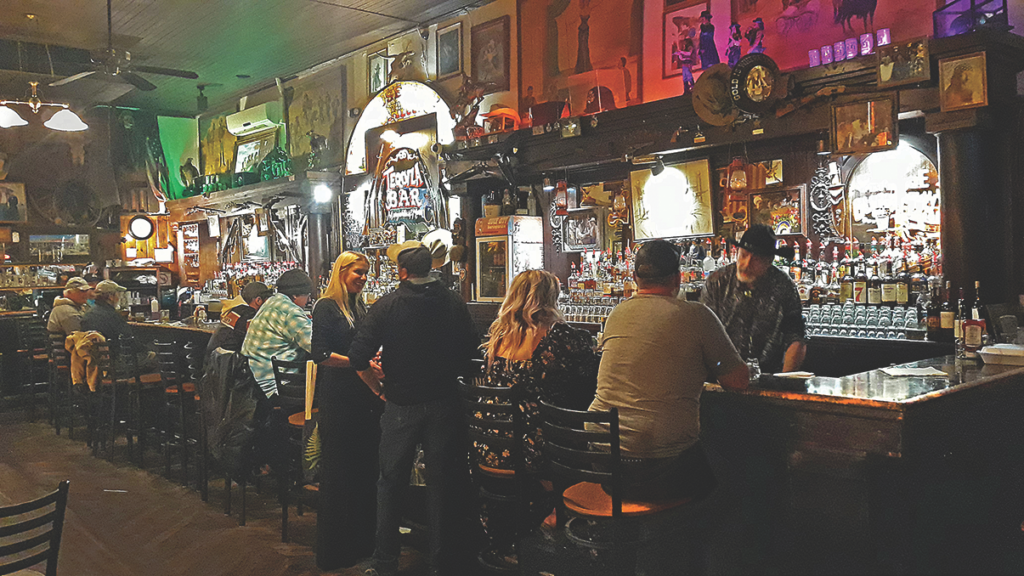 Hassayampa Inn
122 E Gurley St. Prescott, AZ 86301-3899
928-778-9434  • HassayampaInn.com
Sleep where Will Rogers, Greta Garbo, Clark Gable and Steve McQueen did. This beautifully restored 1927 boutique hotel sits in the heart of historic downtown Prescott, Arizona's Territorial capital in 1864-67. The town's history of frontier gold and silver mining is evident throughout this hotel with the Art Deco-inspired Peacock Room restaurant and the Glass Bar, providing live music nightly. Charming antique furniture, a quirky vintage elevator and etched glass and embossed copper panels set off Spanish Colonial Revival architecture and Italianate features. Hassayampa Inn offers full-service banquet facilities and a variety of meeting spaces.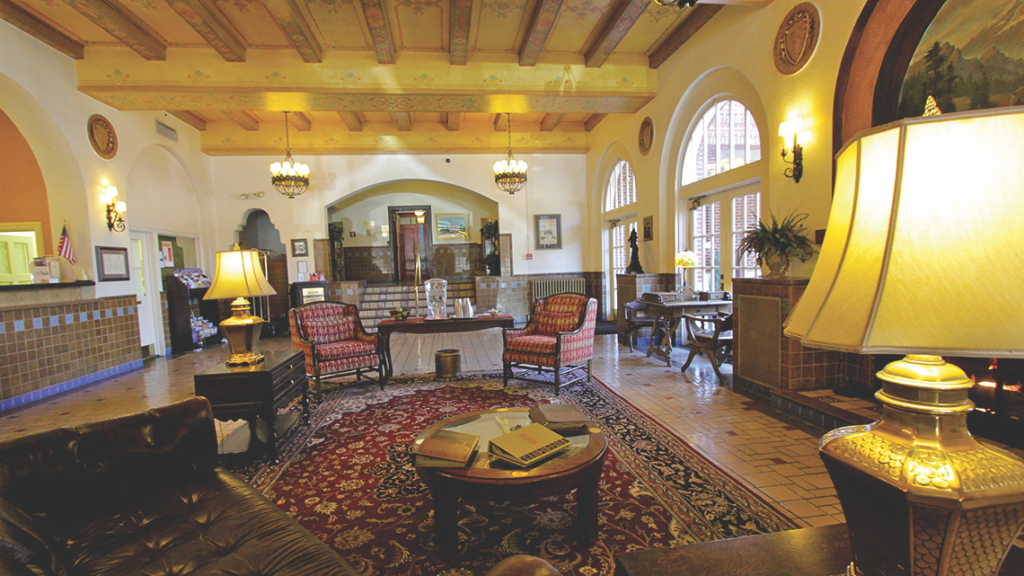 Palace Restaurant & Saloon
120 S Montezuma St. Prescott, AZ  86303
928-541-1996 • WhiskeyRowPalace.com
With its origins stretching back to 1874, The Palace, originally known as Cabinet Saloon, has been the gathering place where locals could seek employ-ment, hear news of the territory or hoist a cold one with friends. Legend has it that patrons have included three of the Earp Brothers and Doc Hol-liday, along with actors and movie crews filming Junior Bonner, Wish Man and Wanda Nevada. The exquisite back and front bars, 1890s Brunswick, survived two Whiskey Row fires by being hefted and carted across the street to the court-house lawn. Story goes the bar's pro-tectors and movers then sat and toasted the flames with saved whiskey bottles. That spirit remains alive with a saloon that wouldn't die.   
Rancho de la Osa Guest Ranch
1 La Osa Ranch Rd. Sasabe, AZ 85633
520-339-1086 • RanchoDeLaOsa.com
Located adjacent to the 120,000 acres of Buenos Aires Wildlife Refuge, the historic Rancho de la Osa Guest Ranch offers horseback riding, swimming, biking, hiking, bird watching, sport shooting, wildlife photography and more. Spend a relaxing evening enjoying Southwest-style cuisine with other guests or a cold one at the Cantina, the oldest continually occupied building in Arizona. An hour and half drive south from Tucson, this 1924 ranch was founded in 1699 by Padre Kino who brought cattle and sheep to surrounding villages. Today, it offers 19 luxurious adobe guest rooms with Mexican antiques, vintage furniture and tons of history. 
Ranchos de los Caballeros 
1551 S Vulture Mine Rd. Wickenburg, AZ 85390-2118
928-684-5484 • RanchoDeLosCaballeros.com
Sixty miles northwest of Phoenix, Ranchos de los Caballeros, founded in 1948, is in Wickenburg, known for its clean air, wide-open spaces, tourism and outdoor adventure. Continuing a family tradition of generosity, the guest ranch offers Southwestern hospitality and respect for the natural world. Furnished in the Santa Fe style, the ranch's 67 hotel rooms and 12 suites offer accommodations for everyone. With 13,300 sprawling acres, guests can enjoy horseback rides, golf, tennis and pickleball, a heated pool, day spa, trap and skeet shooting and archery. Meet other guests at the Main Dining Hall with the all-inclusive dining plan or on the Los Caballeros Club Grille's patio which faces the Bradshaw Mountains.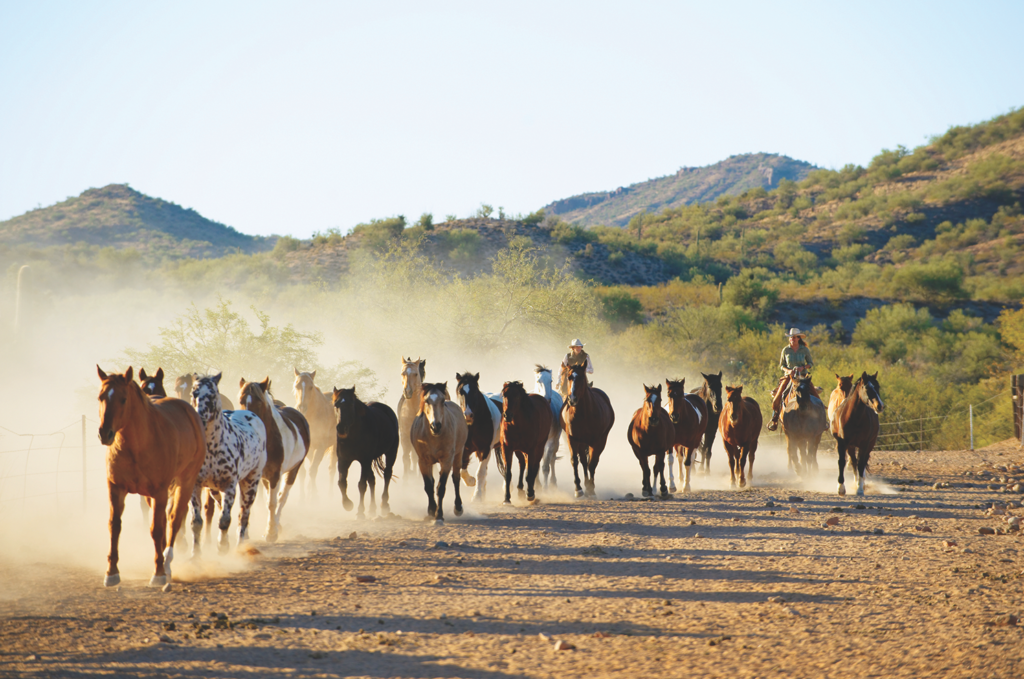 CALIFORNIA
Rankin Ranch
PO Box 36, Caliente, CA 93518
661-867-2511 • RankinRanch.com
Ranch headquarters sit in the little valley of Walker's Basin, deep in the heart of the Tehachapi Mountains and southern end of Sequoia National Forest. A working cattle ranch for 160 years, this six generations, family-owned ranch covers 31,000 acres. Guest activities include horseback riding through meadow cattle country, swimming, hiking, trout fishing and other outdoor games. Guests stay in duplex cabins and enjoy breakfast and a buffet-style dinner in the dining room. Each evening before dinner, adults gather for a "Patio Party" complete with appetizers. Children play in a recreation room or on the big lawn supervised by counselors.
Weekly hayrides and barbecues in the meadow offer Sunday lunch and a horseshoes tournament.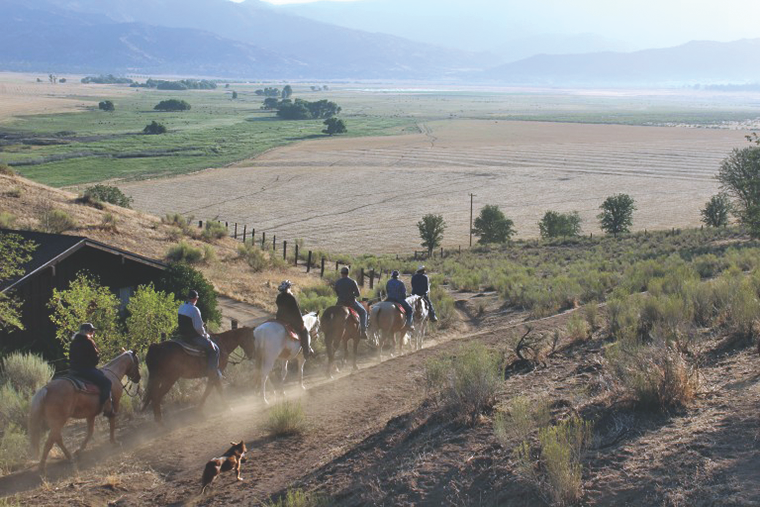 COLORADO
C Lazy U Ranch
1640 CO Hwy 124, PO Box 379, Granby, CO 80446
970-887-3344 • CLazyU.com
Founded in 1919, this family-owned ranch provides a place where families can experience traditions of the American West. The heartbeat of the guest ranch is riding one of the 180 horses on the property. An indoor riding arena provides year-round equestrian enjoyment and clinical instruction from skilled riders. Mountainous trails traverse the 8,500-acre ranch. Fly fishing on Willow Creek compete with paddleboats in a fishing pond. Enjoy the zip line, archery, a ropes course, outdoor pool, tennis, basketball, volleyball and a children's playground. The 38 cabins are warm and spacious. Guests gather indoors or out for cocktails and appetizers while the chef prepares a healthy ranch dinner. 
Diamond Belle Saloon
699 Main St. Durango, CO 81301
800-247-4431 • Strater.com
Located inside the Strater Hotel, the Diamond Belle Saloon is the real deal. Once home to the Strater-Thorpe Drugstore, the Diamond Belle took form in 1957 and has grown into a world-and locally famous watering hole. Locals and visitors gather once a week to swap stories, poems and songs, and tap along with the talented Ragtime Pianists of the Belle. Cowboys no longer ride their horses into the saloon as they did not so long ago; a bullet hole in the back bar drawer speaks of more riotous times. Directly above the Belle is the room in which Western writer Louis L'Amour penned many of his novels. In addition to brews, the Belle serves creative appetizers, salads, burgers and entrees.  
Hotel Colorado
526 Pine St. Glenwood Springs, CO 81601
970-945-6511 • HotelColorado.com
Located in the heart of downtown, Hotel Colorado has been delighting guests since 1893. Steps from the Glenwood Hot Springs, guests appreciate the close proximity to the White River National Forest. After a full day of activities, enjoy a family-friendly meal at the Restaurant & Bar or relax at the Coppertop Bar. Next day, fuel up with pancakes at the Restaurant & Bar, or later, enjoy an entrée in the courtyard. Hotel Colorado has played host to Teddy Roosevelt, William Taft and the "Unsinkable" Molly Brown. Today, Hotel Colorado, a dog-friendly hotel, is an enchanting step back in time, inviting visitors to take in the cool mountain air, healing hot springs and exceptional service.    
Rainbow Trout Ranch
1484 Forest Service Rd 250, Antonito, CO 81120
719-376-2440 • RainbowTroutRanch.com
Formerly a private fishing club, Rainbow Trout Ranch, snuggled in southern Colorado's San Juan Mountains, offers Old West history with 21st-century comfort. The lodge, built in 1925, is filled with Old West pictures and memorabilia. Set at 9,000 feet, this ranch, spread over 160 acres, offers a full range of activities. Open-air cookouts and horseback riding with horses perfect for each rider's abilities. Frisbee golf (invented in the early 1900s), hiking, line and square dancing, special stories and singalongs for the children, and of course, trout fishing on the Conejos River, fill each day. Afterwards, enjoy the outdoor pool or hot tub. Rainbow trout ranch offers a memorable riding adventure of a lifetime.  
Strater Hotel
699 Main St. Durango, CO 81301
970-247-4431 • Strater.com
Step into the Strater Hotel and history wraps its arms around you. Opened in 1887, today the hotel is a living museum and prominent landmark close to the Durango & Silverton Narrow Gauge Railroad. In the lobby, shadow boxes depict stories of the mining days. Well-crafted, handcrafted woodwork, period wallpaper, authentic and historic drapes and a large collection of American Victorian walnut antiques decorate the hotel lobby and the 88 guestrooms. Each room has Wi-Fi, air conditioning and private bathrooms. Complimentary coffee is in the lobby. Close to the Animas River and smaller silver mining boomtowns, the Strater offers a comfortable home base when exploring Durango or any of the nearby attractions.  
True Grit Café
123 N Lena St. Ridgway, CO 81432
970-626-5739 • TrueGritCafe.com
The True Grit Café, on the Western Slope of Colorado, offers hand-cut, all nature sirloins and ribeye steaks. True Grit Café also offers chicken fried steaks. In fact, they've served over 5,300 annually. Built to honor the 1968 filming of John Wayne's True Grit movie, the café opened on New Year's Eve 1985. Guests enjoy learning about the history within the café, along with John Wayne memorabilia. Specializing in "cowboy cuisine," they serve burgers, chicken fried steaks, steaks and locally sourced pork. Their "Ranch to Fork" experience will surely fill empty stomachs. Sit on the deck and enjoy the mountainous background seen throughout the movie.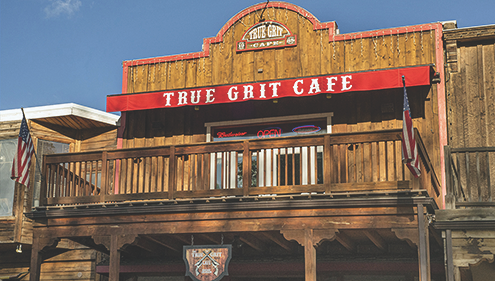 IDAHO
The Snake Pit
1480 Coeur d'Alene River Rd. Enaville, ID 83839
208-682-3453 • SnakePitIdaho.com
A local landmark for over 140 years, the Snake Pit, located at the fork of the Coeur d'Alene River, has served as a boomtown bar, railroad layover, hotel, house of ill-repute and a starting point for loggers and miners. Today, this log cabin-style building is a wonderful combination of old and new. Stories about how the Snake Pit got its name are varied but colorful. Be sure to ask your server. The restaurant offers a full menu from Saturday prime rib specials to daily sirloin steak to barbecue to pancakes. A good selection of brews, ciders and spirits round out the experience. Local acoustic musicians liven up the area with banjos and guitars on Friday nights.  
MONTANA
The Bale of Hay Saloon
344 W Wallace St. Virginia City, MT 59755
406-843-5700 • TheBaleOfHaySaloon.com
Hoist a cold one at the rustic Bale of Hay Saloon from mid-May to late September. Step into the character of the West in Montana's oldest established bar in Virginia City, a historic mining town. Known for handmade hamburgers, brats and a decent beer selection, many from local Montana breweries, The Bale offers free pool tables and shuffleboard. Inside is unique antique entertainment equipment, original cupboards behind the bar, old pictures and memorabilia on the walls and a big potbelly stove. About 99 percent of the bar is original. An outside area is a pleasant place to sit and sip.   
The Grand Union Hotel
1 Grand Union Sq. Fort Benton, MT 59442
406-622-1882 • GrandUnionHotel.com
Over 100 years of history are displayed in the hotel and at historic Fort Benton. Built in 1882 during the steamboat era, the Grand Union Hotel, on the upper Missouri River, was once proclaimed the finest hotel between St. Louis and Seattle. Listed on the National Register of Historic Places, the Grand Union is Montana's oldest operating hotel. Despite 140 years of ups and downs, today the Grand Union shines with modernity. The hotel's 26 guest rooms are equipped with air conditioning and flat-screen televisions. Many offer a view of the Missouri River. The Grand Union and Union Grille are proud to continue the tradition of providing one of the state's grandest lodging and dining experiences.   
NEBRASKA
Rowse's 1+1 Ranch
46849 833 Rd. Burwell, NE 68823
308-346-5530 • 1plus1Ranch.com
This Nebraska Sandhills working cattle ranch, 90 miles from Kearney, gives guests the opportunity to truly be a cowboy. Run by the Rowse family, the ranch offers guests a chance to learn to work cattle, ride, rope, brand, drive the herd and sort cattle. Known for wide open spaces, genuine hospitality, phenomenal quarter horses and unparalleled riding opportunities, the 1+1 Ranch provides lifelong memories. Accommodating a small number of guests in six updated Western log bunkhouses, the ranch guarantees personalized instruction. Meals are shared with family and friends at the Main Ranch Lodge. Rowse's 1+1 Ranch was recognized as a Top Cattle Drive ranch by DudeRanch.com.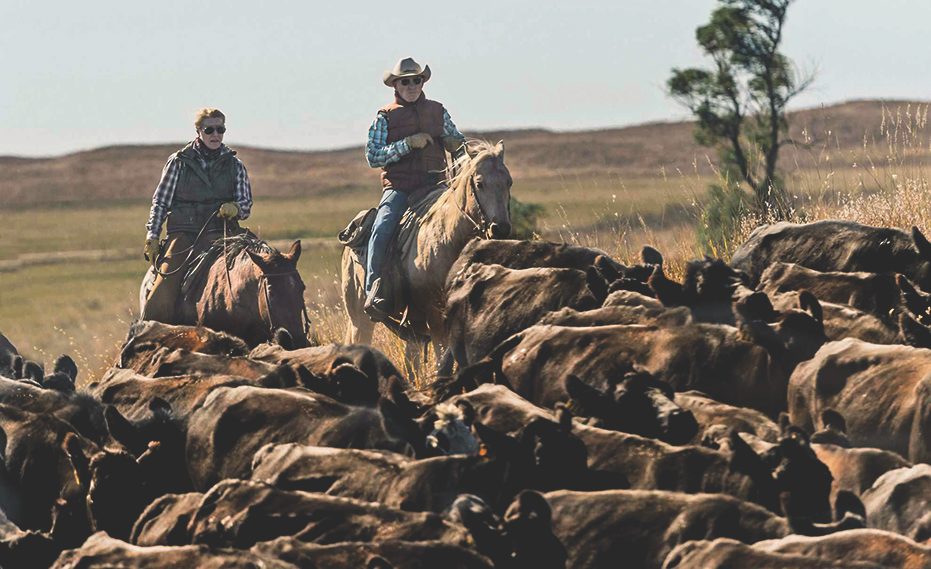 NEW MEXICO
Geronimo Trail Guest Ranch
1 Wall Lake Rd. Winston, NM 87943
575-772-5157 • GeronimoRanch.com
It's all about horses and relaxation at the Geronimo Trail Ranch. Horses are available for riding, grooming, feeding or simply watching. Trails take riders through canyons, atop mesas and through the Gila National Forest where Black Range views are breathtaking. At the only ranch of its kind in New Mexico, guests can ride as much or as little as they want. And with only four cabins accommodating up to 16 guests, the small numbers allow schedule flexibility. The only distractions are Nature—herds of elk, deer, eagles and 1,000-year-old cliff dwellings. After a relaxing day, savor ranch-style cooking in the dining hall or at outdoor barbecues. Open March through mid-November.  
Murray Hotel
200 W Broadway St. Silver City, NM 88061
575-956-9400 • Murray-Hotel.com
Take a step back into 1938 when you sail through the doors of the Murray Hotel in downtown Silver City, New Mexico. Upon opening, the Murray soon became known for its Art Deco luxury and elegance. Today, restorations have returned the hotel to its original Streamline Moderne majesty and now include many green, energy-efficient systems. Reopened in 2012, the 53 guest rooms and suites are spacious and comfortable with a complimentary breakfast included. Wall artwork tells the historic hotel's history. Locally produced artwork is on sale in the lobby. Many shops, restaurants, art galleries and museums are within close walking proximity to the Murray.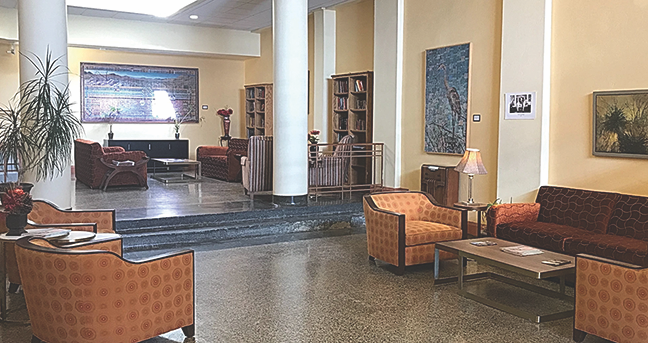 Plaza Hotel
230 Plaza St. Las Vegas, NM 87701
505-425-3591 • PlazaHotel-NM.com
Opening in 1882 as an upmarket hotel for the booming town of Las Vegas, New Mexico Territory, the Palace Hotel, a three-story brick building with an Italianate façade, sits on the north side of the town plaza. Originally advertised as the "Belle of the Southwest," the Plaza lost favor when Fred Harvey opened the luxurious La Castañeda Inn as part of the Harvey House chain. Now remodeled, the Plaza Hotel is on the National Register of Historic Places. Tom Mix movies and television series have been shot here; the most recent was Longmire. A restaurant and bar are on the premises.   
St. James Hotel
617 S Collison Ave. Cimarron, NM 87714
575-376-2664 • EXSTJames.com
Built in 1872 on the historic Santa Fe Trail, the St. James Hotel has been a gathering place for over 140 years. Frenchman Henri Lambert built a saloon which became a hotel, frequented over the years by such characters as Buffalo Bill Cody, Annie Oakley, Wyatt Earp, Billy the Kid, Jesse James, Davy Crockett II and many others.
Thirteen historic rooms have been updated, appointed with antique furnishings, and named for the famous people who have walked through the doors. A two-story annex with 10 extra rooms is adjacent. Hungry? Lambert's restaurant serves lunch and supper in a tin-stamped ceiling dining room. Or enjoy a cold one at the historic TJ's bar. 
OREGON
Hamley Steakhouse & Saloon 
8 SE Court Ave. Pendleton, OR 97801
541-278-1100 • Hamley.com
Located in the heart of Pendleton, the Hamley Saloon & Steakhouse, open Tuesday to Saturday, has the region's most authentic Old West 100-year-old mahogany bar which features oak woodwork and is watched over by "Tex," a massive longhorn steer. Stained-glass chandeliers complete the decor. Happy hour drinks and food set a tone for relaxation and conviviality. Looking for a bite? Hamley Café, open Monday to Saturday, offers a quiet relaxing breakfast and lunch. Hamley Steakhouse offers takeout as well as dine-in. The restaurant specializes in prime rib and traditional ranch cooking.
Stunning on the inside, Hamley Steakhouse and Saloon occupies a building dating from the Oregon Trail days and is filled with nostalgic Old West decor.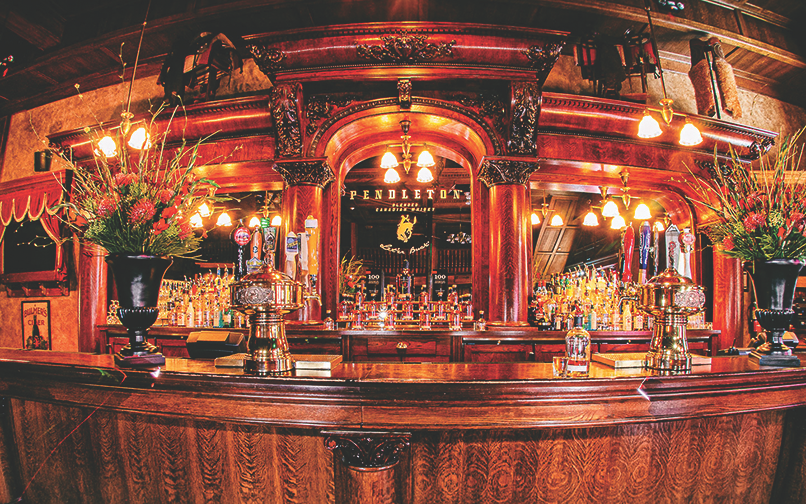 SOUTH DAKOTA
Bullock Hotel
633 Main St. Deadwood, SD 57732
605-578-1745 • HistoricBullock.com
Step back in time as you walk through the same rooms and hallways that Deadwood's first sheriff, Seth Bullock, still proudly "haunts." Treat yourself to 19th-century historical elegance combined with 21st-century amenities. Within walking distance of downtown Deadwood, the hotel, built in 1895, offers 28 luxury rooms, a breakfast restaurant, Bully's, a full liquor bar, ghost tours and a casino, open 24/7. The beautifully appointed rooms feature Wi-Fi and period furniture. Bully's, named after Teddy Roosevelt, is open for breakfast. The Bullock Hotel is definitely the "Jewel of Downtown Deadwood" and is the most photographed building in town.  
TEXAS
Rancho Cortez Dude Ranch
872 Hay Hollar Rd. Bandera, TX 78003
830-796-9339 • RanchoCortez.com
This ranch, located in the Texas Hill Country and near San Antonio, offers cowboy experiences for everyone. Escape urban life for a half or full day, or much longer. The ranch offers meals, horseback riding, swimming, hayrides, barrel racing and fitness programs. Or stay overnight in Western theme-appointed lodging. Large porches, a refreshing outdoor pool, indoor pool, children's play area and deck and hot tub complement a large dining and lodge room. A girls' horse summer camp for riders 8-16 teaches good horsemanship. A boys' cowboy camp for ages 8-18 teaches riding and roping skills, caring for livestock and camping. 
WYOMING
Buffalo Bill's Irma Hotel 
1192 Sheridan Ave. Cody, WY 82414
307-587-4221 • IrmaHotel.com
Built in 1902 by Buffalo Bill Cody, the Irma Hotel, which he called "a gem," sits just outside Yellowstone National Park. Named for Cody's youngest daughter, Irma, the hotel has seen its share of celebrities—princes, Indian chiefs and movie stars. The rooms are named after influential Wyoming residents. Be sure to see the amazing cherrywood backbar in the restaurant—a 1900 present from Queen Victoria of England to Cody for his performances in the Wild West Shows.
Enjoy a full menu at the restaurant which serves steaks, seafood and prime rib. Guests can sit on the porch and order a snack and drink while watching the gunfighters perform in the courtyard next door.   
Miners and Stockmen's Steakhouse & Spirits
608 Main St. Hartville, WY 82215
307-836-2008 • WyomingsOldestBar.com
Wyoming's oldest bar at the Miners and Stockmen's Steakhouse & Spirits, offer steaks and an extensive wine list, plus 35 different types of whiskey. Housed in the last remaining remnants of the old Fort Laramie trading post, the Steakhouse in Hartville, population 64, is adjacent to Guernsey State Park. Hartville, founded as a mining town, was rich in gold, silver, copper and iron ore. 
The Steakhouse has a reputation for serving mouthwatering beef. The bar guests see today was carved in 1862 in Germany, shipped to New York, trained to Cheyenne and then to Fort Laramie for the officers' club. In the 1880s, it was brought by wagon to Hartville. Open Thursday through Sunday.   
Occidental Hotel
10 N. Main St. Buffalo, WY 82834
307-684-0451 • OccidentalWyoming.com
Since 1880, the Occidental Hotel has established a reputation for hospitality and fine food. Old West characters Buffalo Billy Cody, Teddy Roosevelt, Butch Cassidy and Tom Horn spent time at the Occidental. Following a restoration in the early 2000s, this hotel is like truly stepping back in time. Embossed tin ceilings are original as is the 25-foot back bar and wooden chairs. The saloon bullet holes are original, too.
All rooms are furnished with different antiques and décor. Enjoy saloon beverages and a selection of dishes or take your food out back to the Beer Garden. Or dine in a nationally registered historic building at the Virginian Restaurant in the hotel (reservations recommended). 
Historic Hotels

 
Staying at a hotel with great history is truly one of life's joys. These are some True West favorites, but many more are waiting for your own personal getaway. Be sure to check with the hotel for availability before traveling.
Hotel St. Michael
Prescott, AZ • StMichaelHotel.com
The Crescent Hotel 
Eureka Springs, AR • Crescent-Hotel.com
The Beaumont Hotel 
Ouray, CO • BeaumontHotel.com
The White Horse Saloon, Hotel and Cafe
Spirit Lake, ID • TheWhiteHorseSaloon.com
Midland Railroad Hotel
Wilson, KS • MidlandRailRoadHotel.com
Murray Hotel 
Livingston, MT • MurrayBlock.com
Hotel Avron
Great Falls, MT • HotelAvron.com
Gold Hill Hotel & Saloon
Gold Hill, NV • GoldHillHotel.net
Mizpah Hotel
Tonopah, NV • TheMizpahHotel.com
Geiser Grand Hotel 
Baker City, OR • GeiserGrand.com
Menger Hotel
San Antonio, TX • MengerHotel.com
Moore's Old Pine Inn 
Marysvale, UT • OldPineInn.com
The Tokeland Hotel
Tokeland, WA • TokelandHotel.com
The Shelburne Hotel
Seaview, WA • ShelburneHotelWA.com
Historic Sheridan Hotel 
Sheridan, WY • SheridanInn.com
Historic Saloons & Restaurants
Across the West, small towns as well as big cities are home to historic restaurants and saloons. We recommend you consult the True West Historic Travel Guide. We also suggest you confirm hours and days of operation in advance and then enjoy your meal.
The Red Onion
Skagway, AK • RedOnion1898.com
Crystal Palace 
Tombstone, AZ • CrystalPalaceSaloon.com
Almost Historical River City Saloon
Old Sacramento, CA • TheRiverCitySaloon.com
Smiley's Schooner Saloon
Bolinas, CA • SmileysSaloon.com
The Buckhorn Exchange 
Denver, CO • Buckhorn.com
Meeker Hotel & Cafe 
Meeker, CO • MeekerHotel.com
The Fort Restaurant 
Morrison, CO • TheFort.com
Mint Steaks and Seafood 
Silverthorne, CO • MintSteakhouse.com
Hays House Restaurant and Tavern
Council Grove, KS • HaysHouse.com
Historic Montana Bar 
Miles City, MT • TheMontanaBar.com
The Buckhorn Saloon & Opera House
Pinos Altos, NM • BuckhornSaloonAndOperahouse.com
Genoa Bar
Genoa, NV • GenoaBarAndSaloon.com
Saloon No. 10 
Deadwood, SD • Saloon10.com
Buffalo Bodega Bar
Deadwood, SD • BuffaloBodega.com
Shooting Star Saloon
Huntsville, UT • No website
Historic Guest Ranches & Lodges
Almost every Western state has a historic dude ranch, guest ranch or lodge. Here is a short list of our favorites. Contact the Dude Ranchers Association at DudeRanch.org for others.
Circle Z
Patagonia, AZ • Circlez.com
Monument Ranch 
Tombstone, AZ • TombstoneMonumentRanch.com
White Stallion Ranch
Tucson, AZ • WhiteStallion.com
Tanque Verde
Tucson, AZ • TanqueVerdeRanch.com
Kay El Bar Guest Ranch 
Wickenburg, AZ • KayElBar.com
Red Horse Mountain Ranch
Harrison, ID • RedHorseMountain.com
Lone Mountain Ranch 
Big Sky, MT • LoneMountainRanch.com
The Ranch at Rock Creek
Phillipsburg, MT • TheRanchAtRockCreek.com
Sweet Grass Ranch
Big Timber, MT • SweetGrassRanch.com
Mayan Dude Ranch
Bandera, TX • MayanRanch.com
Y.O. Ranch & Resort 
Kerrville, TX • YORanchHotel.com
Cibolo Creek Ranch 
Marfa, TX • Cibolocreekranch.com
Paradise Guest Ranch 
Buffalo, WY • Paradiseranch.com
Willow Creek Ranch at the Hole-in-the-Wall 
Kaycee, WY • Willowcreekranch.com
Yellowstone O.T.O. Ranch
Gardiner, MT • OTODudeRanch.com