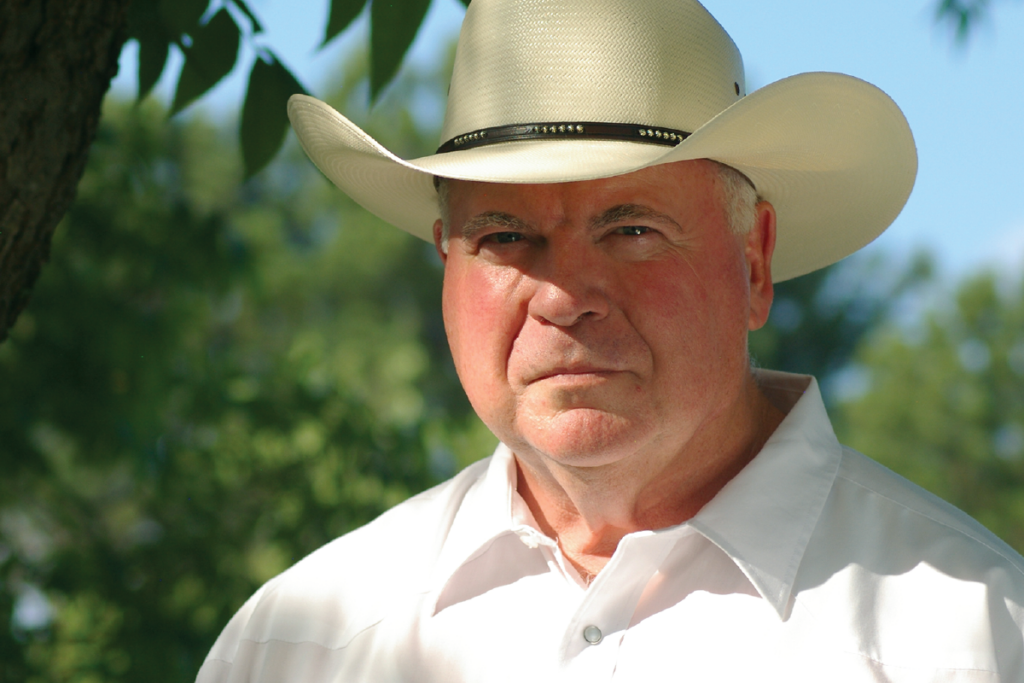 Phil Mills, Jr., Writer
Award-winning Texas author Phil Mills, Jr. serves as president of the Western Writers of America (WWA). His first novel, Where a Good Wind Blows, was followed by Where the Wildflowers Dance. His short story "Cold the Bitter Heart" appeared in the anthology Perilous Frontier. Mills has written three children's books: Scooter the Cow Dog, Mud Between My Toes and Bandit the Cow Dog, which received a 2021 WWA Spur Finalist Award and a Will Rogers Gold Medallion.
I grew up on a small farm near Auxvasse, Missouri, and graduated from Westminster College in Fulton, Missouri. I'm the oldest of five children.
My parents were hard working and loving individuals. My dad was born near Cascade, Montana, and my grandfather often worked with the artist Charles M. Russell. My mother was an avid reader of Zane Grey's novels.
The teacher who influenced my life most, was one I met in seventh grade. I was really a quiet kid, so her encouraging me to write allowed me to express myself.
A writer I enjoyed reading was Mark Twain. Growing up in Missouri, the town of Hannibal and the Mississippi River weren't that far away. I could relate to the stories about Tom Sawyer and Huckleberry Finn.
The first story that stands out for me I wrote in high school. I wrote a book report about a book that didn't exist, never did exist and still doesn't exist. I made it up. The teacher gave me an A.
A Western movie I enjoy most is The Big Country. Best fun movie is Along Came Jones.
Working as an editor can be both a challenge and a blessing. Having been a newspaper editor and magazine editor has helped me become a better writer. However, I've learned I can't edit my own work. 
Short story writing means making every word count. It's also enjoyable because you can get right to the point and then tie everything up. 
Bandit the Cow Dog is my most recent children's book and addresses the importance of accepting responsibility for your actions, no matter how uncomfortable. I put some type of teaching or learning element in all my children's books. 
Moving to Texas from Georgia has been good. But it has meant leaving both of my daughters and their families including my four grandchildren in Georgia. However, my wife, Sonja, was living in Texas when I met her. Her daughter, son-in-law and grandchildren, along with her son, all live close by, so that's been a positive.
My favorite pie is an easy one. Make it pecan. However, if we are talking cobblers, then it's gotta be either blackberry or peach.
Missouri (or Georgia) BBQ versus Texas brisket? That's a tough one. I grew up thinking there's nothing better than Kansas City barbecue. But, Texas brisket is amazing!
The West and what defines the West are great questions. Most people tend to say everything west of the Mississippi River. However, ask somebody living west of the Cumberland Gap or the Smoky or Blue Ridge Mountains, and they may differ with you. 
The Western novel has created an image where the good guys always seem to overcome evil by standing up for what's right. These stories have created and perpetuated a belief that good will eventually win out. 
Rodeo announcing came to me in 2016 when I attended the late Chad Nicholson's Rodeo Announcer's Training Seminar in Fort Worth, Texas. After announcing barrel races in Alabama and Georgia, I started announcing rodeos at the Twin Elm Guest Ranch in Bandera, Texas.
As president of the Western Writers of America, I have the pleasure of representing more than 700 talented author/writers in the promotion of literature about the American West. 
Marriage is great, especially when your wife supports your crazy writing habit unconditionally, even when she realized a writer putting words on paper won't pay many bills.
What history has taught me is that mistakes and disappointment are inevitable. How we react and rebound from those mistakes is what defines us. Quitting is easy. Turning your face into the wind of adversity may be the most difficult thing we ever do, but with God's help, it may also be the most rewarding.