Elliott West's Continental Reckoning, plus a Texas Ranger history, a dual biography of Cody and Hickok, a novel of the Mississippi frontier and a Californio biography.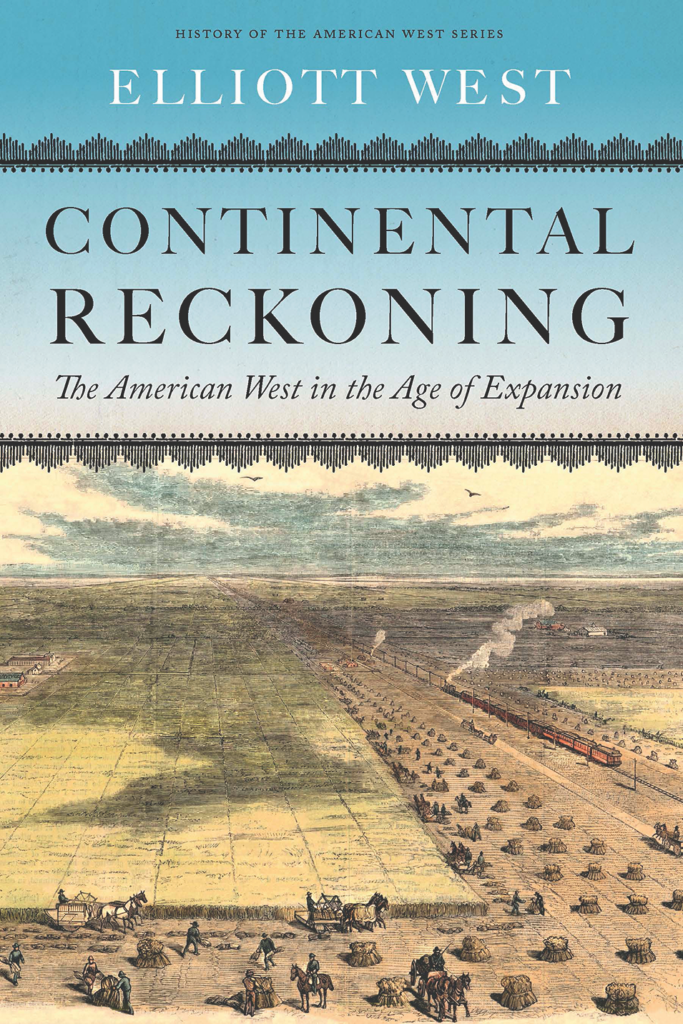 I first became aware of Elliott West's scholarship while in graduate school in the 1990s. West's Growing Up With the Country: Childhood on the Far-Western Frontier (1989), The Way to the West: Essays on the Central Plains (1995) and The Contested Plains: Indians, Goldseekers, and the Rush to Colorado (1998) were all required reading for young scholars of Western history. Three decades later, the Alumni Distinguished Professor of History Emeritus at the University of Arkansas has reached the pinnacle of his academic life. Elliott West's latest, Continental Reckoning: The American West in the Age of Expansion (University of Nebraska Press, $39.95), is one of the most important books published on the subject in the past 50 years. As Nebraska Press's "History of the American West" series editor Richard Etulain writes in his introduction, "the most important contribution of West's extensive and invaluable study is its illustration of his Greater Reconstruction thesis, the most notable historiographical idea advanced about the American West in the twenty-first century."
How does West deliver his new synthesis of America and the West in a literary and dramatic style to his readers? Similar to William Manchester's style in Glory and the Dream: A Narrative History of America, 1932-1972, West's narrative of American history from 1848 to 1890 provides the reader with both a broad and detailed sweep of the political, social, racial and cultural upheavals that define the United States in the middle decades of the 19th century. He divides his narrative into two parts: "Unsettling America" and "Things Come Together." Narratively, West uses the Civil War as his fulcrum between the two halves of Continental Reckoning. He begins with the continental expansion following the Mexican-American War and ends with the tumultuous American decade of the 1880s. He does not use the 1890 massacre at Wounded Knee as a Turnerian endpoint, but as a bridge that leads forward into the social, cultural, diplomatic and economic complexities that will define American history—nationally and internationally—in the 20th century.
What readers should appreciate most about West's scholarship is his ability to tell such a grand story of America with depth, detail and literary style. His volume is a magnanimous history of America during the nation's era of greatest expansion. The author's conclusions will expand your consideration of the magnitude of change and upheaval that occurred in the United States between 1848 and 1890. The professor's Greater Reconstruction thesis amalgamates 19th-century American history into a whole, rather than separating the national story by region. 
By the final chapter of Continental Reckoning, the reader should pause and realize they have read one of the most important contributions to the American historiography published in the past half-century. Historians of America and the West will recognize that Elliott West, one of the most respected scholars in his field the past 40 years, has accomplished a great deal in his career, but will remember Continental Reckoning as his master work, truly a magnum opus of his highly lauded scholarly career.
 —Stuart Rosebrook
Rangers Extraordinaire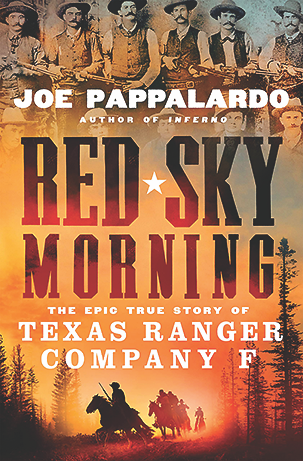 Joe Pappalardo's Red Sky Morning: The Epic True Story of Texas Ranger Company F (St. Martin's Press, $29.99) begins with a positive idea: present the history of Company F of the Frontier Battalion, but in presenting that idea other elements weaken that idea, and Red Sky Morning becomes several books in one. In so doing, embarrassing errors creep in: Bass was killed not in Red Rock [p.113] but in Round Rock; the Adjutant General was John B. Jones, not Tom Jones; gang member Seaborn Barnes was killed by a head shot from Ranger Richard Ware's pistol, not his rifle. These are simple errors, but a knowledgeable peer review would certainly have caught them. The book has a great title, and it would be a better book if the author had concentrated on editing and annotating the unpublished manuscript by Mark Dugan detailing the history of the Conner Gang and its ultimate feud with the Texas Rangers. 
—Chuck Parsons, author with Thomas C. Bicknell of  King Fisher: The Short Life and Elusive Legend of a Texas Desperado
Legends of the West
Chock-full of interesting tidbits, Wild Bill Hickok and Buffalo Bill Cody: Plainsmen of the Legendary West by Bill Markley (TwoDot, $24.95) is a treasure trove of all things "Bill." For example—both Buffalo Bill and Wild Bill were soldiers, scouts, lawmen, expert horsemen, gunslingers, gamblers and showmen. They fought in the Civil War together and became friends who worked and played together often. Dotted with tons of information throughout, Markley's awe-inspiring research leaves no doubt as to accuracy. And where there are questions, he makes no attempt to second-guess. He simply states what he thinks happened. Anyone interested in the Old West should have Markley's book on their shelf. It's not a quick read, but it's remarkably well written and worth the time ingesting facts. I highly recommend this book as well as his other well-researched books.
—Melody Groves, author of  Before Billy the Kid
Fightin' Frontiersmen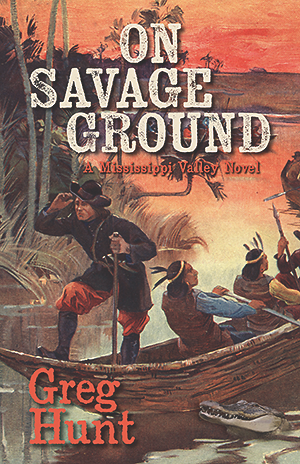 Dueling and pirates and Indians, oh my! Greg Hunt's On Savage Ground: A Mississippi Valley Novel (Five Star, $25.95) is a wonderfully ex-citing tale of 1720s New Orleans on the edge of savage wilderness and at the mercy of the weather and the river. There is plenty of love, lust, depravity, deception, corruption and deadly violence as Marc Lafitte makes a new life for himself and his true love. Hunt makes us feel the fear, grit and suffering that was life on a very wild frontier while giving insight into the conflicted emotions and decisions involved in what it's like to be owned as a slave and to be a slave owner. The concluding duel will have readers on the edge of their seats knowing that something just isn't right. 
—Doug Hocking, author of Tom Jeffords: Friend of Cochise
A Legendary Californio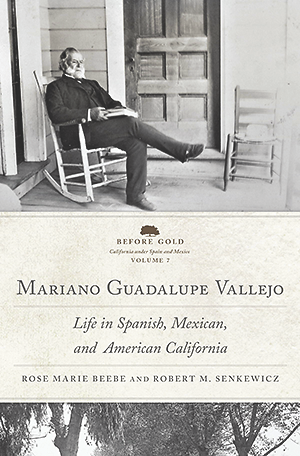 Rose Marie Beebe and Robert M. Senkewicz tackle the life of an early California pioneer in Mariano Guadalupe Vallejo: Life in Spanish, Mexican, and American California (University of Oklahoma Press, $45). The biography presents a compelling and readable narrative about the life of a man generally forgotten outside of California's history, but who helped shape the region's identity before, during and after the Gold Rush days of the 1840s and 1850s. Perhaps the most important element of the book is the acknowledgment of Vallejo's published obser-vations of early California history up to 1849, which give a rare view into the cultural life of Mexican-Americans in California during that era. 
—Erik Wright, assistant editor of 
The Tombstone Epitaph
Rough Drafts
2023 SPUR AWARD WINNERS
The WWA Spur winners and finalists are scheduled to be honored June 22-25 in Rapid City, South Dakota. Congratulations to this year's winners in the following categories:
Historical Nonfiction Book: Saving Yellowstone: Exploration and Preservation in Reconstruction America by Megan Kate Nelson (Scribner)
Biography: Before Billy the Kid: The Boy Behind the Legendary Outlaw by Melody Groves (TwoDot)
First Nonfiction Book: American Hero, Kansas Heritage: Frederick Funston's Early Years, 1865-1890 by Clyde W. Toland (Flint Hills Publishing)
Short Nonfiction: "Texas Jack Takes an Encore" by Matthew Ross Kerns (Wild West)
Historical Novel: Properties of Thirst by Marianne Wiggins (Simon & Schuster)
Traditional Novel: The Secret in the Wall: A Silver Rush Mystery by Ann Parker (Poisoned Pen Press/Sourcebooks)
Original Mass-Market Paperback Novel: This Dead Man's Trail: A Carson Stone Western by Nate Morgan (Pinnacle/Kensington)
Romance Novel: Proving Her Claim: On the Dakota Frontier by CK Van Dam (Pasque Publishing)
First Novel: Proving Her Claim: On the Dakota Frontier by CK Van Dam (Pasque Publishing)
Short Fiction: "No Quarter" by Kathleen O'Neal Gear, published in Rebel Hearts Anthology (Wolfpack Publishing)
Drama Script: Dead for a Dollar by Walter Hill (CHAOS a Film Company/Polaris Pictures)
For a complete list of winners and finalists in all categories, visit WesternWriters.org.
—Stuart Rosebrook
Building Your Western Library
German author shares her love of Western books.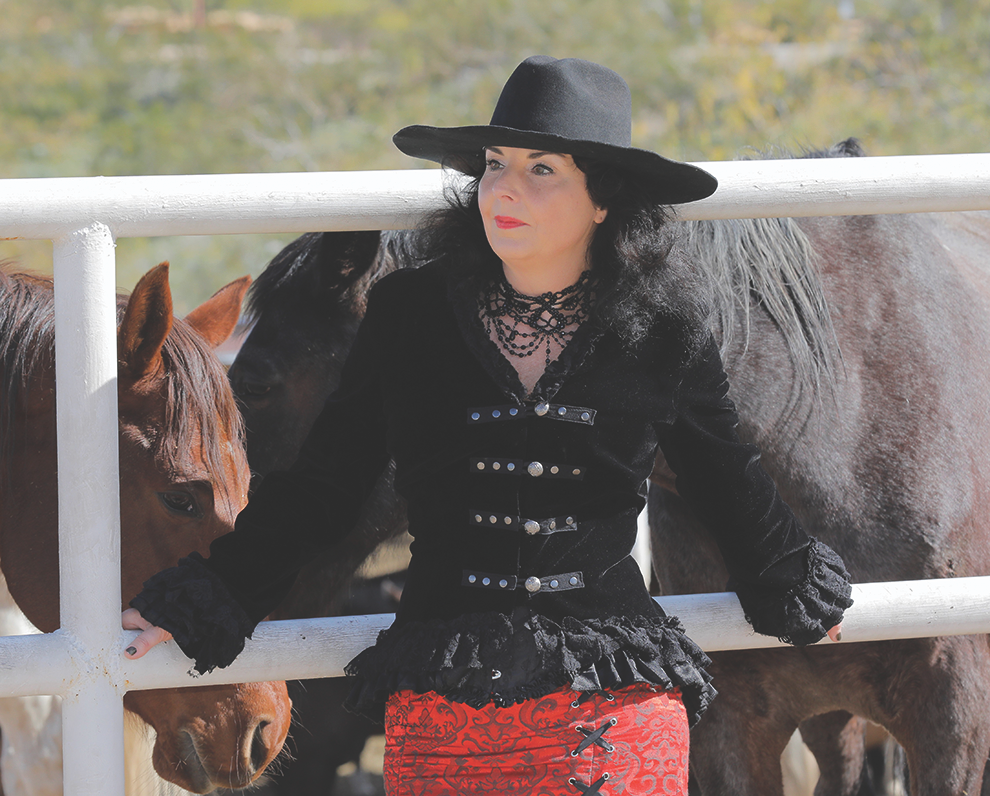 Manuela Schneider has written four Western mystery novels that feature female heroines, famous Western towns and historical characters. Her composition as a co-songwriter of 2021's "Miner's Candle" song has achieved recognition in seven countries worldwide. Her first short movie won numerous awards in the U.S. and Europe. Currently she is working on four historical novels and recently finished a Western movie script. The authors and books which influenced her writing: 
  Winnetou 1-3 by Karl May (Independent): After discovering that May made up everything, I decided at age 10 to visit the Southwest myself to learn the truth about the Apache people. I have been visiting since 1996. 
  Lonesome Dove by Larry McMurty (Scribner): The first Western I read in English was given to me by a true cowboy and spur maker. The novel will always remind me of my first year at a dude ranch and the greatest friendship we shared. 
  Little House on The Prairie by Laura Ingalls Wilder (HarperCollins): So important that the story of a family and their hardship during pioneer days was written down in a way that still warms my heart. Even today I read these books and daydream about Walnut Grove.  
  True Grit by Charles Portis (Simon & Schuster): I love the toughness of the girl and that she wins against all odds. True Grit was the inspiration for my first novel. I would have done the same for my father. 
According to Kate by Chris Enss (TwoDot): The character of Big Nose Kate has always fascinated me. Amazing research and new insights about Doc Holliday´s European gal.