The Lone Star lawmen have been a favorite of editors and readers of True West for seven decades.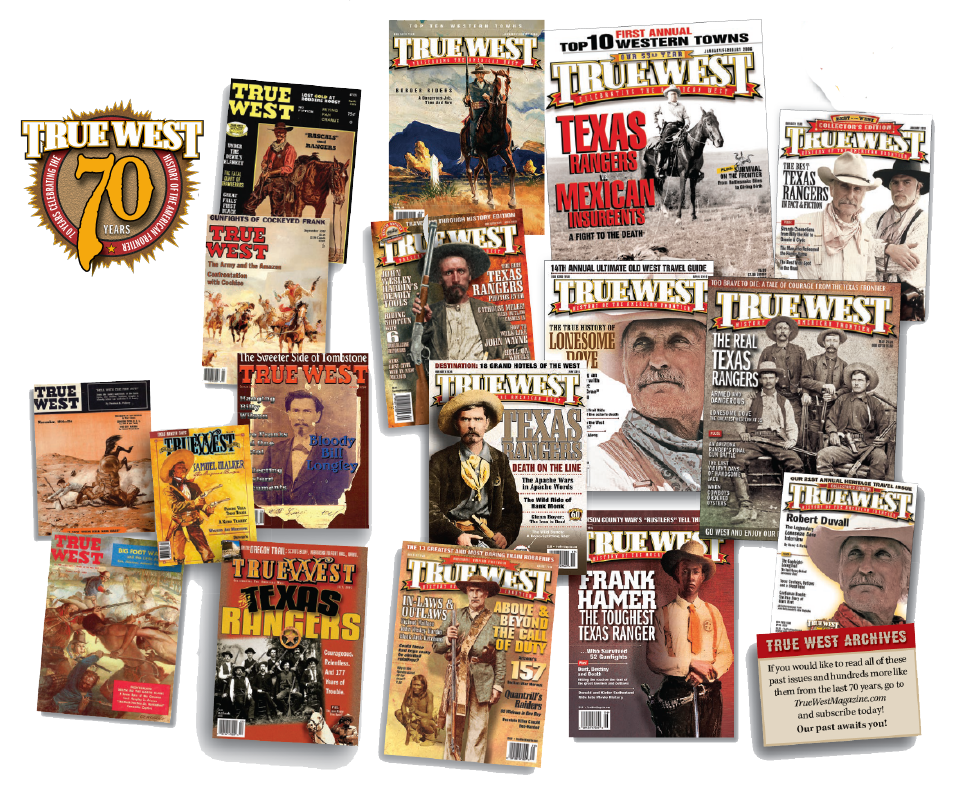 In 1953, the year True West magazine was founded, the Texas Rangers celebrated their 130th anniversary as one of America's most storied law enforcement agencies. Seventy years later, True West's editors are still riding side-by-side with the Lone Star lawmen and are honored to commemorate the Texas law agency's bicentennial with a look back at our coverage during the past seven decades. 
As our founder Joe Small was a Texan, it is no surprise that the Texas Rangers were regularly chronicled in True West, as well as in its sister publications Frontier Times and Old West. But what is surprising is the lack of Ranger covers during Small's tenure as editor versus how often editor Bob Boze Bell has featured the menacing Texans as the face of the publication.
Between 1953 and 1979, Small showed the Texas lawmen on the cover just three times! That's right, you read that correctly. Only three times—in 1954, 1958 and 1975—and not once in the 1960s. Between 1979 and 1999, his successors put the hard-riding Rangers on the cover just twice, once in 1989 and once in 1999. 
But then, current owner and Executive Editor Bob Boze Bell took the reins of True West, and you might say he launched a Ranger Renaissance. Not including cover stories on the Arizona or California Rangers, the Texas Rangers have graced True West's covers 14 times since the year 2000, including the current June 2023 issue.
Why the surge in popularity during the BBB era versus the dearth of Rangers gracing the newsstand during the magazine's first 47 years? The popularity of Larry McMurtry's Lonesome Dove novel and the subsequent television miniseries are major factors in the rebirth of Ranger lore. So is the resurgence in Ranger scholarship by such authors as Mike Cox (page 26) and Chuck Parsons and Thomas C. Bicknell (page 32). But what of the absence of Ranger covers in the first 47 years? That is a larger sociological question that might have something to do with the political climate of America in the 1960s and 1970s, as well as the overwhelming popularity of cowboys and Indians, prospectors and trailblazers, gunslingers and outlaws in American pop culture in the 1950s and 1960s.