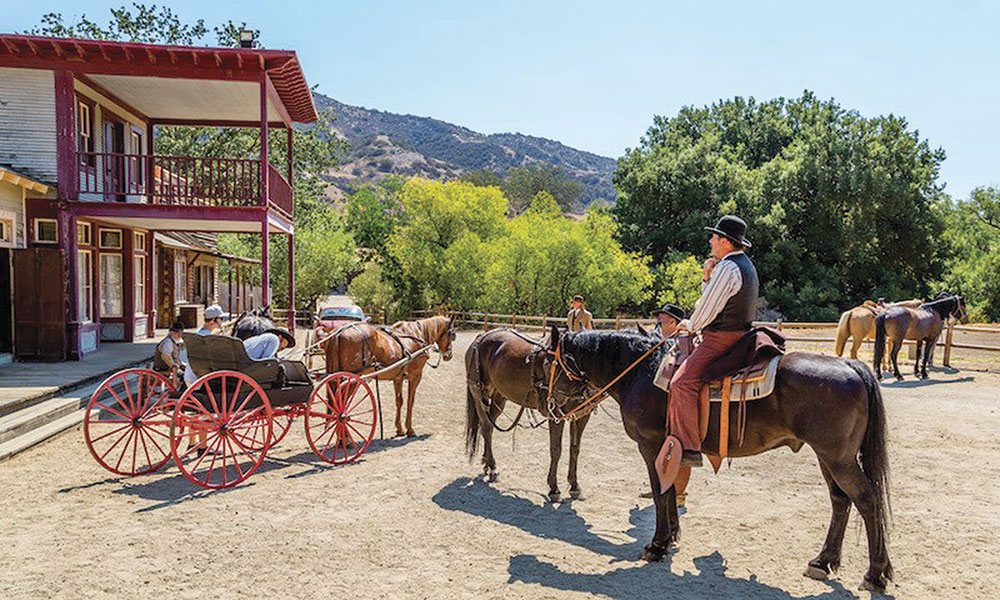 The cost in human life and property from the fires that blazed through California in November 2018 cannot yet be calculated. The cost to Western film and TV history is as large as it is unexpected. Paramount Ranch burned to the ground. Part of the Santa Monica Mountains National Recreation Area since 1980, it has been a busy center for filmmaking since Paramount Pictures' 1927 purchase of part of old Rancho Las Virgenes. The Western street so familiar to TV viewers of Cisco Kid, The Rifleman, Bat Masterson and others was built in the 1950s by the Hertz family, who trucked in structures from the RKO Encino Ranch, originally built for 1931's Cimarron.  When Westerns faded in the 1970s, the street fell into disrepair until 1993 when the producers of Dr. Quinn—Medicine Woman made it their headquarters, rebuilding it to theRKO design.
This open-to-the-public location has been busy ever since for shows as big as Westworld, the Western-sci-fi series Firefly, Bone Tomahawk, web series like Hulu's Quickdraw and recent smaller-budget Westerns like Hickok and Gone Are the Days.
Historian Don Bitz notes sadly that, of the Western town, "Only the Westworld church and Dr. Quinn train station survived. An inestimable loss is the park's archives facility, where many irreplaceable historical items were kept."
The good news is the Santa Monica Mountains Fund and National Park Service are launching  the Paramount Project, a campaign to rebuild the Western town over the next two years with fire-resistant materials. The fundraising has begun and they've already been contacted by entertainment industry entities who want to take part.
—Henry C. Parke