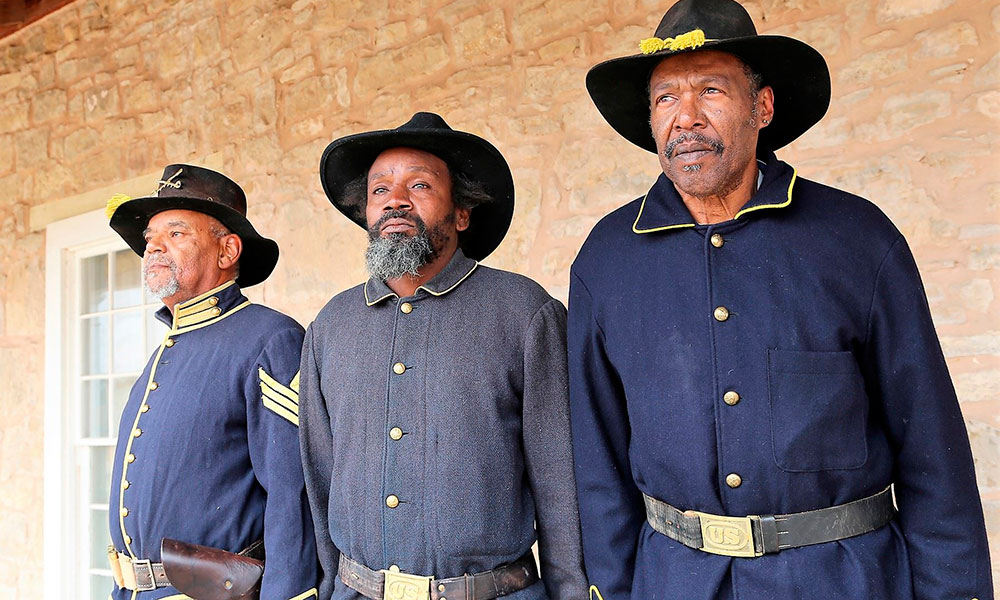 Western roundup of events where you can experience the Old West this February.
Adventure
Cripple Creek Ice Festival
Cripple Creek, CO, February 9-18: Watch sculptors carve ice into works of art, plus enjoy a liquor luge, ice snacks, an ice slide and ice maze.
877-858-4653 • VisitCrippleCreek.com
Art Shows
Aspects of Power, Light and Motion
Fort Worth, TX, closes February 4: Exhibition of equine photographs by Constance Jaeggi revealing the individual personalities of horses.
817-336-4475 • Cowgirl.net
Spirit of the West Cowboy Gathering
Ellensburg, WA, February 15-17: Celebrates traditional cowboy art, poetry and music, plus offers workshops on cowboy gear and art.
888-925-2204 • EllensburgCowboyGathering.com
Wigwam Festival of Fine Art
Litchfield Park, AZ, February 15-17: This art and entertainment show promotes award-winning Western and American Indian artists.
623-935-9040 • Litchfield-Park.org
Wings Over the Platte River
Grand Island, NE, February 16 through April 8: The region's largest art exhibit dedicated to life on the Platte River.
308-385-5316 • StuhrMuseum.org
Heritage Festivals
11th Street Cowboy Mardi Gras
Bandera, TX, February 1-3: Cowboys and Cajuns come together to celebrate Mardi Gras in Bandera, the "Cowboy Capital of the World."
830-796-4849 • BanderaCowboyCapital.com
Buffalo Soldier Heritage Day
San Angelo, TX, February 25: Join the Fort Concho Buffalo Soldier Living History Unit as they honor the nation's black troops.
325-657-4440 • FortConcho.com
Arizona Renaissance Festival & Artisan Marketplace
Gold Canyon, AZ, February 9 through Mar 31: Old West time travelers take in medieval arts and crafts, jousting tournaments and games.
520-463-2600 • RoyalFaires.com
Parada del Sol Historic Parade
Scottsdale, AZ, February 9: Experience Old West fun with a parade and the Trail's End Festival featuring shopping and live music.
480-990-3179 • ParadaDelSol.us
Charro Days
Brownsville, TX, February 18-25: Brownsville's residents honor their heritage at the biggest celebration in the Rio Grande Valley.
956-542-4245 • CharroDaysFiesta.com
Buffalo Bill Birthday Bash
Golden, CO, February 26: Observe the Wild West showman's birthday with costumed guides for Buffalo Bill Museum exhibits and birthday cake.
303-526-0744 • BuffaloBill.org
Horse Show
Scottsdale Arabian Horse Show
Scottsdale, AZ, February 14-24: About 2,000 horses compete for more than $1 million at this horse show that also features equine seminars.
480-515-1500 • ScottsdaleShow.com
Rodeos & Stock Shows
Fort Worth Stock Show & Rodeo
Fort Worth, TX, Closes February 3: Offers up numerous days of livestock and horse shows, rodeos, concerts and food.
817-877-2420 • FWSSR.com
San Antonio Stock Show & Rodeo
San Antonio, TX, February 8-25: Features PRCA and ranch rodeo competitions, livestock shows, and Country concerts.
210-225-5851 • SARodeo.com
Nebraska Cattlemen's Classic
Kearney, NE, February 17-25: This celebration features a ranch horse rodeo, competitions, a sale along with draft horse team races.
308-627-6385 • Cattlemens.org
PBR Iron Cowboy & The American
Arlington, TX, February 24-25: The top 10 rodeo athletes in the world compete in seven events at the world's richest one-day rodeo.
307-760-7099 • ATTStadium.com
Gold Rush Days and Senior Pro Rodeo
Wickenburg, AZ, February 8-10: Honor Wickenburg's mining and ranching origins at this pro rodeo featuring a carnival and concerts.
800-942-5242 • WickenburgChamber.com
Visit TWMag.com to view more western events.