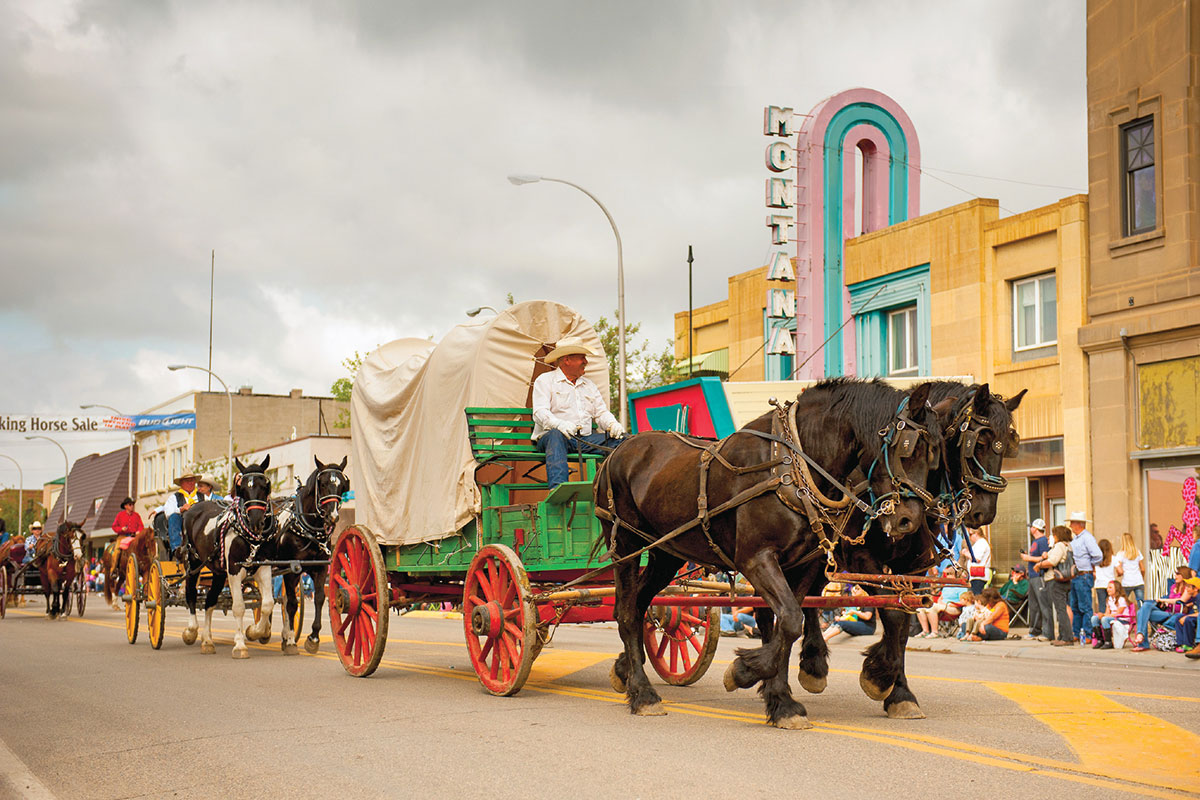 I remember seeing my Wyoming-raised father quietly touching his hand to the brim of his cowboy hat, or tipping it in a polite gesture when meeting a man or woman in our travels. I always thought this was such a gentlemanly way of saying hello, and I enjoyed seeing someone return the greeting with their hat brim or just a quick smile. As a history buff, I know that the gesture's origin started as a way to show friendly intentions when men would meet, because their hand was on their hat and not on their gun.
Today you can still find that friendly traditional Western spirit alive 'n' kickin' in towns
all across the West. It comes in all forms, from a humble local museum to rip-roarin' rodeos, historic hotels with provocative legends, to gold mines and natural wonders.
In my travels I've explored some pretty interesting spots where the heritage of the area overflows with traditions built from Western dreams and values. Here are a few places where you can be comfortable wearing your cowboy boots and hat. Come share the adventure…and let the "cowboy" in you have some true Western fun….where the air has a hint of horses and, yes, people still tip their hats.
JACKSON HOLE, WYOMING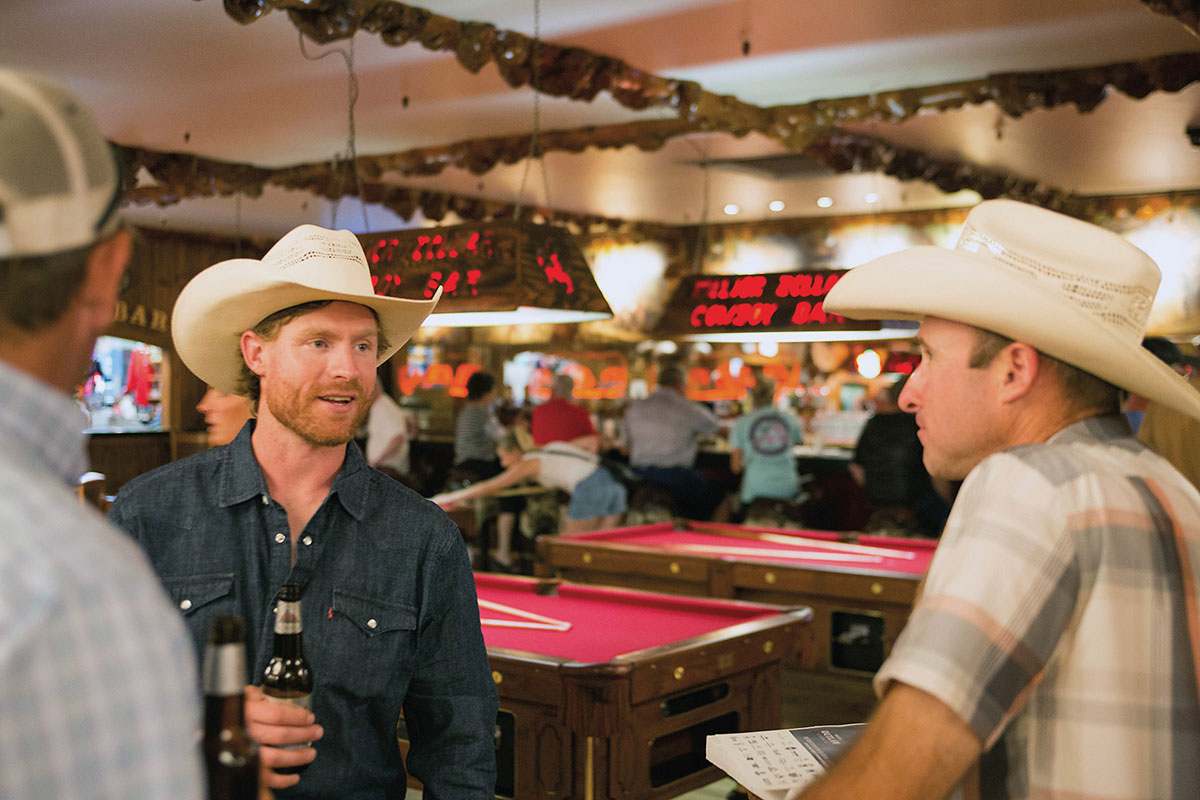 Nestled in the valley below the Teton Mountains, along the Snake River, native tribes and famous mountain men, including Jim Bridger and John Colter, gathered for the summer Rendezvous. Beaver pelts and buffalo hides were the currency of the times. Today you can explore the past in the historic Western town of Jackson Hole. Walk its wooden sidewalks, shopping for that perfect cowboy hat. Enjoy outstanding art galleries, take a river raft trip or horseback ride and then go watch the longest running cowboy shootout in the country, under the huge arches of elk antlers in Jackson Hole's Town Square.
Summer adventures in Jackson Hole
Old West Days: horse-drawn parades and Elk Antler Auction, Memorial Day Weekend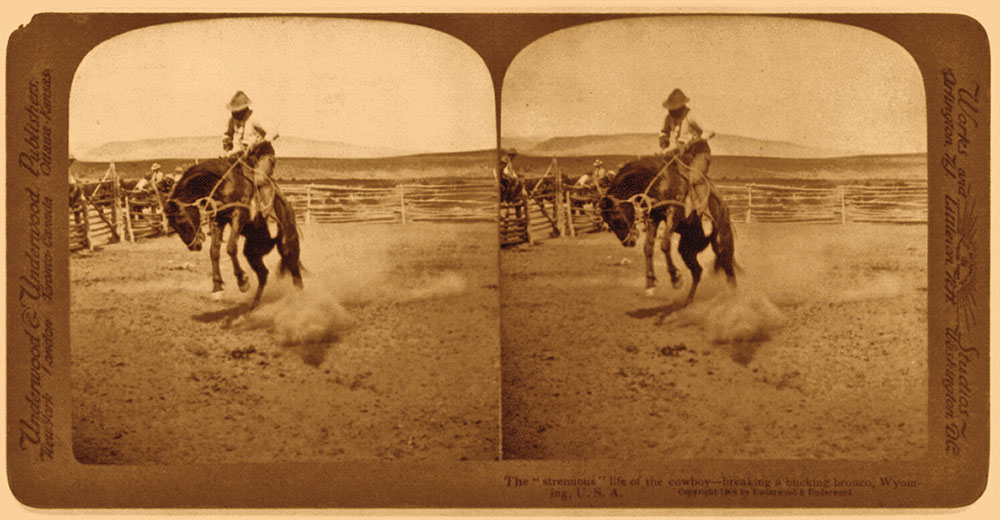 Jackson Hole Shootout: Town Square, daily except Sundays at 6 p.m.
Grand Teton Music Festival: July 30-Aug. 17
Jackson Hole PBR Touring Pro Division Bull Riding: Teton County Fairgrounds, July 15-16
Grand Teton National Park: camping, hiking and wildlife, near Yellowstone National Park
Where to hang your hat in Jackson Hole
The Lodge at Jackson Hole: 80 Scott Ln.
800-458-3866 • LodgeAtJH.com
Inn On the Creek: 295 N. Millward St.
307-739-1565 • InnOnTheCreek.com
Where to grab grub in Jackson Hole
Silver Dollar Bar and Grill: 50 N Glenwood St.
307-733-2190 • WortHotel.com
Snake River Grill: 84 E. Broadway Ave.
307-733-0557 • SnakeRiverGrill.com
Where to round up Western Gear
Western Range Clothing Co.: 36 E. Broadway Ave.
307-264-1794 • WesternRangeClothing.com
MILES CITY, MONTANA
Named for Civil War Gen. Nelson A. Miles, this Big Sky Country cowboy town is rich in Western culture. Visiting the Range Rider Museum you can learn firsthand about the forts and local ranching history. If you want a taste of the Old West, where cowboys and horses are celebrated, attend an annual event that brings rodeo stock buyers from all over North America into town to purchase horses…the Miles City Bucking Horse Sale. It includes a parade, dances, rodeos, trade show and many other activities all centered around the big sale. Wear your hat proudly downtown and drop into the famous Miles City Saddlery, home of the original maker of Coggshell Saddles, in business since 1909.
Summer adventures in Miles City
Bucking Horse Sale: May 13-16, 2020
Miles City Ranch Rodeo and
Bronc Ride: June 14-15
Where to hang your hat in Miles City
Comfort Inn: 1615 S. Haynes Ave.
406-234-1000 • MilesCityMotel.com
Where to grab grub in Miles City
Tilt Würks Brewhouse: 420 Pacific Ave.
406-951-6288 • MilesCityBrewery.com
Black Iron Grill Rotisserie: 2901 Boutelle St.
406-234-4766  • MilesCityRestaurant.com
Where to round up Western Gear
Miles City Saddlery: 808 Main St.
406-232-2512 • MilesCitySaddlery.com
Rollie's Saddle Shop: 520 N. Sioux Ave.
406-232-1049 • (no website)
Kickin' Ass Hat Company: 901 Main St.
406-234-4723 • Facebook.com
BELLE FOURCHE, SOUTH DAKOTA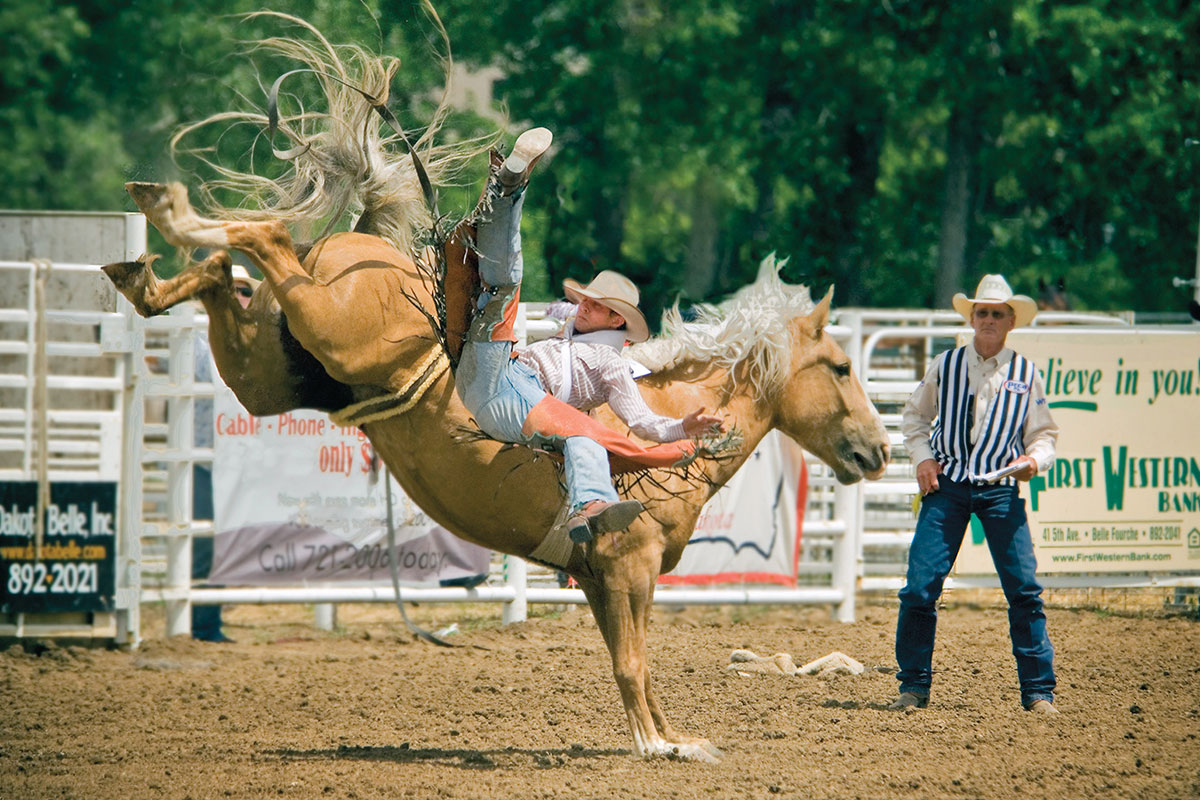 Founded in the late 1800s, Belle Fourche has a rich history of pioneers and cowboys, sheep and cattle. Home to one of the oldest continuously held outdoor rodeos in South Dakota, it also lays claim to being the Geographic Center of the United States. You can learn all about the latitude and longitude marker at the Tri-State Museum and Visitors Center. The city is one of the most important livestock shipping railheads in the West and can boast of having the largest wool shipping warehouses in the U.S. today. Ranchers and farmers alike love Belle Fourche for its Western heritage, as well as the beauty of area, located at the forks of three major rivers. In July you just might find a herd of cattle running down Main Street, headed to the rodeo.
Summer adventures in Belle Fourche
South Dakota High School Rodeo Finals: June 12-16
The Cattle Drive Down Main Street: July 2, followed by a BBQ and Mutton Bustin' rodeo
Black Hills Roundup: July 2-6
Tri-State Museum and Visitors Center
415 5th Ave. • TheTriStateMuseum.com
Where to hang your hat in Belle Fourche
Americinn by Wyndham Belle Fourche: 2312 Dakota Ave.
605-892-0900 • WyndhamHotels.com
Where to grab grub in Belle Fourche
American West Grill and Bar: 1807 5th Ave.
605-723-0139 • AmericanWest2.wix.com
Grap's Burgers and Brews: 518 National St.
605-723-1610 • Facebook.com
Where to round up Western Gear
Weather Hat Company: 519 Grant St.
605-723-2277 • Facebook.com
Pete's Clothing Western Wear: 500 State St.
605-892-4773 • (no website)
Cowboy's Too–Western Wear: 506 State St.
605-892-9089 • CowboysToo.Business.Site
HEBER CITY, UTAH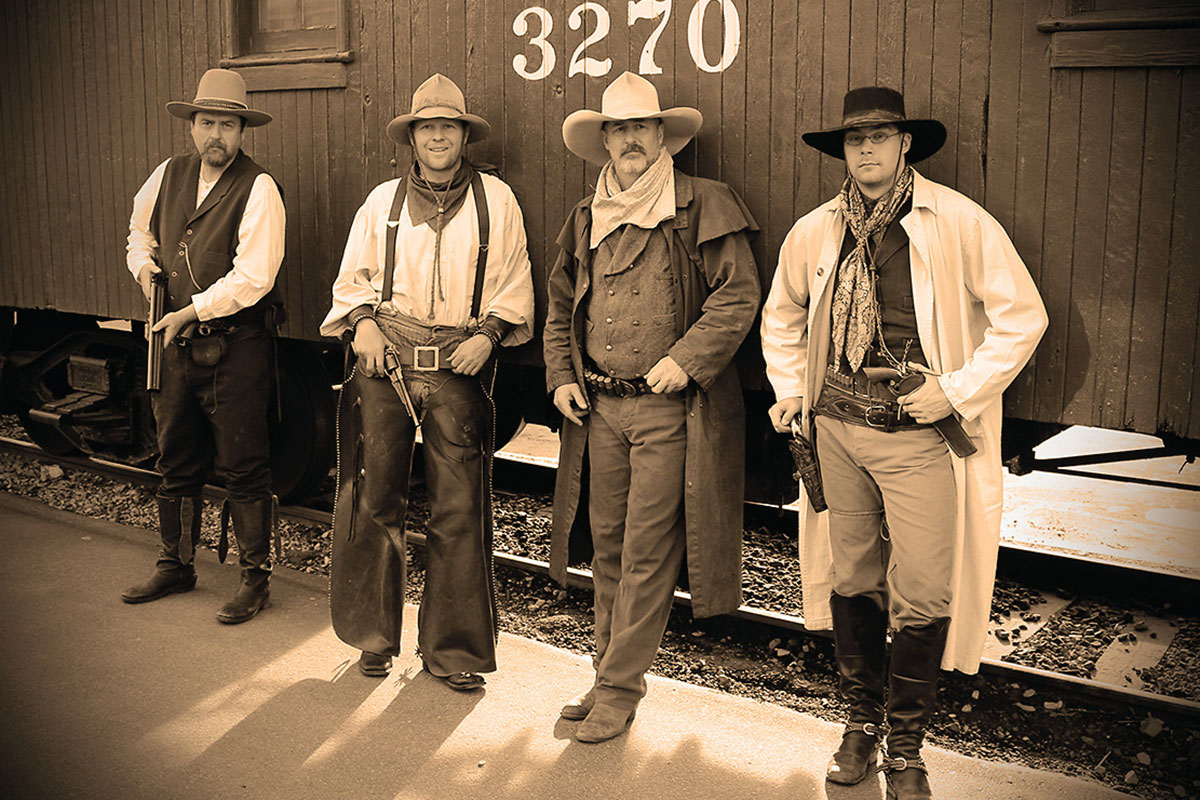 Situated in a stunning Utah mountain valley, Heber City offers year-round fun with a true Western flair. Grab your best 10-gallon hat and ride the Heber Creeper. The Heber Valley Railroad's 1920s-era rail cars will whisk you from the historic depot, back in time…where train robbers and gunfights, pony rides and train-loads of Western fun happen during Old West Days. For a festival filled with cowboys and cowgirls, the Heber Valley Music and Cowboy Poetry Gathering is a must to attend. This spectacle is filled with nonstop performances, cowboy poetry and Western concerts during the five-day event. Meander over to the Buckaroo Fair, where a mountain men traders' camp, arts and crafts, cowboy gear and equestrian events take place. Cheer on your favorite bronc rider during the Wasatch County Fair and Mountain Valley Stampede Rodeo. If you love 1800s artifacts and history, the Daughters of Utah Pioneers Museum is well worth the visit.
Summer adventures in Heber City
Heber Valley Railroad's Wild West Days
May 22-25, 2020
Wasatch County Fair and Mountain Valley
Stampede Rodeo: July 29-Aug. 3
Heber Valley Music and Cowboy Poetry Gathering: Oct. 23-27
Daughters of Utah Pioneer Museum 188 S. Main St.
435-654-3666 • WasatchCountyDUP.org
Where to hang your hat in Heber City
Strawberry Ranch Mountain Resort 345 W. 600 St. #106
435-657-3664 • StrawberryRanch.com
Daniels Summit Lodge: 17000 S. Daniels Summit Pass, U.S. Hwy 40
435-315-2013 • DanielSummit.com
Where to grab grub in Heber City
Main Street Social: 98 S. Main St.
435-657-6534 • MainStreetSocialUtah.com
Café Galleria: 101 West Main-Midway
435-657-2002 • CafeGalleriaPizza.com
Where to round up Western Gear
Reams Boots and Jeans: 472 N. Main St.
435-654-3054 • ReamsBootsAndJeans.com
TOMBSTONE, ARIZONA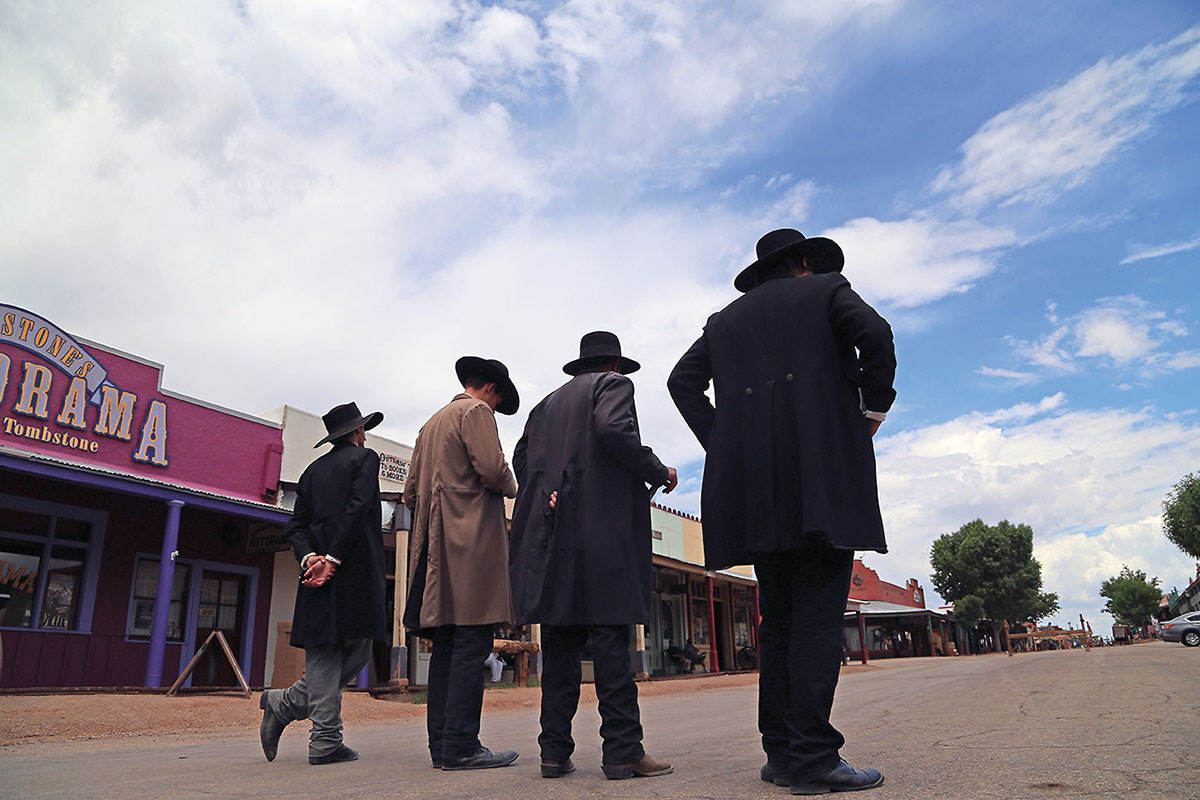 When you hear the name Tombstone, Arizona, you envision Wyatt Earp, his brothers and Doc Holliday walking up the dusty street on their way to the shootout near the O.K. Corral. But this area started out as a mining town known as Goose Flats. By 1881, now called Tombstone after the first silver mining claim, it was the fastest growing city between St. Louis and San Francisco.  Tombstone became famous for the Bird Cage Theatre, its saloons and Boot Hill Cemetery. Today, you can still visit these places, as well as the Tombstone Courthouse State Historical Park, where you can explore the history of what the locals call "the Wildest Town in the West." Watch an outdoor re-enactment of the O.K. Corral Gunfight on historic Allen Street every second, fourth and fifth Sundays, May through August. In June you can enjoy street entertainment and parades during Salute to the Buffalo Soldier Days. The Wyatt Earp Vendetta Ride in October follows the trail that Earp and his posse traveled while hunting those who shot Wyatt's younger brother Morgan. This five-day event in Tombstone and Cochise County will take you riding through the mountains, visiting Johnny Ringo's haunted gravesite and other historic sites.
Summer Adventures in Tombstone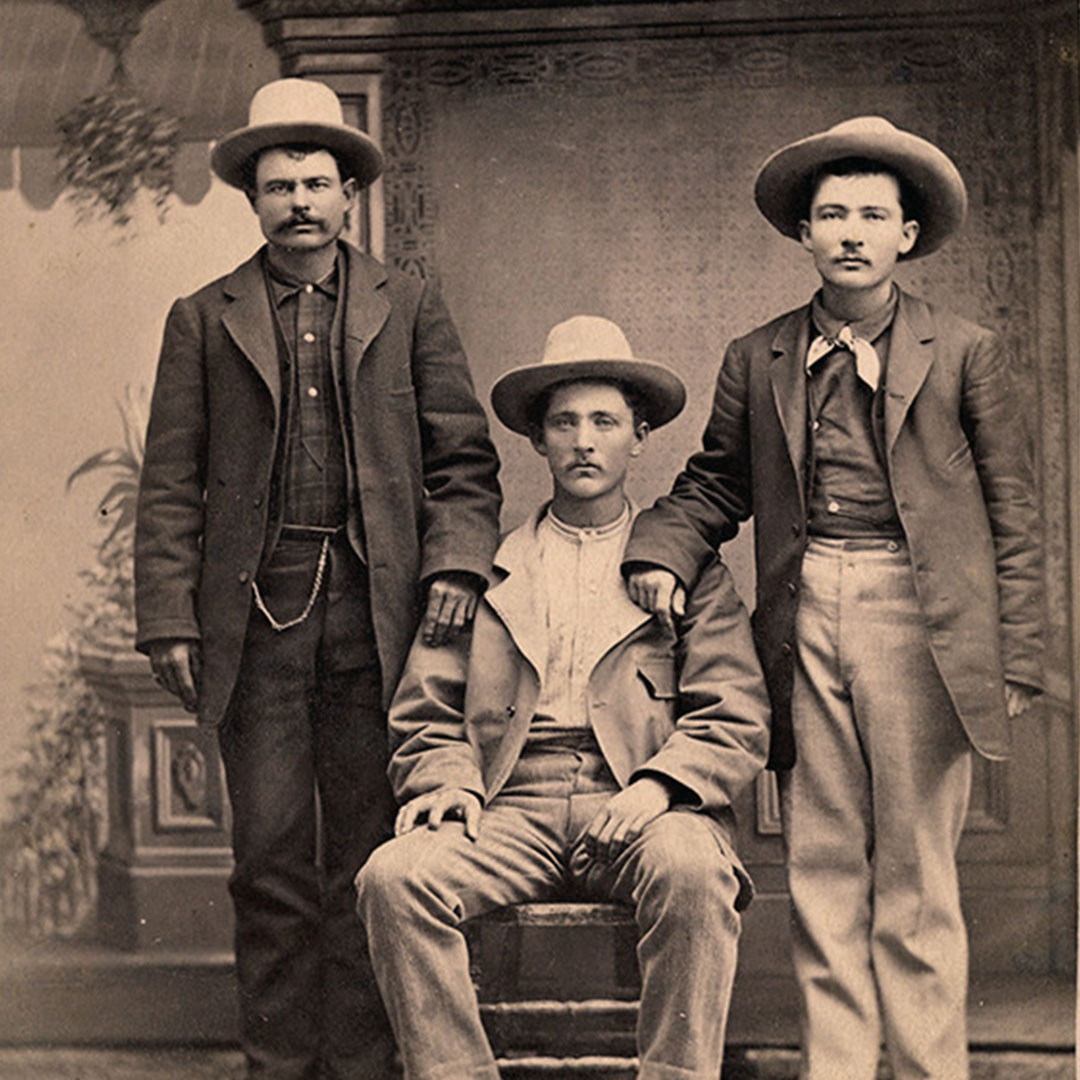 Vigilante Sundays: May through August
Salute to the Buffalo Soldier Days: June 29-30
Wyatt Earp Vendetta Ride: Oct. 13-18
Tombstone Helldorado Days: Oct. 18-20
Boothill Cemetery: 408 AZ-80
520-457-2540 • TombstoneBoothillGiftshop.com
Tombstone Courthouse State Historic Park: 223 E. Toughnut St.
520-457-3311• AZStateParks.com
Where to Hang your hat in Tombstone
Tombstone Monument Ranch: 895 W. Monument Rd.
520-457-7299 • TombstoneMonumentRanch.com
Landmark Lookout Lodge: 781 AZ-80
520-457-2223 • LookoutLodgeAZ.com
Where to Grab Grub in Tombstone
Big Nose Kate's Saloon: 417 E. Allen St.
520-457-3107 • BigNoseKatesTombstone.com
Café Margarita: 313 S. 5th St.
520-457-2277 • Café-Margarita.com
Crystal Palace Saloon: 420 Allen St.
520-457-3611 • CrystalPalaceSaloon.com
Where to roundup Western Gear
Shady Lady's Closet: 406 E. Allen St.
520-457-2562 • ShadyLadysCloset.com
Arlene's Gallery & Southwest Trading 415 E. Allen St.
520-457-3678 • ArlenesGallery.com
PRESCOTT, ARIZONA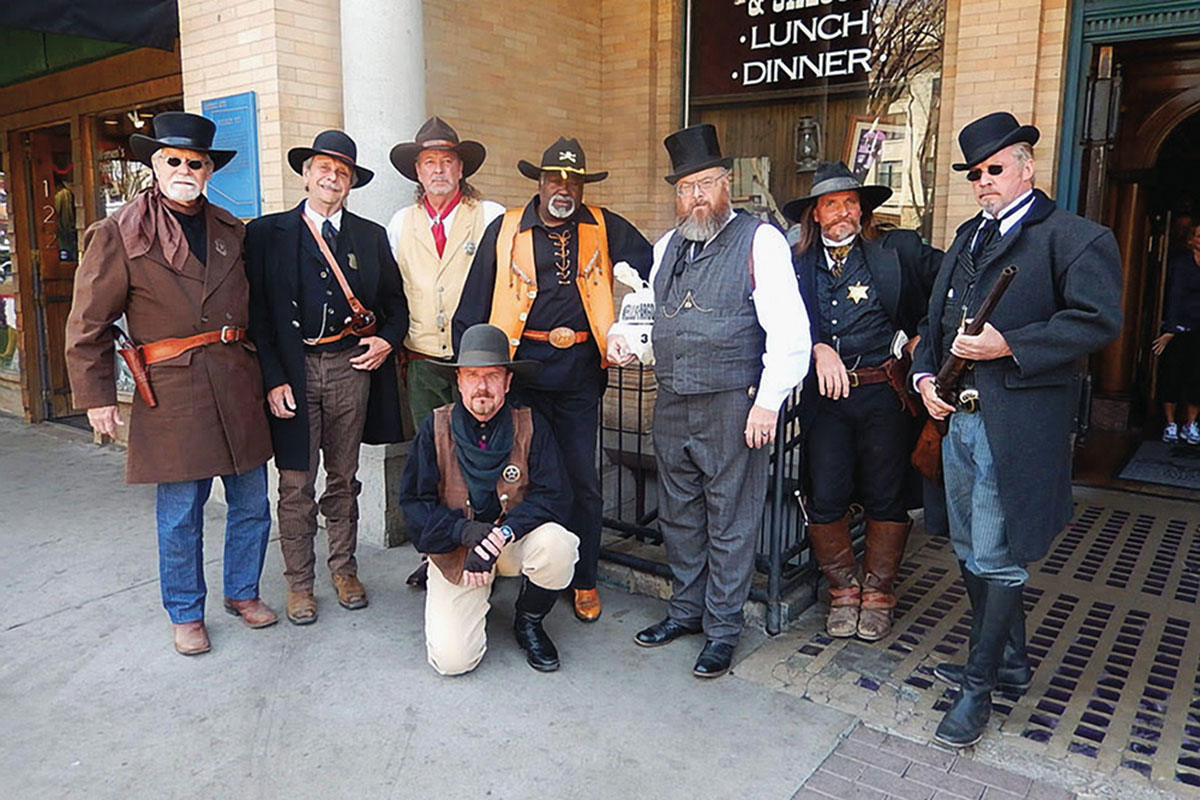 Located in central Arizona, Prescott lays claim to being home to the World's Oldest Rodeo. Since 1888, this traditional wild 'n' woolly event has been presented annually over the 4th of July weekend during Prescott Frontier Days. In 1864, the town was founded as the Territorial capital of Arizona, but later the capital was moved to Phoenix after a brief try in Tucson. With the discovery of gold, Prescott started out as a mining town but truly grew with the expanding cattle industry. Today over 600 of the town's buildings are listed on the National Register of Historic Places. Walk along downtown's historic Whiskey Row, which at one time claimed 26 saloons, and wet your whistle at The Palace, Arizona's oldest restaurant. This tree-lined plaza district is filled with unique shops, Western galleries and restaurants, as well as several top-notch Western stores. Visit the Sharlot Hall Museum, home to Prescott's Wild West and pioneer history, or the Smoki Museum, filled with artifacts from the American Indian cultures of the Southwest.
Summer adventures in Prescott
Prescott Antique Show and Vintage Market
June 2
Frontier Days World's Oldest Rodeo: July 1-7
Sharlot Hall Museum: 415 W. Gurley St.
928-445-3122 • Sharlot.org
Smoki Museum: 147 N. Arizona St.
928-445-1230 • SmokiMuseum.org
Where to hang your hat in Prescott
Hassayampa Inn: 122 E. Gurley St.
928-778-9434 • HassayampaInn.com
Grand Highland Hotel: 154 S. Montezuma St.
928-776-9963 • GrandHighlandHotel.com
Where to grab grub in Prescott
Prescott Brewing Co.: 130 W. Gurley St.
928-771-2795 • PrescottBrewingCompany.com
Palace Restaurant and Saloon: 120 S. Montezuma St.
928-541-1996 • WhiskeyRowPalace.com
Lone Spur Café: 106 W. Gurley St.
928-445-8202 • LoneSpurCafe.com
Where to round up Western gear
Puttin' On The Hats: 106 S. Montezuma St.
928-776-1150 • PrescottHats.com
Diamond D Ranch Wear: 130 W. Gurley St.
928-771-9777 • DiamondD.us
BISHOP, CALIFORNIA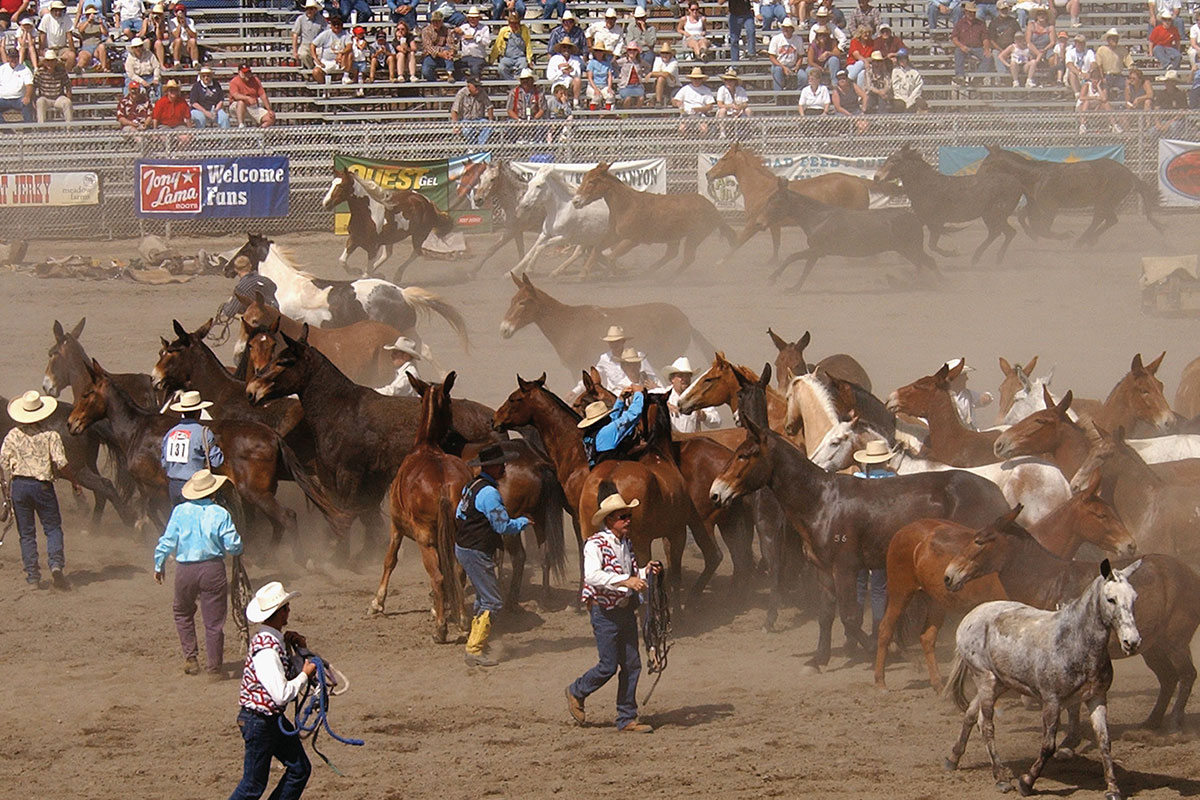 The city of Bishop was named for one of the first European settlers in the area, Samuel A. Bishop, who trailed 500 head of cattle here in 1861. This high valley and nearby river are named for Richard Owens, a member of John C. Fremont's 1845 exploration party, which included Kit Carson. For thousands of years, this valley was home to local indigenous people, and visitors today can learn about their culture at the Bishop Paiute Tribe Cultural Center, where Native heritage, artifacts and art are on display. The Laws Railroad Museum and Depot is your next stop. Its 50 historic buildings have been brought in from the valley, filled with antiques, gold miners' equipment, blacksmith shop, merchants store and S.P. Engine No.9. All summer long you can catch a ride on the train, including during "The Greatest Mule Show on Earth"—Bishop Mule Days. This six-day rodeo and mule event is filled with tack-scrambles, packing, roping, jumping and even a crazy mule costume contest. Don't miss the parade—the longest-running non-motorized Western parade in the nation.
Summer adventures in Bishop
Bishop Mule Days: May 19-24, 2020
California High School Rodeo Finals: July 12-15
Laws Railroad Museum: Silver Canyon Rd.
760-873-5950 • LawsMuseum.org
Where to hang your hat in Bishop
Cielo Hotel Bishop-Mammoth: 651 N. Main St.
760-873-6380 • ChoiceHotels.com
Creekside Inn: 725 N. Main St.
760-872-3044 • BishopCreeksideInn.com
Where to grab grub in Bishop:
Aaron Schat's Roadhouse: 871 N. Main St.
760-873-0000 • SchatsRoadhouse.com
Mountain Rambler Brewery: 186 S. Main St.
760-258-1348 • MountainRamblerBrewery.com
Where to round up Western gear:
The Toggery: 115 N. Main St.
760-872-3211 • ToggeryBishop.com
Sierra Saddlery and Feed: 600 S. Main St.
760-873-4153 • (no website)
WINNEMUCCA, NEVADA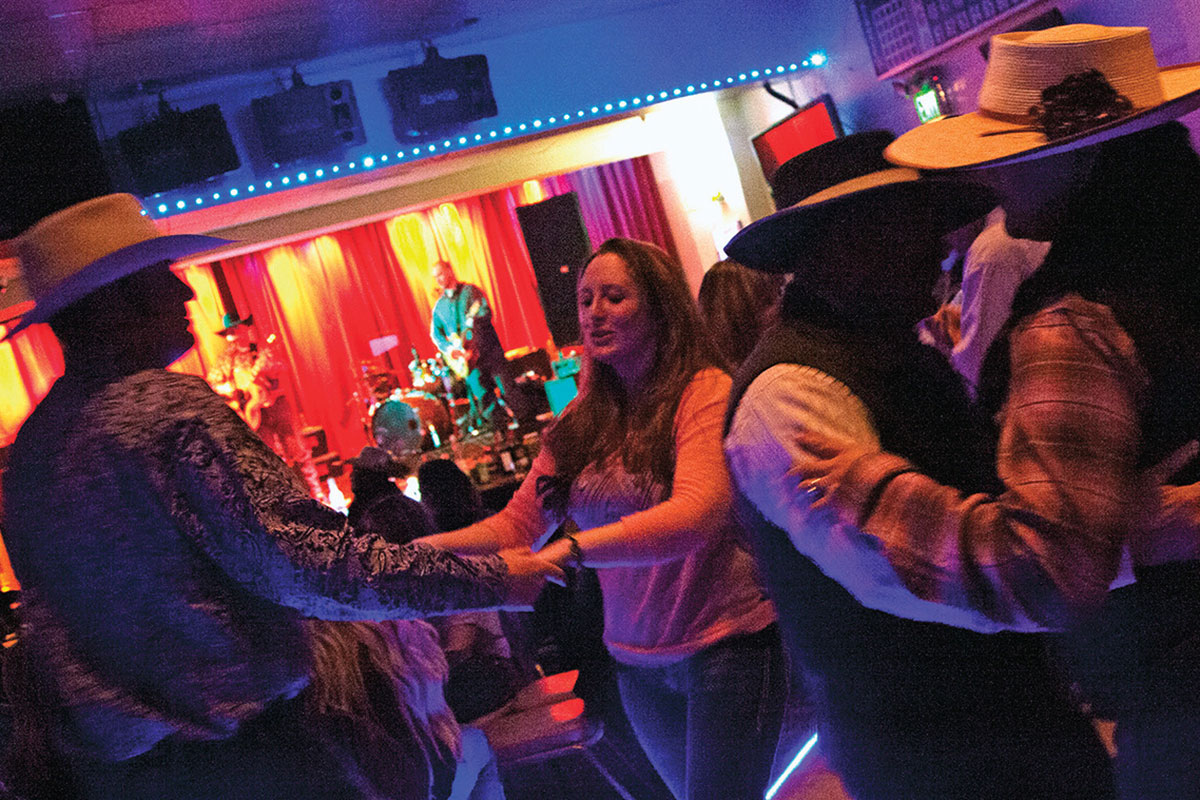 The city of Winnemucca was named by one of President Lincoln's mapmakers, in honor of Northern Paiute Chief Old Winnemucca. When you visit, it won't take you long to see that this is a true Western town, geographically the center of Nevada but also filled with pioneer heritage, Native culture, rodeos and fun. If saddles and spurs spark your interest, stop in to the Humboldt Museum, where you will find everything from fossils to native artifacts, objects from the buckaroo life and the local Basque culture. View over 53 big-game specimens beautifully displayed in the William Humphrey Collection. Enjoy the annual Classic Car Festival or the "wildest weekend," the Tri-County Fair, where bulls, broncs and buckaroo poets share the fair with parades, monster trucks, carnivals and Western arts and crafts. The Basque Festival celebration includes a parade, dancing and a traditional Basque picnic. You can enjoy the skies filled with colorful hot air balloons during the Balloon Fest, take in the Horseshoe Tournament or Cow Country Team-Penning…Winnemucca has it all, with a rodeo nearby almost all year round.
Summer adventures in Winnemucca
Winnemucca Balloon Fest, May 15-16, 2020
Basque Festival: June 7-9 
Winnemucca Classic Car Show: July 19-20
Tri-County Fair: Aug. 29-Sept. 1
Humboldt Museum: 175 Museum Way
775 623-2912 • HumboldtMuseum.org
Mining Tours: Twin Creek Newmont Operations: 40 miles NE of Winnemucca
775-635-4206 • NewmontGoldCorp.com
Where to hang your hat in Winnemucca
Holiday Inn Express: 1987 W.Winnemucca Blvd.
775-625-3100 • IHG.com
Candlewood Suites: 460 E.Winnemucca Blvd.
775-623-2700 • CandlewoodSuites.com
Where to grab grub in Winnemucca
The Griddle: 460 W. Winnemucca Blvd.
775 623-2977 • TheGriddle.com
The Martin Hotel: 94 Railroad St.
775 623-3197 • TheMartinHotel.com
The Pig BBQ and Pub: 1139 W. Winnemucca Blvd.
775-623-4104 • The-Pig-BBQ-Pub.business.site
Where to round up Western gear
Tip's Western Wear and Saddlery: 185 Melarkey St.
775-623-3300 • TipsWestern.com
Big-R Winnemucca: 3270 W.Railroad St.
775-623-2447 • BigRWest.com
BANDERA, TEXAS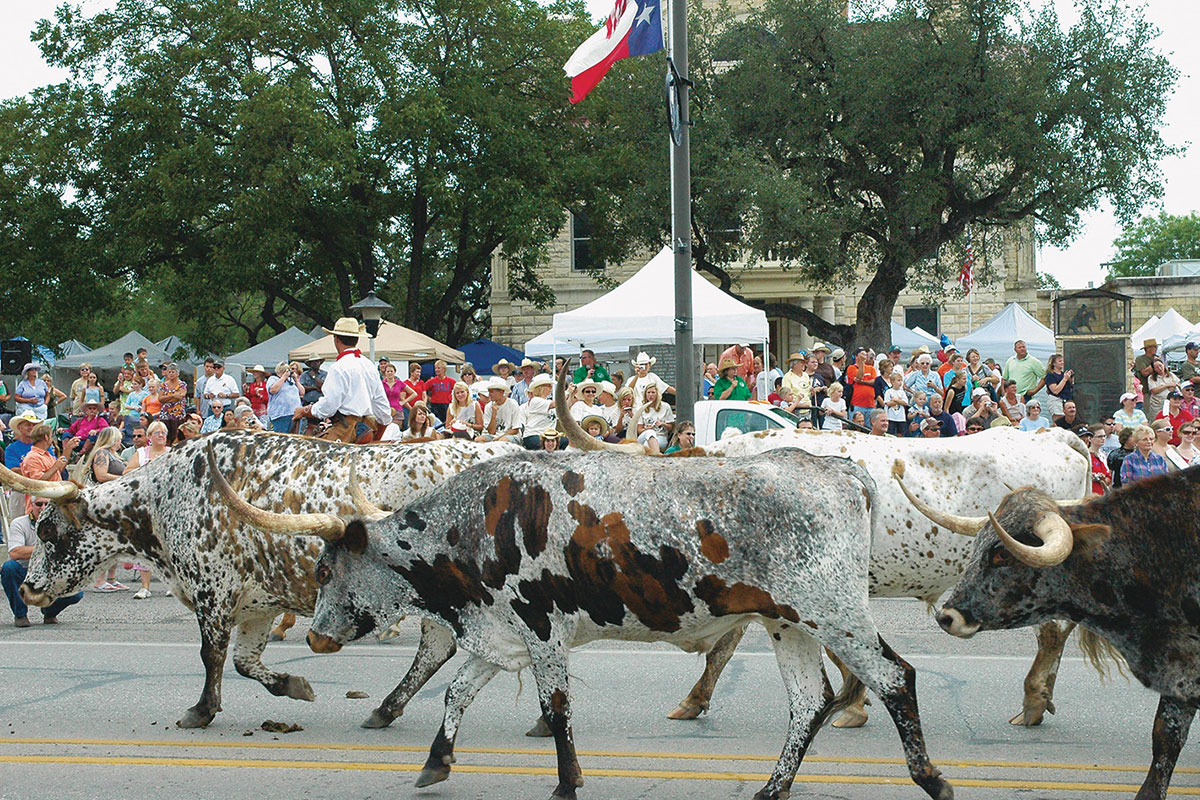 The charming cowboy town of Bandera is the self-proclaimed "Cowboy Capital of the World" and truly lives it everyday. Whether you come to horseback ride the rugged countryside or watch nationally ranked bull riders, barrel racers and mutton busters, Bandera celebrates the Western cowboy culture…Texas style. If you need a new hat or want to wet yor whistle at an old-fashioned soda fountain, explore the Bandera General Store. They have everything from boots to pickled quails eggs and even a ghost named Henry, who might just whisper a "howdy" in your ear. The Frontier Times Museum has over 40,000 items on display, celebrating Texas heritage and cattle trails of the area. Downtown, the Great Western Cattle Drive Trail historic landmark commemorates the trails that moved cattle and horses north, along the Chisholm Trail to Dodge City and markets north. Dinosaurs and even a 17-foot Masai giraffe will greet you at the Bandera National History Museum, with dioramas of wildlife from all over the world. Don't miss Cowboys on Main, a weekly Saturday afternoon rip-snortin' cowboy shoot-out event…Bandera is filled with Old West Charm to delight every buckaroo.
Summer adventures in Bandera
Bandera Stampede Pro-Rodeo: May 24-26
Bandera Summer Rodeo: June 7-Aug. 9
Experience Bandera: Aug. 31, Longhorn cattle drive and parade and Ranch Rodeo
Where to hang your hat in Bandera
River Oak Inn: 1203 Main St.
830-796-7751 • RiverOakInn.com
Sugar and Spice Ranch: 884 Rikki Dr.
830-460-8487 • TexasHorseCamps.com
Dixie Dude Ranch: 833 Dixie Dude Ranch Rd.
830-796-7771 • DixieDudeRanch.com
Where to grab grub in Bandera:
11th Street Cowboy Bar: 307 11th St.
830-796-4849 • 11thStreetCowboyBar.com
Arkey Blue's Silver Dollar Saloon: 308 Main St.
830-796-8826 • Facebook.com
Where to round up Western gear
Cowboy Store: 302 Main St.
830-796-8176 • Facebook.com
Bandera General Store: 306 Main St.
830-796-4925 • BanderaGeneralStore.com
ALLIANCE, NEBRASKA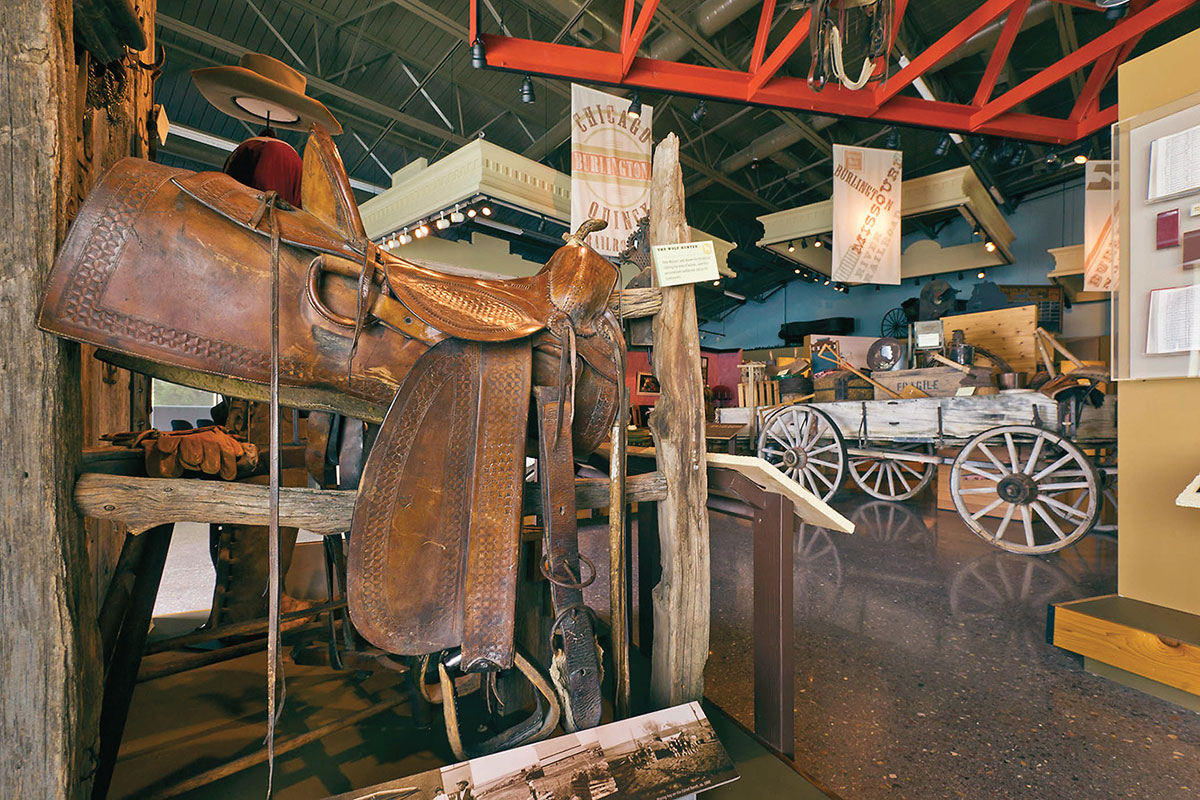 Nestled in Box Butte County in the northwestern part of Nebraska, Alliance welcomes visitors to explore its local Western heritage. This pioneer town is, as recorded by National Geographic, the home to one of the top ten roadside attractions, Carhenge. A replica of the famous Stonehenge, this monumental "car art preserve" monolith is made out of real cars! I guarantee you will be amazed at this wacky monument and its unique story. For a more Western flair, visit the Knight Museum and Sandhills Center, which features local American Indian artifacts and history, as well as Nebraska pioneer memorabilia. If you want to do genealogy research, this place can help, and is open to the public. Dobby's Frontier Town is the spot to see firsthand, restored buildings of the Old West. Here you can learn about pioneer life, see antiques as well as have some hands-on fun adventures. Not far from the Central Park Fountain, is a 1903 Railroad Steam Engine, one of the last five surviving of its kind, K-4 No. 719. Alliance in July is all about rodeo and Nebraska's heritage…with celebrations that bring in the top bareback riders, saddle bronc riders, steer wrestling cowboys, barrel racers and more.
Summer adventures in Alliance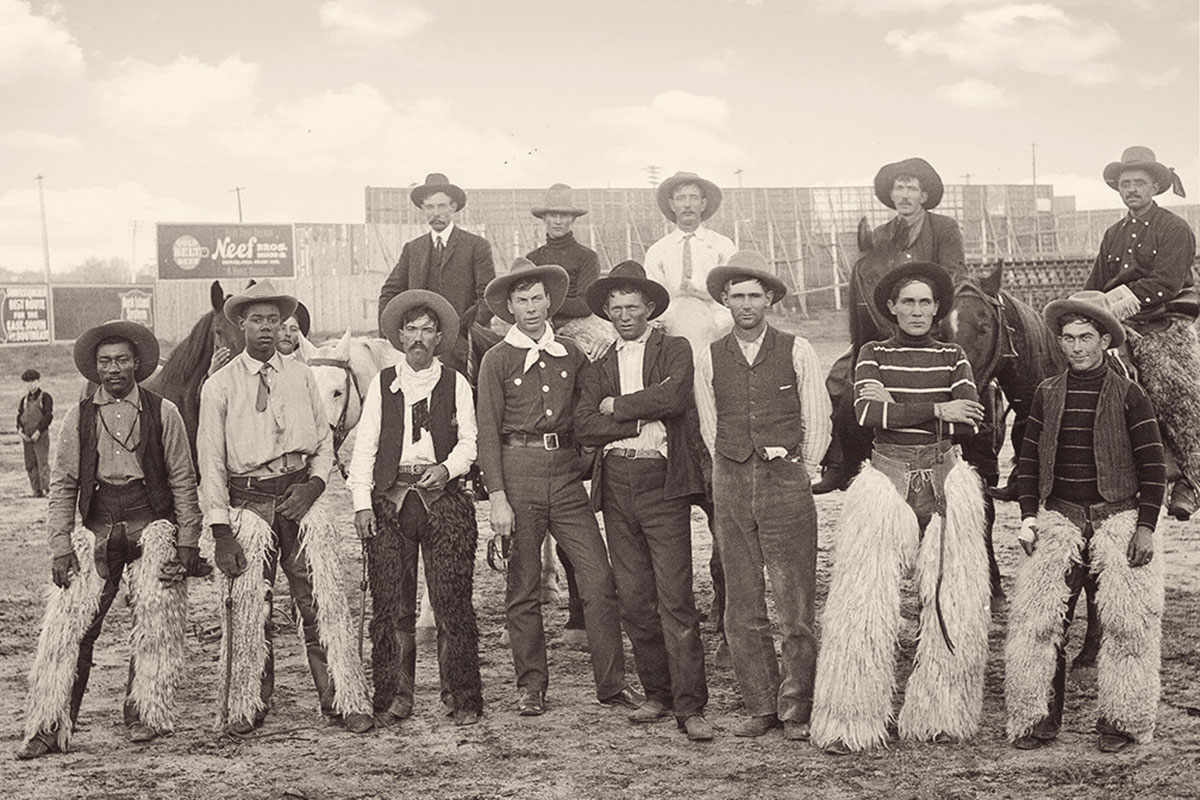 10th Annual Cattle Capital Rodeo: July 5-6
Heritage Days: July 16-21
Box Butte County Fair: Aug. 3-11
Knight Museum and Sandhills Center
908 Yellowstone • 308-762-2384
Carhenge: 2151 Hwy 87
308-762-3569 • Carhenge.com
Where to hang your hat in Alliance
Holiday Inn Express: 1630 Holsten Dr.
308-761-0970 • IHG.com
Alliance Hotel and Suites: 117 Cody Ave|
308-762-8000 • Alliance-Hotel.com
Where to grab grub in Alliance
Ken and Dale's Restaurant: 123 W. 3rd St.
308-762-7252 • KendalesRestaurant.com
Allinace Zesto: 711 W. 3rd St.
308-629-1144 • Facebook.com
Korner Grill: 1203 W. 3rd St.
308-761-1656 • Facebook.com
Where to round up Western gear
Redman's Shoes: 308 Box Butte Ave.
308-762-3303 • RedmansWorkPlay.com
Pumpkin Creek Western: 424 Box Butte Ave.
308-760-4247 • (no website) 
ALBANY, TEXAS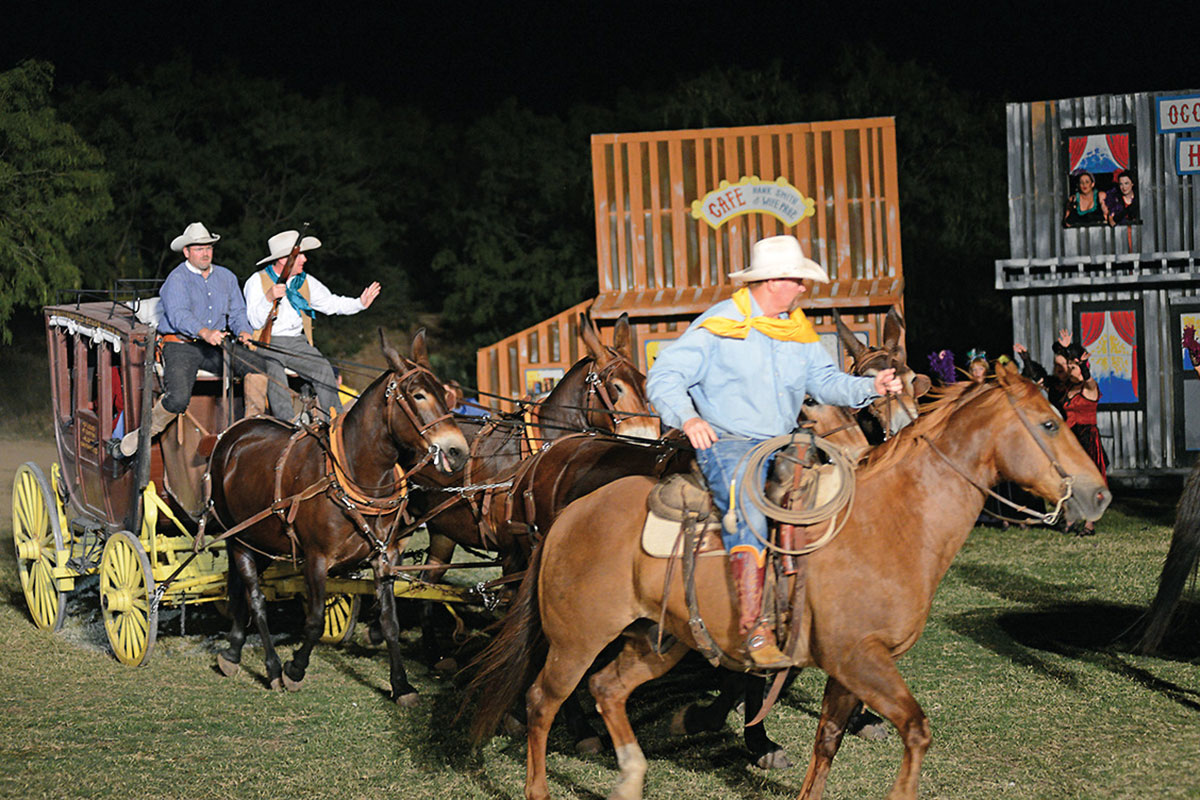 If you love the legends and history of the Old West, the grandeur of Longhorn cattle, and the wind in the thick mesquite and pecan trees, then Albany is the destination for you. For centuries this area has been known for its outstanding hunting and because of that, was home to the Apache and Comanche people. In 1867, Fort Griffin was established overlooking the Clear Fork of the Brazos River. This fort was one in a long line of forts along what is now known as the Texas Forts Trail, a 650-mile highway tour of historic Texas forts in West Central Texas. Today the Fort Griffin State Historical Site welcomes visitors with guided tours and is home to the Official State Longhorn Cattle Herd. Built below the fort, Albany is the oldest town on the northwest frontier. Its Old Jail, now the Art Center Museum, and Main Street buildings have been restored, housing wonderful shops, restaurants and theaters. Albany is deeply tied to the history of Texas, and an annual play, the Fort Griffin Fandangle, is performed each June, telling the story. Cowboys, cattle drives, forts and pioneer history make this an ideal adventure spot.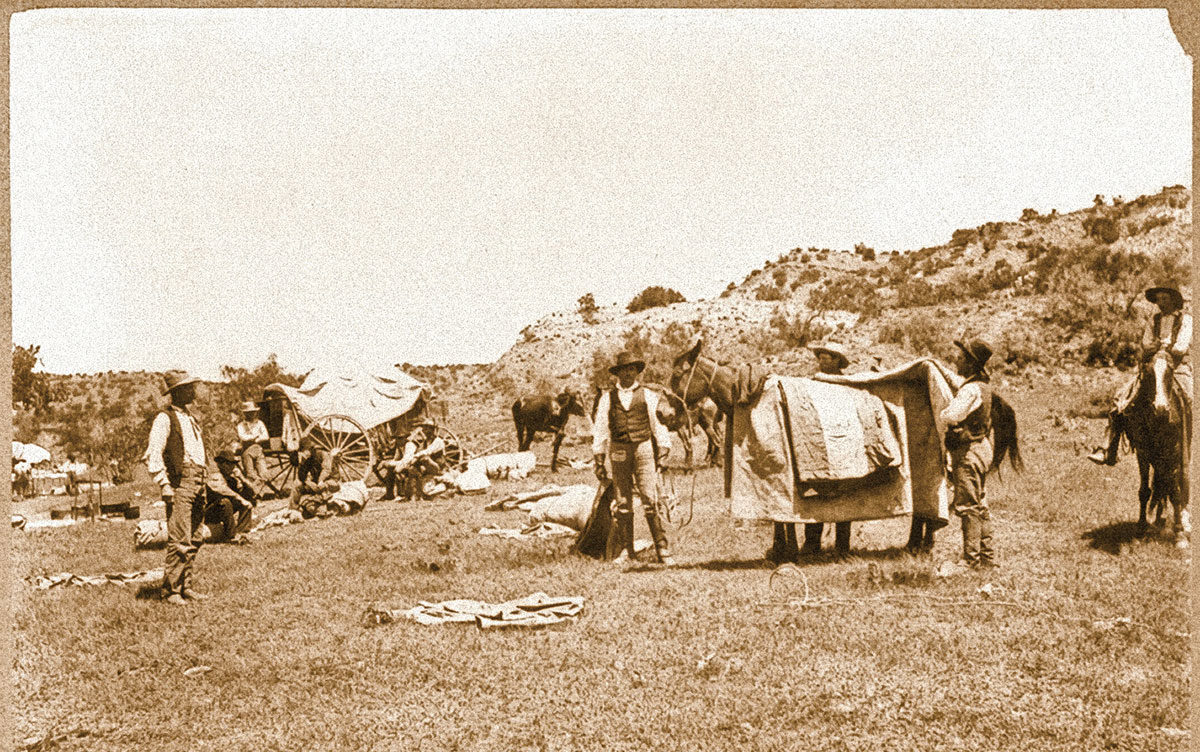 Summer adventures in Albany
Fort Griffin Fandangle: Last two weekends in June
Fort Griffin State Historic Site: 1701 N. Hwy
283 325-762-3592 • THC.Texas.gov
Railroad Depot Visitors Center: 2 Railroad St.
325-762-2525 • AlbanyTexas.com
Where to hang your hat in Albany
Hereford Motel: 557 U.S.180
325-762-2224 • Facebook.com
Dye Guest House B&B: 216 Breckenridge St.
817-925-6663 • AlbanyTexas.com
Where to grab grub in Albany
Vintage Vanilla: old-fashioned soda fountain and café, 130 S. Main St.
325-762-3030 • Facebook.com
Albany Beehive: 517 U.S.180
325-762-3034 • BeehiveSaloon.com
Where to round up Western gear
Blanton-Caldwell Trading Co.: 117 S. Main St.
325-762-2370 • Facebook.com
The Town Store: 130 S. Main St.
325-762-2322 •  Facebook.com
SISTERS, OREGON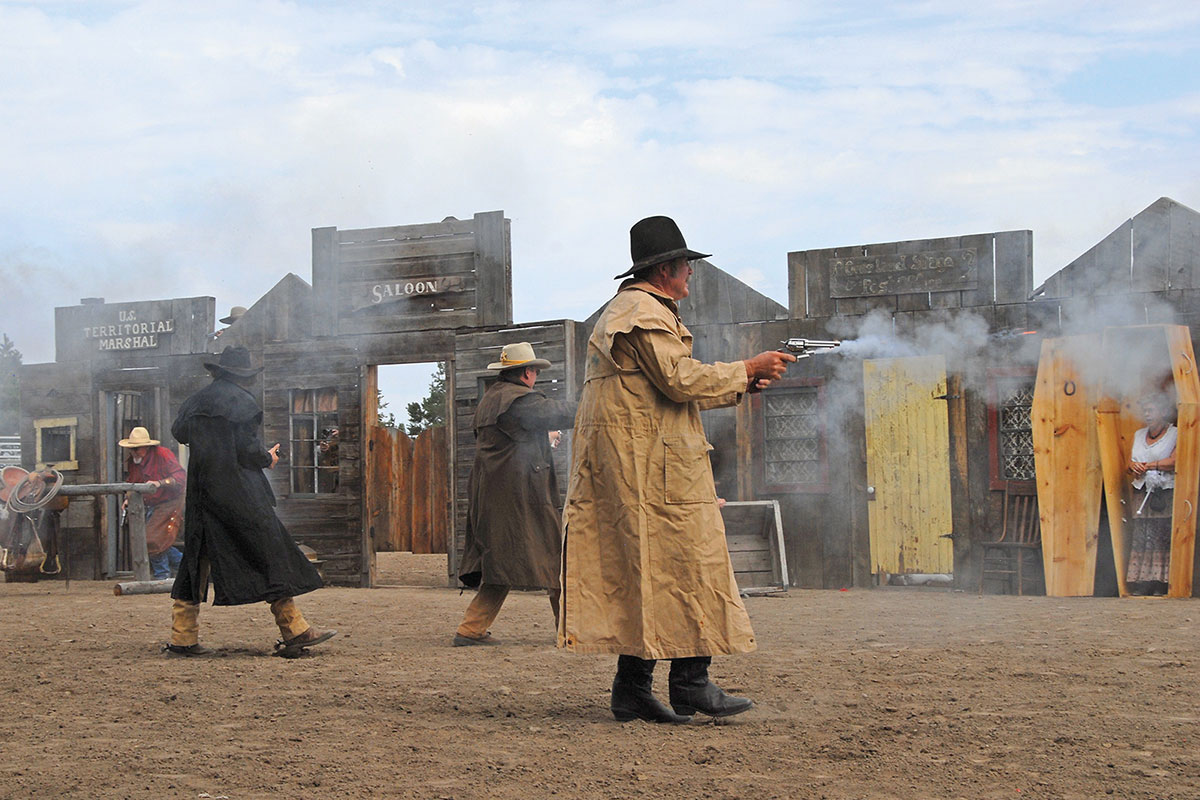 From Indians and fur trappers, explorers and homesteaders, this region of western Oregon has always drawn people to its pine forests and mountain vista views. In 1901 the town of Sisters was established, first with logging and later for being the crossroads "Gateway to the Cascades." Near town, on Hwy 20 in a pasture on the Lazy Z Ranch, you will be wowed by life-sized sculptures of a dozen iron horses, a dog and riders, running through the field. Sisters is Western to its core and the 1880s storefronts on all the downtown specialty shops and galleries definitely add Old West flair. Boots and hats are welcome here all year long, especially during Sisters Rodeo and Xtreme Bulls in June. This rodeo started in 1940 and in its day, offered winners such big purses, matching the winnings of the Pendleton and Cheyenne rodeos, that Sisters became known as the "Biggest Little Show in the World." As well as the rodeo, summers here are filled with all kinds of Western-themed fun, quilt shows, car shows, Art in the Park and the region's top 30 taps Homebrew Festival.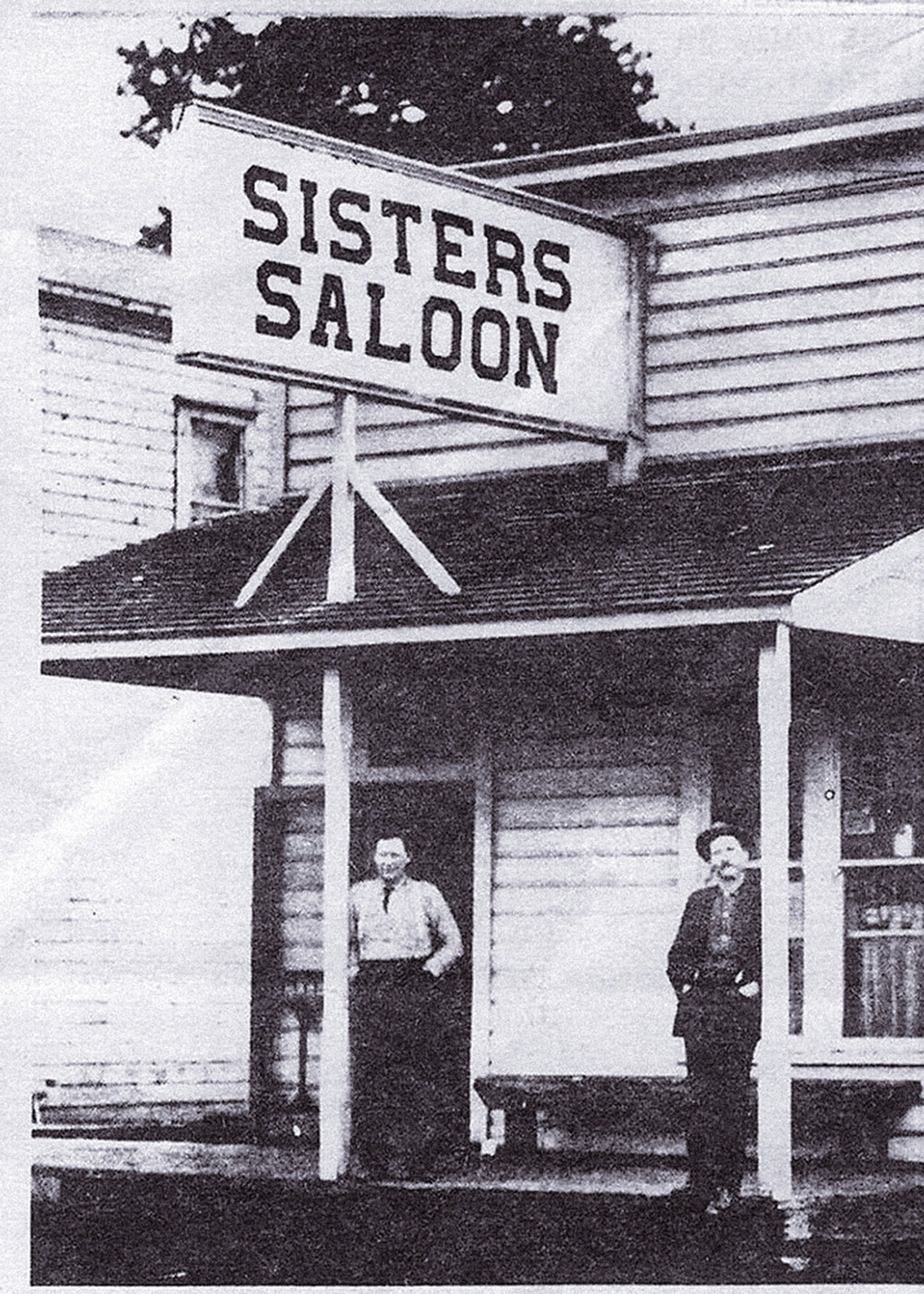 Summer adventures in Sisters
Sisters Rodeo and Xtreme Bulls: June 5-9
Outdoor Quilt Show: July 12-13
Wild West Show: arts/crafts/Western skits entertainment family fun, Aug.17
Homebrew Festival: Aug. 24
Where to hang your hat in Sisters
Best Western Ponderosa Lodge: 500 Hwy 20
541-549-1234 • BestWesternSisters.com
Five Pine Lodge: 1021 Desperado Trail
541-549-5900 • FivePineLodge.com
Where to grab grub in Sisters
The Gallery Restaurant: 171 W. Cascade Ave.
541-549-2631 • Facebook.com
Sisters Saloon and Ranch Grill:
190 E. Cascade Ave.
541 549-7427 • SistersSaloon.net
The Gallimaufry: 111 W. Cascade Ave.
541-549-9841 • Facebook.com
Where to round up Western gear
Baldwin's Custom Hat and Boot Co.: 1430 Fadjur Ln.
541-610-9978 • BaldwinHats.com
Dixie's Western Apparel and Goods: 100 E. Cascade Ave.
541-549-6451 • ShopDixies.com
Quickgrass Sally is a working ranch wife and freelance author in Montana. She writes about the West from her own experiences, having ridden her horse and driven her covered wagon thousands of miles along the Western historic trails.