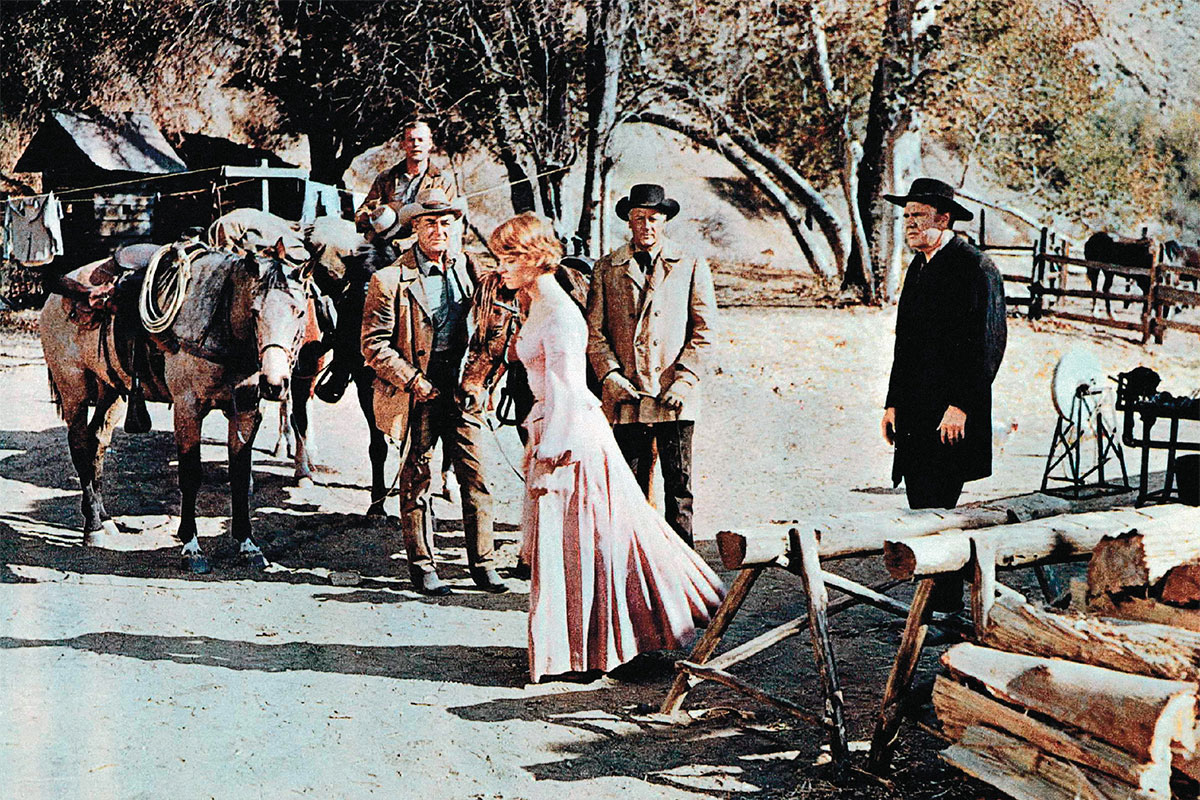 "I knew that it was something special; Sam (Peckinpah) was terrific, everybody was terrific, especially Randolph Scott and Joel McCrea—who I'd never heard of." Before Mariette Hartley made her film debut as the female lead in Peckinpah's 1962 masterpiece, Ride the High Country, she had no expectation of becoming "Queen of the West." "We only had one movie house in Westport," she said. "The first movie I ever saw was The Red Shoes, as a young ballet dancer. Then Olivier's Hamlet and Henry V. I didn't know anything about Westerns. My next-door neighbor had horses, and I would ride bareback."
One day, "a wonderful, crazy directress, Claire Olsen, from Chicago rounded up the kids from Westport, and made us actors and actresses." Four years with her led to two "with Eva Le Gallienne, who taught me Ibsen and Chekov." At 15, "she handed me off to John Houseman of the Shakespeare Festival. So, I was passed on from one really great theatre person to another."
Surprisingly, what led Hartley to Hollywood was not the film business, "but a bad marriage. He wanted more than anything to go to California; and I hated California." The father of an actress friend steered her toward the William Morris Agency. In four days, she was meeting at MGM with Peckinpah. Three days later, the studio set up a screen test, she recalls, "and I said, what's that? I tested with Wayne Rogers, Ben Cooper, Richard Jaeckel and Ron Starr" in the scene where Elsa washes dishes with her romantic interest, Heck Longtree. Starr would win the role.
Elsa runs away to marry James Drury, and learns to her horror that she will in effect also be marrying his three brothers—Warren Oates, L.Q. Jones, John Davis Chandler—and father, John Anderson. "The time I got really scared was the dancing during the wedding. Sam wasn't soft on that: he wanted it to look the way it looks. Those guys pulled me into it, and I was terrified." She liked them, and would work with them all again. "But Johnny Chandler terrified me! I mean, he was that guy."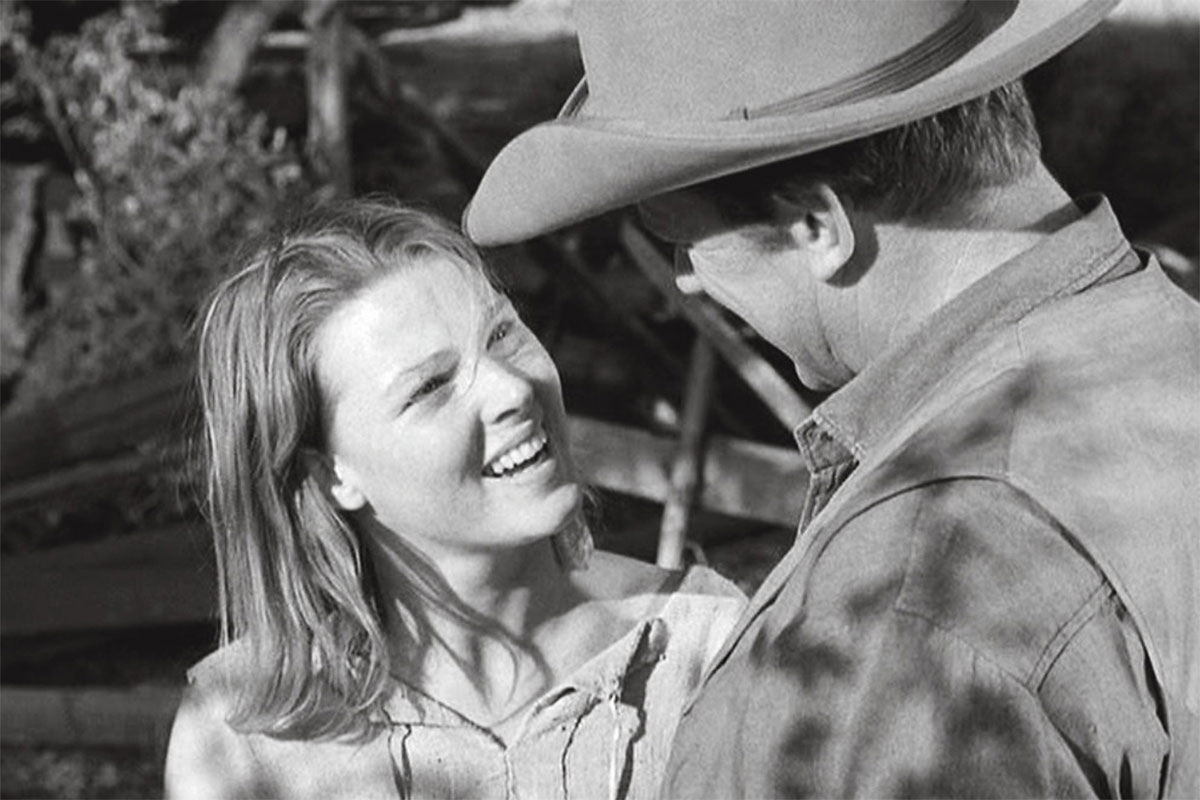 Hartley frequently catches Scott's and McCrea's films on TCM. "I asked Joel, is there anything that you do to prepare? He said, 'Because we never do things in sequence, and have to know where we are emotionally, I read the scene before the scene I'm doing right now, get prepared for that. Then I suck in my gut and go on.' He was a dream to work with; both of them were."
Ride the High Country was an international hit, and Hartley was in demand in all genres. Although she did a great deal of Western television, she did only two more Western features, both co-starring Lee Van Cleef. In 1970's Barquero, Warren Oates and his gang are fleeing the Army after a robbery, and Van Cleef's barge is their only means of escape. As the townspeople panic, the voluptuous bad-girl and the "virtuous" married Hartley, make plays for Van Cleef. "I called me and Maria Gomez the concave and the convex of his life. Lee covered himself with Coppertone. He looked really greasy and sexy, he thought. One time, he takes me in his arms and I slipped out and landed on the ground. Not one of my best experiences."
Still, it was better than The Magnificent 7 Ride! "You mean The Magnificent 7 Ride for 24 pages? Until I got raped and killed. That was a juicy role."
Her TV work was much more satisfying. "I did two Virginians, and four Bonanzas. I just adored Gunsmoke. "Cotter's Girl" was my very first television show, written by the great Kathleen Hite." A man forces Matt Dillon to kill him, so Matt will be responsible for the daughter he's kept hidden on his farm. "It was Pygmalion! I just loved it. I loved Jimmy [Arness]—he made me laugh harder than anybody except maybe Hoss [Bonanza's Dan Blocker]. And Michael Landon.
"The nice thing about Bonanza was, you could stretch yourself a bit. I mean, from playing an Indian to playing a famous actress. I went through the whole Cartwright family, one brother at a time. And then I dated Ben." After which, one irate fan wrote to complain about Ben's foolishness, "Didn't [you] recognize her as the Indian a year and a half ago?!"
There were rewards even working on the lower-budget shows, like Death Valley Days, "where I had to bring my own red shawl, and the name of the episode was "The Red Shawl." But I worked with Robert Taylor, for crying out loud!"
"I'd like to keep working. I'd love to do comedy again." Or a Western? "Sure, if it's a good script, and as long as I don't have to ride too much—you know, my bones are getting a little bit brittle."