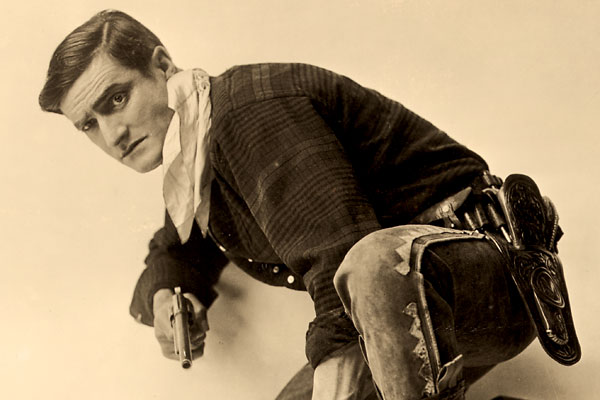 In the song "London Homesick Blues," a broke cowboy is stuck in the cold, damp, far-from-Texas streets of England. He yearns to "go home with the Armadillo" and takes solace in wearing his cherished cowboy hat and boots. Londoners passing by him comment on his origin based mainly on his "manly footwear." They would never wear the hat, but they admire and covet his boots.
With this portrayal in his song, Gary P. Nunn poignantly captures the cowboy as America's most endearing, and enduring cultural ambassador. Wear cowboy boots in a foreign country and be prepared to get admiring glances and shout-outs about Texas and cowboys from people who may otherwise not know a lick of English or much about American culture.
Early in Nunn's song, the singer says "you can bet your boots" that he'd leave London in a heartbeat. If he could. Betting your boots is the Big Ante; it is meant and taken as a sign of a sure thing. Boots in general, and cowboy boots in particular, are highly prized possessions not taken for granted. Boots have a long tradition as badges of social rank, wealth or occupation. The term "well heeled" specifically connotes wealth. It took the American cowboy—and the creative bootmakers who outfitted them—to democratize boots.
The cowboy boot was borne out of necessity before it became a potent symbol. The high tops protected the wearer's calves from rubbing on saddle leathers and from scrapes from thorny brush he rode through. The loose fit in the heel and lack of laces allowed a potentially lifesaving exit from the boot if he was unhorsed and his boot got caught in a stirrup. The metal shank under the arch of the foot permitted a cowboy to stand in stirrups for long hours at the trot. The high heel helped keep the foot from sliding forward through the stirrup. Cowboy boots were designed for riding.
Today, the vast majority of cowboy boots sold around the world never come in contact with a stirrup. With lower tops and lower heels, these boots are made for walking. But they have taken on another, equally important role in modern life. They are a personal statement made public—a leather canvas for artistic and cultural expression. Plenty of bootmakers—large and small—can help you put your best foot forward.
Plain Cowboy Style
Early cowboy boots were plain, rough and coarsely cobbled. The forerunner of the fancy inlays and overlays seen in many cowboy boots to come was created by bootmakers in Coffeyville, Kansas. They sewed star-shaped leather inlays into the shafts of boots for cowboys trailing cattle out of Texas in the 1860s, notes boot collector Tyler Beard in his book, Art of the Boot. The addition of the Lone Star was a statement of state pride.
Embellishing boots with rows of intricate stitch patterns, the most common form of boot embellishment today, would not start for another 40 years. It is widely thought that stitching may have originated as a method to keep boot tops from slouching, but John Pearce, the chief boot designer for Justin Boot Co., questions the validity of that theory. "The tops of those early boots were made with harness leather, which is tough and fairly rigid," he contends. When softer leathers were used, stitching would help keep boot shafts up, but he thinks stitching has always been more about the design. "Otherwise, why have the stitch patterns always been so fancy?" he asks.
One reason: flamboyance. Cowboy boots give their wearers the option of being brazenly ostentatious, or of hiding that tendency by wearing jeans—or long skirts—over the fancy tops of their boots.
Another reason: strategic marketing. Fred Gibbon, director of product development for Lucchese, notes that color and design get noticed on boot shelves in a store. "When you have a boot on the shelf that has a fancy collar and inlay, or something with a lot of color, the boot automatically attracts the eye. If it's just brown on brown or black on black, it's boring."
Cowboy Boot's Star Turn
The cowboy boot's first star turn occurred when rodeo cowboys competed in flamboyant footwear custom-made to be more visible—and memorable—to their audiences. Floral patterns, butterflies, birds, bucking broncs and longhorn cattle were among the artistic themes turning up on boots—frequently in vivid colors. Often reflecting favorite themes and even good luck tokens meaningful to the boot wearer, the designs were limited only by the imagination of the designer and the skills of the bootmaker. Tooling also appeared, as did overlays and insets of precious metals and stones.
Tom Mix, fresh from the rodeo circuits, was one of the earliest cowboys to don elaborately decorated boots in his movies in the 1920s. Gene Autry, Roy Rogers and Dale Evans and scores of other screen actors followed in Mix's boot steps.
Most of these well-shod celebrities patronized established Texas bootmakers like Justin, Tony Lama, M.L. Leddy and Lucchese. By the mid-1930s, Tennessee-based upstart Acme Boot Co. appealed to movie fans by making cheap boots like those worn by their silver screen heroes. In short order, all of America was clamoring for cowboy boots, and Acme was on its way to becoming the largest producer of cowboy boots.
Leather diverted to the war effort in the 1940s created shortages that forced bootmakers to conserve their use of it. One result was the PeeWee—short-topped boots extravagantly inlaid with small pieces of leather that allowed leather allotments to be stretched. PeeWees were a hit with ladies into the 1950s until taller, but less elaborate boot styles gained popularity. Cowboy boots generally became less flamboyant as boot shops were replaced with boot factories.
Storytelling Designs Return
Fanciful inlays and storytelling designs began returning to boots in the 1980s. Within a few years, boot companies like Rocketbuster Boots, Tres Outlaws and Liberty Boot reintroduced flamboyant footwear with a vengeance.
Toronto, Canada-based Liberty Boot Co. came about because its founder and president Tony Benattar could not find boots that expressed his personality. Benattar was a part-time musician in the landscaping business at the time. Spending his winters in Mexico in the early 1980s, he hit upon the idea of sourcing boots there and bringing them back to Canada to sell. His black leather boots with narrow toes and fancy stitching were a hit. "I quit the landscaping business immediately and went straight to work with the boots," he recalls.
Always looking for edgy designs with a rock 'n' roll feel, Benattar started out recycling vintage graphics on his boots. By 2002, he was producing signature boots with wild and in-your-face graphics. Bikini-clad babes on hot rods to all-over human skulls are some of the designs seen on Liberty boots. "I hope my boots make people happy," Benattar says. "I'm told that they make them feel quite individual. It boosts their confidence."
Tres Outlaws Boot Co., El Paso, has built its reputation on tooling and hand carving the leather, and is known for designs ranging from devilish flames to beatific angels and saintly sinners vividly portrayed on leather frequently studded with coins or precious stones.
"Tooling gives me great detail," explains Scott Wayne Emmerich, co-founder and chief designer. Emmerich launched Tres Outlaws in 1994 to produce boots he was already designing for customers in his campy cowboy store, Falconhead, in Los Angeles. He says overcoming the challenges of creating art on boot leather is one of his greatest joys. "It bends, and it's moving," he says of leather. "I think it's the most difficult form of art. It turns from a flat surface to three dimensions, then it goes into moving in three dimensions. You've got to engineer how to put it together so you can walk in it, so it moves and it doesn't tear, it doesn't chip and things don't fall out."
Nevena Christi, co-owner and designer of Rocketbuster Boot Co., El Paso, has a similar perspective about boot design. "I think of designs as puzzles," she says. She writes down ideas from clients, art and everyday life, and files them away until they meld in her mind. "It'll be like this problem I need to solve. How can I make a boot that has this message?"
A recent challenge was how to best mimic tattoo-like graphics on leather. Rocketbuster's new collection, Vintage Ink, is the stunning result. The collection includes American Ink, with its cameos of cowgirls, Indian maidens, fluttering flags and eagles. Conventional leather dyes are used, but it took a long time to get the look right. "Boots are made wet, so some of the dye comes off in the actual making [of the boot], then you have to redye and rework it," she says. "The application method gives it a more tattoo style."
Like Liberty and Tres Outlaws, Rocketbuster boots are exclusive to selected stores, but they can be seen in all their glory and variety on the Internet. Most of the boots they make are custom and usually ready in about three months. Boots from these companies can cost from around $600 to $6,000. Justin, Lucchese and Acme boots are available in Western stores throughout the country; Justin and Lucchese will also make boots to order.
The bottom line with cowboy boots is that they come in myriad styles and colors and leathers to suit any taste, mood or pocketbook, and to satisfy that inner cowboy or cowgirl. As John Pearce at Justin Boot Co. puts it, "I think everybody still wants to be a cowboy. A lot of guys might not stuff their jeans into the tops of their boots. Boy howdy, though, they'll show you the tops given the opportunity."
G. Daniel DeWeese co-authored the book, Western Shirts: A Classic American Fashion (Gibbs Smith, 2004). Ranch-raised near the Black Hills in South Dakota, Dan has written about Western apparel and riding equipment for more than 25 years.