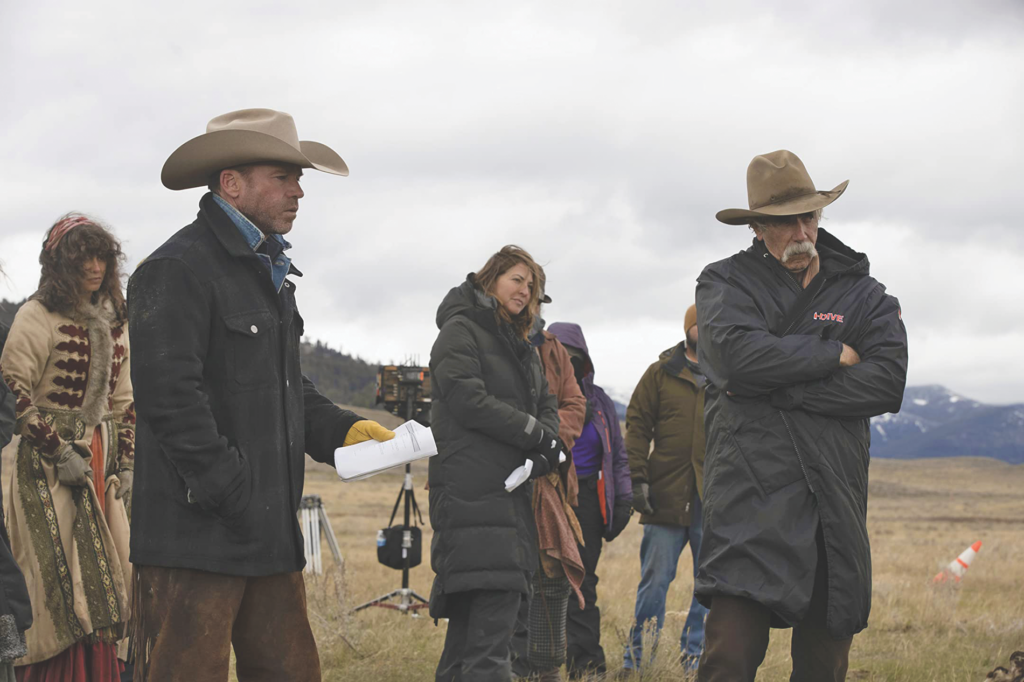 Producer and actor Wyatt McCrea, grandson of Western movie icon Joel McCrea, is enthusiastic about acting in The Contested Plains, about a frontier family in 1874 Kansas. "The 'Yellowstone Halo Effect' is what we're dealing with now, so you've got to take advantage of it. Taylor Sheridan has definitely put the Western back on the map, which is great for the genre." The Plains filmmakers wisely cast Mary Beth McDonough—Erin from The Waltons—and Darby Hinton—Israel from Daniel Boone. Also prominent are Yellowstone regular Mo Brings Plenty, and Buck Taylor—Newly on Gunsmoke, but also a recurring character on Yellowstone, and with a wonderful role as a hold-up victim in Sheridan's career-making, Oscar-nominated Hell or High Water. Western credentials are good: Taylor Sheridan Western credentials are the gold standard. 
What is this "Yellowstone Halo Effect" all about? The unhappy truth is that Westerns are not generally considered "cool." Whether movies or TV, they are seen by much of the public as something you watch with your parents—or grandparents. Yellowstone has bestowed an aura of '"cool" on Westerns that has not existed since Deadwood appeared in 2004; and Deadwood, only available on the then-pricey HBO, had a limited reach and a limited effect.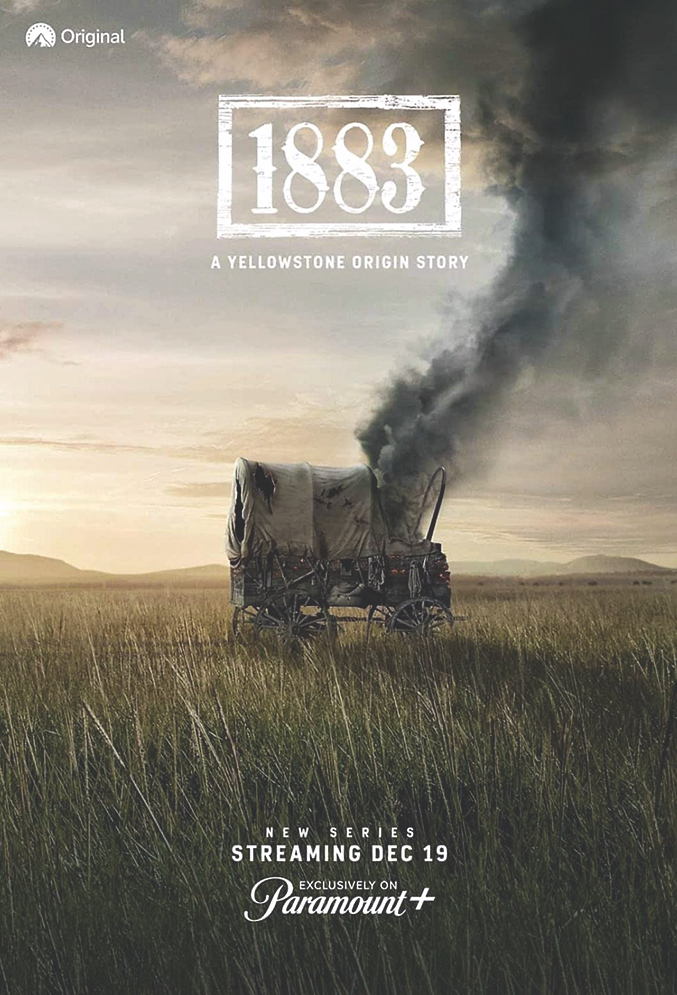 The flagship of the fledgling Para-mount network, Yellowstone was embraced first by a rural "fly-over" audience, but now is enjoyed just as much in cities. Its success took everyone by surprise, especially parent company Paramount Global, which had shortsightedly hedged its bets by selling rerun rights to streaming service Peacock, before starting their own streamer, Paramount +. Yellowstone is currently the most-watched series on television, and it and Taylor Sheridan are the spine of Paramount.
Among the vertebrae created by Sheridan are Mayor of Kingstown, starring Jeremy Renner as the power in a town whose only industry is incarceration; Tulsa King, starring Sylvester Stallone as an exiled New York gangster trying to regain his power; as well as direct descend-
ants—or actually antecedents—
to Yellowstone, 1883 and 1923. Both feature earlier generations of Duttons, and as Sheridan told True West shortly before rolling camera on 1883, "Whenever you're building a world, you need to know the origins, as a storyteller. So, when I came up with the idea for Yellowstone, I plotted it out from when did the family come to the United States? How did they get so much land? How did they become what they are?" 
How has the "Yellowstone Halo Effect" affected the marketplace? Can there be any doubt that without Yellowstone and 1883, there would have been no Walker—Independence, the 1800s prequel to Walker on the CW? The Hallmark Channel used to produce several Western movies every year, but that stopped a decade ago. Now they have the series Ride, about a family of rodeo performers trying to hang onto their ranch. From limited series like Billy the Kid, and The Head of Joaquin Murrieta, to small solid indies like Walter Hill's Dead for a Dollar and Old Henry, new audiences are giving Westerns a chance.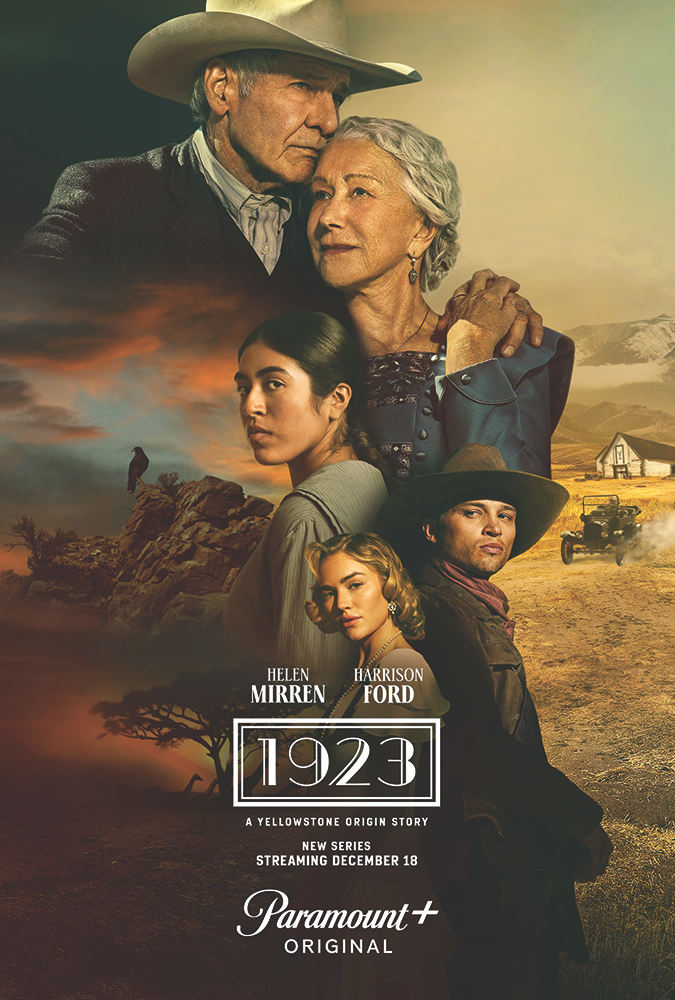 But Sheridan doesn't think audiences will give Western filmmakers a free pass. "You're gonna see a lot more Westerns coming out, and a lot of them aren't going to be very good, because the majority of movies aren't very good, right? There's an appetite for any genre if you do it well. The period Western, they will tell you in Hollywood, the audiences won't go see them. My argument has always been, no, they won't go see a bad one, but they won't go see a bad anything."
The average cost for an episode of 1923 was about $23 million. Sheridan's own properties in Texas are frequent filming locations for the various series, and according to The Wall Street Journal, he charges the production company $50,000 a week, and $25 per cow. He has the farriers he trusts flown from Montana to Texas to care for the hooves of the Yellowstone horses. With Paramount paying $500 million a year for Taylor Sheridan shows, some shareholders want to cut costs. But his shows bring viewers: nearly ten million more Paramount + subscribers in just the fourth quarter of 2022. 
He's long dealt with resistance to the cost of Western filmmaking. "Westerns are expensive in a way that the movie business doesn't understand. They can understand paying for the truck that drives the gear around. They can understand renting the gear. They don't understand when you rent a horse, you need to rent a trailer, and a place to put it, and feed and tack, and someone that knows how to take care of it. So, it's extremely expensive to make a Western. They're in a business that really likes to cut corners on the finances, and there's no way to cut a corner. If you get a horse that your actor can't ride, you will be doing less with that actor on that horse, so it begins to compromise the vision. If you're going to make a Western that is in any way impactful, you better find the best horses, and you better get the best riders, and you better set them up for success."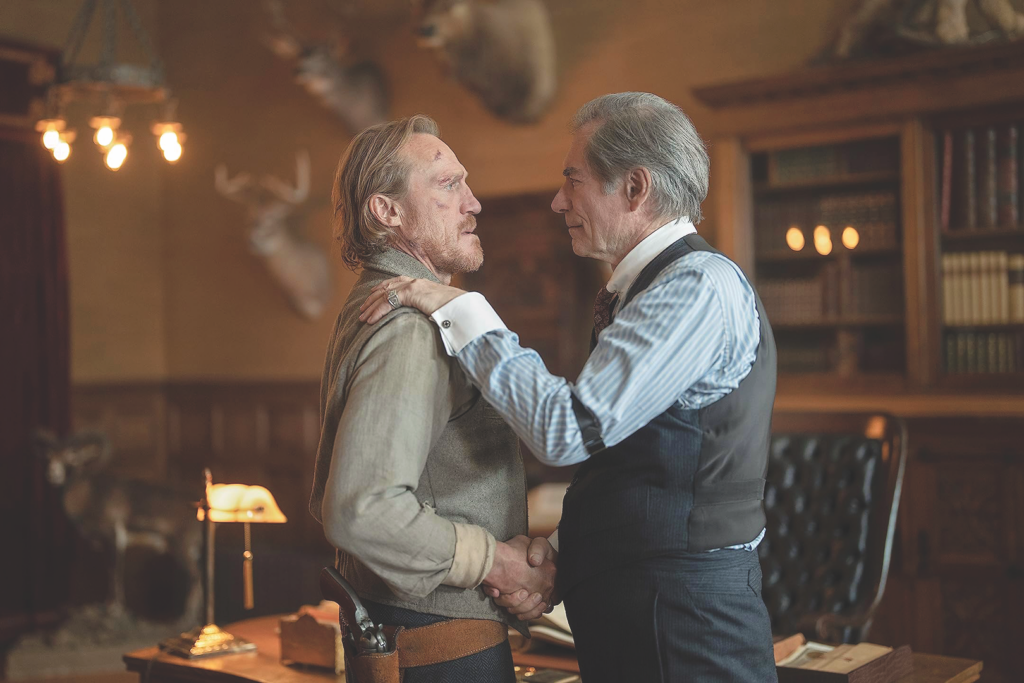 1883 is Sheridan's first historic Western. Was he excited? "That's all I ever want to do. Just so they let me make Westerns." The best Western made for television since 1989's Lonesome Dove, it concerns the first generation of Duttons to move west. Along with Sam Elliot, it stars Tim McGraw, Faith Hill, and Isabel May as their teenaged daughter Elsa. She is the soul of 1883, as well as 1923, which she also narrates, though without appearing. Sheridan promised that the 10-episode 1883 would only have one season, and the ending is so satisfyingly tragic that to make another season would be like trying to write Romeo and Juliet II.
With 1923, obviously 40 years later, Harrison Ford is Jacob Dutton, brother to McGraw's James and the current owner of the ranch. Helen Mirren is his wife, Cara, and even working with a family tree, it's hard to figure out brothers and sons and nephews, but they're still fighting predators like Scottish sheepman and Game of Thrones star Jerome Flynn, and land baron and two-time James Bond Timothy Dalton, to keep the ranch in Dutton hands. And instead of an 1883-style ending, it closed with a cliff-hanger, as there will be a 1923 season two.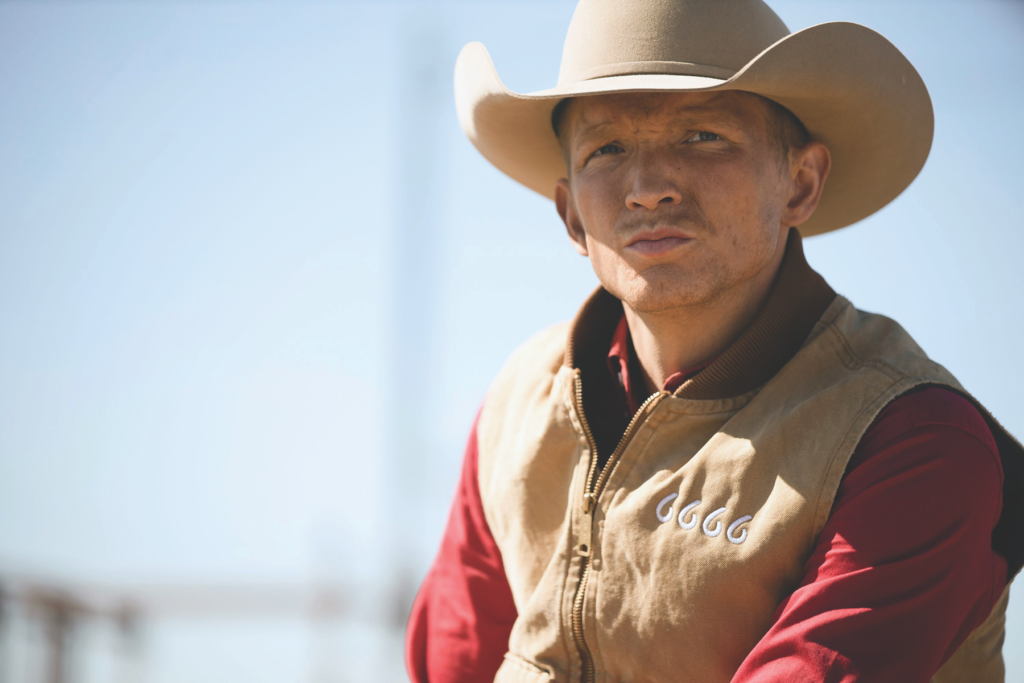 Watching Yellowstone, it's sometimes hard to tell when a commercial has begun, because the ads—for cars and Western wear and beer—are so geared to Yellowstone fans that they look like the show. Even competing networks advertise, including the INSP Channel. Its COO, Dale Ardizzone, who says "Westerns are the bedrock of great television," explains, "Yellowstone has sparked new interest in Westerns, especially among younger viewers," great news for INSP, which specializes in the genre. "The recent resurgence demonstrates an ongoing fascination with the pioneer lifestyle of men and women who explore and settle lands. INSP and the Yellowstone franchise prove that stunning vistas, compelling stories and the rugged work ethic of the American West never go out of style."
And that lifestyle and rugged work ethic are a big part of Yellowstone's appeal. While everyone talks about the machinations and tribulations of the Duttons, considerable time is always devoted to the cowboys and their work, especially on horseback. While Yellowstone has taken the degree of dedication to the ranch and the job that much farther, by branding the cowboys as well as the cattle, the endearing shenanigans of the bunkhouse boys are reminiscent of The Virginian, High Chaparral and Rawhide among others. And like Sheridan himself, who grew up in Fort Worth, his cowboys are convincing because several, including Jake Ream, Ethan Lee, Ryan Bingham, senior cowpoke Forrie J. Smith and 1923's Caleb Martin, were all rodeo cowboys before they were actors. As Sheridan points out, Oscar winner "Ben Johnson was a cowboy."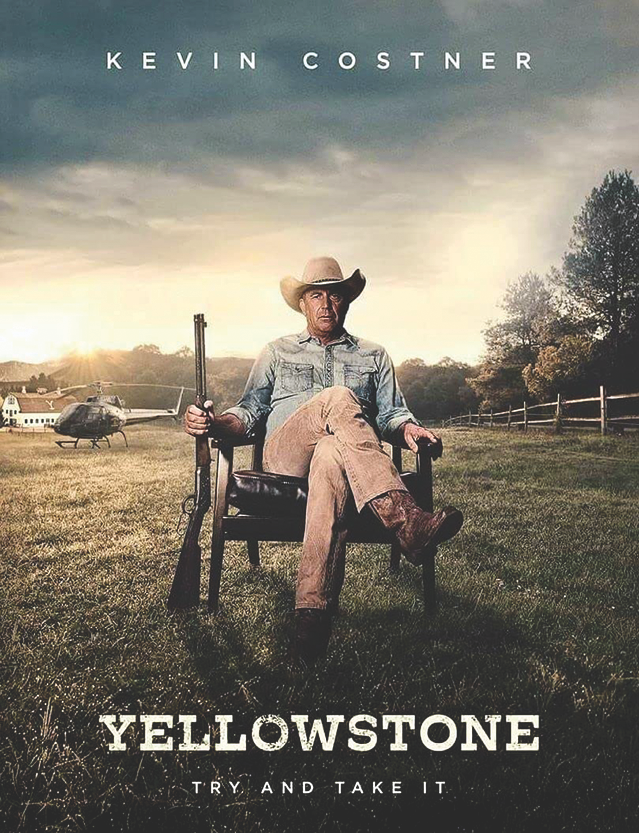 Of course, if Sheridan casts you, you're going to have to attend two weeks of Cowboy Camp. As Sheridan describes it, "There's no way for me to inform them what this way of life is. You just have to do it. I just take them out and put 'em to work. The purpose of Cowboy Camp is to get actors comfortable enough on the horses that they weren't nervous when they were riding. The better I can make them as a rider, the better the performance is, the more authentic the scenes look." Brandon Sklenar, who plays expatriate big game hunter Spencer Dutton in 1923, summed up his two weeks with a laugh, as "we were trapped and chapped." Aminah Nieves, who plays Teonna Rainwater, the Indian girl so viciously abused by nuns, describes it even more colorfully. "We were battered and bruised, and scales on our butt cheeks…honestly one of the best times of my life." Incidentally, her character shares the last name with Gil Birmingham's Yellowstone character, and Dutton nemesis, Thomas Rainwater; no doubt he's a descendant.
Sheridan had an acting career before he turned to writing, directing and producing, and he still keeps his hand in, playing Travis Wheatly on Yellowstone, and legendary cattleman and Texas Ranger Charlie Goodnight in 1883. Bruce Davison, who became a star in 1971's Willard, and was the green lieutenant in Ulzana's Raid, plays the father of Alexandra's (Julia Schlaepfer) spurned fiancé in 1923. He says Sheridan's experience as an actor "shows in his writing. I find it all the time in Yellowstone, in 1883. The word tells you exactly who this person is, tells you he is a real human being, and you really believe it, because every characters' line is motivated. Even the minor characters, he'll give you one little bit that's enough to define your character."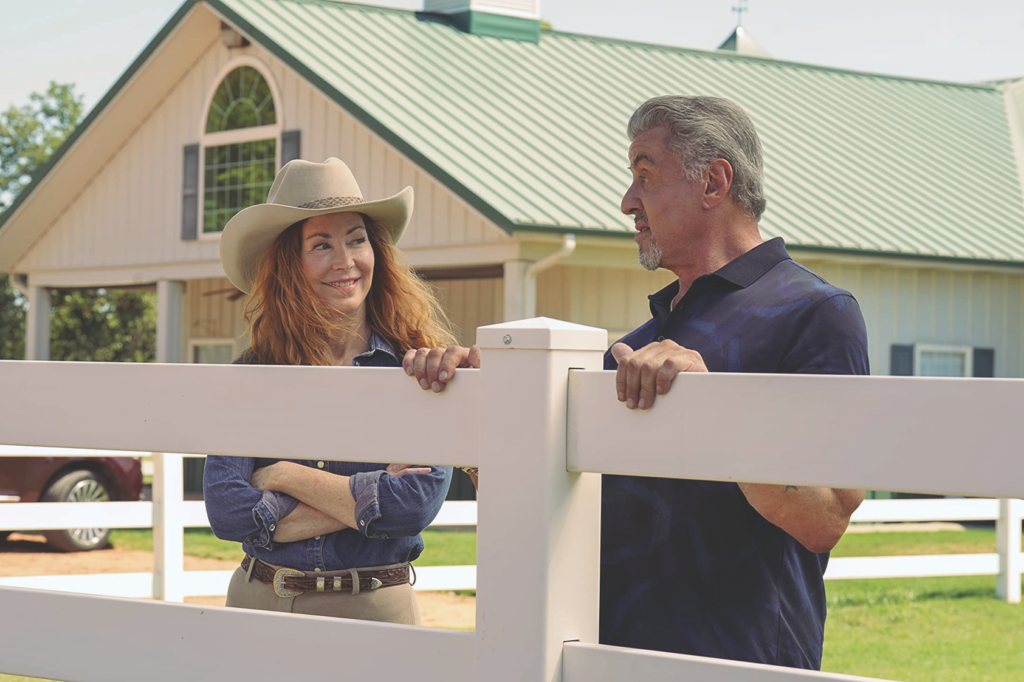 So what's next on the horizon for the Taylor Sheridan Universe? A trip back to the 1880s for Lawmen: Bass Reeves, with Selma star David Oyelowo as the legendary first black Deputy U.S. Marshal. And under the Lawmen heading, more series are planned. Based on a podcast about how striking oil changes a West Texas town, Land Man, described as an "Upstairs/Downstairs" about oil execs and oil rig roughnecks, will star Billy Bob Thornton, Michelle Randolph of 1923, and Jacob Lofland of The Son. Nicole Kidman will star in a CIA series called Special Ops: Lioness. 1923 will be back for a second season, as will Tulsa King. At press time, no decision has been announced about a third season of Mayor of Kingstown, and star Jeremy Renner is still recovering from his nearly fatal snowplow accident.
The big surprise in Sheridan-world is that Yellowstone will not be back. There will be a sequel series, starring Matthew McConaughey, but there are no details. The reason that the series ended with season five is that Sheridan and star Kevin Costner could not reach a workable shooting schedule. When Costner spoke to True West on the eve of shooting season two, he was not happy. "I gave my word to somebody that I would do it. I thought we were talking about one season, but it became apparent that it was going to be multi-season. That's not what I had initially agreed to, but I felt like for it to go forward, I needed to do that." He had been trying for several years to put together a labor-of-love project, "a Western that I really want to make, an epic Western. I want to shoot three movies all about the same story. I just can't find the rich guys that want to make it." Happily, Costner has found the rich guys, and is making Horizon—An American Saga, a four-part epic covering a 15-year period before and after the Civil War. In addition to himself, stars include Will Patton, Michael Rooker, Giovanni Ribisi, Sam Worthington, Sienna Miller, Jeff Fahey, Luke Wilson, Danny Huston and many more. As of this writing, the first film is in post-production, and parts two and three are filming in Utah. When it comes to the "Yellowstone Halo Effect," Kevin Costner may be the biggest beneficiary of all.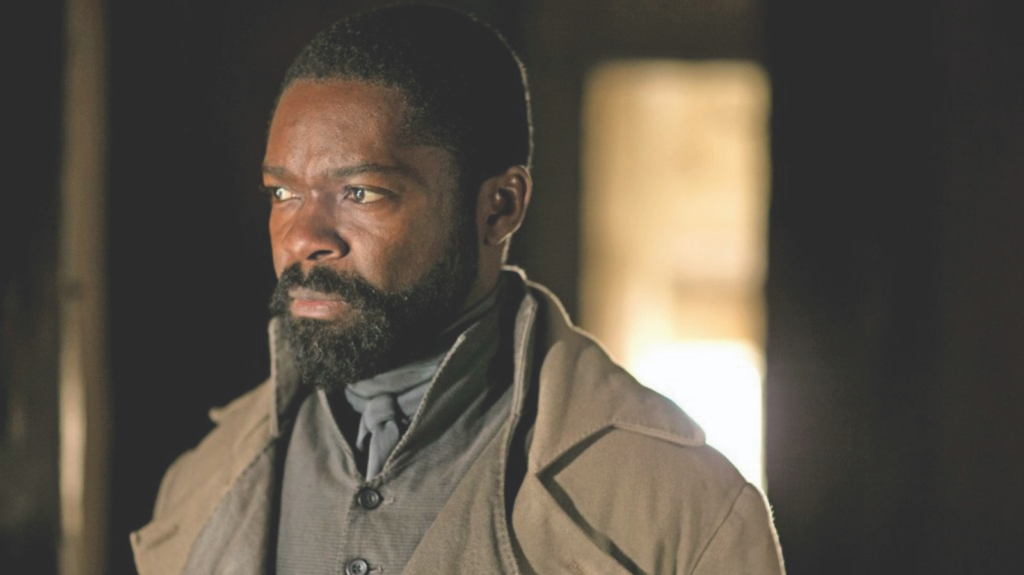 Cormac McCarthy: Western Author
(July 20, 1933-June 13, 2023)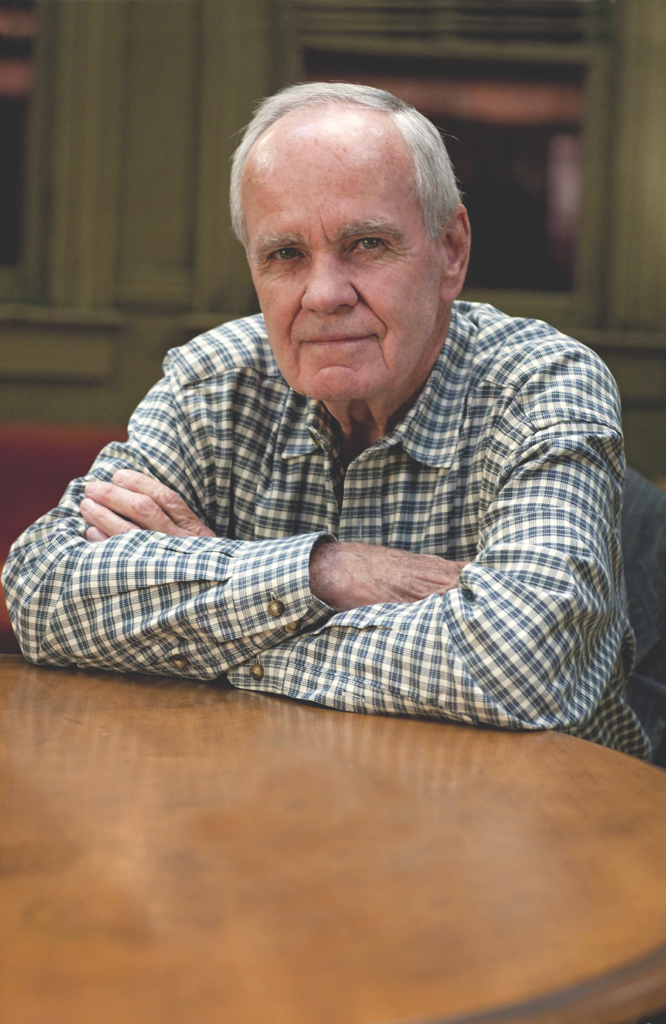 The award-winning author is considered one of the most influential and important writers of his generation.
Although he rarely wrote stories set in the traditional post-Civil War period, Cormac McCarthy, author of a dozen novels, was one of the most influential storytellers of the Western genre. He died this June at the age of 89. Born Charles Joseph McCarthy Jr. in Rhode Island, and raised in Knoxville, Tennessee, he borrowed his attorney father's nickname, Cormac, when he became a writer. 
As Brian P. Kelly asks in The Wall Street Journal, "Why would someone want to read a novel whose graphic acts of brutality make Hieronymus Bosch's paintings look like a children's coloring book? A simple answer is Mister McCarthy's writing. Without question he was one of the best stylists of the 20th century—stripping punctuation to its studs, embracing diction archaic and mellifluous, apt to reduce sentences to the fewest possible words but unafraid to let them gallop along at full tilt when they needed to."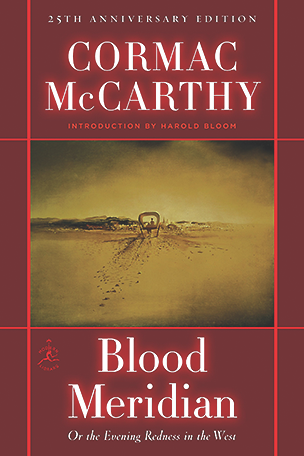 Four of McCarthy's novels, and two of his screenplays, were filmed, and three were exceptional. The Road (2009), based on McCarthy's post-apocalyptic Pulitzer Prize-winning novel, stars Vigo Mortenson as a widowed father on a dying Earth, trying to protect his young son as long as he can, while the son tries to preserve his father's humanity.  In All the Pretty Horses (2000), Matt Damon is a dead rancher's son, making a new start in Mexico, until a romance spells destruction for everyone around him. 
In 2007's Oscar-sweeping No Country for Old Men, cowboy Josh Brolin stumbles upon $2 million at a heroin blood-bath, Javier Bardem is the grinning death-force who wants it back, and Tommy Lee Jones is the seasoned lawman who finds the degree of depravity beyond his emotional understanding.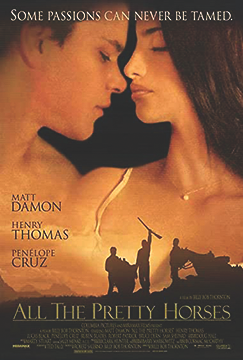 His attitude was not nearly as dark as his prose. His hoped-for takeaway from The Road? "Just simply care about things and people, and be more appreciative. Life is pretty damned good."
As acclaimed Western writer Johhny D. Boggs notes, "Even those who never grasped McCarthy's writing style have to concede that he introduced the Western genre to new, young and engaging readers, male and female. And he has inspired a string of new, young, vibrant writers of literary Western fiction. So, in many ways, he gave the Western a powerful recharge and reboot."
Currently in development is a film based on his most violent novel, Blood Meridian, about a boy caught up with a group of scalp hunters on the Texas/Mexico border in the 1850s.
—Henry C. Parke