The annual Scottsdale Art Auction was a tour de force of classic and contemporary art of the West.
All Images Courtesy Scottsdale Art Auction
Travelers in the West soon discover that Montana is not the only state that can lay claim to having "big sky country." The plains of Kansas, the deserts of Arizona, the mountains of Colorado and the varied landscapes of the other states in the American West all provide settings for amazing skies. Visitors from other countries, even other parts of the United States, often comment on the sky-dominated scenery: billowing clouds, thunderstorms, breathtaking sunsets and mountains that seem to touch the heavens. Every year some of the best contemporary and classic Western artwork capturing those skies, and the peoples who dwell under them, can be found at the annual Scottsdale Art Auction. This year was no exception.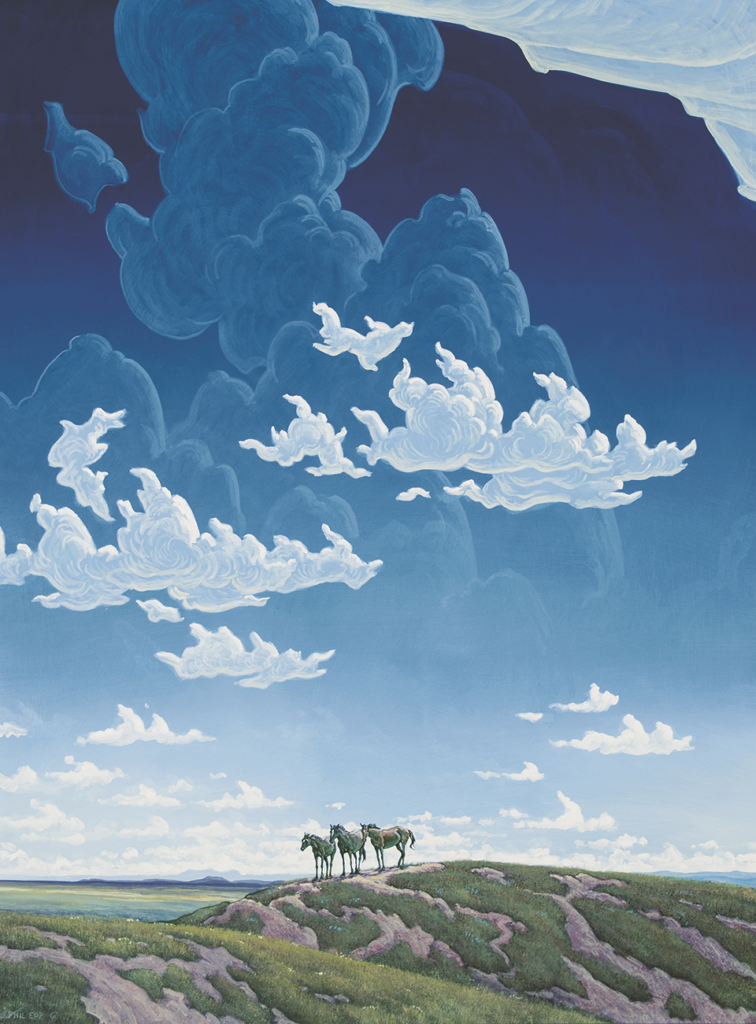 Held April 14 and 15, the auction featured over 400 pieces and brought in a total of $13.7 million. Most of the artwork for sale was created by contemporary artists. Phil Epp's Distant View captured a cloud-filled sky over the Kansas prairie, dwarfing three horses on a low rise. Ed Mell's cubistic Cloud Force showed an Arizona landscape dominated by angular thunderclouds. Wyoming's Tetons dominate the sky, looming above three riders, in Martin Grelle's Meat Seekers at the Teewinot. 
Riders also appear in a landscape ruled by mountains and thunderclouds in Mark Maggiori's Sons of Blue Lake, while Logan Maxwell Hagege's balloon-like clouds hover above hills and people in his painting It's a New Life. The day ends with sunset over tepees on the Montana plains in Colt Idol's Daydream.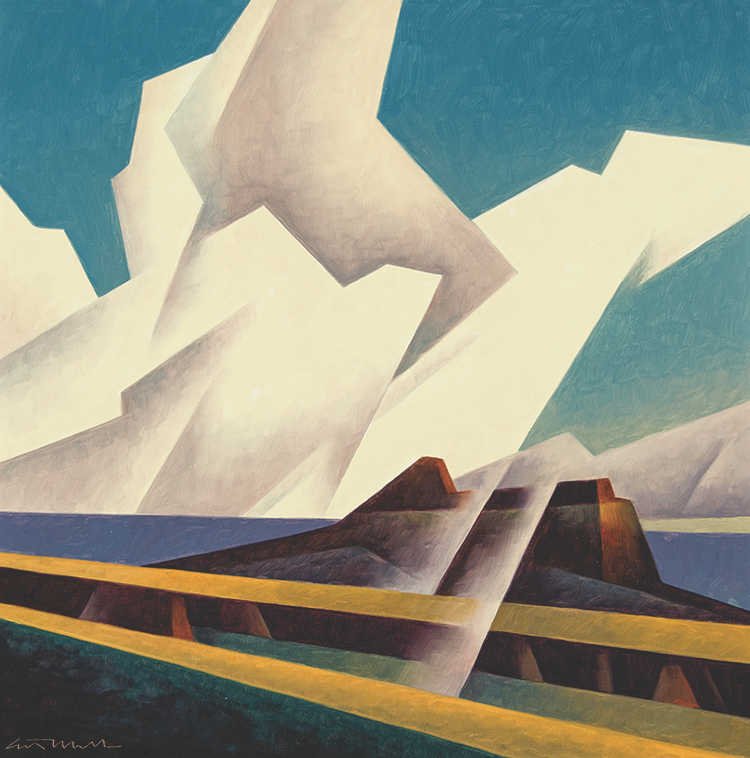 Night follows day as a full moon rises above New Mexico's Taos Pueblo in Eanger Irving Couse's Taos Love Call. The painting by Couse was one of several at the auction by early 20th-century artists. Edgar Payne contrasted the red rocks of the Colorado Plateau with blue sky in his Riders in Canyon de Chelly, while Berger Sandzen's Rocks and Glaciers focused on the colors of the Rockies. 
Big sky wasn't the only imagery popular at the auction. Works by Oscar Berninghaus, one of the founders of the Taos Society of Painters, have significantly increased in value over the last few years. Berninghaus's The Hunters, Taos brought $1,562,000, the highest bid at the auction, establishing a record price for a painting by him. This and the other prices realized at this year's Scottsdale Art Auction demonstrate that the sky is the only limit when it comes to art of the West.
UPCOMING AUCTIONS
August 16-19, 2023
C.M. Russell Summer Sale
C.M. Russell Museum (Great Falls, MT)
406-727-8787 • cmrussell.org
August 25-27, 2023
Premier Firearms Auction #89
Rock Island Auction Co. (Rock Island, IL)
(800) 238-8022 • rockislandauction.com
September 5-6, 2023
Firearms & Militaria
Morphy Auctions (Denver, PA)
(877) 968-8880 • morphyauctions.com