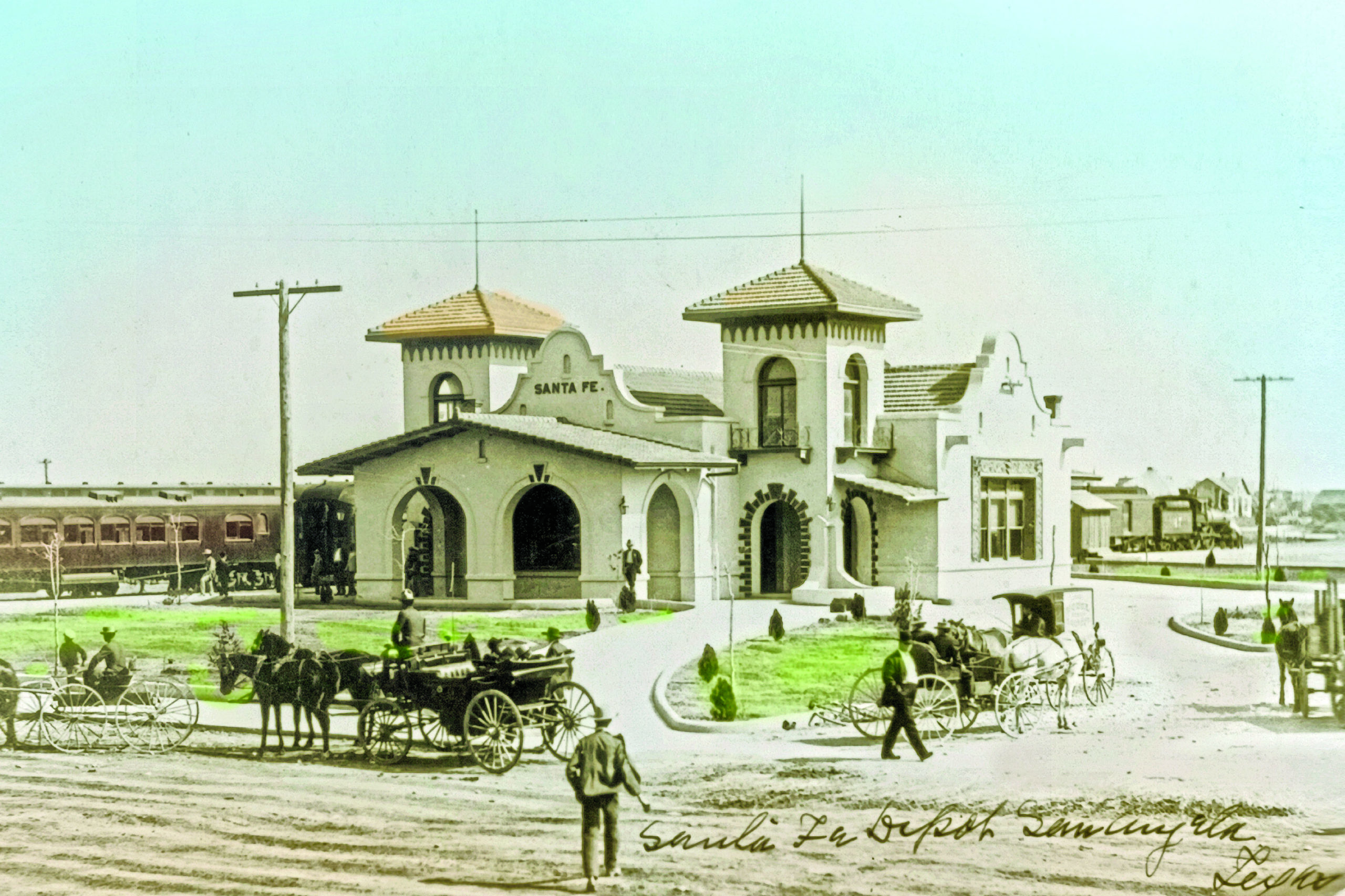 The West is still where Americans go to find a new life, and the risks can be huge. The woman who cashes out her retirement to rebuild a ramshackle mercantile in a lost mountain town is taking a chance.
So is the bespectacled gent from that strange land east of the Hudson who throws it all away to run a small museum, or a hotel where Buffalo Bill slept.
But by showing the frontier spirit in the 21st century, they're keeping the towns of the West alive and thriving. We salute them here, and wonder, if you have a working car and a good pair of boots, why aren't you already on the road?
1. San Angelo, Texas
Col. Ranald Mackenzie's name doesn't ring bells today, but his 4th Cavalry's 1874 victory at Palo Duro Canyon helped end the bloody Red River Indian War. Hear that thrilling story and others at Fort Concho National Historic Landmark in San Angelo, a town that combines rich history with contemporary attractions, earning it recognition as our Top Western Town for 2020.
The fort, once under Mackenzie's command, offers exhibits, artifacts and tours of 23 original and restored structures.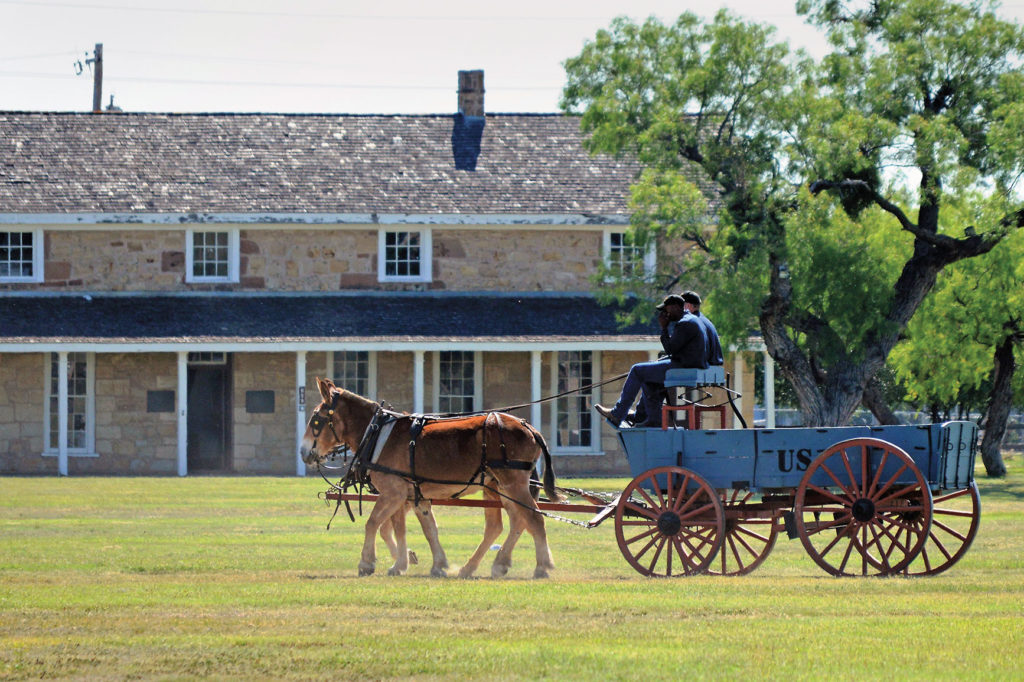 The San Angelo Stock Show & Rodeo, begun in 1932 and dedicated to promoting the agricultural way of life, draws 200,000 people over three weeks. "The show is great for families and has an old-fashioned Western feel where you see kids learning responsibility by taking care of their animals," says Diann Bayes, vice president at the Convention & Visitors Bureau.
Enjoy downtown's Concho River Walk, named one of America's best public spaces. It's beautiful anytime, but especially at Christmas when three million lights hang—six million counting their reflection on the water. Walk the "stairway to heaven" to the second floor above Legend Jewelers to Miss Hattie's Bordello Museum. Watch craftsmen work in the window of bootmaker M.L. Leddy's and visit the Santa Fe Depot and Railway Museum.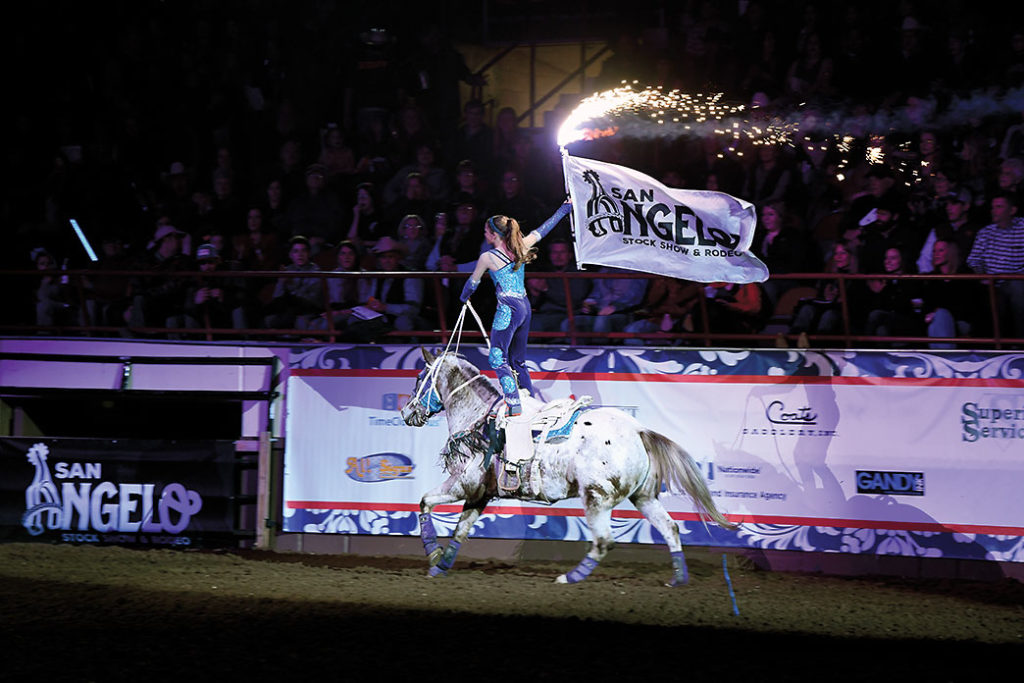 Don't mind the fiberglass sheep adorning the sidewalks. They honor San Angelo's status as a major wool producer.
Downtown's best feature might be its 13 large murals. They depict historical scenes such as a rumbling stagecoach. One commemorates the late-great Western writer Elmer Kelton, a San Angelo resident. New addition as of last spring: Paint Brush Alley, between Concho and Twohig avenues. Murals there show such scenes as a cowboy lassoing from horseback. Follow boot prints on the ground to learn the Texas two-step.
Walk across Celebration Bridge to the San Angelo Museum of Fine Arts. It has three galleries and a rooftop terrace with great views of a true Western town.
"We're a proud to have that title," says Bayes.
2. Deadwood, South Dakota
Wild Bill Hickok's 1876 murder by Jack McCall guaranteed this gulch-clinging town would thrive into the 21st century. All of Deadwood is a National Historic landmark with tons to see and do.
The Days of '76 Museum holds a collection of wagons, stagecoaches and carriages that go on display during the Days of '76 celebration. The event includes a narrated parade and a big-time rodeo. This year will be the 98th annual.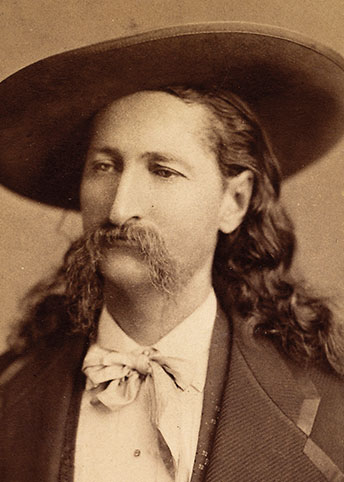 The Adams Museum has a .44-caliber Colt owned by Hickok and displays numerous images of  him, including an original pencil sketch by N.C. Wyeth.
Wild Bill Days is a weekend of fun, from live music and dancing to gold-panning lessons. See The Trial of Jack McCall at the Masonic Temple, one of the West's longest-running stage shows, and the restored Bullock Hotel, built in 1894 by hardware merchant-turned-lawman Seth Bullock.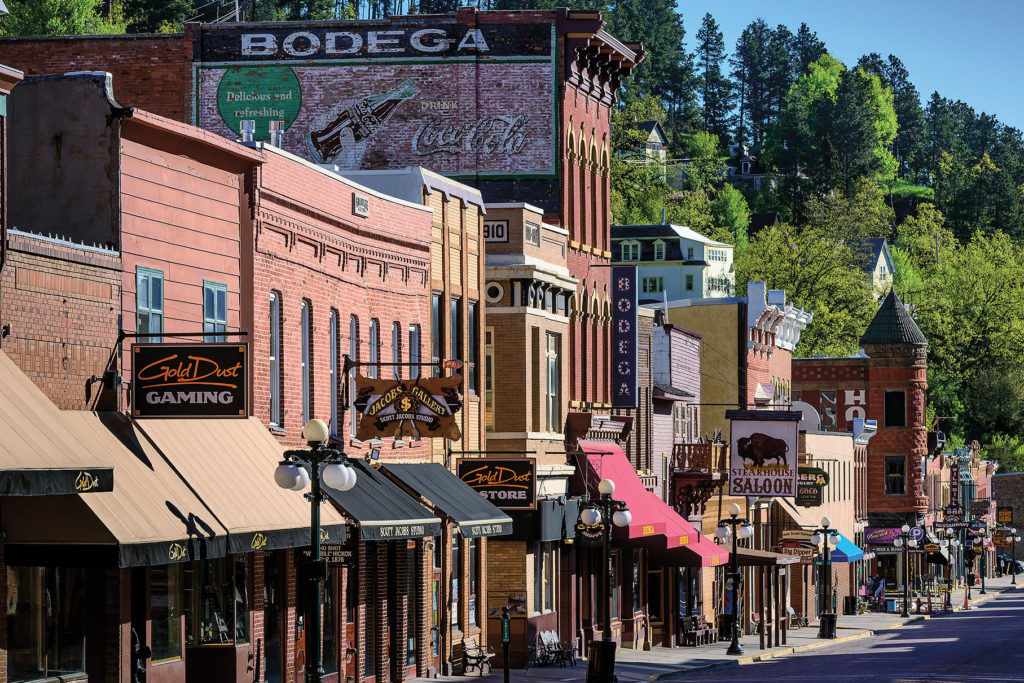 Ride a full-sized stagecoach and visit Mount Moriah Cemetery to see the side-by-side graves of Hickok and Calamity Jane.
Deadwood has expanded attractions with the opening in 2019 of Outlaw Square, scene of more than 200 re-enactments and shows a year. The Brothel Museum, expected to open this summer, will offer a look at that side of life, which thrived in the upper floors of many Deadwood buildings until 1980.
3. Buffalo, Wyoming
Frontier aficionados love this town of 4,500 in the foothills of the Bighorn Mountains. The 1880 Occidental Hotel offers an authentic experience in its refurbished rooms and saloon. Drink a toast to Owen Wister, who drew inspiration from the area to write his groundbreaking 1902 novel, The Virginian.
The artifact collection at the Jim Gatchell Memorial Museum numbers 15,000 and includes a Springfield rifle owned by the Cheyenne warrior Shave Head.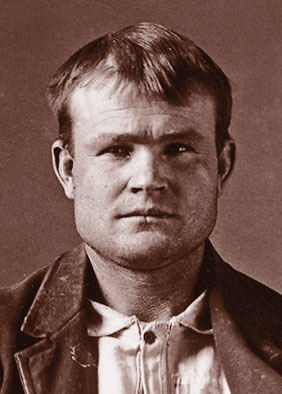 Take a walking tour of the TA Ranch and hear of the climactic event of the Johnson County Cattle War, which occurred at TA's barn. See the Victorian elegance of the 1903 Mansion House Inn, which boasts one of Wyoming's most beautiful oak staircases.
All of Buffalo's charming downtown is on the National Register of Historic Places.
See the Fort Phil Kearney Historic Site on the Bozeman Trail. The Fetterman massacre took place nearby, as did the Wagon Box Fight, in which 24 soldiers held off 800 Sioux warriors.
Can't get enough Butch and Sundance? Their Hole in the Wall hideout is 70 miles away.
Buffalo's leaders hope to again host Longmire Days in July, named for the now-canceled TV show. "If the actors can come, we'll definitely do it," says the Chamber's Shaynie McRae. "It draws 10,000 people, our biggest event of the year."
4. Prescott, Arizona
Stand in front of downtown's Yavapai County Courthouse and look around. History is everywhere in this mile-high town, named the most beautiful in Arizona by CultureTrip.
A sidewalk timeline provides a detailed overview and right there is Solon Borglum's Rough Rider bronze honoring Buckey O'Neill, killed at San Juan Hill.
The gorgeous lobby of the Hassayampa Hotel has been called Prescott's living room. Don't miss the Victorian mansions lining Mount Vernon Street. Stroll west to Sharlot Hall Museum, one of Arizona's finest. The beautifully manicured grounds include the Territorial governor's log mansion, built in 1864.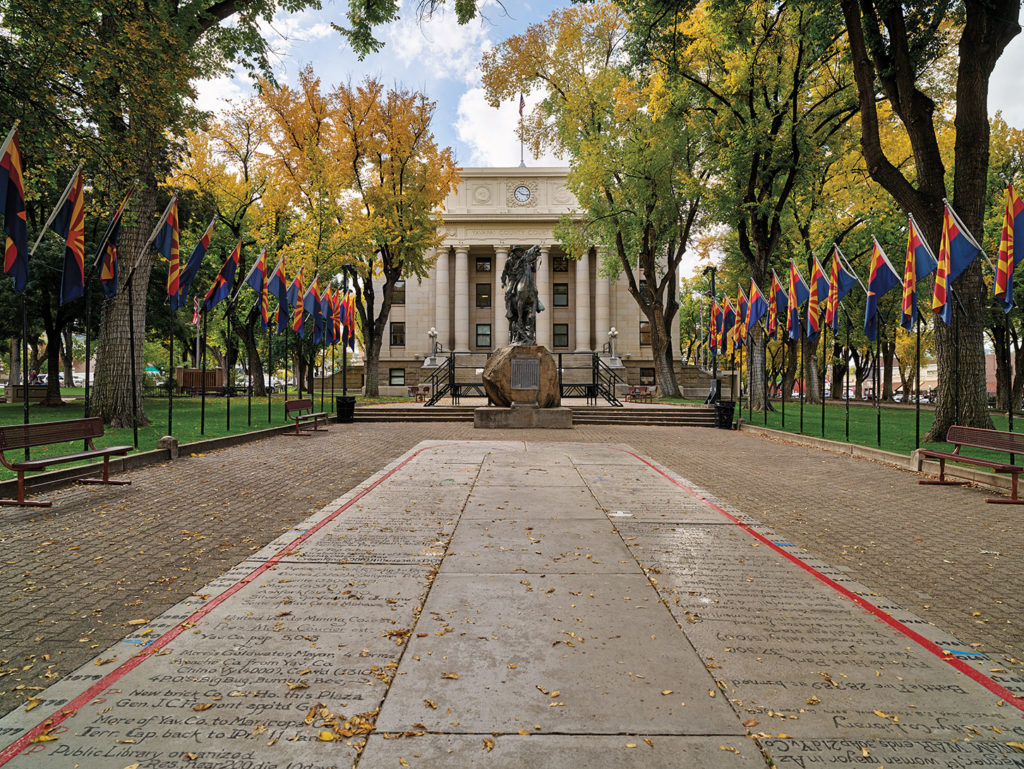 The Smoki Museum hosts an annual Navajo rug and Indian art auction, and the Phippen displays fine Western painting, photography and sculpture, including a Remington bronze.
Whiskey Row, once a spot of Wild West mayhem, borders the courthouse. Picture Virgil Earp carrying a Winchester and running along Montezuma Street chasing an outlaw he'd later kill. It happened in 1877.
The Row howls during Frontier Days, a rowdy party that includes a popular rodeo.
Stop at the Palace Restaurant & Saloon for a drink at the cherrywood bar. Any questions about the venerable watering hole? Author Brad Courtney's table is to the right as you elbow through the batwing doors.
Visit Watson Lake to see bizarre rock formations or take an easy hike up Thumb Butte for great views of the city.
5. Fort Smith, Arkansas
Movies like True Grit and Lonesome Dove have kept this Arkansas River town in America's imagination. So have its contemporary leaders, who understand the importance of frontier history.
The Fort Smith National Historic Site tells of Isaac Parker, the hanging judge who presided over the Indian Territory. His motto: "Permit no innocent man to be punished, but let no guilty man escape." Seventy-nine souls swung from his rope in 21 years.
See a replica gallows and walk a portion of the Trail of Tears, complete with exhibit panels.
Across from the fort in Judgment Town, an Old West village, watch the Lawbreakers & Peacemakers re-enactment group. The Indian Territory Pistoliers use historically accurate costumes and props to depict figures like outlaw Belle Starr.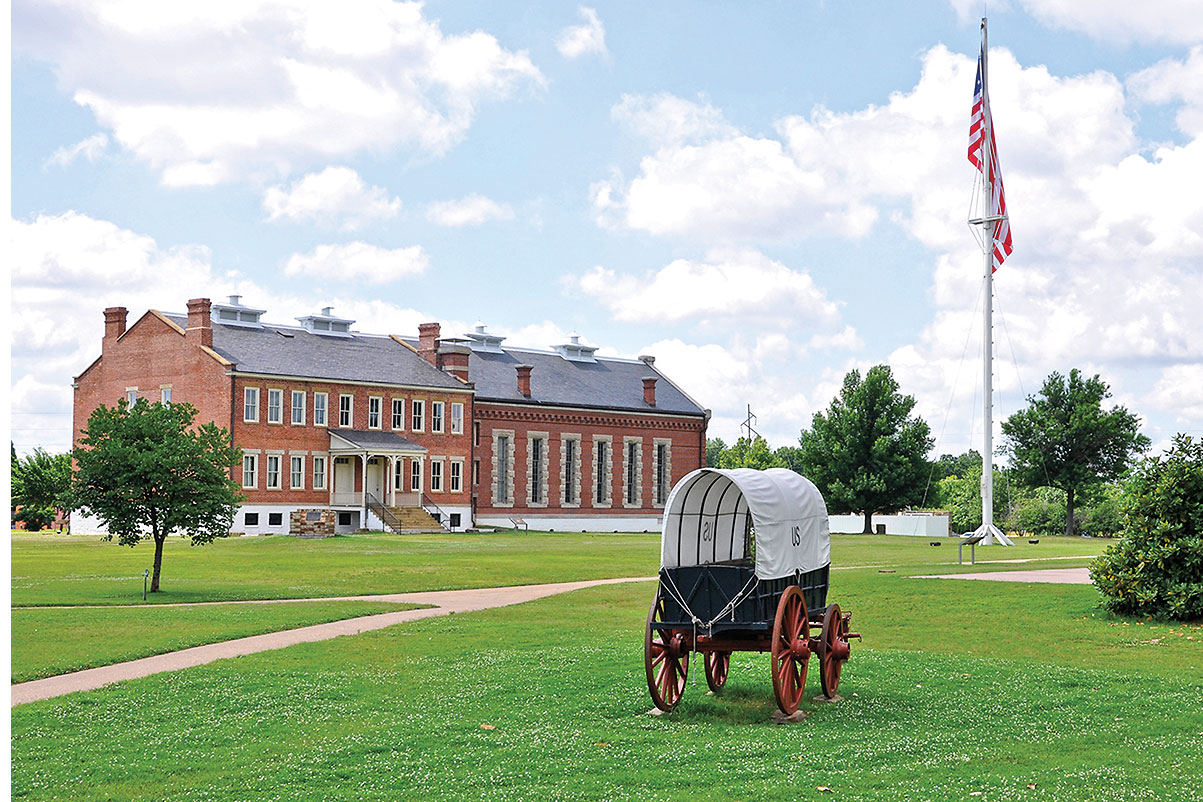 The Fort Smith Museum of History displays items from Parker's courtroom. Every October hear exciting tales on its popular Murder & Mayhem Trolley Tour. Stop at Miss Laura's Visitor Center, the only former bordello on the National Register and restored to its original grandeur. See period furnishings and artwork on guided tours.
The Bell Grove Historic District features beautiful Victorian homes dating to 1870.
Expect the opening late this year of the U.S. Marshals Museum, designed in the shape of a five-star badge. Thousands of artifacts in five exciting galleries will include a pocket watch owned by Bass Reeves, the first black deputy U.S. marshal.
6. Dodge City, Kansas
Every part of this onetime Hell on the Plains celebrates Old West history, from the cowboy statue on Boot Hill to the Longhorn steer lording over Wyatt Earp Boulevard. The kids' waterpark is named— get this—Long Branch Lagoon.
Celebrate at this summer's 60th Dodge City Days, a ten-day festival that draws 100,000 people to 50 events. Boot Hill Museum, named one of Kansas's eight wonders, offers "Guns that Won the West" and "Indians of the Great Plains," among other exhibits.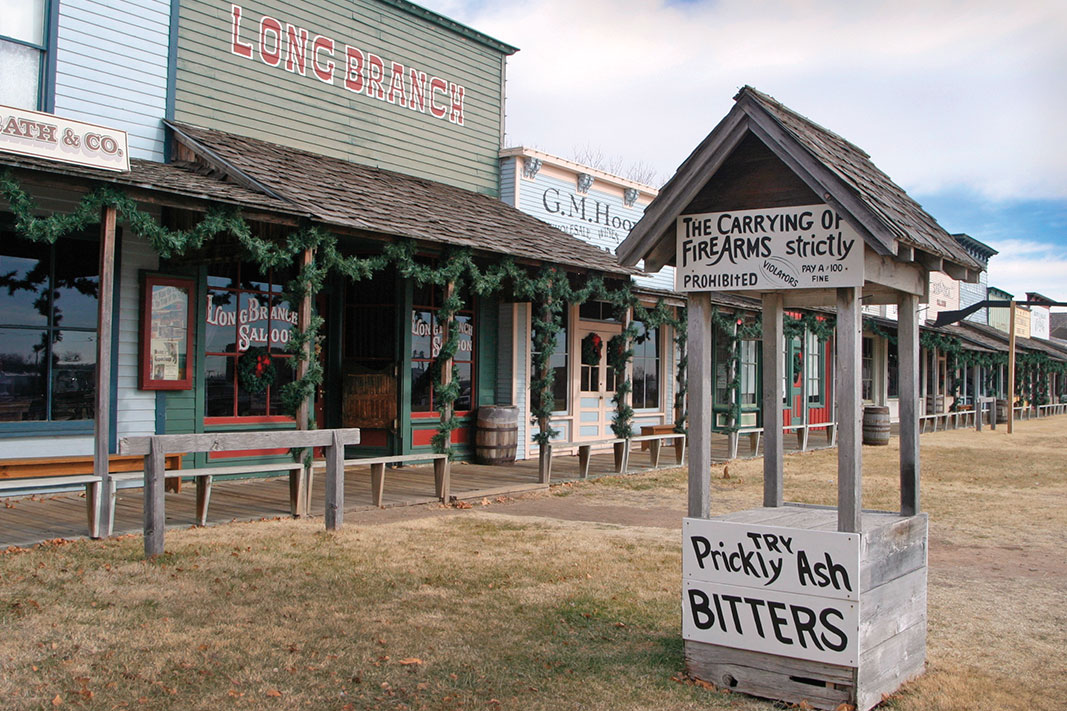 Stroll a recreated Front Street into the authentically appointed Long Branch Saloon for a sarsaparilla or to watch Miss Kitty's long-running variety show.
On the Trail of Fame Walking Tour, see statues and numerous bronze medallions honoring famous and infamous characters, as well as actors who've played them. The newest attraction is a bronze statue of James Arness—Matt Dillon on TV's Gunsmoke.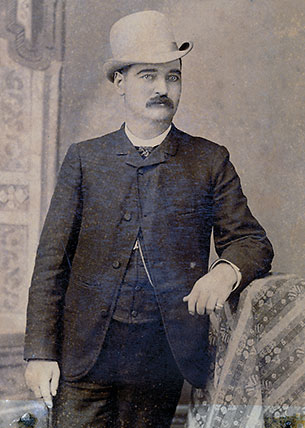 The 1881 Mueller-Schmidt House is the oldest in town, made of limestone. The beautifully renovated 1898 Santa Fe Depot is a must-see, at 45,000-square feet the largest in Kansas. The lobby and dining room appear as they did originally.
Outside the visitor's center, sit at a table with a life-sized statue of Doc Holliday playing cards, one of the town's most photographed spots.
7. Sheridan, Wyoming
The West's greatest showman still reigns under the picturesque Bighorn Mountains. We're talking about Buffalo Bill Cody, who managed the restored Sheridan Inn in the 1890s. Some believe he conducted informal tryouts for his Wild West show from its wraparound porch.
In the lobby, see original furniture and photos. During the weeklong Sheridan WYO Rodeo, take in the colorful First Peoples' Pow Wow on the inn's expansive lawn.
Relive the June 17, 1876, Battle of the Rosebud, eight days before the Little Bighorn, at Sheridan County Museum. Use a touch-screen to hear a narrative of the fight and see photos and maps. Don't miss the American Indian Gallery at Brinton Museum. Collections include a Blackfeet war chief's shirt and leggings, circa 1830.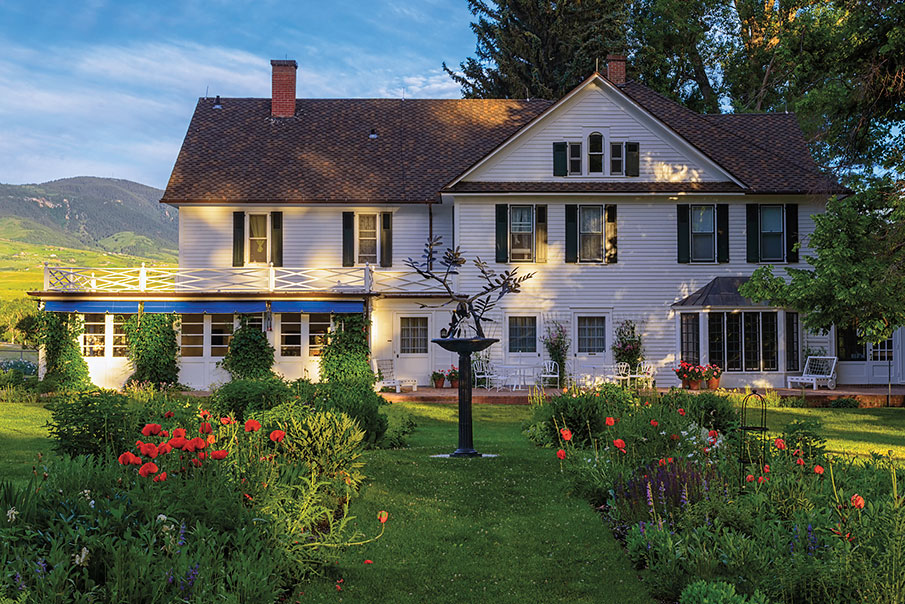 The Mint Bar stands out for its famous bucking bronc neon sign. Inside, see buck and ram heads mounted on cedar walls and a period newspaper listing casualties from Custer's Last Stand.
Visit Trail End State Historic Site, home of Sheridan's so-called Castle on a Hill, a 13,748-square-foot home built by cattle baron and future governor and senator John Kendrick.
King's Saddlery, a cowboy hangout on Main Street, boasts a museum off the rope shop. Step around the dancing bear to inspect an array of saddles, and the family's collection of photos, Indian artifacts and guns.
8. Tombstone, Arizona
Every tourist walking the board sidewalks imagines the 1881 encounter between Wyatt, Doc and those rascally Clantons and McLaurys. Let your imagination soar at a gunfight re-enactment at the O.K. Corral site and peruse a map of the encounter drawn by Wyatt himself.
At C.S. Fly's Photo Gallery, see images of Geronimo and other armed Apache warriors taken while still at war.
Visit a period sheriff's office and replica gallows at Tombstone Courthouse State Historic Park. At Bird Cage Theatre, see the balcony cribs where soiled doves worked and artifacts dating to its 1881 opening.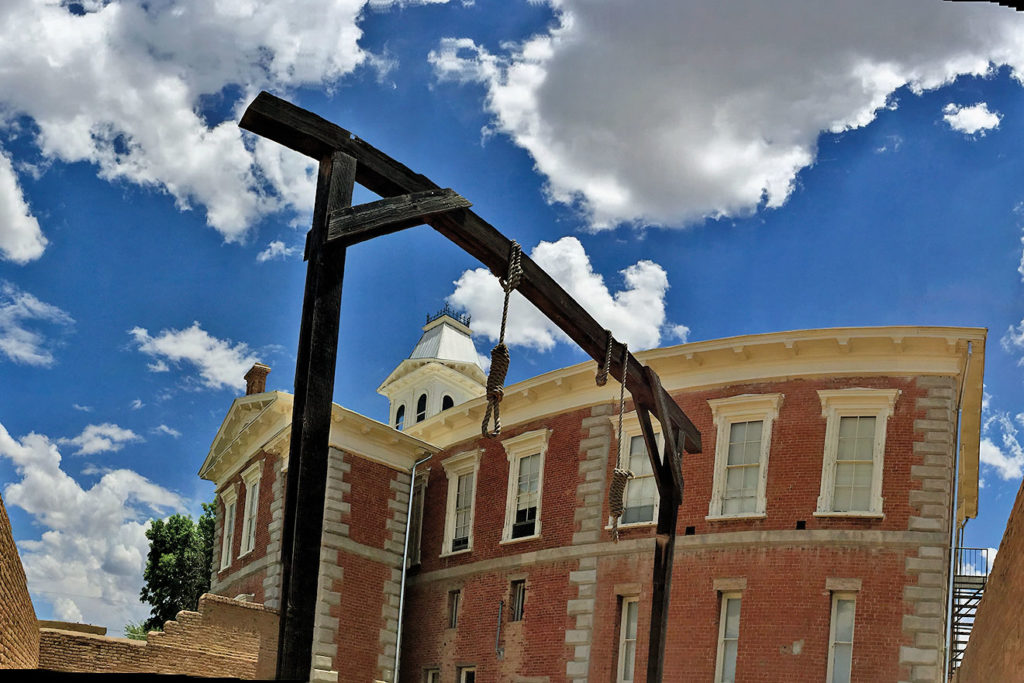 Don a hard hat and walk underground for a 45-minute tour of the Good Enough Mine, Ed Schiefellin's 1878 silver discovery. Stroll through Boothill Graveyard, read headstones and ponder the 250 souls resting there: "Here lies Lester Moore, four slugs from a .44, no Les, no more."
Big Nose Kate's Saloon has great burgers and live music, and the Crystal Palace is as authentic as a Western saloon gets. On select Sundays, the Tombstone Vigilantes, founded in 1946, re-enact historical events and mock hangings on Allen Street.
Helldorado Days, the year's blowout party, features a parade, street gunfights, wild costumes and curling mustaches. Tourists line the streets for the popular Cowboy Walkdown. Dennis Quaid, who played Doc in the movie Wyatt Earp, attended Helldorado two years ago.
9. Scottsbluff/Gering, Nebraska
Early fur traders and westbound emigrants on the Oregon, Mormon and California trails used the 800-foot bluffs above the North Platte River as a landmark. So did Pony Express riders.
Scotts Bluff National Monument celebrates these journeys with photographs and exhibits, and by preserving original ruts and swales still visible on the trail. Sunset in Mitchell Pass is a sight to behold.
The monument also displays select watercolor paintings by William Henry Jackson, an important chronicler of westward expansion.
Oregon Trail Days, the state's longest continuous celebration, happens in Scottsbluff's sister town, Gering. Celebrating its 99th year, the event features a parade, chili cookoff, art show, and a heritage party honoring homesteaders.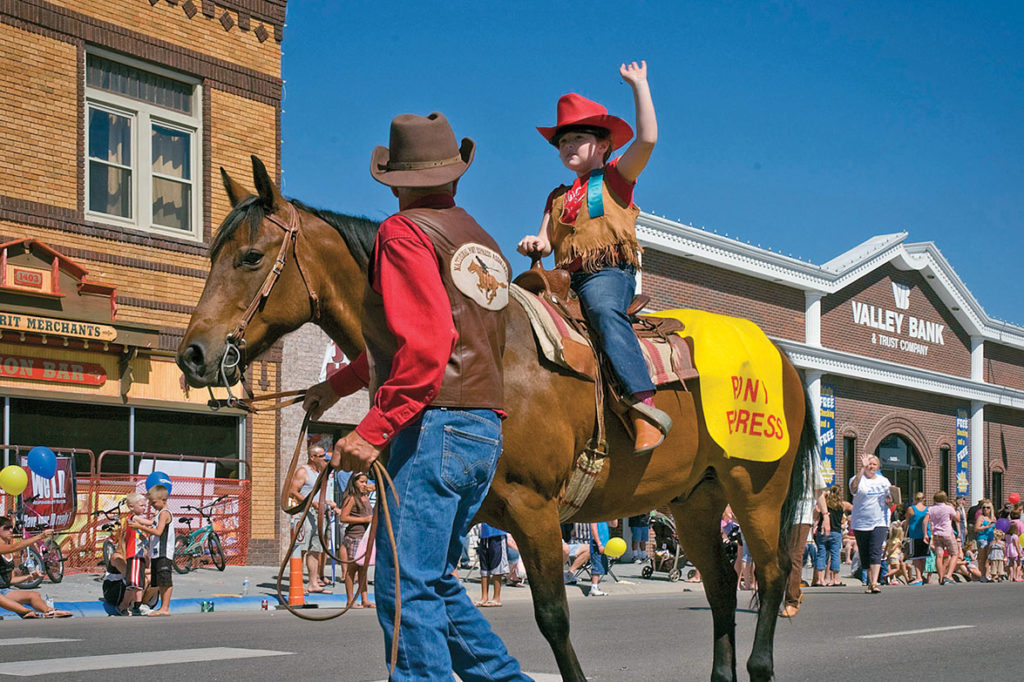 The national championship of the Old West Balloon Festival occurs in August. Watch 75 balloons fill the sky.
The Legacy of the Plains Museum has cool interactive displays. See living history actors and a blacksmith at work and tour the Wiedeman farmstead home.
Drive nine miles to see a replica of the Robidoux Trading Post, circa 1851. There are pioneer graves along the route.
Visit Chimney Rock National Historic Site, another landmark. Passing emigrants wrote in diaries they were "glad to see that they are going the right direction and it spired to the heavens."
Many climbed the 300-foot cone to carve their names at the top.
10. Carson City, Nevada
The 1859 discovery of gold and silver in the Comstock Lode led to the founding of this state capital, named for frontiersman Kit Carson.
The Nevada State Museum offers a mine tour that begins in its basement and takes visitors through tunnels and a replica mining camp. Push a button on a small stamp mill to see how ore was crushed.
The Nevada State Railroad Museum has an exhibit commemorating completion of transcontinental railroad. See the only railroad car still in existence that was at Promontory, Utah, that historic day in 1869.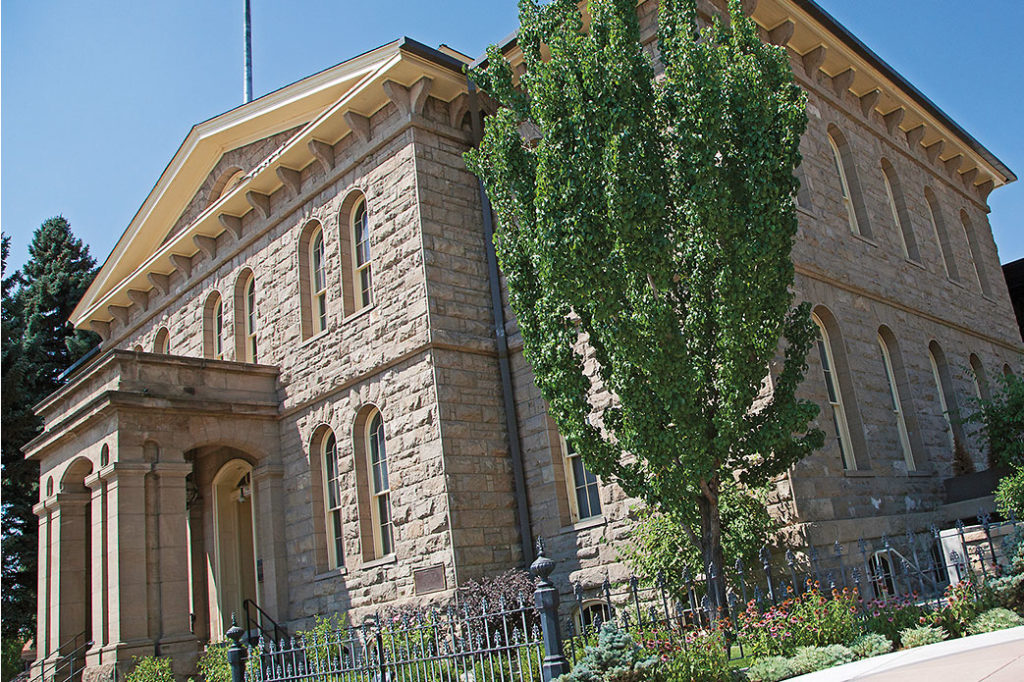 Ride in a Pullman coach on the V&T Railway from Carson City to Virginia City, a 24-mile round-trip through tunnels and wonderful scenery. Watch for wild mustangs roaming the passing countryside.
Get a passport to visit shops and restaurants in downtown's historic district. The classic 1976 Western, The Shootist, John Wayne's last movie, was filmed there.
The Carson Farmer's Market was named best in the state three years running. The Kit Carson Trail, a downtown walking path, passes the Nevada State Capitol and grand Victorian homes like the Ferris Mansion, built in 1863 by the inventor of the Ferris wheel.
Take a self-guided tour of the Stewart Indian School, cell phone in hand, and listen to stories of its rich history. It opened in 1890 and is on the National Register.
Champagne Cowboys, Leo W. Banks' second mystery novel, will be published in March.