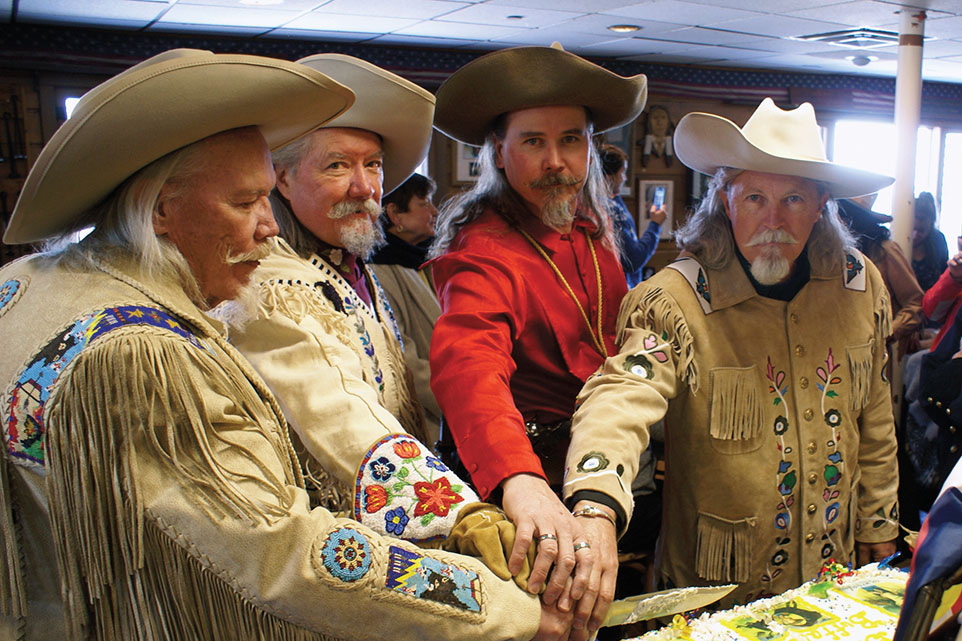 ART SHOWS/ AUCTIONS
OKC Land Run Antique Show
Oklahoma City, OK, March 7-8: Shop a wide selection of antiques from some of the region's most prominent and professional collectors.
918-619-2875
HeritageEventCompany.com
Western Spirit Art Show and Sale
Cheyenne, WY, March 4-April 16: Dawn Normali's Bear Gone Fishing is among the Western art by more than 100 artists on exhibit.
307-778-7290 • OldWestMuseum.org
Wigwam Festival of Fine Art
Litchfield Park, AZ, February 14-16: The annual festival is a promoter-organized event held at The Wigwam on a weekend in February featuring Western, Southwestern and American Indian fine art.
623-935-9040 • Litchfield Park.org
Cowgirl Up! Exhibition & Sale
Opening Weekend
Wickenburg, AZ, March 27-29: An opening gala at the Desert Caballeros Western Museum kicks off the invitational exhibit of Western art by women.
928-684-2272 • WesternMuseum.org  
HERITAGE FESTIVALS
International Pedigree Stage Stop Sled Dog Race
Pinedale, WY, February 1-2: Pinedale is one stop on this year's sled dog race that showcases the beautiful state of Wyoming.
307-734-1163 • WyomingStageStop.org
Cripple Creek Ice Festival
Cripple Creek, CO, February 8-16: Watch sculptors carve ice into works of art, plus enjoy a liquor luge, ice snacks, an ice slide and ice maze.
877-858-4653 • VisitCrippleCreek.com
Wings Over the Platte River
Grand Island, NE, February 14-April 5: See the region's largest art exhibit dedicated to life on the Platte River.
308-385-5316 • StuhrMuseum.org
Buffalo Soldier Heritage Day
San Angelo, TX, February 23: Join the Fort Concho Buffalo Soldier Living History Unit as they honor the nation's black troops.
325-657-4440 • FortConcho.com
Battle of the Alamo Commemoration
San Antonio, TX, March 6: The Texas Army and the San Antonio Living History Association portray events leading to the Battle of the Alamo.
210-225-1391 • TexasArmy.org
Goliad Massacre Re-Enactment
Goliad, TX, March 28-29: The occupation of Fort Defiance and the 1836 Goliad Massacre are re-created, with a memorial service on the last day.
361-635-3752 • PresidioLaBahia.org
Crane Watch Festival
Kearney, NE, March 20-21: More than 500,000 Sandhill cranes migrate to the Platte River Valley during their northward migration.
800-652-9435 • VisitKearney.org
MUSIC 
Jam Sessions at the Occidental Hotel
Buffalo, WY, Thursdays in February & March:
Local musicians gather to perform the best bluegrass, Western and folk music in the land.
307-684-0451 • OccidentalWyoming.com
Arizona Renaissance Festival & Artisan Marketplace  
Gold Canyon, AZ, February 8-March 29: Old West time travelers take in Medieval arts and crafts, jousting tournaments and an outdoor circus.
520-463-2600 • RenFestInfo.com
35th Annual Florence Historic Home Tour
Florence, AZ, February 8: Explore one of Arizona's oldest towns and discover the diverse architectural styles in over 20 homes and buildings.
520-868-7589 • FlorenceAZ.gov
PARADES
Arizona Parada del Sol Historic Parade & Hashknife Pony Express  
Scottsdale, AZ, February 7-8: Don't miss the arrival of the Hashknife Pony Express re-enactors on Friday and the historic parade through the heart of Old Scottsdale on Saturday.
480-990-3179 • ParadaDelSol.us
POETRY GATHERINGS
Lone Star Cowboy Poetry Gathering
Alpine, TX, February 21-22: Mike Blakely, Dale Burson, Allan Chapman, Rodeo Kate and others celebrate the oral and musical traditions of the American West
432-216-2167 • LoneStarCowboyPoetry.com
RODEOS
PBR Global Cup USA
Arlington, TX, February 15-16: The top 10 rodeo athletes in the world compete in seven events at the world's richest one-day rodeo.
817-892-4000 • ATTStadium.com
72nd Gold Rush Days and Senior Pro Rodeo  
Wickenburg AZ, February 14-16: Honor Wickenburg's mining and ranching origins at this pro rodeo featuring a carnival and concerts.
800-942-5242  • WickenburgChamber.com  
Cinch Timed Event Championship
Edmond, OK, March 13-15: The best all-around timed-event hands in professional rodeo compete at the Lazy E Arena in five rodeo timed events.
800-595-7433 • VisitEdmondOK.com
Winnemucca Ranch Hand Rodeo  
Winnemucca, NV, February 26-March 1: Ranch hands compete in rodeo events, plus cow dog trials, horse and bull sales and a trade show.
775-623-2220 • RanchRodeoNV.com
STOCK SHOWS & RODEOS
Fort Worth Stock Show & Rodeo
Fort Worth, TX, Closes February 8: Numerous days of livestock and horse shows, rodeos, concerts and food are offered.
817-877-2420 • FWSSR.com
San Antonio Stock Show & Rodeo
San Antonio, TX, February 6-23: The event features PRCA and ranch rodeo competitions, livestock shows and Country music concerts.
210-225-5851 • SARodeo.com
Oklahoma Horse Fair
Duncan, OK, February 7-8: Enjoy the Chisholm Trail Ranch Rodeo, the horse, mule and pony show, an equine trade show and working cow dog clinics.
405-226-0630 • OKHorseFair.com
Scottsdale Arabian Horse Show
Scottsdale, AZ, February 13-23: About 2,000 horses compete for more than $1 million at this internationally famous horse show that also features equine seminars.
480-515-1500 • ScottsdaleShow.com
TRADE SHOWS
Wyoming State Winter Fair & Trade Show
Lander, WY, February 1-2: Celebrating its 50th anniversary, the fair and trade show offer a grand selection of arts and crafts by regional artists.
307-332-4011 • WyomingStateWinterFair.org
Tucson Festival of Books  
Tucson, AZ, March 14-15: Join Old West authors and historians at the University of Arizona for panel discussions and book signings.
520-621-0302 • TucsonFestivalOfBooks.org