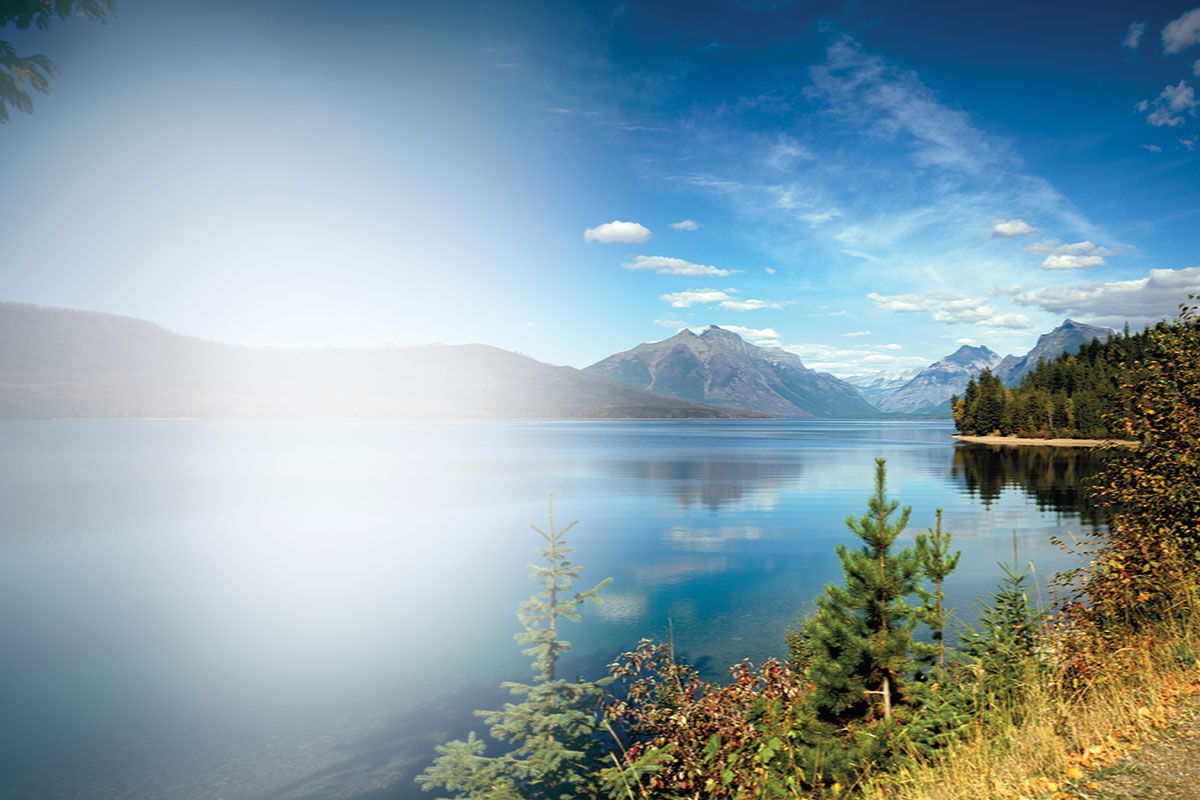 Long before air conditioning, automobiles, interstates and high-speed air travel, American transcontinental railroad companies of the 19th century realized that Western tourism would become an important source of passenger service income. The Santa Fe Railway's innovative Fred Harvey Company placed hotels and restaurants, located conveniently along the main line and national parks, and entrepreneurs constructed high-country retreats for health-seeking, well-to-do travelers. The mountain West began promoting travel and tourism to their frontier towns, many of which had been founded as mining and ranching centers in the decades leading up to and following the Civil War.
One such community was Prescott, Arizona. In 1898, 35 years after the mining town had been founded, regular passenger train service was established between the desert city of Phoenix and Prescott. Entrepreneur E.W. Gillett promoted the "opportunity for Phoenix businessmen to send their families to Prescott for the summer, and visit them every Sunday. Prescott climate during the summer is delightful, the nights being always cool…" Nearly 125 years later, Prescott is still a favorite cool summer getaway for vacationers, as are dozens of other Old West mining and ranching mountain communities.
From Colorado's historic Rocky Mountain towns to guest ranches in Wyoming and Montana, the West offers plenty of choices for high-country getaways. True West's editors invite you to pack your bags, turn off your phone and escape to one of these ten retreats—where you are guaranteed to cool off and discover the healing nature of the American West, just as the earliest 19th-century health-seekers did 150 years ago.
Prescott, Arizona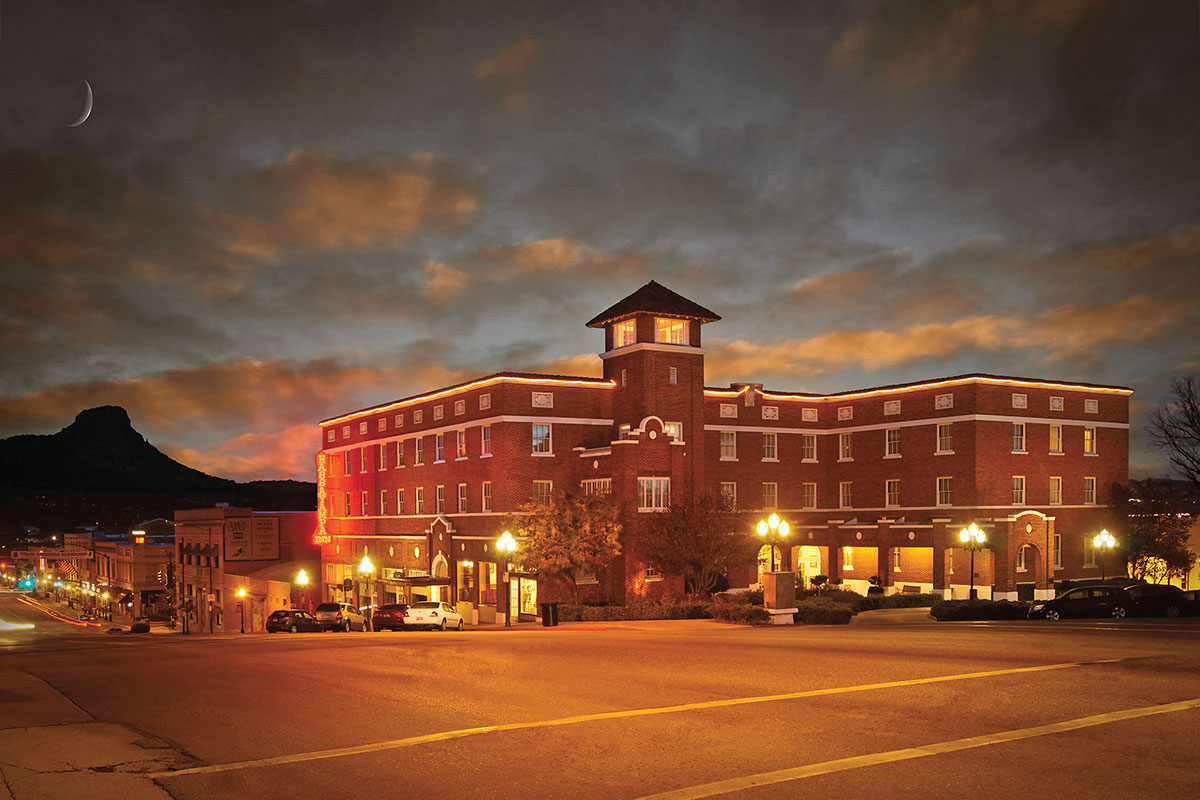 Known as the "Mile-High City" in Arizona, Prescott is nestled in the foothills of the Bradshaw Mountains in the central part of the state. Within driving distance of many of Arizona's most popular towns, historic sites and natural wonders, the picturesque community has a wide variety of hotels, motels and inns to call home for an extended stay. The historic Hassayampa Inn was built in 1927 as the city's first hotel for the burgeoning automobile tourism trade. The Art Deco-style inn is beautifully restored, and guests will enjoy the boutique-style rooms, restaurant and personal service.
Guests staying at the Hassayampa are conveniently located in downtown Prescott, a short walk to the historic Courthouse Plaza and its shopping, gallery, restaurant and entertainment district, including the legendary Palace Restaurant and Saloon; Matt's Saloon, a great place for country dancing; and the Gurley St. Grill. If you love museums, a short distance west on Gurley Street is Sharlot Hall, a not-to-miss living history center dedicated to the rich cultural heritage of central Arizona. Equally close to the inn in the opposite direction is the Smoki Museum, presenting one of the best American Indian collections in the region. A short drive outside of Prescott toward Granite Dells is the Phippen Art Museum, which houses one of the state's premier galleries of Western paintings and sculptures. When not enjoying the sites, shops and weekend festivals on the Courthouse Plaza, schedule day trips to the historic mining town of Jerome, the scenic red rocks of Sedona and Oak Creek Canyon and a ride on the Verde Canyon Railroad in Clarkdale.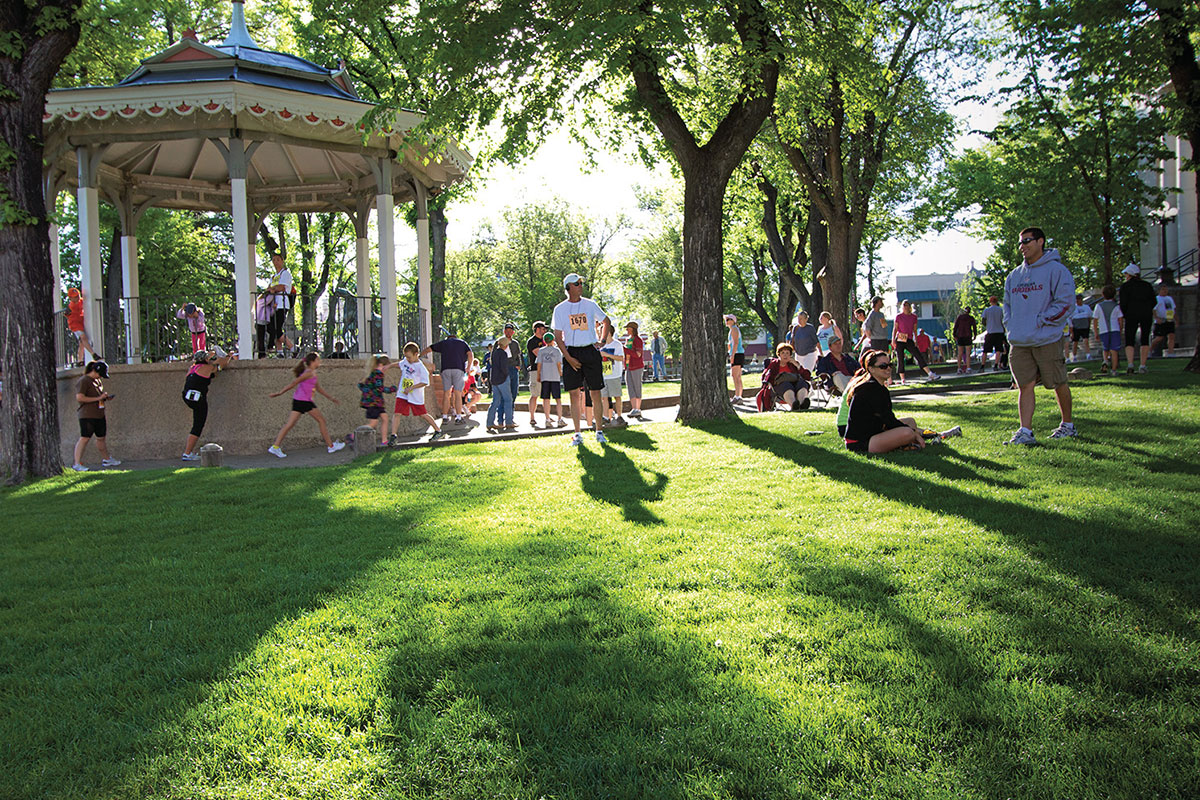 SIDE ROADS
Prescott Chamber of Commerce
117 W. Goodwin St.
928-445-2000 • Prescott.com
WHERE TO STAY
Hassayampa Inn, HassayampaInn.com
Hotel Vendome, VendomeHotel.com
Prescott Pines Inn B&B, PrescottPinesInn.com
WHERE TO EAT, DRINK AND DANCE
Palace Restaurant and Saloon, WhiskeyRowPalace.com
Matt's Saloon, MattsSaloon.com
Gurley St. Grill, GurleyStGrill.com
ATTRACTIONS
Sharlot Hall, Sharlot.org
The Smoki Museum, SmokiMuseum.org
Phippen Museum, PhippenArtMuseum.org
COOL DAY TRIPS
Scenic 89A from Prescott twists and turns over Mingus Mountain to the historic mining town of Jerome (don't miss a tour of Jerome Historic State Park); to Clarkdale, headquarters for the Verde Canyon Railroad; and to Sedona, the legendary red-rock city and gateway to beautiful Oak Creek Canyon.
More info @ VisitArizona.com
Cody, Wyoming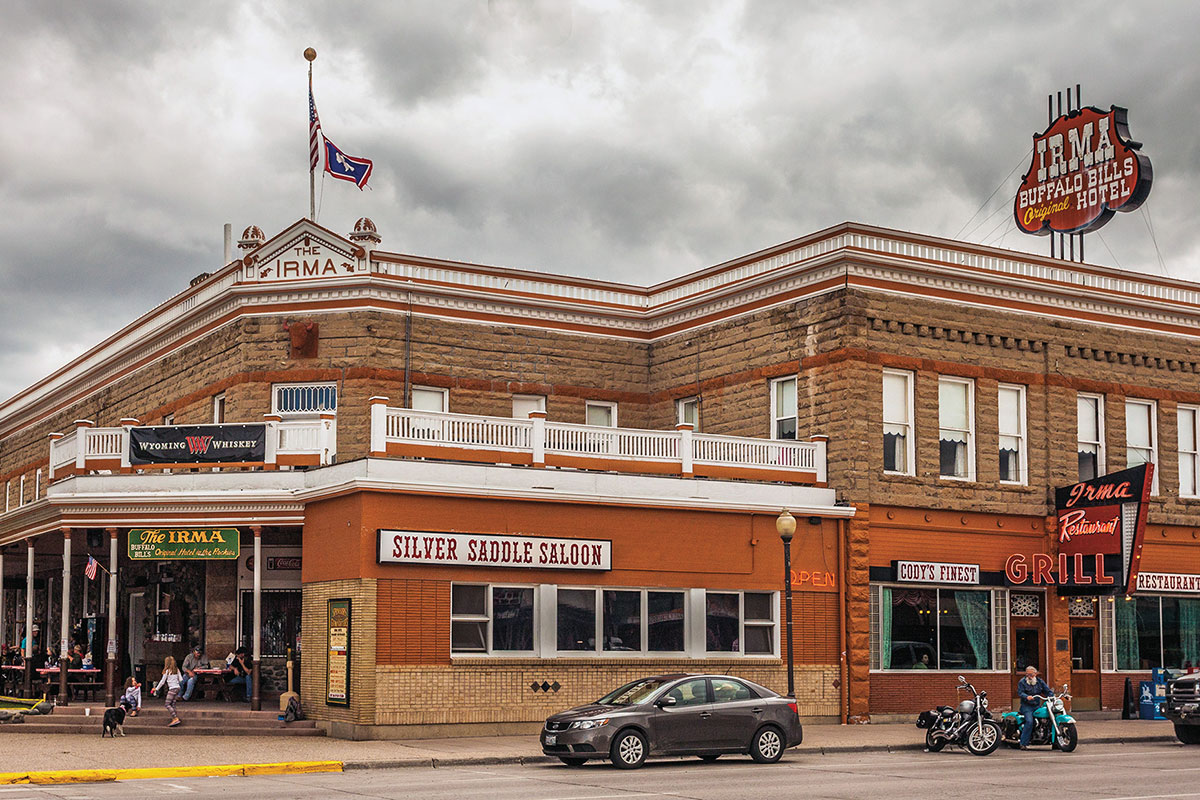 Founded by Buffalo Bill Cody in 1896 as the perfect Western town and gateway to Yellowstone National Park, Cody today is an idyllic place for an Old West getaway. Whether you stay downtown at Buffalo Bill's Historic Irma Hotel, or at a local guest ranch just outside of the northwestern Wyoming town, Cody has something for everyone interested in an immersive Western experience. The world-class Buffalo Bill Center of the West has five museums, so schedule at least three days at the Smithsonian-level center. Also in Cody are two unique museums: Old Trail Town and Dug up Gun Museum. Schedule time to visit both. Cody has plenty of dining choices in the downtown area, as well as nightlife—including the Cody Nighttime Rodeo, Wild West Spectacular: The Musical, Dan Miller's Cowboy Music Review and The Show at the Cody Cattle Company. If that's not enough, enjoy hiking and fishing in the Shoshone National Forest, take a trail ride, and of course, visit Yellowstone National Park.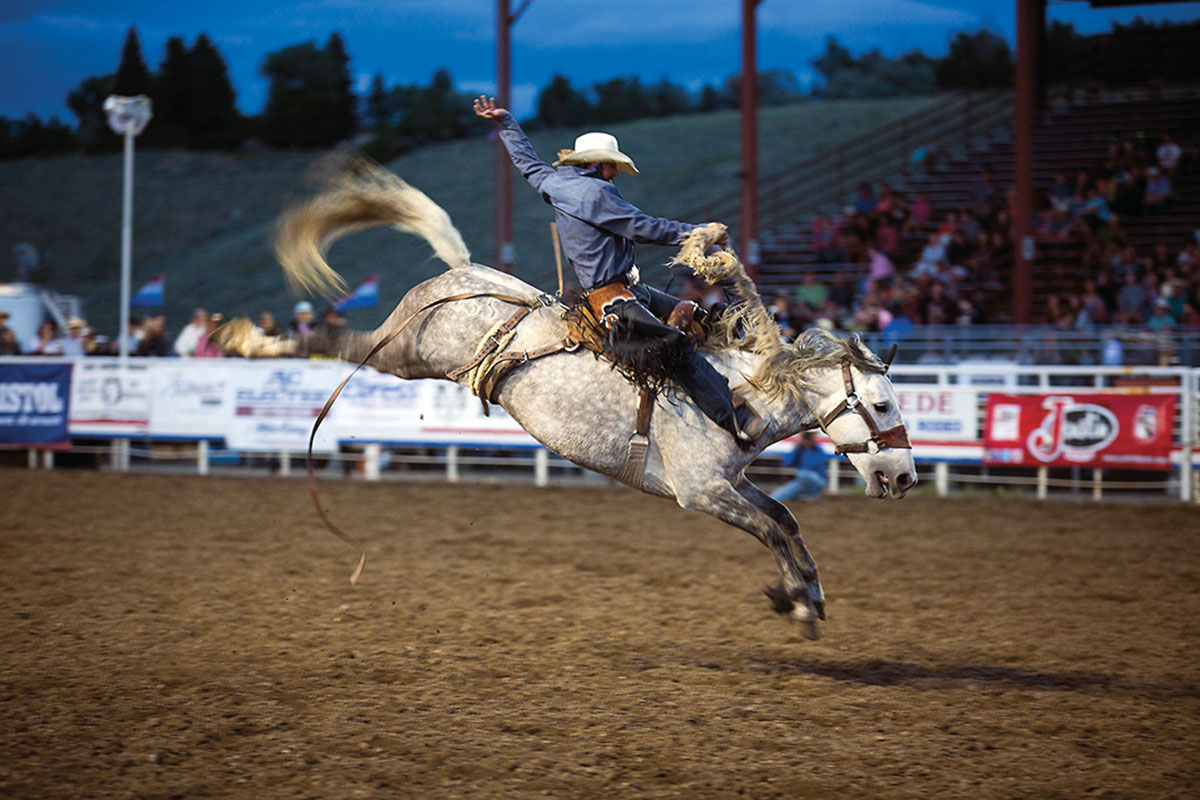 SIDE ROADS
Cody Chamber of Commerce
836 Sheridan Avenue,
307-587-2777 • CodyChamber.com
WHERE TO STAYa
Buffalo Bill's Irma Hotel, IrmaHotel.com
Bill Cody Ranch, BillCodyRanch.com
The Yellowstone Valley Inn, YellowstoneValleyInn.com
WHERE TO EAT, DRINK AND DANCE
The Cody Cattle Company, TheCodyCattleCompany.com
Irma Restaurant and Grille, IrmaHotel.com
Cassies Supper Club, Cassies.com
ATTRACTIONS
Buffalo Bill Center of the West, CenterOfTheWest.org
Old Trail Town, OldTrailTown.org
Cody Dug Up Gun Museum, CodyDugUpGunMuseum.com
COOL DAY TRIPS
Scenic U.S. 20-14-16 from Cody to the East Entrance of Yellowstone National Park is nothing less than spectacular. The drive from Cody to Yellowstone through Shoshone National Forest should include a tour of Buffalo Bill Dam's Visitor Center. Look for the herd of Rocky Mountain sheep on the way into Yellowstone, and if you arrive at sunset, park along Yellowstone Lake and enjoy nature's spectacle. If you are looking for a great picnic spot at the end of a scenic road, take Wyoming Highway 291 from Cody to Valley along the South Fork of the Shoshone to Deer Creek Campground.
More info @ TravelWyoming.com, NPS.gov
Durango, Colorado
Have you ever dreamed of visiting an Old West town where you could stay in one of the West's premiere historic hotels, ride into the mountains on a narrow-gauge steam train, raft down a wild Western river, fly fish in world-class trout streams, jeep on timberline high tracks to old gold mines and enjoy trail riding on an Old West guest ranch? If so, then Durango, Colorado, is the city for you and your family, and that's just the beginning! While in the southwestern Colorado town, make the Strater Hotel your headquarters for fun. It's conveniently located near the Durango & Silverton Narrow Gauge Railway train depot and the downtown shopping, restaurant and entertainment district. After taking the roundtrip train ride to Silverton (the railroad offers overnight packages to stay at a historic hotel in the mining town), schedule time to take a scenic drive to Cortez and a tour of Mesa Verde National Park, the nation's largest and best preserved Ancient Puebloan cultural site.
SIDE ROADS
Durango Chamber of Commerce
2301 Main Ave
888-414-0835 • DurangoBusiness.org
WHERE TO STAY
Strater Hotel, Strater.com
General Palmer Hotel, GeneralPalmerHotel.com
Colorado Trails Ranch, ColoradoTrails.com
WHERE TO EAT, DRINK AND DANCE
Diamond Belle Saloon, Strater.com
Animas Brewing Company, AnimasBrewing.com
Gazpacho, GazpachoDurango.com
ATTRACTIONS
Durango Silverton Narrow Gauge Railroad and Museum, DurangoTrain.com
Mesa Verde National Park, NPS.gov
The Animas Museum, AnimasMuseum.org
COOL DAY TRIPS
Scenic day trips abound from Durango. Go north on U.S. 550, the million-dollar highway, to Silverton, Ouray and Ridgway—which includes a hair-raising crossing of Red Mountain Pass and scenic switchbacks into Silverton and Ouray—and then you have to drive back. Keep your eyes on the road! East from Durango is the famous resort community of Pagosa Springs, while west will take the day-tripper to Mancos and Cortez. North of Cortez, follow Colorado 145 deep into the San Juans and the communities of Dolores and Telluride. Don't miss the ski lift ride from downtown up the mountain in the summertime—you might think you are in Switzerland.
More info @ Colorado.com
Williams, Arizona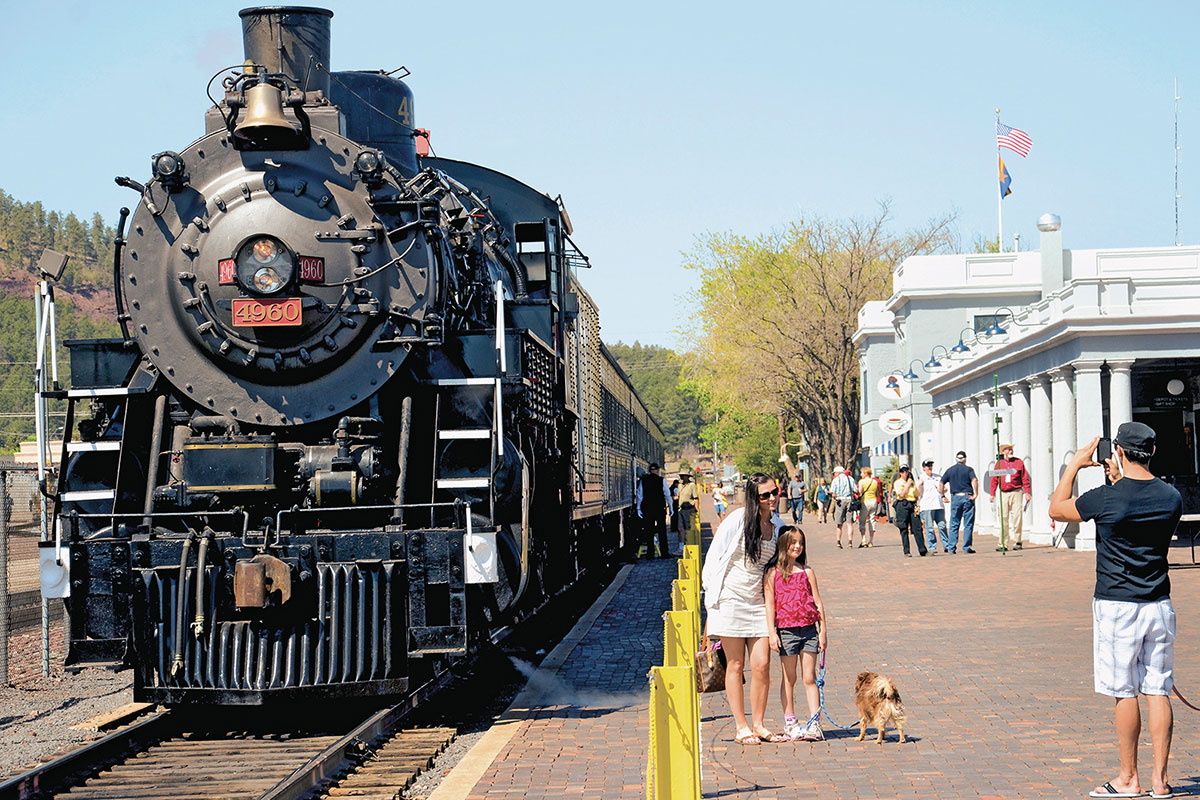 The historic Northern Arizona community sits squarely at one of the most famous crossroads of the West: Route 66 and the Grand Canyon Railway. When Route 66 was still known as Beale's Wagon Road, cattle and sheep ranchers founded Williams in 1876. In September 1882, the Santa Fe Railway arrived, forever transforming the mountain town. With the growth of Western tourism at the beginning of the 20th century, the entrepreneurial railroad company, in partnership with the Fred Harvey Company, developed the short line to the Grand Canyon and built hotels at both ends, including the famous El Tovar adjacent to the Grand Canyon Railroad Depot. Today, the restored rail line is internationally famous—as is Williams' Main Street—Route 66. The "Gateway to the Grand Canyon" is a wonderful place to escape the heat and relax in the cool climes of Arizona's Kaibab National Forest, including nearby Bill Williams Mountain.
SIDE ROADS
Williams Visitor Center
200 W. Railroad Ave.
928-635-4061 • ExperienceWilliams.com
WHERE TO STAY
Grand Canyon Railway Hotel, TheTrain.com
Red Garter Inn, RedGarter.com
The Grand Canyon Hotel, TheGrandCanyonHotel.com
WHERE TO EAT, DRINK AND DANCE
Grand Depot Café, TheTrain.com
Grand Canyon Brewing Company, GrandCanyonBrewery.com
El Corral on 66, ElCorral66.com
ATTRACTIONS
Grand Canyon Railway's Williams Depot, TheTrain.com
Grand Canyon Deer Farm, DeerFarm.com
Bearizona Wildlife Park, Bearizona.com
COOL DAY TRIPS
Williams is the perfect headquarters for touring historic and scenic sites in northe==rn Arizona. After taking the railway to Grand Canyon National Park, schedule a day trip on Old Route 66 from Williams to Kingman via Seligman, Peach Springs, Valentine and Hackberry. Have a couple extra days? Peach Springs is the gateway to the Hualapai Indian Reservation and Grand Canyon West, where a visitor can relax in a cabin at Hualapai Ranch, enjoy the unique glass Skywalk over the canyon and even book an aerial or rafting tour.
More info @ VisitArizona.com, GrandCanyonWest.com
Kalispell, Montana
If there is ever a location in the lower-48 that is a true cool, high-country getaway, Kalispell, Montana, the gateway to Glacier National Park, is it. Founded by Montana entrepreneur Charles Edward Conrad, Kalispell sits at the crossroads of U.S. Highways 93 and 2, and is the perfect Big Sky city to make your vacation headquarters for a summer getaway. Downtown Kalispell has a very popular entertainment and restaurant district, with convenient historic lodging such as Kalispell Grand Hotel and The Garrison Inn. The Conrad Museum, the former mansion of the city's founder, the Museum at Central School and the Hockaday Museum of Art should not be missed. Looking for a true Western experience? Book a vacation at The Bar W Ranch and relax and ride in Montana's Rockies. And, of course, take time in Kalispell to drive the local scenic byways, including the route to Flathead Lake, before scheduling at minimum, a three-day overnight in Glacier National Park.
SIDE ROADS
Kalispell Chamber of Commerce
15 Depot Mark
888-888-2308 • DiscoverKalispell.com
WHERE TO STAY
Kalispell Grand Hotel, KalispellGrand.com
Bar W Guest Ranch, TheBarW.com
The Garrison Inn, TheGarrisonInn.com
WHERE TO EAT, DRINK AND DANCE
MacKenzie River Pizza, Grill & Pub, MacKenzieRiverPizza.com
Mooses Saloon, MoosesSaloon.com
Kalispell Brewing Company, KalispellBrewing.com
ATTRACTIONS
The Conrad Mansion Museum, ConradMansion.com
Hockaday Museum of Art, HockadayMuseum.org
The Museum at Central School, YourMuseum.org
COOL DAY TRIPS
Kalispell is a cool headquarters for exploring northwestern Montana, Glacier National Park and even the beautiful parks and scenic highways of the Canadian Rockies in the provinces of British Columbia and Alberta. Short and extended scenic day trips and outdoor adventures of all types can be planned from Kalispell to nearby Hungry Horse Reservoir and Glacier National Park, and further afield on U.S 93 to the border town of Eureka and on U.S. 2 to Libby and Kootenai Falls.
More info @ VisitMT.com
Georgetown, Colorado
Want to get away to the mountains for an extended high-country vacation? Then make Georgetown, Colorado, your destination and immerse yourself in the history and natural beauty of the Rockies. One of the Silver Queens of Colorado, Georgetown is home to the Georgetown Loop Historic Railroad, one of the nation's most remarkable heritage railroads. The spectacular railway takes riders up to the silver camp of Silver Plume, with a broad selection of specialty trains scheduled between June and December. Spend time in the historic district of Georgetown and discover the Hotel de Paris Museum, unique shops, restaurants and pubs. Also, don't miss taking the Capital Prize Gold Mine Tour, Silver Queen Walking Tour and driving the Guanella Pass Scenic Byway.
SIDE ROADS
Town of Georgetown
404 Sixth St.
303-569-2555 • Georgetown-Colorado.com
WHERE TO STAY
Georgetown Mountain Inn, GeorgetownMountainInn.com
Rose Street Bed and Breakfast, RoseStreetBNB.com
Horstman House Bed and Breakfast, HorstmanHouseBB.com
WHERE TO EAT, DRINK AND DANCE
The Alpine Restaurant and Bar, AlpineRestaurantGeorgetown.com
Lucha Cantina, LuchaCantina.com
Guanella Pass Brewing Company, GuanellaPass.com
ATTRACTIONS
Georgetown Loop Historic Railroad, GeorgetownLoopRR.com
Georgetown Heritage Center, GeorgetownTrust.org
Hotel de Paris Museum, HotelDeParisMuseum.org
COOL DAY TRIPS
Georgetown is conveniently located off Interstate 70 within short driving distance of the historic mining communities of Idaho Springs, Black Hawk and Central City. Also, schedule time for an extended day trip or overnight loop from Georgetown to Rocky Mountain National Park, including stops in Winter Park, Granby, Estes Park and Boulder.
More info @ Colorado.com
Carson City, Nevada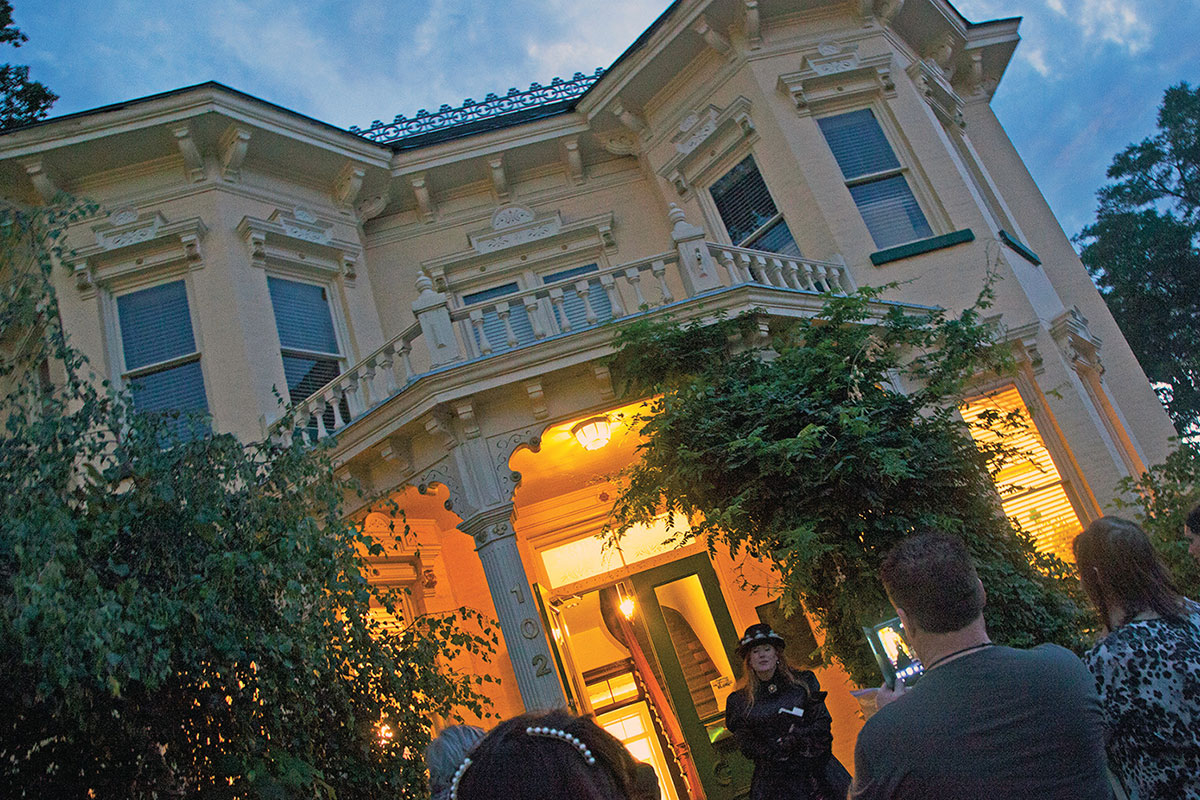 Carson City, the historic capital city of Nevada, is a beautiful place to escape the summer heat of the Silver State's lower desert cities and provides easy access to the cooler climes of nearby communities of South Lake Tahoe, Genoa, Virginia City and Dayton. Visitors who want to be within walking distance of the city's historic-museum district should stay downtown at the Hardman House Hotel or at one of Carson City's hotel-casinos. For the Carson City visitor seeking a resort experience, the Carson Valley Inn is just south of town, while Incline Village near South Lake Tahoe has many choices for the summer traveler seeking a cool, mountain getaway. When visiting the state capital, schedule time to tour the historic capitol building, the Nevada State Museum and the Nevada State Railroad Museum. After museum tours, book a round-trip ride on the restored, historic Virginia & Truckee Railroad between Carson City and the Queen of the Comstock, Virginia City.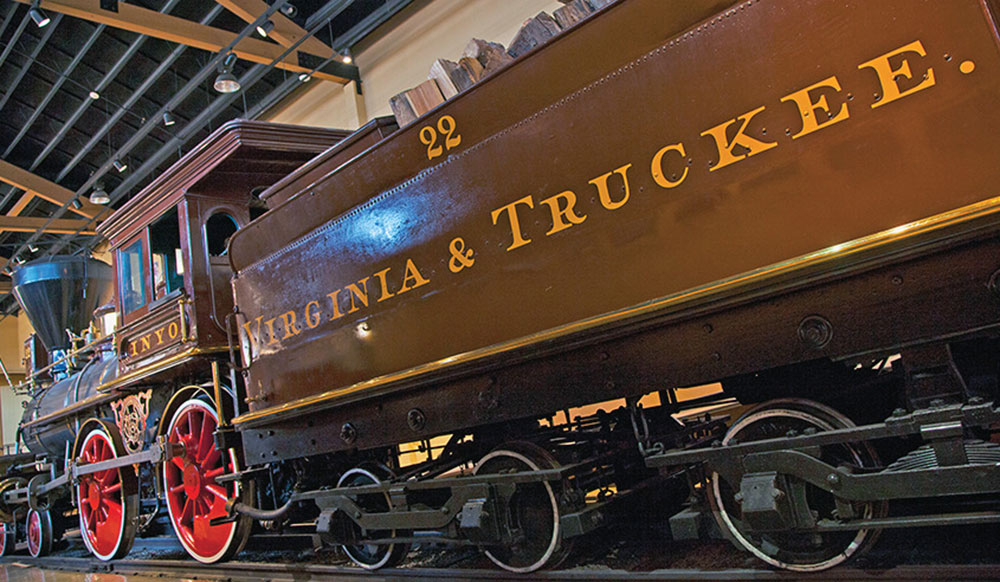 SIDE ROADS
Carson City Chamber of Commerce
1900 S. Carson St.
928-445-2000 • CarsonCityChamber.com
WHERE TO STAY
Carson Valley Inn, CarsonValleyInn.com
Hardman House Hotel, HardmanHouseInn.com
Wyndham Garden Carson City, WyndhamHotels.com
WHERE TO EAT, DRINK AND DANCE
The Fox Brewpub, FoxBrewpub.com
Duke's Steakhouse, CasinoFandango.com
Villa Basque Café, VillaBasqueCafe.com
ATTRACTIONS
Nevada State Museum, NVCulture.org
Nevada State Railroad Museum, NVCulture.org
Nevada State Capitol Building, NPS.gov
COOL DAY TRIPS
Carson City is perfectly situated to explore South Lake Tahoe, Reno and the historic pioneer-mining communities of Genoa, Virginia City and Dayton. All three cities have wonderful museums and historic hotels, shopping and entertainment districts. A unique summer event in the Carson City area is Virginia City's 60th Annual International Camel & Ostrich Races, September 6-8, 2019.
More info @ TravelNevada.com, VisitVirginiaCityNV.com
Jackson Hole, Wyoming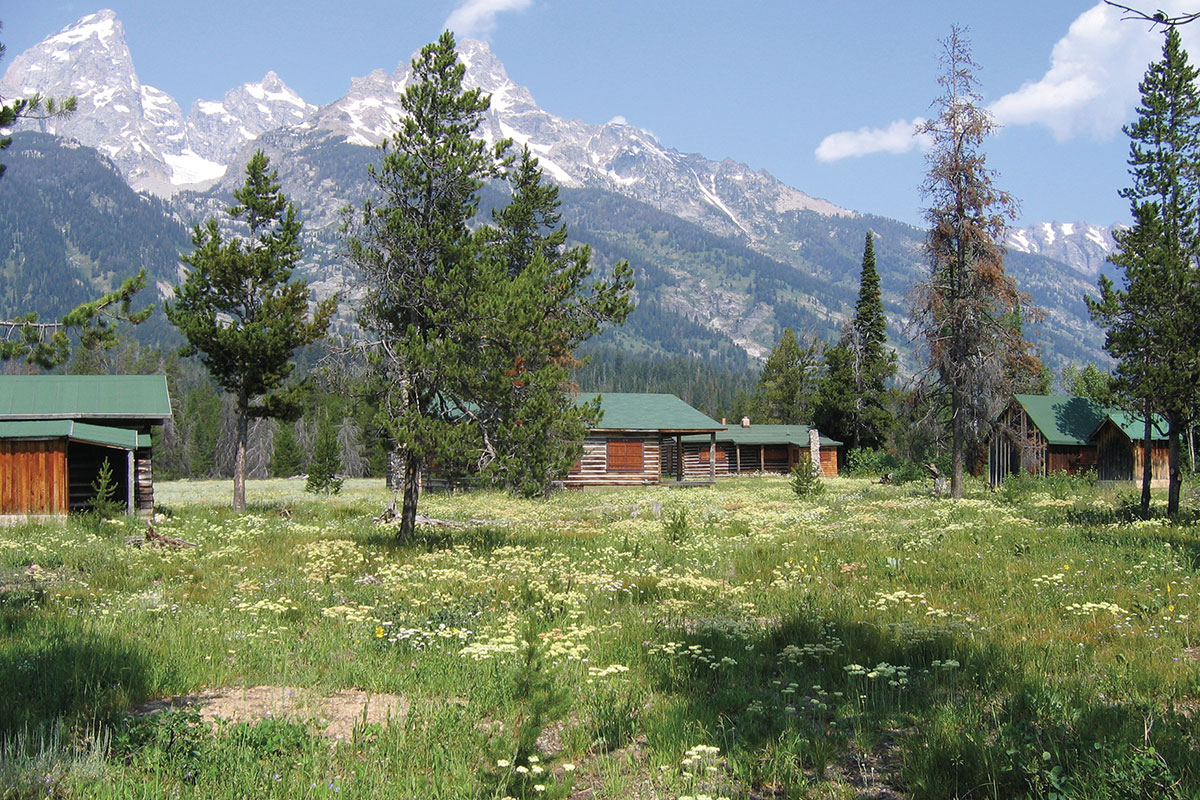 If there ever was a Western region where the visitor could have a cool getaway and immerse themselves in an Old West experience, it is Jackson Hole, Wyoming. Whether you enjoy tent camping or luxuriating at a resort, guest ranch or historic hotel, Jackson Hole has accommodations for all interests and budgets. Stay in the historic Wort Hotel in downtown Jackson, with its renowned Silver Dollar Bar and Grill, within walking distance of the city's lively entertainment, restaurant and retail district. Don't miss an evening at The Million Dollar Cowboy Bar. North of Jackson, take a slow drive up the Snake River Valley on State Highway 390 to Moose and Menor's Ferry Historic Site. Dine in a teepee at Dornan's Resort in Moose, which has great Old West lunch buffet cooked cowboy style in jumbo Dutch ovens. Continue on 390 into Grand Teton National Park and schedule time at the Visitors Center, Jenny and Jackson lakes. Do you like trail riding, luxurious hospitality and the peacefulness of nature in an Old West setting? Then book your cool, Western getaway at one of the local guest ranches such as Spring Creek Ranch, which has many summer packages that include horseback riding, river rafting and wildlife viewing.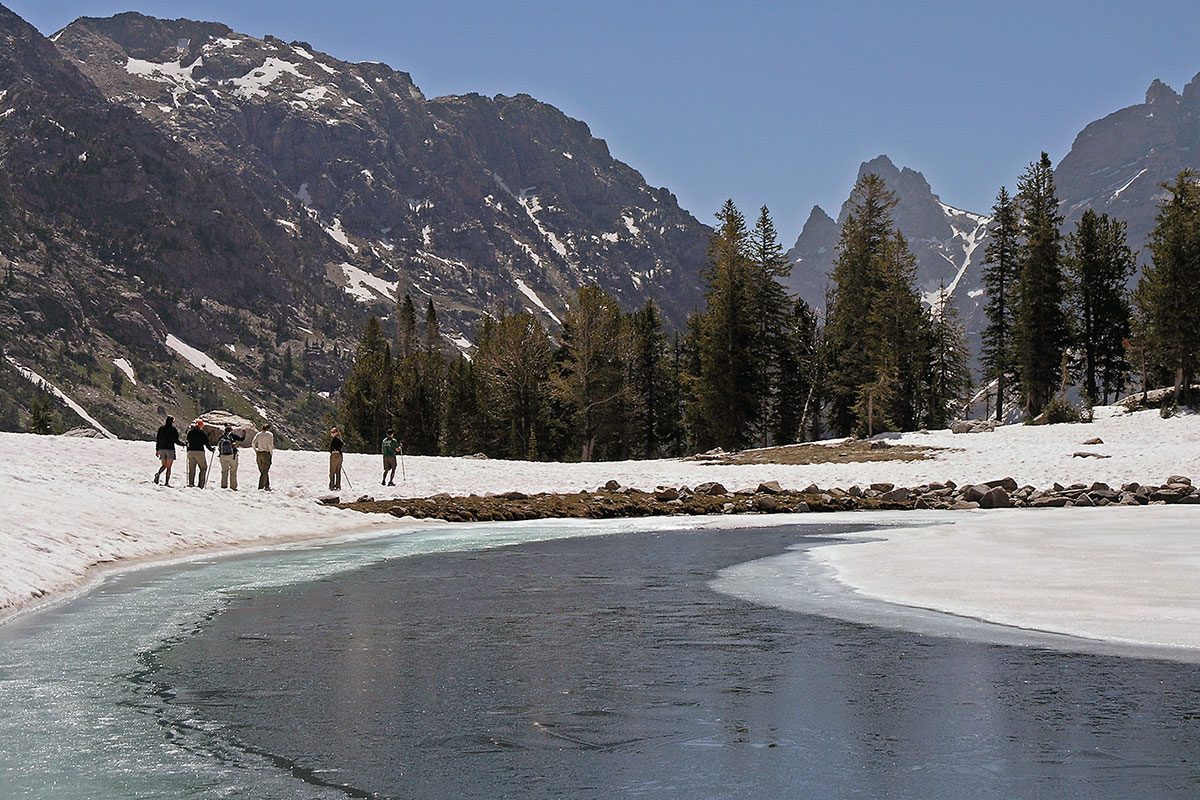 SIDE ROADS
Jackson Hole Chamber of Commerce
117 W. Goodwin St.
928-445-2000 • JacksonHoleChamber.com
WHERE TO STAY
Spring Creek Ranch, SpringCreekRanch.com
The Wort Hotel, WortHotel.com
Flat Creek Ranch, FlatCreekRanch.com
WHERE TO EAT, DRINK AND DANCE
Silver Dollar Bar and Grill, WortHotel.com
Snake River Grill, SnakeRiverGrill.com
The Million Dollar Cowboy Bar, MillionDollarCowboyBar.com
ATTRACTIONS
National Museum of Wildlife Art, WildlifeArt.org
Jackson Hole Historical Society & Museum, JacksonHoleHistory.org
Colter Bay Visitor Center, Grand Teton National Park, NPS.gov
COOL DAY TRIPS
Scenic drives, day trips and overnights abound in all directions from Jackson Hole. Drive north through the National Elk Refuge to Moran and follow the John D. Rockefeller Memorial Parkway into Yellowstone National Park for a day trip or overnight (or two or three) in a park lodge. Visit Grand Teton National Park via State Highway 390 and enjoy the scenic drives, hikes and picnic areas near Jenny Lake.  Have more time? Drive south to Pinedale for a tour of the Museum of the Mountain Man.
More info @ TravelWyoming.com
Seaside, Oregon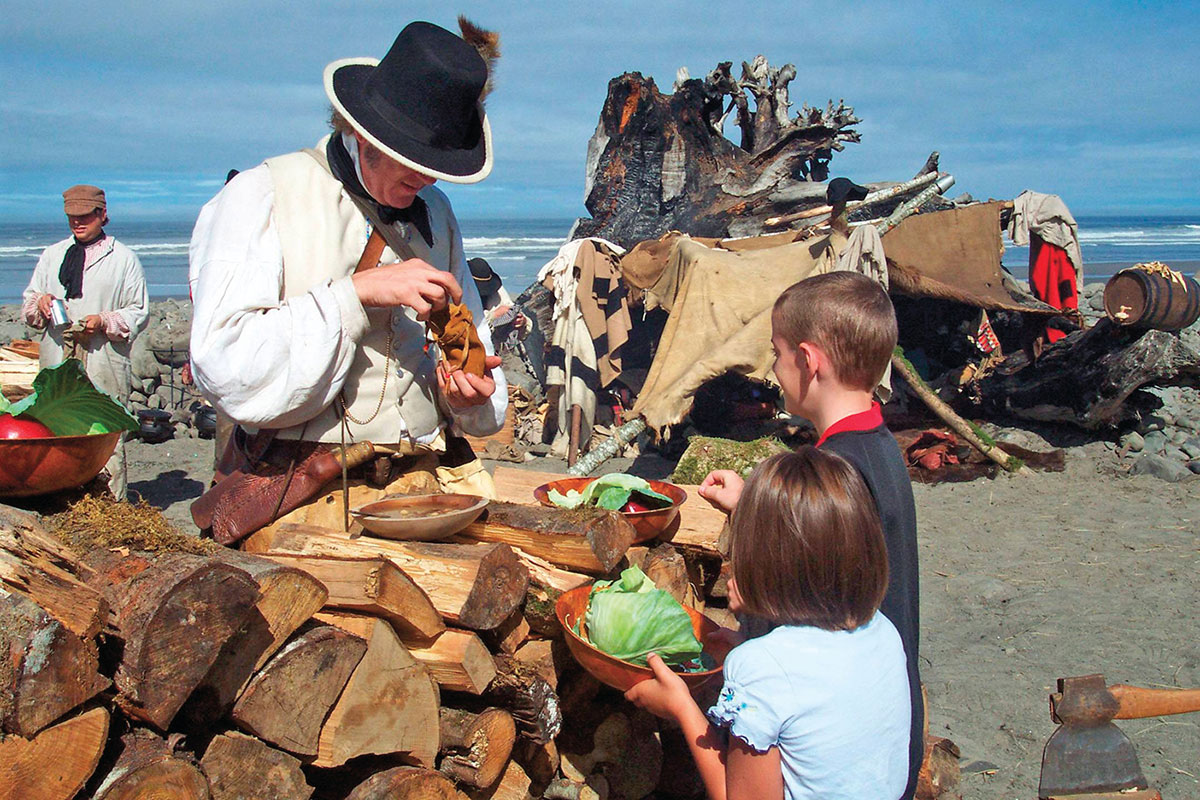 If you enjoy heritage travel in the Western United States, then an extended trip to the Oregon Coast should be on your bucket list. For many, a slow drive, stopping from town-to-town on U.S. 101 between Astoria, Oregon, and Pelican State Beach, California, is the perfect coastal trip, but for others, immersing yourself into a region of Oregon's Pacific shore is the perfect vacation. Seaside, in the northwest corner of the Beaver State, is a wonderful coastal village with a great variety of accommodations and restaurants, historic sites and scenic drives to neighboring coastal communities, including picturesque Tillamook, home of the Oregon Coast Scenic Railroad. Close to Seaside are two exceptional Lewis & Clark National Historical Park experiences: Fort Clatsop National Historic Site, which re-creates the winter fort and campsite of the Corps of Discovery's winter quarters, and the Salt Works on the Seaside Beach. Docents and rangers in period costume will greet and educate visitors at both sites. North from Seaside on 101, Fort Stevens State Park is a must visit when staying in the area. The park's observation deck provides dramatic views of the broad mouth of the Columbia River as it meets the Pacific Ocean. Keep an eye out for ships crossing the Columbia Bar, one of the most dangerous navigations in the world. After a day tour of Fort Stevens (including WWII defenses) take time to visit nearby Astoria, a picturesque coastal-fishing village with great restaurants, shops, parks and the Columbia River Maritime Museum and the 125-foot Romanesque Astoria Column. The Great Northern Railway and Vincent Astor, a descendent of Astoria founder John Jacob Astor, dedicated the monument and 30-acre park in 1926.
SIDE ROADS
City of Seaside Visitors Bureau
7 N. Roosevelt (Hwy 101)
888-306-2326 • SeasideOr.com
WHERE TO STAY
Beachside Inn, Beachside Inn Seaside
CoastRiverInn, CoastRiverInn.com
Gilbert Inn, HayStackLodgings.com
WHERE TO EAT, DRINK AND DANCE
Dundee's Bar & Grill, DundeesSeaside.com
Seaside Brewing Company, SeasideBrewing.com
McMenamin's Sandtrap Pub, McMenamins.com
ATTRACTIONS
Lewis and Clark National Historical Park, Seaside and Astoria, NPS.gov
Columbia River Maritime Museum, Astoria, CRMM.org
Oregon Coast Scenic Railroad, Tillamook, OregonCoastScenic.org
COOL DAY TRIPS
Spend a day, or two or three driving the 50 miles down the coast from Seaside to Tillamook. Stop at the scenic beaches, such as Cannon Beach, with its dramatic rock formations, and Ecola Beach with its views of the Tillamook Rock Lighthouse (not open to the public). Next stop, the Tillamook Bay town of Garabaldi and a ride on the Oregon Coast Scenic Railroad, with daily service June 22 through September. (You can also board in Rockaway Beach.)  In Tillamook, schedule time to visit the Cape Meares Lighthouse, the Tillamook Cheese Factory, Tillamook Pioneer Museum and the Tillamook Forest Center. Have extra time? Take the Three Capes Scenic Drive.
More info @ TravelOregon.com
Grand Canyon National Park, North Rim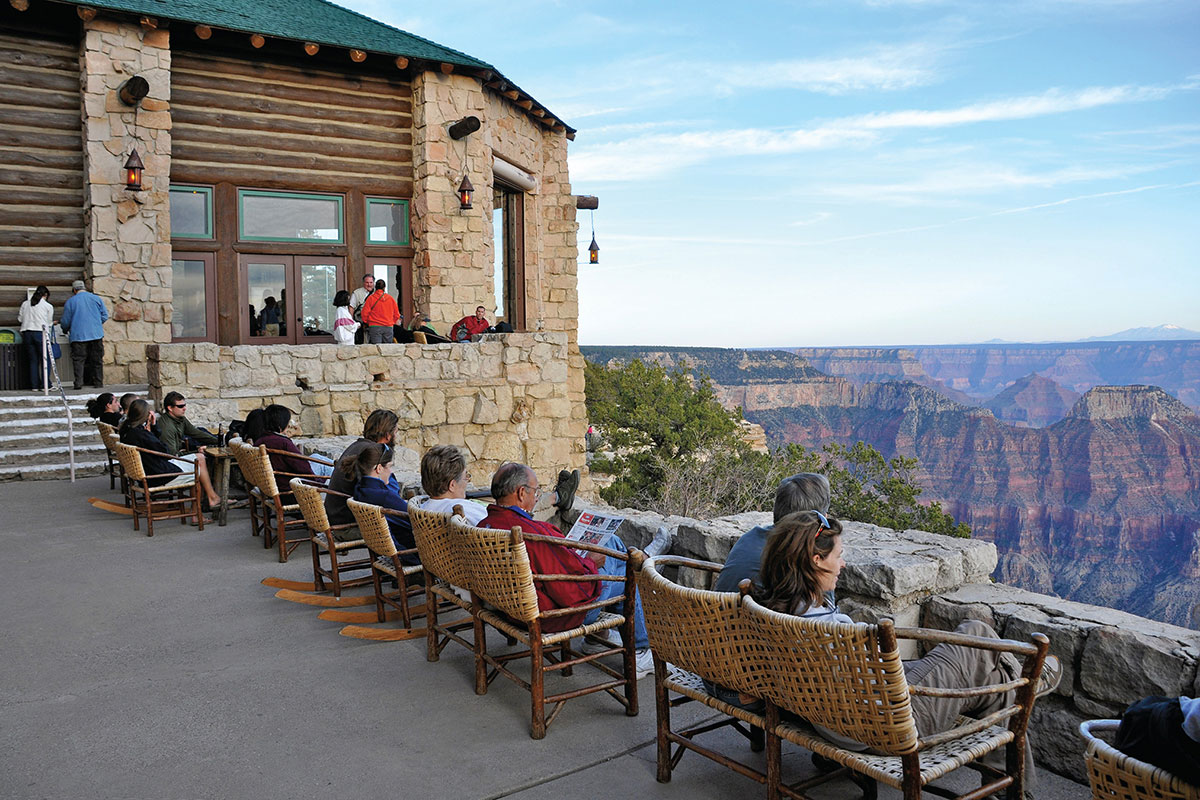 Looking to get away to one of the coolest, literally and figuratively, national parks in the United States? Then the North Rim of Grand Canyon National Park is for you. While over five million visitors tour the highly accessible, open-year-round South Rim of Grand Canyon National Park, the isolated North Rim, open between May and October because of heavy snows on the 9,000-foot Kaibab Plateau, receives one-tenth of the traffic of the southern side of the natural wonder. To reach the North Rim, most visitors arrive either from the north across the Arizona Strip and Kaibab Plateau via Colorado City or Kanab, Utah, on highways 59/389/U.S. 89A or from the south via U.S. 89/89A, crossing the Colorado River at Lee's Ferry. At Jacob Lake, turn south on Arizona 67 and relax on the 45-mile scenic road across the alpine parkland of the Kaibab National Forest to the park entrance. Reservations for overnight accommodations, including the historic Grand Canyon Lodge, cabins, RV and tent sites, should be made at least a year in advance, as should reservations for mule rides from the North Rim stables. Whether in the park for one night or a week, enjoy the ranger-led programs, a hike along the rim, stargazing from a rocker on the porch of the lodge, and at least one meal in the dining room with its seemingly endless view of the Grand Canyon. If accommodations are not available in the park, consider staying at nearby Jacob Lake Inn, Kaibab Lodge or camping on the Kaibab National Forest. Guaranteed, once you have been to the North Rim, you will count the days until your next visit.
SIDE ROADS
GCNP, North Rim Visitor Center
PO Box 129, Grand Canyon, AZ  86023
928-638-788 • NPS.gov
WHERE TO STAY
Grand Canyon Lodge, GrandCanyon.com
Jacob Lake Inn, JacobLake.com
Kaibab Lodge, KaibabLodge.com
WHERE TO EAT, DRINK AND DANCE
Roughrider Saloon, GrandCanyonLodgeNorth.com
Grand Canyon North Rim Dining Room, GrandCanyonLodgeNorth.com
Jacob Lake Inn Restaurant, JacobLake.com
ATTRACTIONS
Grand Canyon National Park Visitor Center, NPS.gov 
Pipe Spring National Monument, Kaibab, NPS.gov
The Red Pueblo Museum, Fredonia, AmazingEarthFest.com
COOL DAY TRIPS
Scenic Arizona 67 from the North Rim of Grand Canyon National Park back to Jacob Lake and U.S. 89A north across the Kaibab Plateau to Kanab, Utah, gateway to Grand Staircase National Monument and Bryce, Capitol Reef and Zion national parks; or turn west at the junction of 89A and State Highway 389 across the lightly populated Arizona Strip country to Pipe Springs National Monument, a unique park dedicated to the culture of the Mormon pioneers settlers and the native Kaibab Band of Paiute Indians.
More info @ VisitArizona.com, NPS.gov, VisitUtah.com
True West's editor Stuart Rosebrook loves taking his family on cool vacation getaways across the West.