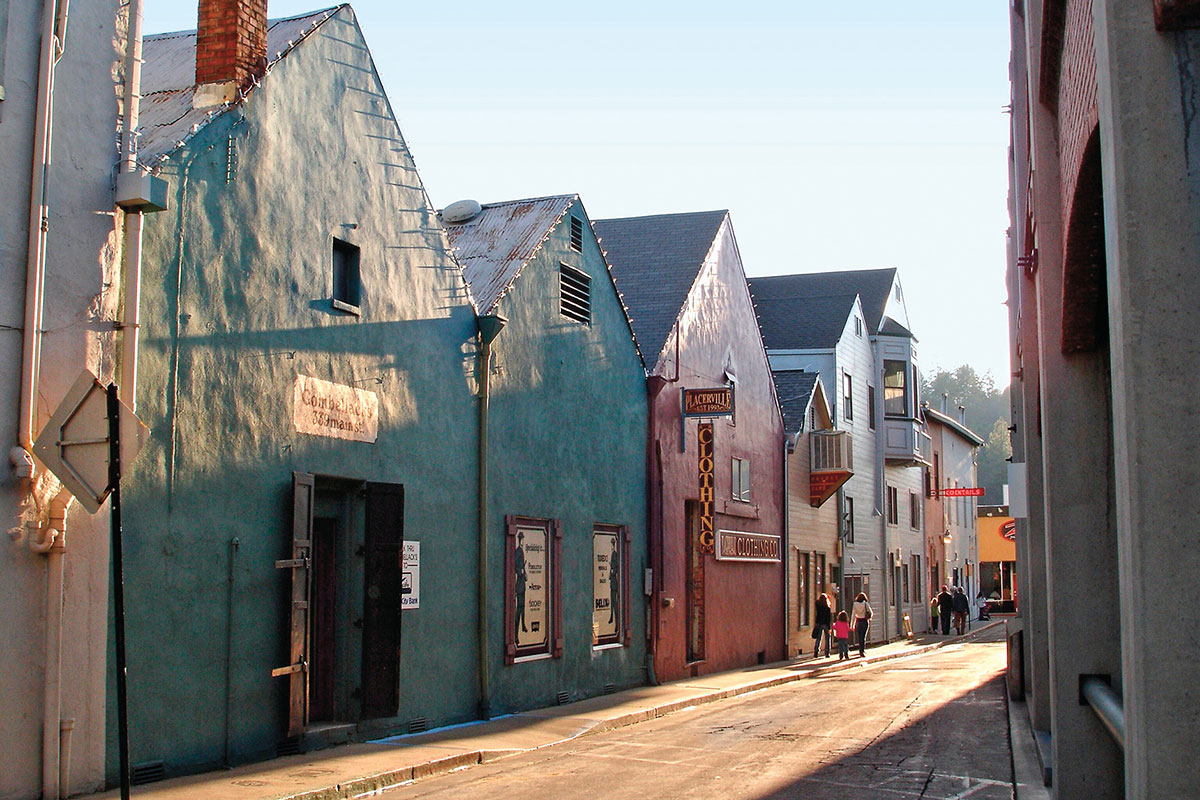 Gold mining birthed this settlement, first called Dry Diggins. After James Marshall's 1848 gold strike at Sutter's Mill drew hordes of miners, it became Hangtown, a reference to a brand of outdoor justice applied with the aid of rope and tree.
That held into the 1850s, when the name became Placerville, no doubt an effort to soften the Wild West image.
Speaking of softening, modern visitors shop at Dedrick's gourmet cheese store. Just look for Daisy, the life-size fiberglass cow on wheels.
What a journey it's been.
Tourists can relive the story of this picturesque gold rush town 30 miles east
of Sacramento at the Gold Bug Mine, begun as the Hattie Mine in 1888. Put on a headset for a self-guided tour through the 352-foot drift while listening to a recording explaining its history and how the hard-rock mine was worked.
The 61-acre site, a city park, also has a working blacksmith shop and Hattie's Museum, featuring mining equipment, informational panels and hands-on samples of various kinds of rock.
The El Dorado County Historical Museum displays a five-stamp mill used to crush rock, along with traditional feasting baskets used by the Maidu, Miwok and Washoe tribes.
Stroll downtown to see Placerville's 19th-century architecture, browse its art galleries or enjoy August's Antique Street Faire and Vintage Marketplace or October's Art & Wine Fest.
Check out the imposing bell tower in the town center. After several devastating fires, it was erected in 1865 to summon firefighters and has been a gathering spot for community events ever since.
"Tourists tell us downtown is so busy and that's because locals go there, too," says Jody Franklin, director of tourism at the El Dorado County Chamber of Commerce. "There are lots of great shops and it looks like a Western movie set."
Visitors love to photograph the mannequin in red suspenders hanging by a noose from the exterior of Hangman's Tree Ice Cream Saloon.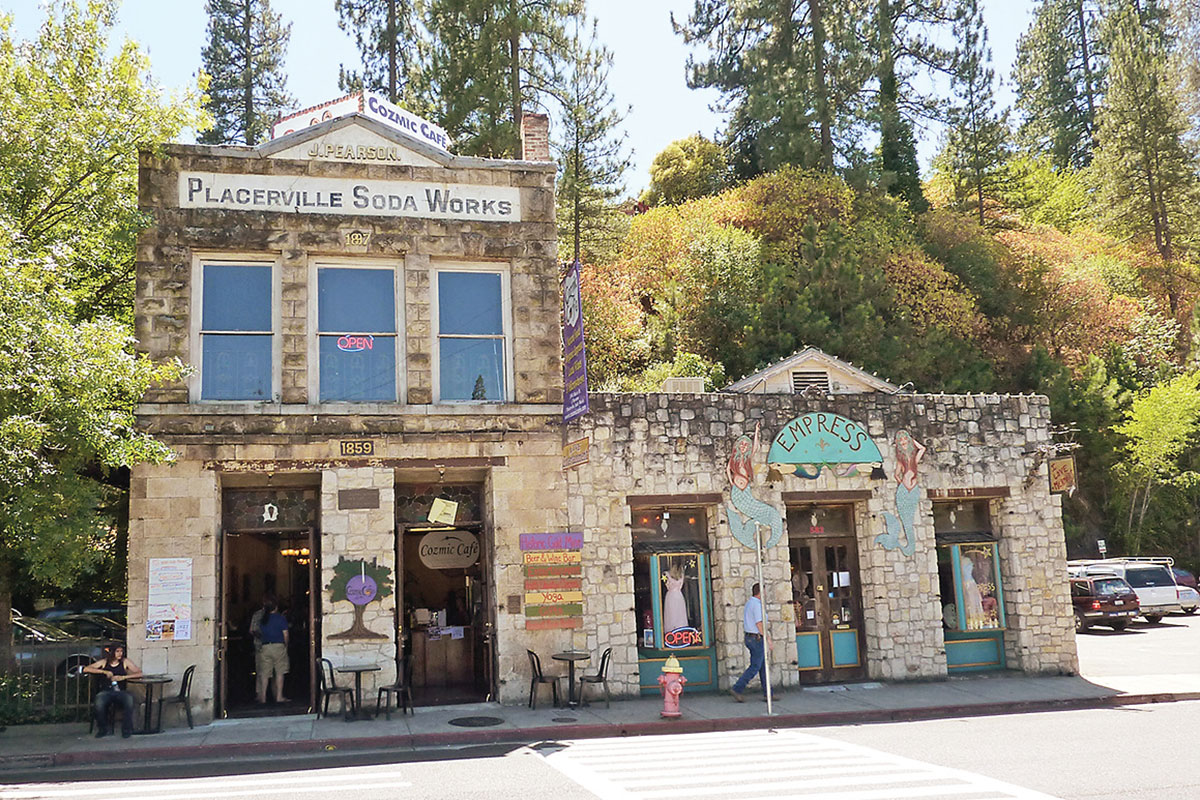 Drive eight miles to Coloma to take a gold-panning lesson at Marshall Gold Discovery State Historic Park or listen to docents explain such pioneer necessities as rope-making and log-sawing.
See a replica of Sutter's Mill and walk to the American River, site of the epic gold discovery. An impressive statue of Marshall commemorates the man who sparked one of history's great migrations.
East of Placerville, don't miss the orchard country called Apple Hill. More than 50 farms and ranches operate there and invite the public to see the beautiful foothills of the Sierra Nevada, and taste the creative foods.
Try hot apple cider donuts at Rainbow Orchards, caramel apple cider milkshakes at High Hill Ranch, or pick your own apples at Boa Vista Orchards.
El Dorado County also boasts 70 wineries in one of California's oldest wine-making regions. Visit the tasting room at Holly's Hill Vineyards or tour the wine-making facility at Miraflores Winery, complete with a barrel tasting of its award-winning wines.
Outdoor lovers have plenty of opportunity for backpacking, camping and mountain biking. For a scenic drive, take Highway 50 east along the American River into El Dorado National Forest.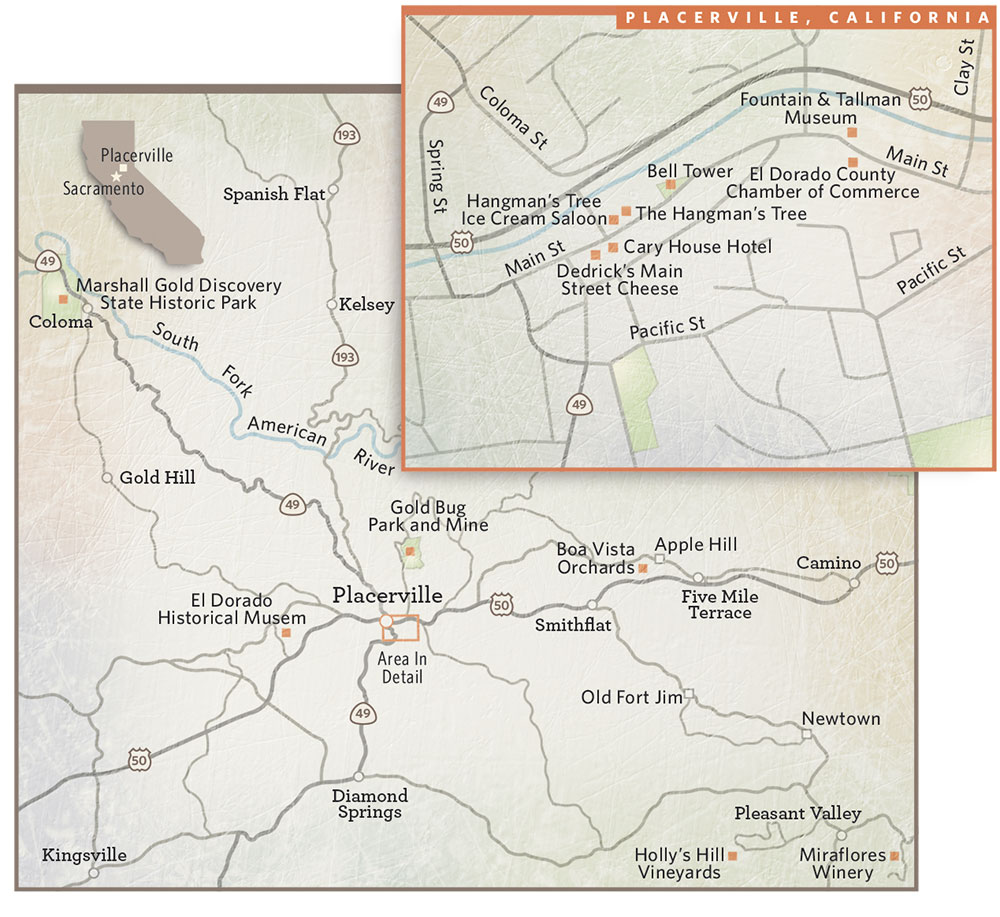 The road becomes a hairpin two-laner, but the views are outstanding as you cross 7,382-foot Echo Summit and see shimmering South Lake Tahoe below.
Before leaving town, be sure to stop at Buttercup Pantry, the only restaurant in town still serving Placerville's famous Hangtown Fry, an omelet made with eggs, oysters and bacon. One legend says it was the last meal of a crook who dangled from a rope in Hangtown's wild days.
Fun Fact:
In the 1850s, John Studebaker, from what would become the famous Studebaker automobile family, lived in Placerville making wheelbarrows for miners. See one of his creations at the El Dorado County Historical Museum.
Leo W. Banks is an award-winning writer based in Tucson. He is the author of the mystery novel, Double Wide.