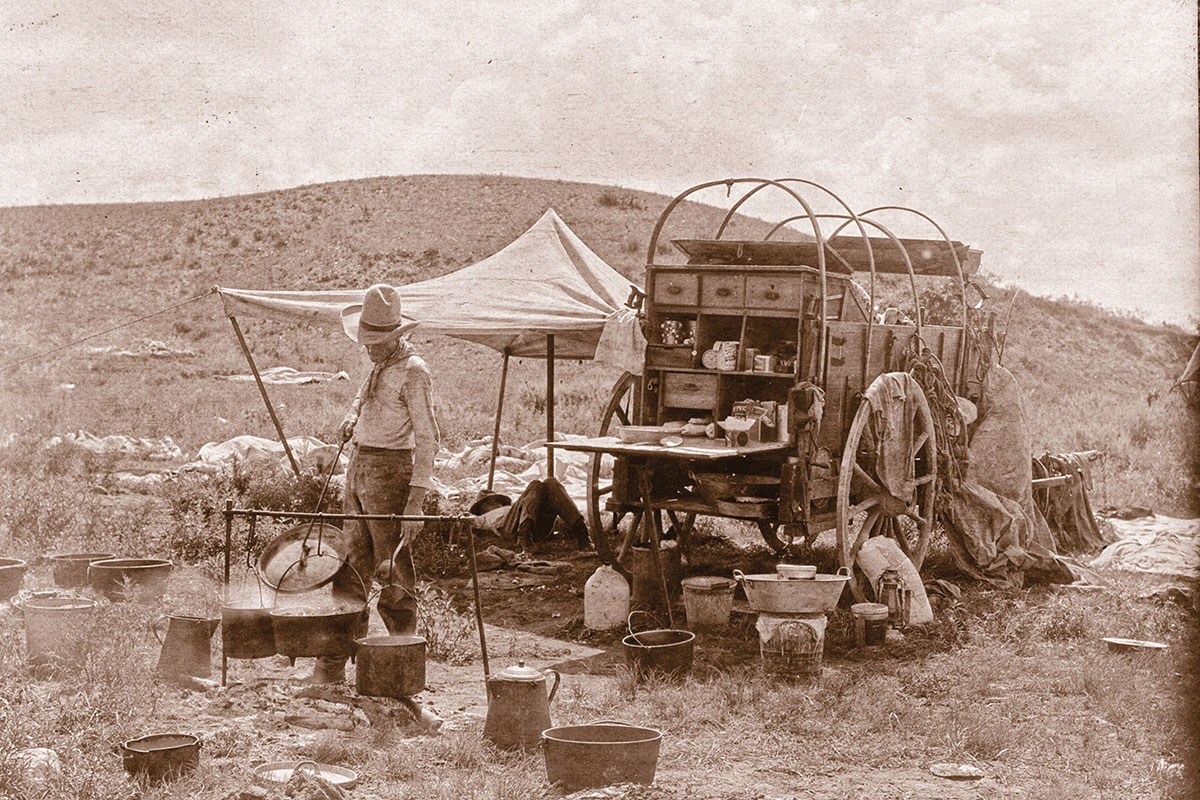 Ranchers struggled to feed their cowboys sustaining meals on the trails as their numbers increased. In the 1860s some 10 to 20 men rode on the trails. That's when Charles Goodnight, former Texas Ranger-turned-cattle rancher, invented the chuck wagon. During Goodnight's cattle drives he saw the need for a way to feed the cowboys, so he modified an Army surplus Studebaker wagon. He strapped a box on the back and fitted it with cooking supplies like pots, utensils, staples and more. The invention changed the experience of the cattle drive for the cowboys on the trail.
The chuck wagon and its cook fed many a cowboy on roundups and cattle trails. The cook, who was either amazing, just okay or downright terrible, often earned a moniker. Names like Cookie, Belly-cheater, Greasy Belly, Gut Robber, Sallie, Beef-trust, Dog face, Dutch, Beans, Punk and Whistle-berry were applied, depending on their skills. They earned $20 to $30 a month to make the meals, but they also acted as a tailor, nurse, caretaker or parent to the cowboys. Most chuck wagon cooks didn't use recipes because they just knew how to cook. Some had been cooks during the Civil War, and others learned along the way.
Cooks used food staples that traveled well and didn't spoil. The list included flour, sourdough, salt, brown sugar, beans, rice, cornmeal, dried apples and peaches, baking powder, baking soda, coffee and airtights, which were canned goods. Airtights included tomatoes, corn and gallon containers of syrup—usually molasses or sorghum. While fresh beef was the main meat, wild game and fish were sometimes available along the trail and during roundups. Bacon grease was used to fry everything, but bacon also served as the main meat when supplies ran low. Sometimes the cowboys were treated to dessert—usually cobbler, rehydrated fruit or fruit pudding. Eggs were rare since they break easily, but sometimes the cook and cowboys traded local homesteaders for some.
While the days of month-long dusty journeys are gone, anyone can still steep themselves in the history of the chuck wagon. Places in Wyoming include the Buffalo Bill Center of the West, which hosts an annual chuck wagon event. The really adventurous can check out the Teton Wagon Train and Horse Adventure. Visit Lubbock, Texas, for its annual Cowboy Symposium or Red Steagall's Cowboy Gathering in Fort Worth for a fun experience. There's also the World Championship Chuck Wagon Cook Off in Ruidoso Downs, New Mexico, or the Chandler, Arizona, Chuckwagon Cook-off. Visit the American Chuck Wagon Association to check for events, too, at AmericanChuckwagon.org.
Sherry Monahan kicked off her journey into Old West cuisine, spirits and places by authoring Taste of Tombstone. Visit SherryMonahan.com to learn more about her books, awards and TV appearances.