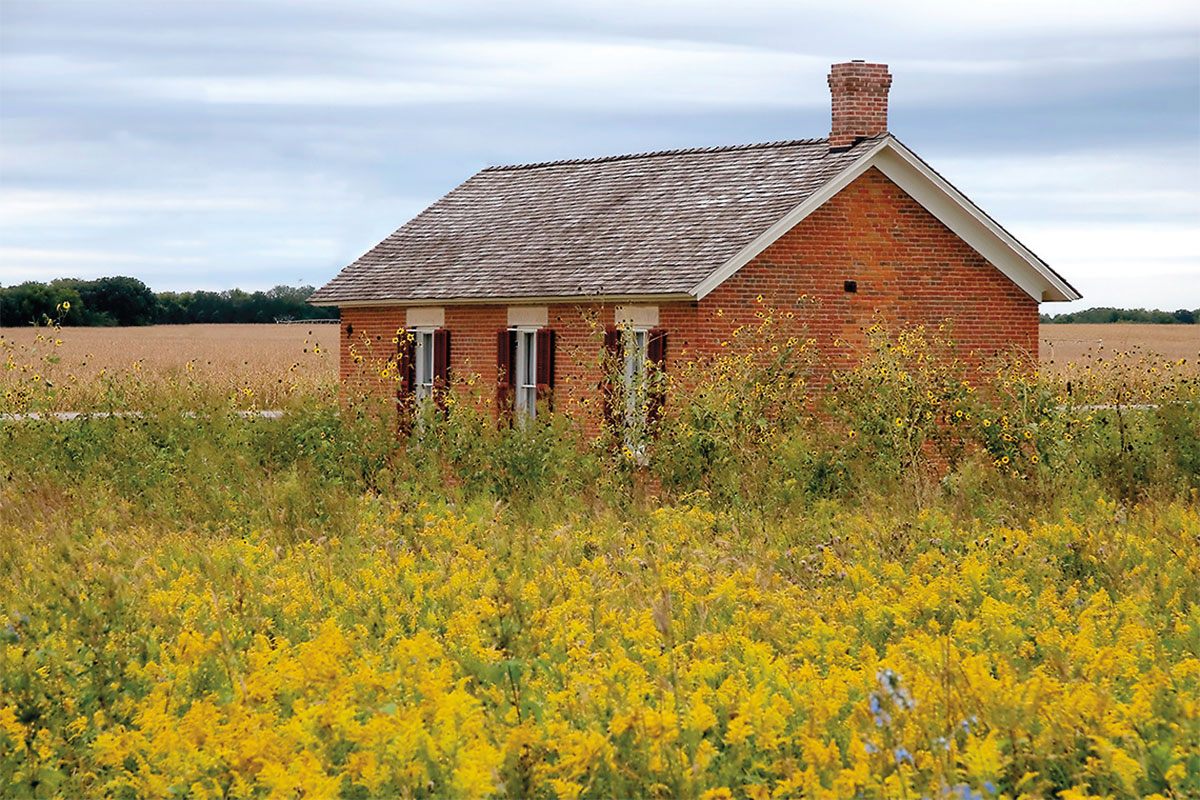 Lincoln's origin story doesn't involve an Indian uprising or a whisky-soaked shootout. The town was founded as Lancaster in 1856, and the reason was salt.
Early settlers gathered here to mine salt from a nearby basin. When that proved unprofitable, they did what Nebraskans are known for, and adapted, finding another way to survive on the sometimes brutal Great Plains.
They took up farming, renamed the settlement Lincoln in 1869, and today the community embodies a mix of city and country with an emphasis on friendliness.
"We're a capital city, home to the University of Nebraska, but we have a rural feel," says Jeff Maul, executive director of the Lincoln Convention and Visitors Bureau. "You'll find helpful people on every corner and can go anywhere and feel like it's your hometown."
One of the most popular attractions is the State Capitol building. It consists of a square base measuring 437 feet on each side, with a 400-foot tower rising from its center. The interior features marble-columned chambers with vaulted polychrome tile ceilings, marble mosiac floors and murals of the state's pioneer and native cultures.
"The building is a storybook telling the history of Nebraska through its architecture and mosaics," says Maul.
To see another imposing structure, visit the Thomas P. Kennard House. The oldest remaining building on the town's original plat was built in 1869 in the ornate Italianate style to convince folks that Lincoln, named state capital two years earlier, was the right choice. The house is open for tours.
Stop by the Nebraska History Museum to hear talks on subjects such as cattle branding and learn about luminaries like Willa Cather, author of the novels O Pioneer! and My Antonia, which chronicled life on the Great Plains. She graduated from the University of Nebraska in 1895 and went on to receive the Pulitzer Prize in Literature.
The museum's "Today in Nebraska History" compilation can be a hoot: "On Nov. 19, 1899, Charles Sumstine 'unlawfully and maliciously' stole five turkeys from Charles Stewart."
The Haymarket District on the west edge of downtown takes its name from Lincoln's original 1867 plat, which included a market square. The modern version has brick streets lined with shops, restaurants and bars.
During the popular farmer's market, the city closes two blocks to accommodate live music, arts and crafts and home-grown produce sold by farmers from the backs of pickup trucks.
Be sure to sample the kolaches, a Czech pastry with a soft, doughy exterior and a fruity center. "You see families strolling the Haymarket with their kids and they're all eating kolaches," says Maul.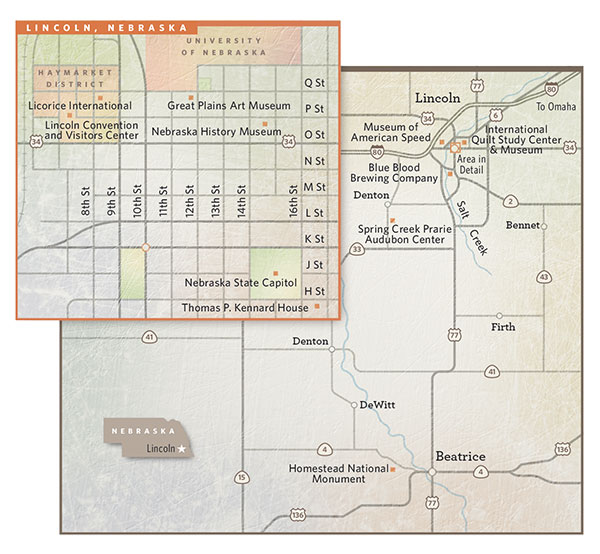 The Spring Creek Prairie Audubon Center offers a peaceful getaway on 850 acres of tall grass prairie. The site, home to more than 220 bird species, has three miles of hiking trails, wildflowers and beautiful vistas. Check out the 19th-century wagon ruts, part of a cutoff on the Oregon Trail.
For a dose of excitement, visit the Museum of American Speed, founded in 1992. Bill "Speedy" Smith used decades of experience as a race car driver to create a museum dedicated to racing and automotive history.
Its vast collection ranges from rare engines to history-making vehicles, like a 1920 Model T Ford hotrod. The museum has actress Hedy Lamar's 1958 Cadillac, which she gave to her gardener as a retirement gift.
At the International Quilt Study Center & Museum, see colorful quilts from more than 50 countries, some from the 1600s. Lincoln's Sunken Gardens—the only public garden in Nebraska to make National Geographic's best gardens list—offers more striking colors in its famous floral displays.
Fun fact: In 1949, Lincoln's Terri Lee Company agreed to make Gene Autry dolls. Despite the singing cowboy's wide popularity, the doll sold poorly and was discontinued. But collectors prize it to this day.
Leo W. Banks is an award-winning writer based in Tucson. He is the author of the mystery novel, Double Wide.