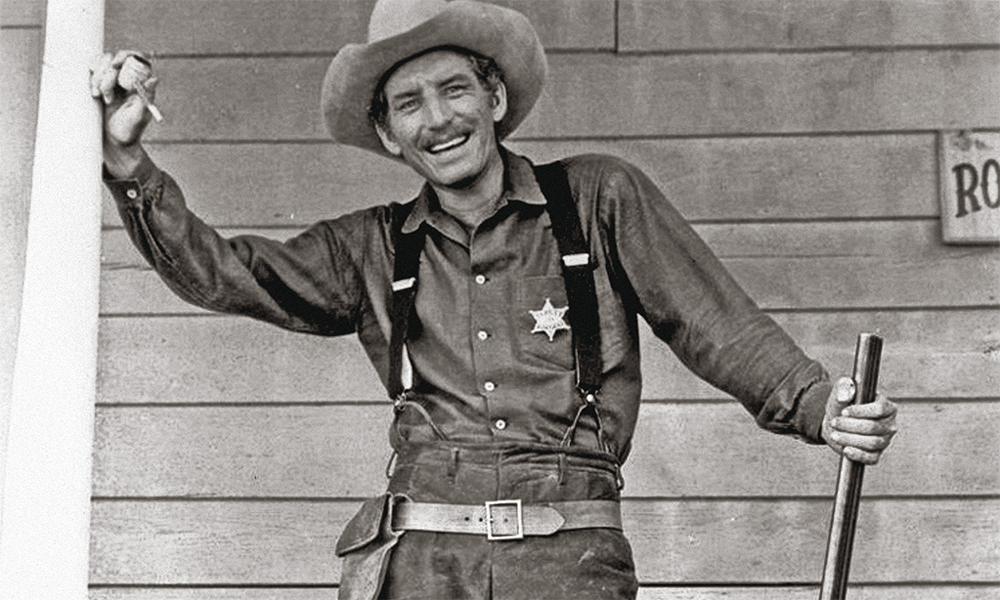 Actor Morgan Woodward is known for many things, most of them unpleasant: he's so good at playing bad that, "although it was an unwritten law that no actor could do more than one Gunsmoke a year, I did 19 in ten years," he says. And Matt Dillon killed him in almost all of them. The man, whose appearance in Cool Hand Luke made mirrored shades a fashion necessity for lawmen, hadn't planned to act. "I traded Grand Opera for Horse Opera."
The actor, born 93 years ago in Arlington, Texas, explains, "I wanted to be an opera singer. Unfortunately, a chronic sinus condition prevented me from being in voice when I needed to be." Another early passion was flying. "I started when I was 16, and got my private pilot's license when I was 17, in preparation for World War II." He enlisted, but, he says, "they had so many pilots that they stopped the pilot training program. So I did not get Army Air Corps wings—a big disappointment to me." A civilian again, Woodward attended the University of Texas, majoring in business and minoring in music and drama, where classmates included Rip Torn, Jayne Mansfield, L.Q. Jones and Fess Parker. He was getting serious about acting when he was recalled to active service for the Korean War.
When he returned, Woodward's entry into film came thanks to a fraternity brother. "Fess Parker had become Davy Crockett, and when Disney did his first live-action motion picture, The Great Locomotive Chase, Fess told Disney he knew this guy who would be just great as this wild-eyed Confederate master sergeant. I went to California to do a screen test, and was signed to a three-picture contract."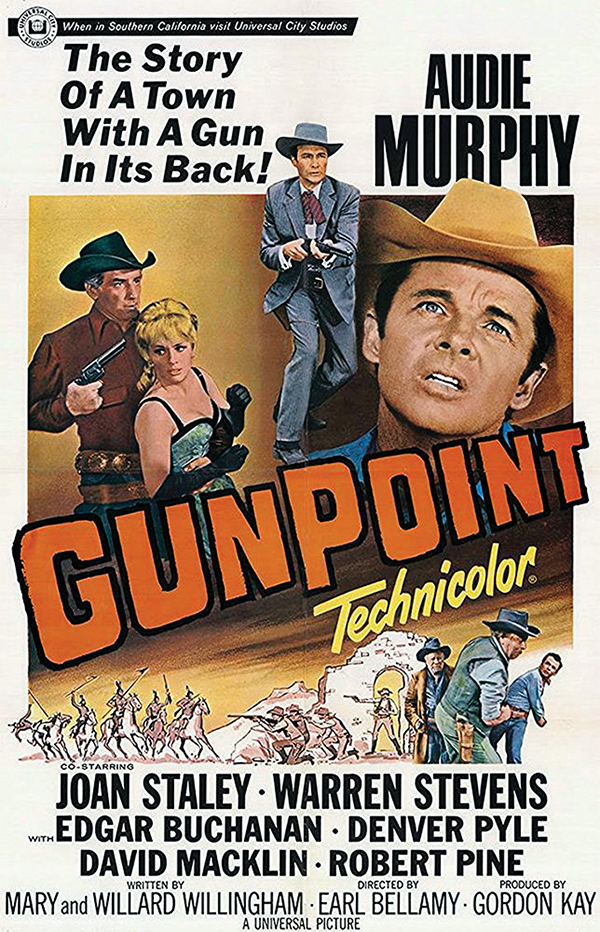 With so many Westerns being made, it was perfect timing for Woodward to be in Hollywood. "I was six-foot, three and 200 pounds, scarred and mean-looking, and had a cowboy accent already." Working on 1957's Gunsight Ridge, "Joel McCrea and I were in a fight, and I should have ducked. He did an uppercut and split my chin wide open. I'm still scarred, but on my face, it didn't make any difference."
He appeared in series like Cheyenne, Sugarfoot, and then with Hugh O'Brian in Wyatt Earp. "I did this episode in the Earp series, and I played Captain Langley of the Texas Rangers." When it was decided Wyatt needed a sidekick, "All they had to do was change the name Langley to Shotgun Gibbs. I was with Hugh for four years. That was the first series that I had a running role in, and that gave me a great deal of confidence." But after the 1962 season, O'Brian quit.
"I knew Hugh was unhappy. Chuck Connors was getting $15,000 a week [for The Rifleman], and Hugh was getting maybe $2,500."
"Gunsmoke was simply the best series on television. Everybody was top notch." But he notes ruefully, "I couldn't do Gunsmoke for the first 10 years because the casting director and I'd had a run-in at Goldwyn Studios before and he wouldn't cast me. And then he died—unfortunately for him, fortunately for me—and Pam Polifroni started casting Gunsmoke. The first thing she did was to bring me in." One of the unexpected dividends was his long friendship with star James Arness. "Jim knew that I was a pilot, and said he'd thought about taking flying lessons. I said, 'I've seen the shooting schedule, and we're going to be finished right after lunch, so let's get in my plane and see how you like it.' We just had a marvelous time. I had a surplus Army airplane that you could push the canopy back and let the breeze blow on you, and he just absolutely loved it. I bought him a private pilot's course, and said, 'Okay, pal, here you go: take off!' Jim went on to get a commercial license. Quite a pilot, he did very well."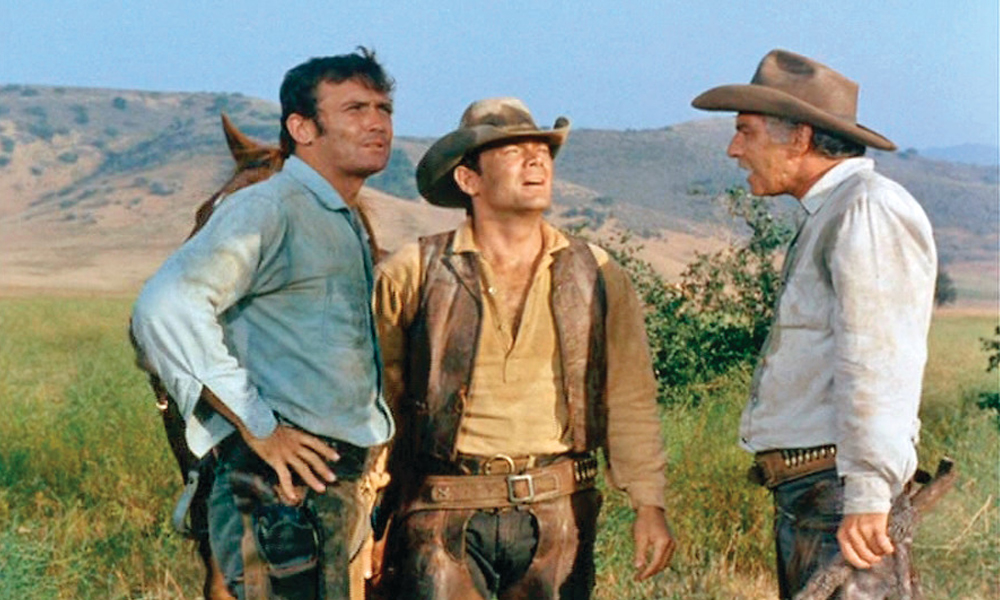 By his screen retirement in 1997, Morgan Woodward had amassed nearly 130 credits, including 12 appearances on Wagon Train and six years as Punk Anderson on Dallas. His favorite film? "Firecreek (1967) was probably the most interesting because of Henry Fonda and Jimmy Stewart and all of the great character actors that were on the picture—Dean Jagger, Ed Begley, Jack Elam—it's loaded with them."
If Morgan Woodward is one of the most intimidating visages to ever grace the screen, part of his secret is a skill that children have competed at for years. "I can go forever without blinking. And a lot of times I'd get into a mano a mano, a showdown when I had an asshole for a leading man. I didn't blink, and I waited for him to lose. Then he'd want to retake. And then, I did blink." It doesn't matter, Morgan: you'd already won.