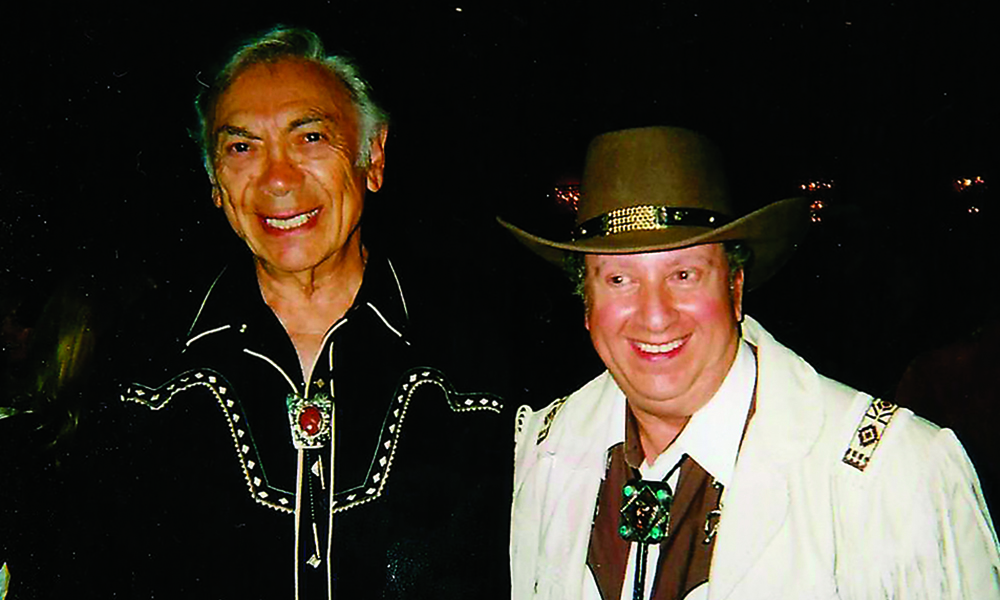 Like many American children of the late 1950s, Alan Rockman spent his childhood in the not-exactly-Old West-town of Scranton, Pennsylvania, with the obligatory cowboy suit, a Davy Crockett coonskin cap and a love for TV and movie Western heroes. Rockman's family moved to Southern California and he earned a bachelor's degree in history in 1975. He pursued a career as a rock music critic and later as an educator. But he never forgot his love for the Old West. Rockman was an active volunteer at the defunct Festival of the West and Dr. Buck Montgomery's Wild Western Show. Until recently, he also managed the official Facebook page for Chris Hillman, a former band member of the Byrds and Flying Burrito Brothers.
Don't get me started on: the terrible neglect of our history and why it isn't being taught. George Santayana said it best: "Those who cannot remember the past are condemned to repeat it." We in the Western states ignore the history of the Old West at our own peril. Ask a middle school classroom of about 30 kids who Wyatt Earp and Geronimo were and you might have three or four raise their hands.
I absolutely love: The "Code of the West." I try to live by most of its tenets but alas I am not always successful.
When it comes to old music: I am a devotee of the British Invasion, including the Beatles, Dave Clark Five, Spencer Davis Group, Yardbirds and Small Faces. Also, the California country rock of the Byrds, Flying Burrito Brothers, Eagles, Poco, Nitty Gritty Dirt Band and Desert Rose Band.
My mother taught me: a love of animals that has stayed with me through my entire life. She also taught me fairness and a desire to learn, as she herself never had the opportunity to go to college. Instead, she had to help out with her immigrant family during the Depression.
What I hope people will understand is: that while STEM—science, technology, engineering and math — are important subjects, knowing about our country's past objectively is just as important. It might not get you a high-paying job but it will make you a wiser, more balanced, less myopic human being.
History has taught me: that those who ignore the past do so at their own peril and may have no future. We owe it to ourselves as a nation, and particularly in the West, to educate our children and youth to our rich history, traditions and legacies. Life does not revolve around video games, celebrities and movies that are truly dreck compared to a John Ford classic. Take your children to a re-enactment, an old West festival, a museum like the Desert Caballeros in Wickenburg or the fascinating Western Spirit: Scottsdale's Museum of the West.
One thing that sets me off is:  People being so ignorant about our past and how history truly does affect our present and our future. We are forgetting our history and present generations are paying a very steep price for this neglect.
For my money, the best Western ever is: They Died with Their Boots On. At least that's what I would have said for many years, despite all of its glaring, historical inaccuracies, especially Gen. George A. Custer knowing he was doomed but riding to his end because he was chagrined over the Indians losing their land in the Black Hills. Now, I'd have to say it's a tossup between the two movies that ironically chronicled both sides of the Johnson County Range War. The Alan Ladd Shane character, which was very sympathetic to the lone cowboy or homesteader or "honyocker" fighting the corporate land-grabbing corporate rancher. And the Joel McCrea version of The Virginian, Owen Wister's classic, which was so obviously supportive of the big rancher. I will also give an honorable mention to The Man Who Shot Liberty Valance because it represents, sadly, the true beginning of the end of the Old West, and John Wayne's portrayal of the rancher losing his love, his home and in a sense his life to the upstart lawyer from the East. It's very sad.
Most people don't know that I: Own over 35 unique bola ties and have met a former U.S. vice president, a former U.S. secretary of state and a former prime minister of Israel.