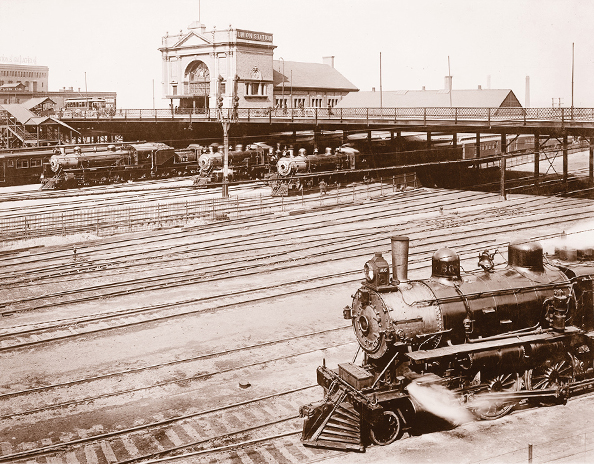 The first piece of track.  The very first spike. It all began here, in Omaha, Nebraska.
That's where the Union Pacific began the  race to Utah in 1865 to fulfill the dream of a transcontinental railroad.
That treasured history is still fulfilling dreams to this day. Still in a rail district
on 10th Street that has been in use since 1898-'99. Today, the "new" depot at that address—opened in 1931—is not only considered one of the finest examples of Art Deco architecture in the Midwest, but is home to the city's beloved Durham Museum.
"We're a  history museum and we preserve a lot of artifacts—Union Station is our greatest artifact," says Jessica Brummer, the museum's marketing and public relations director.
Union Station is undergoing a $2.7 million project to restore its terra cotta exterior. "Over the years there's been lots of wear and tear, and the harsh Nebraska winters didn't help," Brummer notes.  Omaha really stepped up when the museum asked for help—every penny of the project is private money.
When it's completed by the end of 2019, the building will look exactly as noted architect Gilbert Stanley Underwood designed it, except that every terra cotta stone will have been removed, cleaned and re-anchored, with new mortar to assure it all stays in place.
When this grand station opened on January 15, 1931, people were awed. The main Waiting Room—now the Suzanne and Walter Scott Great Hall—measures 160 feet by 72 feet, with 60-foot ceilings of sculptured plaster trimmed in gold and silver leaf. There are 10 cathedral-like plate glass windows and six immense chandeliers. The floor is patterned terrazzo, the wainscoting is black Belgian marble, and the columnettes are blue Belgian marble.
The last train left this station at 2 a.m. on May 2, 1971, and two years later, Union Pacific gifted the magnificent building to the city of Omaha, which opened the Western Heritage Museum in 1975. Twenty years later, a $22 million restoration project restored the inside, and in 1997 the museum was renamed in honor of Charles and Margre Durham, who had been instrumental in the redo.
Its permanent collections include a display on all 10-passenger depots that Union Pacific once had in Omaha,  as well as model trains. Also family histories, from the days of the Omaha Tribe to settlers. Plus, there are souvenirs from the 1898 Trans-Mississippi and International Exposition in Omaha that drew 2.6 million visitors.
Currently on display through July is "After Promontory: 150 Years of Transcontinental Railroading," a photographic exhibit in cooperation with  the Center for Railroad Photography & Art.
If you go, you might hear a "little noise" from the exterior restoration, but Brummer jokes it's just evidence that "We're actively preserving history."