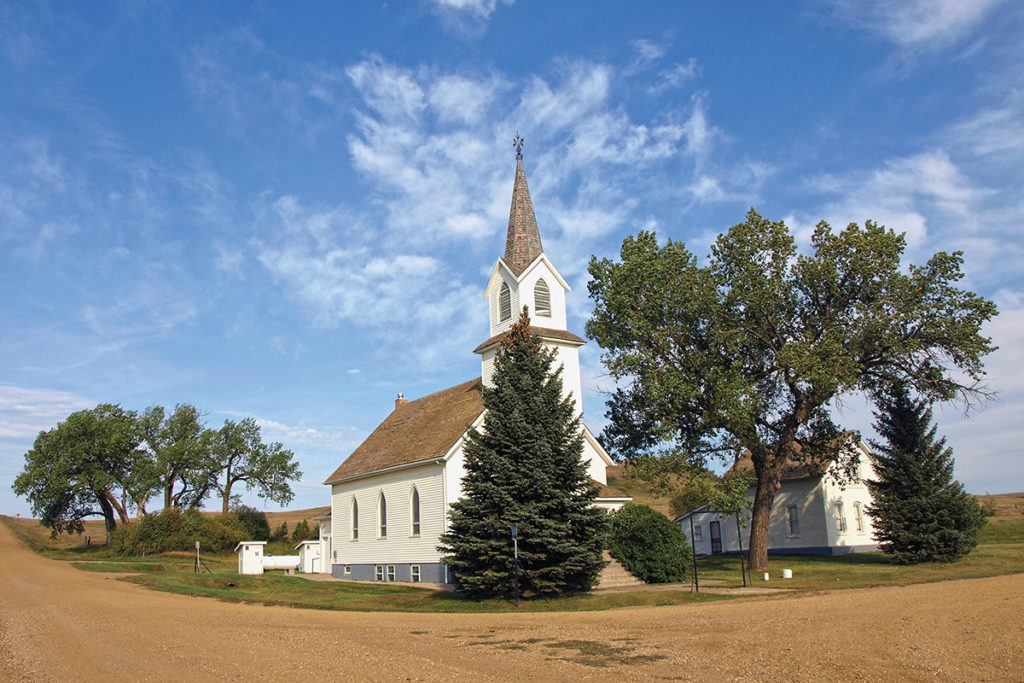 What did people do in Dakota Territory in the late 19th century?
In the part that would become North Dakota—windswept, treeless, flat-as-a-pancake, cold-as-hell—they built churches. Small, intimate, full-on-Sunday churches.
The Lutherans mainly built with white clapboard; the Episcopalians with field stone, and the Catholics with brick—but all of them built and built, sometimes blocks from the last one.
They were so ever-present, it's not clear if anyone ever realized just how many were built. Not until 1997, when one of the abandoned ones was burned down for the sake of training the local volunteer firefighters. Someone got a shot of the building completely engulfed in flames—the fiery end of a once-loved building.
"It was shocking," remembers Barbara Lang, who'd become president of a new group called Preservation North Dakota. It prompted the group to launch a study of the churches. The next year, volunteers logged some 15,000 miles photographing prairie churches in all 53 counties of the state. It resulted in an exhibition called "Picture North Dakota Churches."
North Dakota has never been a populous state, and at that moment, claimed 625,000 people. They were descendants of European immigrants, mainly Scandinavian and German, who'd started settling this inhospitable land in the mid-1800s. Imagine the surprise when Preservation North Dakota discovered those first immigrants built 2,200 churches. More per capita than any other state.
But there was plenty of bad news. While some were still in use, at least 400 churches were empty and threatened with destruction, and that number was growing yearly. "We were horrified at the thought they'd be burned down, or left to rot and fall down on their own, which is a North Dakota way," Lang recalls. Armed with the photos and those revelations came the Prairie Churches Project.
The first step was to get the National Trust for Historic Preservation to recognize the churches, which it did in 2001, putting them on the "Most Endangered Property" list—North Dakota's first mention on a national wake-up call for preservation.
That opened the door for grants to help finance repairs and restorations needed to put the churches back into business—some for special religious services, some to be reused as libraries or museums or community centers. "The communities decided how they wanted to use the churches, and nobody wanted them to become bars," Lang says.
"These churches were about the first thing settlers did—they were very proud of building a church," she notes. "Most were put together by group labor."
There are now state grants to help continue preservation efforts, and churches are regularly being saved.
Lang remembers how satisfying the effort was, but also what fun. "I made friends that I still have to this day. We get together every year and tour some old something or other that could be preserved. It's something you never give up."
And all we can say is "Amen" to that!
Jana Bommersbach has earned recognition as Arizona's Journalist of the Year and won an Emmy and two Lifetime Achievement Awards. She cowrote the Emmy-winning Outrageous Arizona and has written three true crime books, a children's book and the historical novel Cattle Kate.