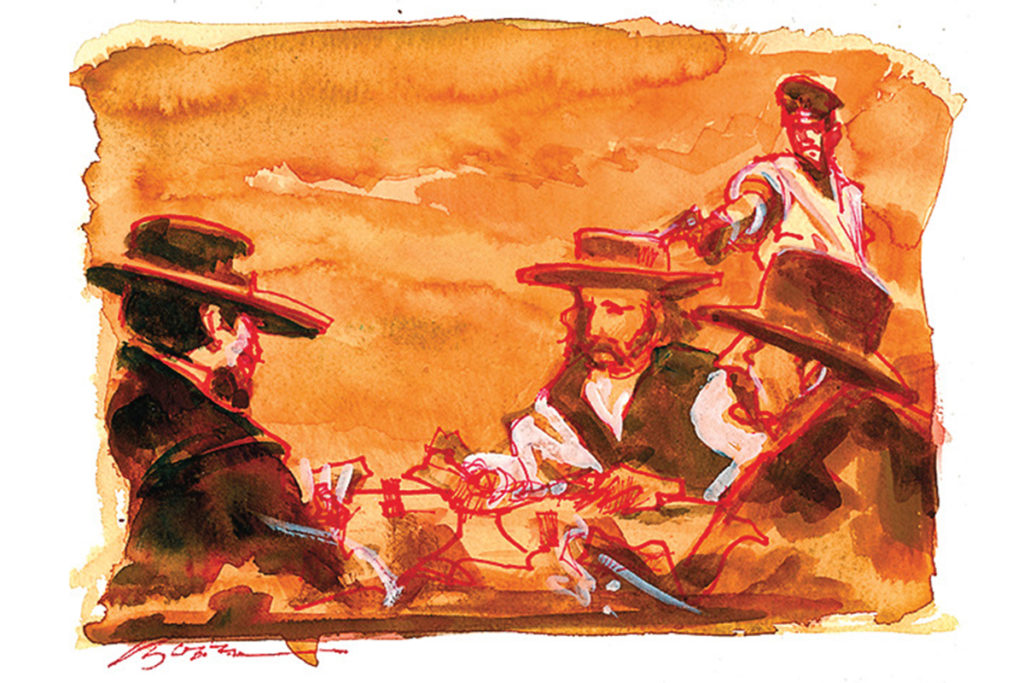 He had no chance
"I feel my days are numbered."
August 2, 1876
Wild Bill Hickok walks from his camp on the edge of Deadwood to Lewis, Nuttall and Mann's No. 10 Saloon. Entering around noon, he encounters about a half-dozen men. Three men are playing draw poker. Wild Bill recognizes Missouri River steamboat captain William R. Massie and Charlie Henry Rich, a card dealer Wild Bill knows from his days in Cheyenne, Wyoming Territory. Wild Bill joins their game.
Wild Bill sits in the only available seat, near the rear entrance of the saloon, facing the front door. He usually sits along the west wall, but Rich is occupying that seat. Wild Bill prefers that seat's view of the entire room, including good views of the front and back doors, and asks Rich for his "regular" seat, but the gambler refuses to move.
Wild Bill, uncomfortable with the fact that his back is exposed to the open bar and rear door, once again asks Rich to trade places. This time, the other players chide Wild Bill, telling him he has nothing to worry about this early in the day. Wild Bill takes the empty seat.
The four men have been playing draw poker for almost three hours when Jack McCall (also known as Bill Sutherland) walks through the front door, heads over to the bar, pauses, moves down the bar and stops momentarily at the scales sitting on the end of the bar.
Wild Bill throws down his hand in disgust and says, "The old duffer, he broke me on that hand."
McCall steps forward, takes out a pistol and points it at the back of Wild Bill's head, pulling the trigger at the same instant.
The bullet exits Wild Bill's right cheek near the bottom of his nose. His head moves slightly forward, and he is still for a moment. Then he falls sideways off his stool onto the floor. He dies instantly.
A Premonition of Death
"I feel that my days are numbered; my sun is sinking fast; I know I shall be killed here, something tells me I shall never leave these hills alive; somebody is going to kill me. But I don't know who it is or why he is going to do it."
Wild Bill says these words to a friend, a week before his death. The Cheyenne Daily Leader reports the account weeks later, on August 26, 1876.
Wild Bill admitted his fears to his wife, Agnes, in a letter postmarked August 1, the day before he is killed: "Agnes Darling, If such should be we never meet again, while firing my last shot, I will gently breathe the name of my wife—Agnes—and with wishes even for my enemies I will make the plunge and try to swim to the other shore."
The Reverend W.F. Warren surely must have misread the marriage ceremony; so much for not "meaning it."
Aftermath: Odds & Ends
The death bullet fired by Jack McCall, passes through Wild Bill and hits William R. Massie in his left arm, above the wrist. The riverboat pilot thinks Hickok, perhaps enraged over losing, has shot him. Backing towards the rear door, McCall screams at everyone, "Come on ye sons-a-bitches!" He cocks his pistol and fires, but the gun fails to shoot. He then tries to fire again at the bartender who has come out from behind the bar to help Wild Bill, but the gun misfires again. McCall flees.
Captured and tried the next day, on August 3, 1876, in the new Deadwood Theatre, McCall testifies Wild Bill shot his brother in Kansas two years earlier, and that the killing is an act of vengeance. Although completely false, the jury of miners finds him not guilty.
On August 3rd, Colorado Charlie Utter holds a funeral service for Wild Bill and pays for a burial plot and marker (left).
McCall leaves town for Laramie City, Wyoming Territory, where he brags about the killing. Colonel George Mays obtains a federal arrest warrant and takes McCall into custody on August 29. Tried in federal court in December 1876, McCall admits he lied about Wild Bill killing his brother. He is found guilty and hanged on March 1, 1877. His body is buried with the hangman's noose still around his neck in an unmarked grave in the local Catholic cemetery.
Recommended: The Illustrated Life & Times of Wild Bill Hickock by Bob Boze Bell, 2017,  published by Two Roads West