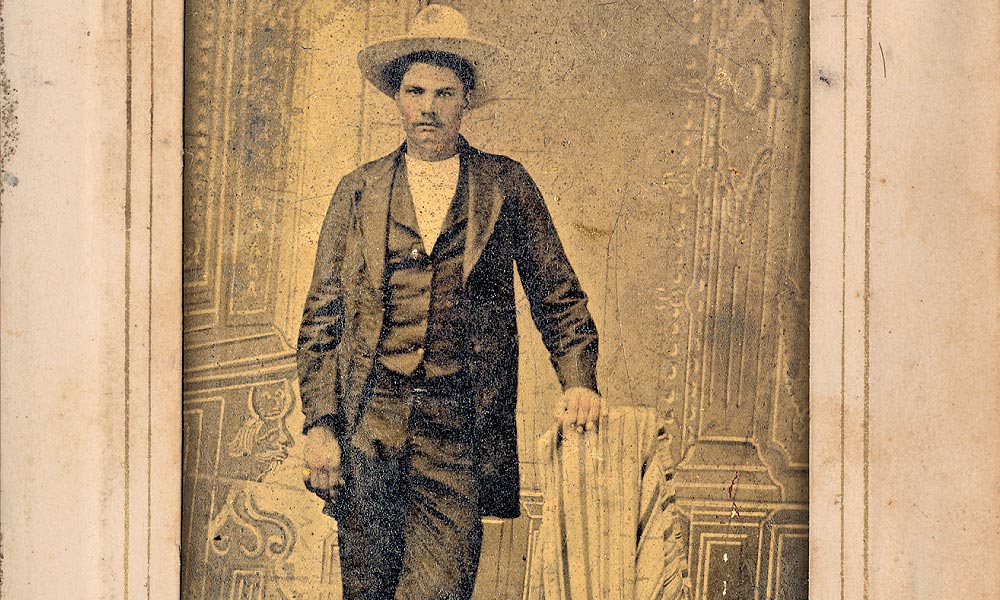 Notorious gunfighter John Wesley Hardin was in the midst of writing about the bloody career surrounding his life story when lawman John Selman killed him at the Acme Saloon in El Paso, Texas, on the night of August 19, 1895. John's children inherited his estate, which included his  autobiography. It was published in book form and titled The Life of John Wesley Hardin, as written by himself. He misrepresented himself many times throughout the book, starting with his opening statement, which read: "I was born in Bonham, Fannin county, Texas, on the 26th of May, 1853."
But the deadly gunman was not born in Bonham. Researchers set forth to figure out the true birthplace, beyond the grave.
The Reverend's Farm
John's father was James Gibson Hardin, a circuit-riding Methodist preacher, family man and American Indian fighter. He was born on March 2, 1823, and grew up in Wayne County, Tennessee. He married Elizabeth Dixon in Navarro County, Texas, in 1847. They moved to Fannin County, where their first son, Joseph, was born in 1850. The Rev. Hardin died, at the age of 53, in August 1876 and was buried in an unknown grave somewhere in Red River County.
When Dr. Richard C. Marohn's biography The Last Gunfighter: John Wesley Hardin was published in 1995, the 100th anniversary year of Hardin's death,  readers learned: "apparently, Hardin was born near Blair Springs on Bois d' Arc Creek, near Orangeville." 
The biographer derived that information from a communication by Cleburne Hardin dated February 7, 1984. Cleburne was the son of Jefferson Davis and Mary Taylor Hardin; Jeff was John's younger brother.
Yet the location of the farm has been elusive for years. Ronnie Atnip, a real estate agent and Fannin County Historical Commission president, diligently searched for the site.
One day in 1995, Atnip met Tom Scott, who had been given a copy of an old deed indicating James G. Hardin, John's father, had bought a farm in Fannin County; the deed also referenced a church.
Atnip knew Fannin County well, as he had located land many times for prospective buyers. Being a historian and Western history fan, he took it as a challenge to try and pinpoint the Hardin farm. He also wondered if that was John's birthplace.
Scott told Atnip that the land was out of the Lindsey Survey and was located somewhere east of Randolph. That turned out to be the wrong area.
Research revealed that the Rev. Hardin purchased 129 acres on August 7, 1852, just nine months prior to John's birth. A little over two miles east of present-day Whitewright, 10 or more miles west of Bonham, the land was part of the William Rice Survey. A man named Anderson hired William F. Lindsey to conduct the survey. This resulted in the deed being misfiled as the Lindsey Survey at the county courthouse. Adding to the confusion, the deed renamed Blair Springs Creek as Lindsey Springs Creek.
The Rev. Hardin built a Methodist church on the southwest corner of his farm near Blair Springs Creek, not Bois d' Arc Creek, as Cleburne had told Marohn. Bois d' Arc runs on the north side of the property.
The  church, which also functioned as a school and the Hardin home, was built out of logs and located in the middle of four large pecan trees. Atnip found the huge 143-year-old pecan trees in 1995, located just where they had been in 1852. They can easily be seen from Farm to Market Road 151, just east of Whitewright.   
The Rev. Hardin took a year off from his circuit riding until son John was born. The family moved shortly afterwards; John may have been told he was born near Bonham since Whitewright did not exist until years after his birth. The Orangeville referenced by Cleburne was the closest settlement during the 1850s.
Born on David Crockett's Camp Site
Atnip made two aerial views to pinpoint the farm. As a Fannin County historian, he knew that the spot he pinpointed as the Rev. Hardin's farm was a historic camp site for Indians, travelers, buffalo hunters and Texas Rangers. It was also the spot where famed Alamo defender David Crockett camped and traded the long rifle he brought from Tennessee for one with a shorter barrel before riding out to the area known today as Ozona.
"Years later, the owner of the long rifle donated it to the Alamo museum [in San Antonio], and that rifle is on display. It was never used fighting Santa Anna, and even if it had, it would have been confiscated or destroyed by the Mexicans. The man who donated Crockett's rifle lived in Whitewright," Atnip says.
Atnip personalized his search for Hardin's birthplace by reading the entries of a scrapbook owned by the Rev. John W. Connelly, a captain of combat troops during the Civil War. After the war, he spent years teaching and preaching to the Choctaws in Indian Territory and was nicknamed "Old Choc."
In the scrapbook, Connelly noted how James G. Hardin became one of the early-day Methodist preachers to be heard in the state of Texas. The state's oldest Methodist church, organized in 1833, is McMahan's Chapel, a few miles east of San Augustine.
Connelly didn't shy from his opinions. He pointed out that the Rev. Hardin was "Luke warm" when preaching of fire and brimstone. He added: "Reverend Hardin's wife Elizabeth was a most elegant Christian women. They furnish an illustration of the fact that very pious parents sometimes raise very wicked sons."
His most monumental statement: "the first Methodist preacher I ever heard in the state was Rev. Hardin, father of the notorious John Wesley Hardin. He was living in that old school house at the time and in it John Wesley Hardin first opened his eyes upon this world."   
The Cows Came Home
Atnip's discovery that the notorious gunfighter's birthplace was actually a settlement that came to be called Whitewright hit the headlines of the Bonham newspaper and word spread. During the research phase of A Lawless Breed, a fresh biography on Hardin written by me and Chuck Parsons, Chuck made a  field trip to the Hardin home site and nearby cemetery. The property is adjacent to a registered Longhorn cattle ranch.
John, being a pioneer cattle trail driver on the Chisholm Trail to Abilene, Kansas, would be proud knowing Longhorn cattle are grazing peacefully around his first home, even though he will mainly be remembered, not for his cowboy career, but as one of the most deadly of early Western gunfighters.
Norman Wayne Brown is the coauthor of A Lawless Breed: John Wesley Hardin, Texas Reconstruction, and Violence in the Wild West. He will be signing books on April 7-8 at the West Texas Historical Association meeting in Lubbock.