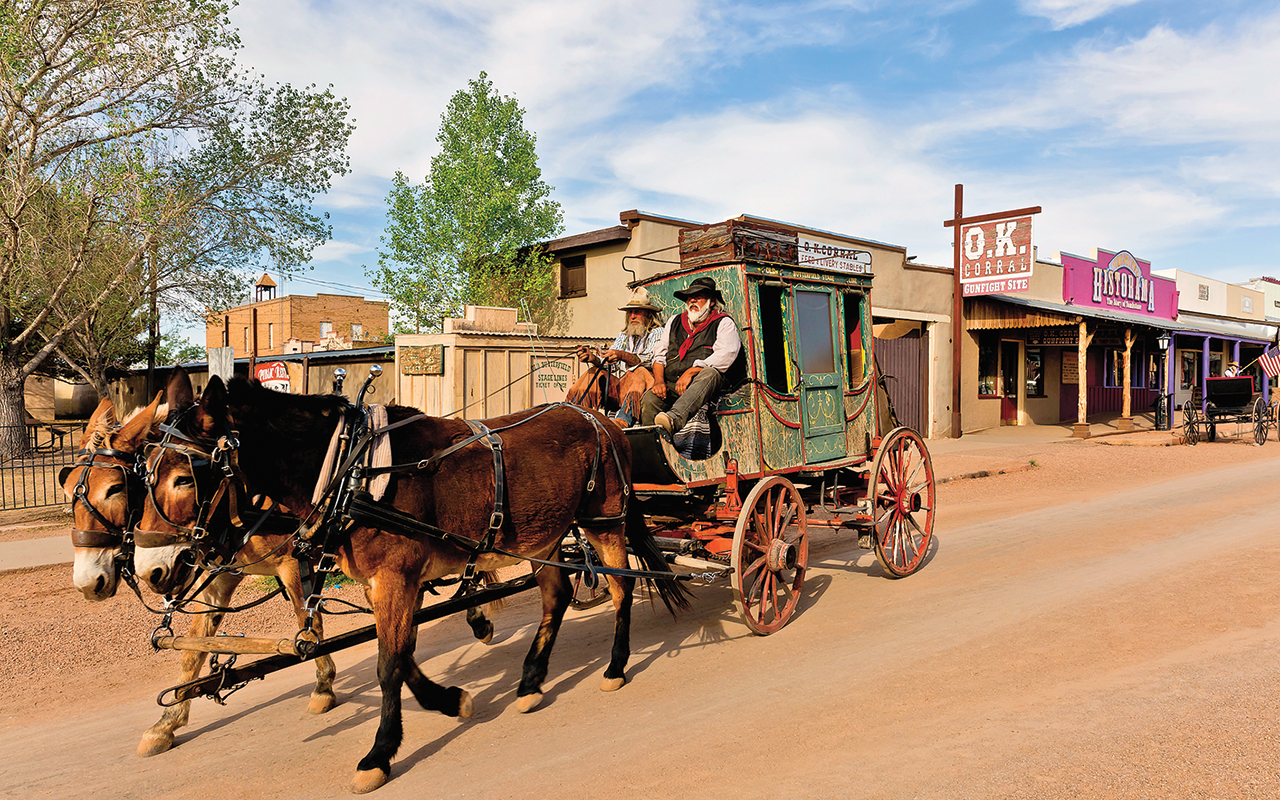 Stagecoaches are running. Gun-fighters are shooting it out with blanks, and Tombstone's saloons are slinging drinks across the bar like they've been doing for nearly 140 years.
The southeastern Arizona town's early mining boom was flooded out within two decades. The Spanish flu took its toll with hundreds of deaths a century ago, and Tombstone was so stagnant during the Great Depression that cattle wandered freely on Allen Street in front of empty shops.
So, this past year's two-month shutdown for COVID-19 was just the latest setback for a town whose Too Tough to Die motto is a badge of honor worn proudly. Still, it hurt when Wyatt Earp Days were cancelled over Memorial Day weekend on the heels of a two-thirds drop in spring tourism revenue.
Action has returned to Tombstone's dusty streets. By early summer, SUVs and pickups from California, New Mexico, Texas, Nevada and Arizona were rolling in on weekends with visitors ready to kick up their boot heels. A cowboy singer played his old Kalamazoo guitar outside Old West Books.
And optimistic Tombstone volunteers are planning to stage the town's biggest annual event—Helldorado Days—October 16-18.
"We're trying to make it as safe and friendly as possible," Mayor Dusty Escapule said of accommodating visitors and disinfecting public spaces. "You know you can only hold an American down for so long when they're going to start fighting and want to get up and go somewhere."
Mayor Escapule, a fourth-generation Tombstone native and six-term mayor, has been running stagecoaches in town for a quarter century.
Any bucket-list trip to Tombstone includes a visit to the O.K. Corral for a re-enactment of the famous gunfight of Oct. 26, 1881. Lawmen Wyatt, Virgil and Morgan Earp were joined by Doc Holliday in a shootout that killed Tom and Frank McLaury and Billy Clanton, while Ike Clanton and Billy Claiborne fled. Virgil and Morgan Earp and Holliday were wounded.
You can read all about it in a replica front page of the Tombstone Epitaph from the day after the gunfight.
Detailed exhibits explaining the O.K. Corral gun battle are on display at the Tombstone Courthouse State Historic Park at Toughnut and Third streets.
On unpaved Allen Street, the 1881 Bird Cage Theatre is a frozen-in-time glimpse of a frontier den of wickedness where gamblers played, and prostitutes pocketed some of their poker winnings. If those walls could talk…Well, the many bullet holes in the walls say plenty about the Bird Cage.
Early Tombstone had as many as 110 licensed liquor establishments when it was one of the Arizona Territory's largest towns. Today, thirsty visitors can imbibe and dine at the 1879 Crystal Palace, with its elegant back bar, and Big Nose Kate's Saloon. It's named for Mary Katherine Horony, a one-time prostitute and companion of Doc Holliday.
Susan Wallace, Tombstone chamber president and the owner of Big Nose Kate's, touted the town's many attractions, including an underground mine tour, narrated stagecoach and trolley rides, and a bonanza of Allen Street shops.
"People think you can pass through Tombstone in an afternoon and you certainly can," she said. "But there's so much more to it when you start looking around."
Where else can you see the World's Largest Rose Tree, planted in 1885?
Don't miss the Ed Schieffelin Monument, a six-mile drive west on Allen Street. He was the 1870s prospector who was warned the only thing he'd find in Apache country was his tombstone. But Schieffelin proved the naysayers and assayers wrong, striking it rich with the Lucky Cuss and Toughnut mines in 1879.
Schieffelin was tough and so is Tombstone.
"Hey, we're still here," Wallace said. "We are too tough to die. We're very resilient."
Peter Corbett moved West to Flagstaff in 1974 to attend Northern Arizona University, where he studied English and American Studies. He's been exploring Arizona and the West since then and had a 35-year career in Arizona journalism.