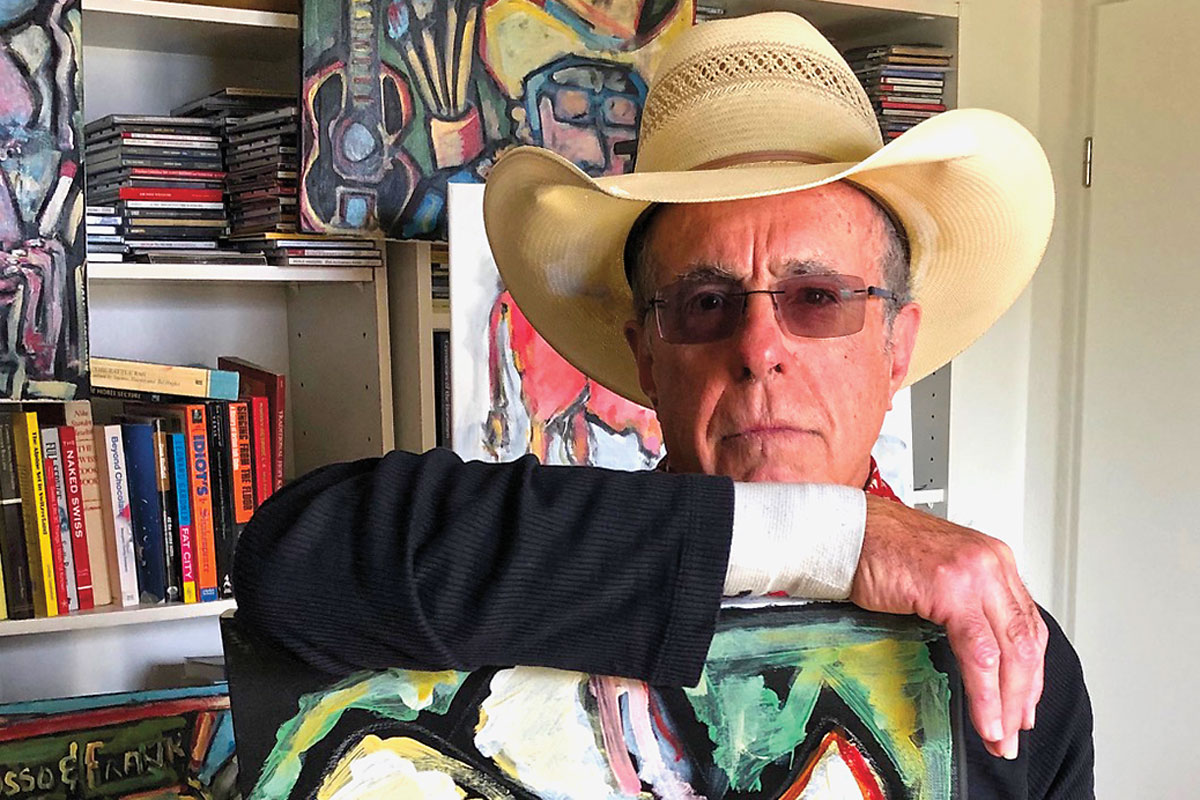 Tom Russell is a singer-songwriter, painter, novelist, and essayist with 38 records and six books to his credit. Rolling Stone Magazine has declared Russell to be the greatest living folk‑country songwriter. The Los Angeles Times recently quoted Bernie Taupin, Elton John's songwriting partner (the pair just won an Academy Award for their song "Rocketman") as saying Tom Russell's current album, October in the Railroad Earth, was the best record of 2019. Russell's songs have been recorded by Johnny Cash, Doug Sahm, Joe Ely, Guy Clark, K.D. Lang, Ian Tyson, Dave Alvin, Ramblin' Jack Elliott and a hundred others.  His current book of art, The Ballad of Western Expressionism, was published in December 2019 to outstanding reviews. His art may be viewed at TomRussellArt.com and FronteraRecords.com.  Photo by Nadine Russel.
The best advice I ever got is what the great painter and author Tom Lea told me: "Tom, keep spurring your wildest dreams. You're a fine storyteller. If you want to be a painter—then paint! Tell the story in your own words." He also had stated in print: "I live remote from groups…totally apart from the latest movement, or recent trend…I feel good working as a painter all by myself."
Johnny Cash's last words to me in 1995 were "Keep writing them, Tom." So I did. He recorded my song "Veteran's Day."
The real problem in this world is keeping your art and your life true to your own gut-vision and spirit in a dread-filled world, and not caving in to the group dynamic, or dribbling out tired rhetoric. As Kipling said: "The individual has always had to struggle to keep from being overwhelmed by the tribe." Or as Keith Richards summed it up: "You just keep going, through sheer luck and brute force." Or how about Flannery O'Connor: "You have to push as hard as the age that pushes against you." I have these quotes on my wall in front of me as I write and paint.
If only people knew that I taught criminology in Nigeria and learned woodcarving and jammed in bars with King Sunny Ade, and saw the greatest cowboy I've ever seen—one lone cow herder, on foot, herding three dozen Zebu cows through the heart of Ibadan, one of the largest cities in Nigeria, with just song commands. "It's a magic song," said my friend, "that only he and the cows know. God gave him the song." I'm trying to learn it. For the last 50 years.
My favorite place in the entire West is perhaps the bar in The Congress Hotel in Tucson, where bronc-rider and artist Pete Martinez drew and painted art—and swapped the art for drinks. The art is still there on the walls. Also John Dillinger stayed upstairs once and was captured there. Lots of great ghosts in this hotel. I do concerts there every so often.
One thing that really grinds me is dread and fear created by the media. I'd rather immerse myself in old folk songs. There lies your real history. And joy. And sorrow. And horse sense.
The best art is fearless and original and exposes the artist's raw soul and personal vision. From a five-year-old kid to Picasso to Francis Bacon to Fritz Scholder to Georgia O'Keeffe. Scholder learned from Bacon—wipe a dirty cloth across the image and sometimes a more real image reveals itself. I like the Bacon quote on living: "As existence itself is so banal you might as well try to make a grandeur of it, rather than be nursed into oblivion." Amen.
I am a sucker for my wife's beautiful smile, her love, a hand-built margarita with salt on the rim and a great song. A song that gives you the chills even after the 10,000th time you've heard it.
A good dog can predict hurricanes, just like in the John Prine song: "The Lonesome Friends of Science." John wrote: "You bastards in your white lab coats, who experiment on mountain goats, should leave the universe alone, it ain't your business, ain't your home…my dog can predict hurricanes…etc." John was a great songwriter. And a friend.
To understand El Paso and the border you need to have a drink at Rosa's Cantina and play "El Paso" on the jukebox. Or walk across the bridge into Juarez and have a margarita at the Kentucky Club…where the ghost of Joe DiMaggio and Manolete hover up over the jukebox, and where some say the margarita was invented. But the coming of the drug wars ruined a bit of the old magic. We live in Texas now. There is magic there.
The best advice I ever got is what the great painter and author Tom Lea told me: "Tom, keep spurring your wildest dreams. You're a fine storyteller. If you want to be a painter—then paint! Tell the story in your own words." He also had stated in print: "I live remote from groups…totally apart from the latest movement, or recent trend…I feel good working as a painter all by myself."