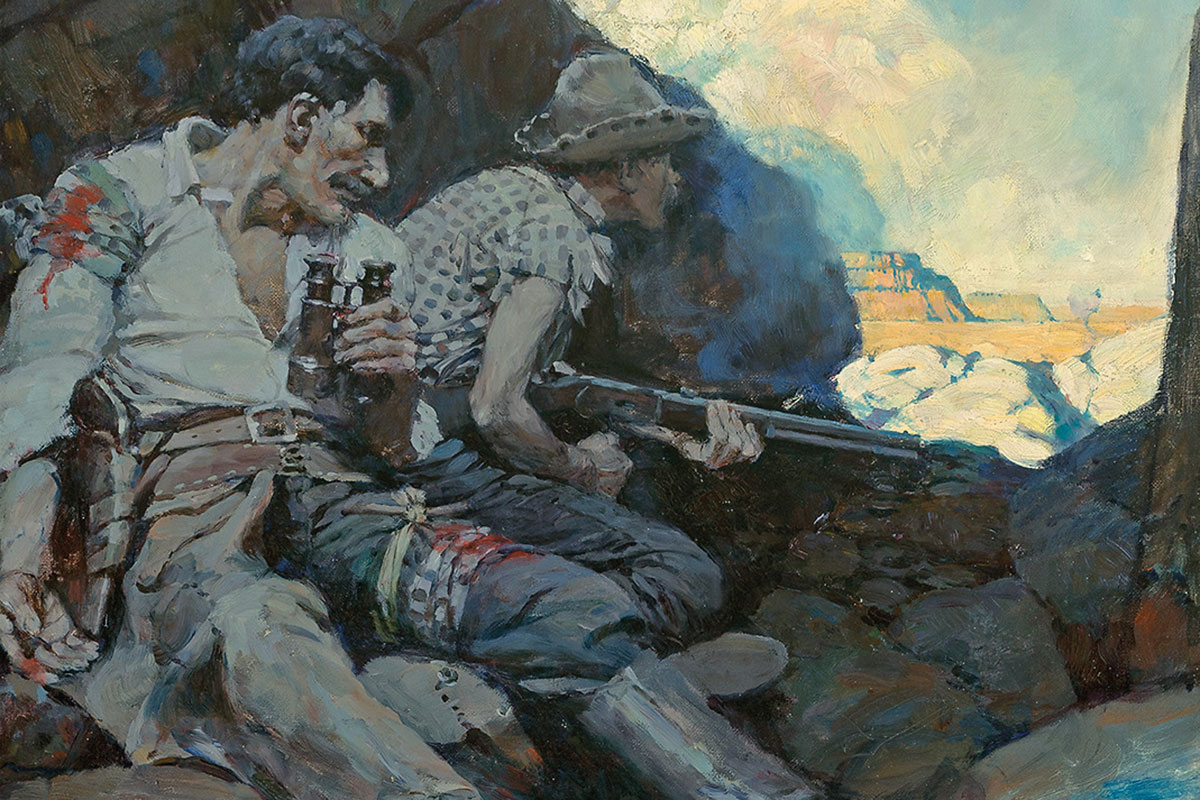 Heritage Auction's May 3, 2019, sale of American art included a wide array of subjects, artists and styles. Some 665 bidders vied for the 201 lots sold, which at the conclusion brought a significant total of $7,301,125, including buyer's premiums.
Several dozen Western-themed pieces were offered. In fact, two of the paintings ranked in the top twenty moneymakers, both by Frank Earle Schoonover. During his long, productive career, New Jersey-born Schoonover (August 19, 1877-­September 1, 1972) created over 3,000  works, many of which served as covers or interior illustrations
for books and magazines. For certain Western aficionados, his renderings to accompany Clarence Mulford's outpouring of Hopalong Cassidy tales stand out as most memorable.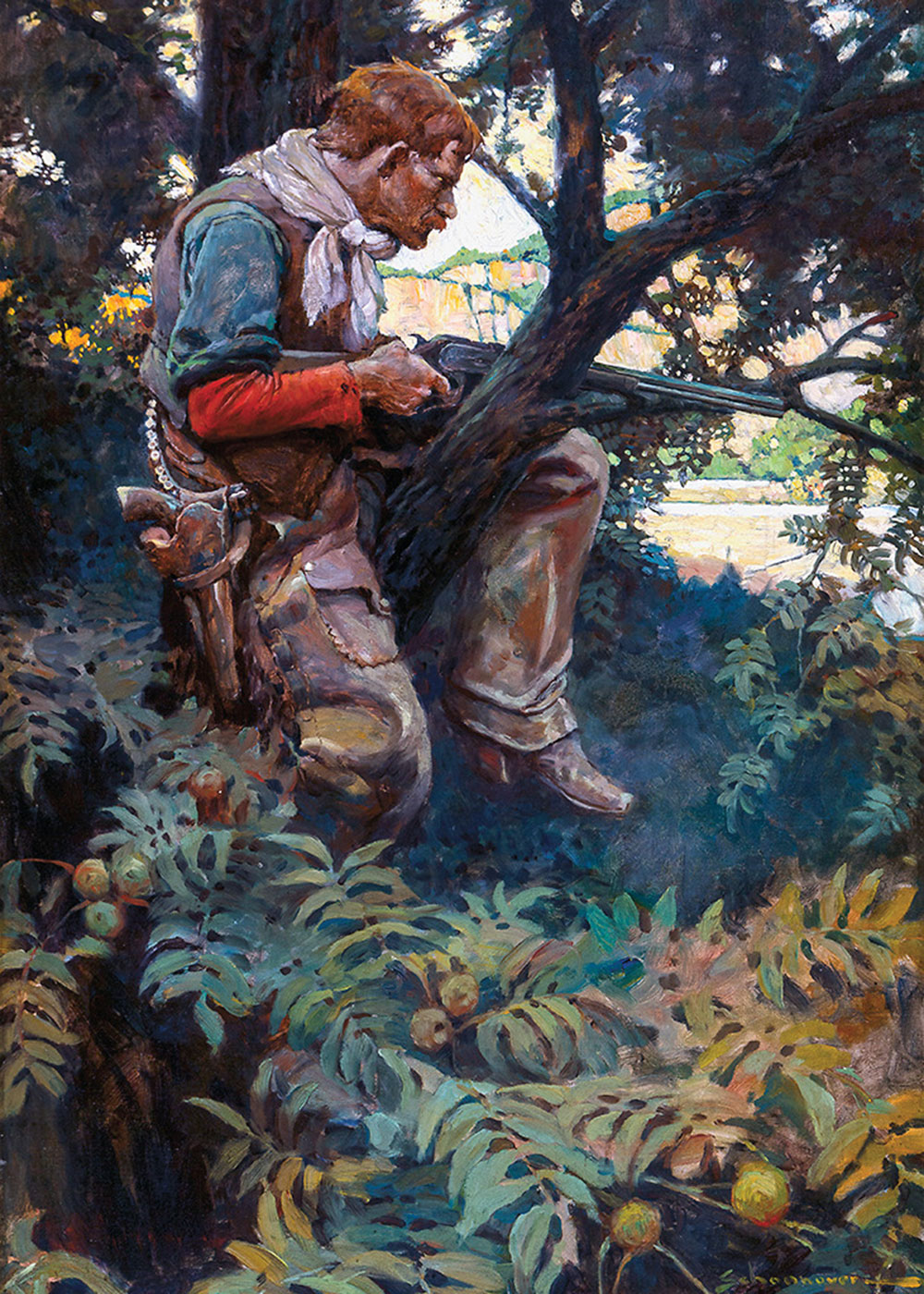 Indeed, Lot 68084, which sold for $100,000 (all prices realized include buyer's premiums), appeared in one of Mulford's Bar-20 yarns, in this case for the April 1906 issue of The Outing Magazine. Similarly, He swing his rifle out over a forked limb and let it settle in the crotch also was seen in The Outing Magazine, in this case the May 1907 issue as part VIII of Hoppy's escapades in "Roping a Rustler."
Another Mulford story came to life under the masterful hand of Maynard Dixon. His The Fugitive's Horse Plunged into the Deep Water, which was an interior for the 1911 edition of Bar-20 Days, brought $52,500. Of course, not all the top sellers were Mulford related. An array of other cowboy images, American Indians, and even an Albert Bierstadt depiction of Spanish colonial settlement of California could be found among some of the top bids.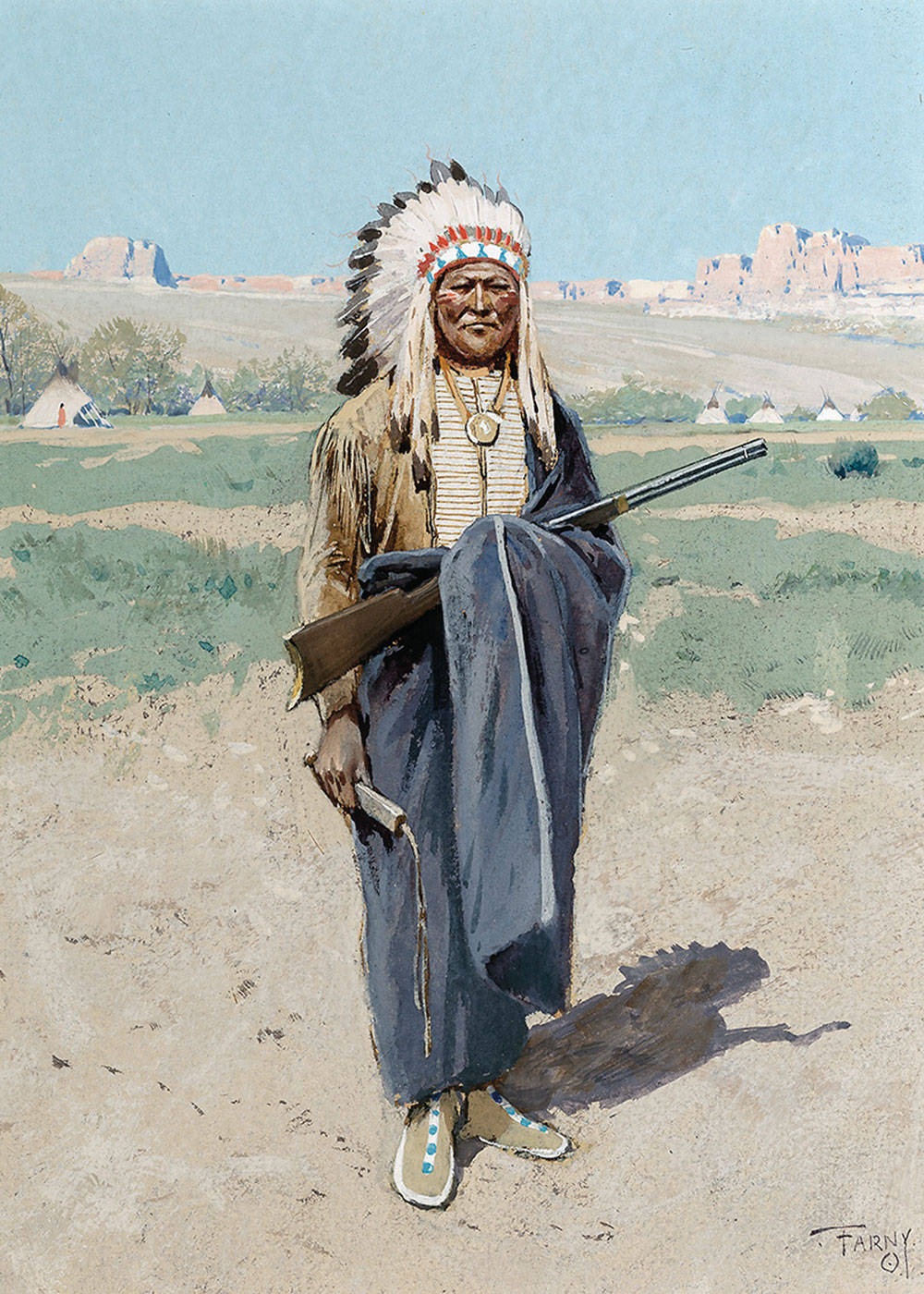 Henry Farny's Indian Chief, a 8 ½-x-5 ⅝-inch gouache and watercolor on paper,
sold for $52,500.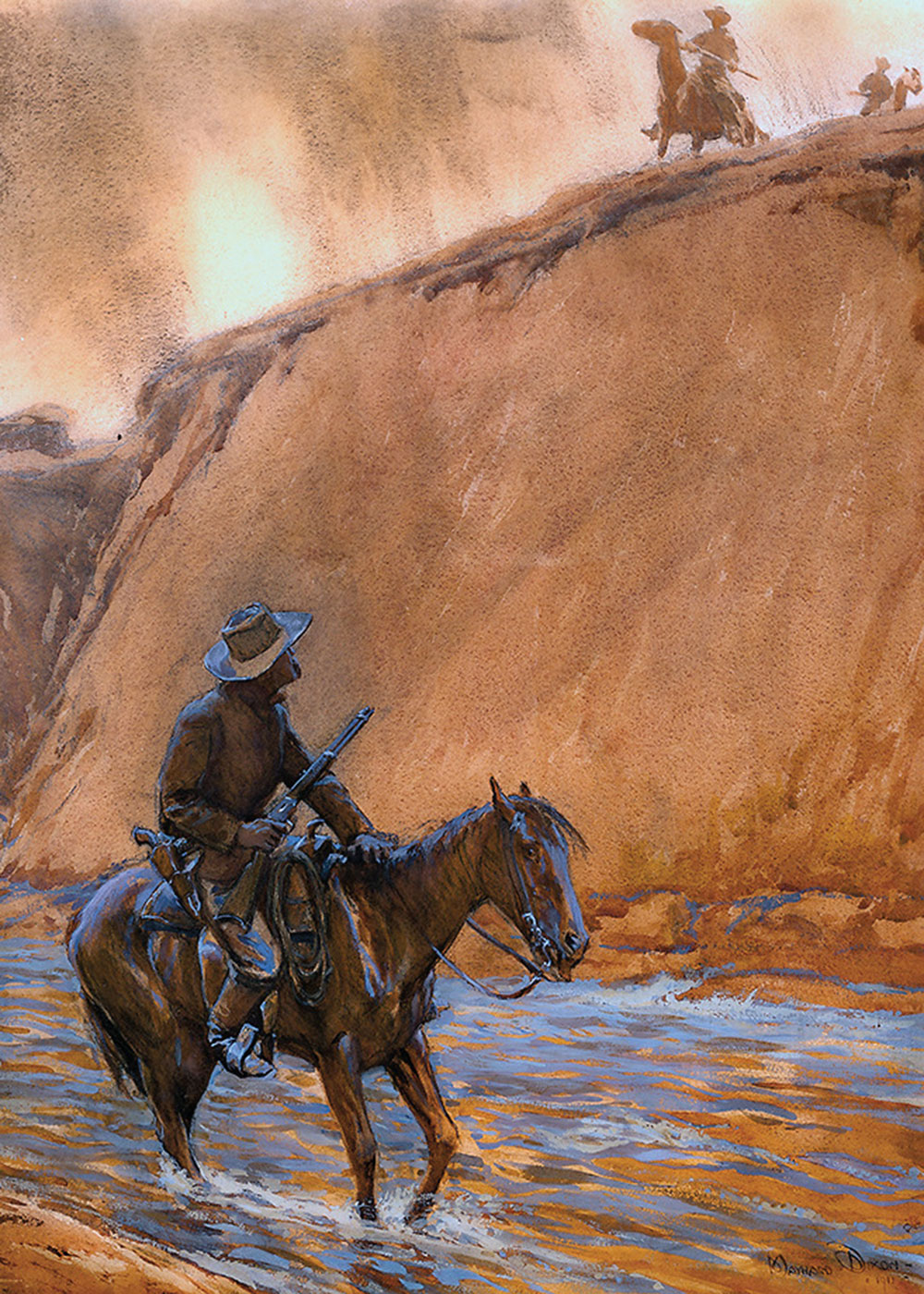 Maynard Dixon's The Fugitive's Horse Plunged into the Deep Water, a 29 ¾-x-21 ⅝-inch gouache, charcoal and watercolor on paper, sold for $52,500.
Paul Pletka's Los Fariseos, a 60-x-60 inch acrylic on canvas, sold for $37,500.

Fritz Scholder's Untitled, a 93-inch bronze with greenish-brown patina, sold for $35,000.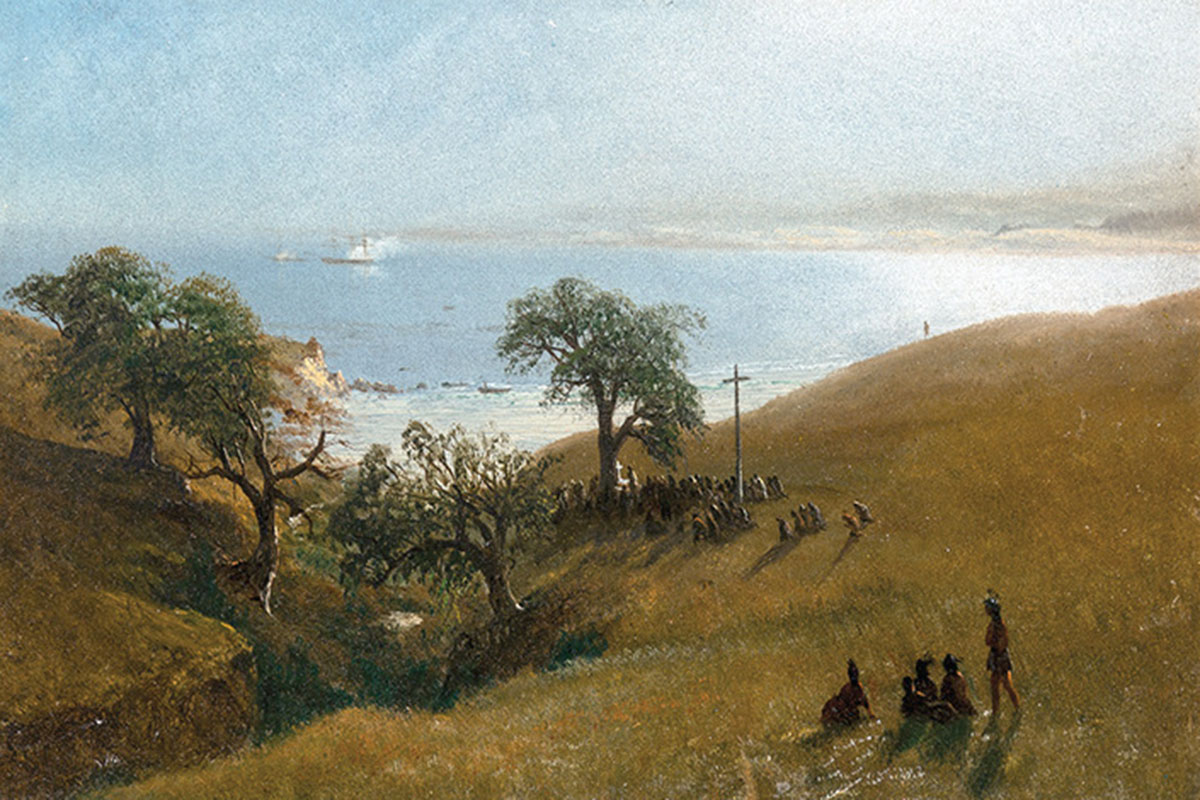 Albert Bierstadt's Study for Entrance into Monterey (circa 1875), a 13 ½-x-18 ½-inch oil-on-paper laid-on-board, sold for $35,000.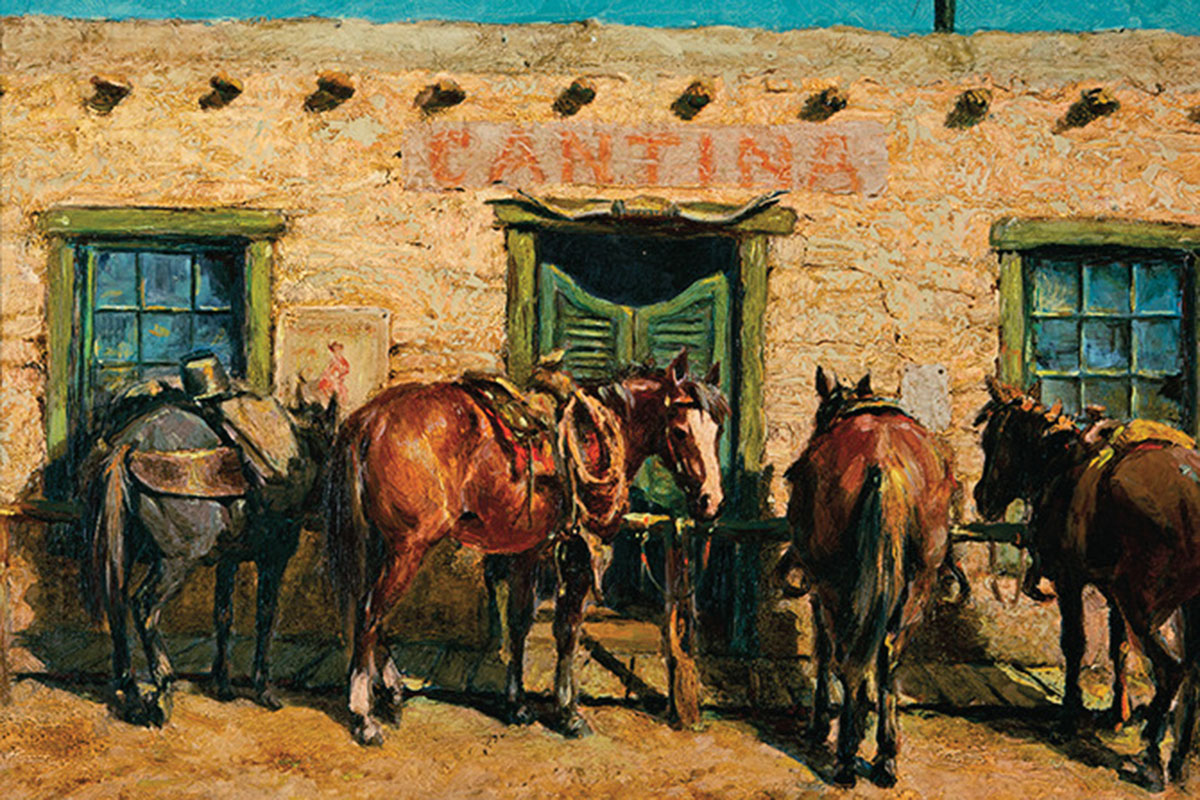 Olaf Wieghorst's Cantina, a 16-x-20-inch oil on canvas, sold for $21,250.
John Langellier's most recent book, "Trapdoor" Springfield, was released last summer by Osprey of London. He currently is completing his next book, Scouting with the Buffalo Soldiers: Lieutenant Powhatan Clarke, Frederic Remington and the Tenth U.S. Cavalry in the West.