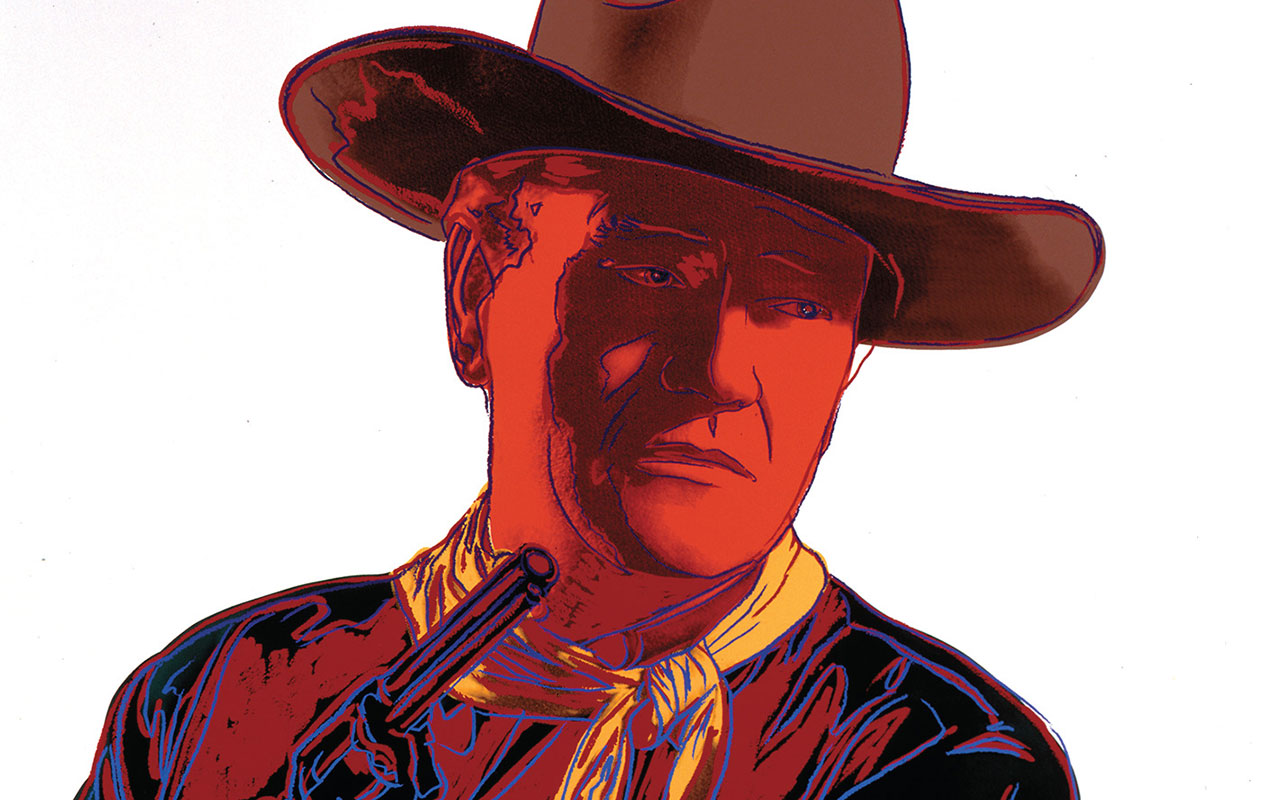 ART SHOWS
Warhol and the West
Oklahoma City, OK, January 31 through May 10: "Warhol and the West" presents the full range of Western imagery produced by Andy Warhol. This body of work furthers our understanding of how the American West infiltrates the public's imagination through contemporary art and popular culture.
405-478-2250 • NationalCowboyMuseum.org
28th Invitational Native American Fine Arts Festival
Litchfield Park, AZ, January 11-12: The fine arts and cultural festival features approximately 100 Native American artists, a variety of Native American art, entertainment and learning opportunities throughout the weekend.
623-935-9040 • Litchfield-Park.org
27th Annual Carefree Fine Art & Wine Festival
Carefree, AZ, January 17-19: The popular art and wine event conjoins more than 155 juried fine artisans from throughout the United States and abroad with an elaborate collection of domestic and imported wines for tasting.
480-837-5637 • ThunderbirdArtists.com
AUCTIONS
30th Annual Mesa Old West Show & Auction
Mesa, AZ, January 25-26: 2020: Bid on 300 lots of authentic Western fine art and artifacts at the 30th annual live Mesa Old West Auction. Shop over 180 vendors of authentic Western art, antiques, apparel, jewelry, collectibles, historical artifacts, cowboy gear, Native American arts, antique firearms, decor, books, boots and much more at the 30th annual show and sale.
480-779-WEST • OldWestEvents.com
HERITAGE FESTIVALS
Living History Fair
Watertown, SD, January 25-26: See live demonstrations and actors recreating how our ancestors lived, worked and played. Be a part
of this historic event by attending the Living History Fair.
605-886-7335 • VisitWatertownSD.com
Montana Winter Fair
Lewistown, MT, January 18-26: In 2020, the Montana Winter Fair celebrates 75 years of promoting Montana agriculture and our enviable Western way of life.
406-538-2200• MontanaWinterFair.com
Superstition Mountain Museum's Apacheland/Heritage Days
Apache Junction, AZ, January 11-12: The Yellow Bird Indian Dancers will perform twice daily
at the celebration of the history and culture of the Superstition Mountains and Apacheland Movie Ranch.
480-983-4888 • SuperstitionMountainMuseum.org
POETRY GATHERINGS
Colorado Cowboy Poetry Gathering
Golden, CO, January 16-19: Experience cowboy poetry performances by Vic Anderson, Patty Clayton, Glenn Moreland and Washtub Jerry,
and much more.
720-213-6446 • ColoradoCowboyGathering.com
National Cowboy Poetry Gathering
Elko, NV, January 27-February 1: This week of poetry, music, dancing, workshops, exhibits, conversations, food and fellowship is rooted in tradition but focused on today's rural West.
775-738-7508 • NationalCowboyPoetryGathering.org
RODEOS
Cowboys of Color Rodeo
Fort Worth, TX, January 20: Held since 1995, this rodeo brings together cowboys from diverse cultures to celebrate their Western heritage.
817-922-9999 • CowboysOfColor.org
American Finals Rodeo
Tulsa, OK, January 24-26: Watch the top 15 cowboys and cowgirls compete in a variety of Western events. While there, be sure to check out the event's free Western trade show.
918-456-9814 • ACRARodeo.com
STOCK SHOWS & RODEOS
National Western Stock Show
Denver, CO, January 11-26: Since 1906, this show has hosted livestock and horse sales
and seminars, plus rodeo events, at National Western Complex.
303-296-6977 • NationalWestern.com
Fort Worth Stock Show & Rodeo
Fort Worth, TX, January 17-February 8: Held since 1896, Fort Worth's exposition livestock show and rodeo attract cowboys to its auctions, livestock and horse shows, rodeos and concerts.
817-877-2400 • FWSSR.com