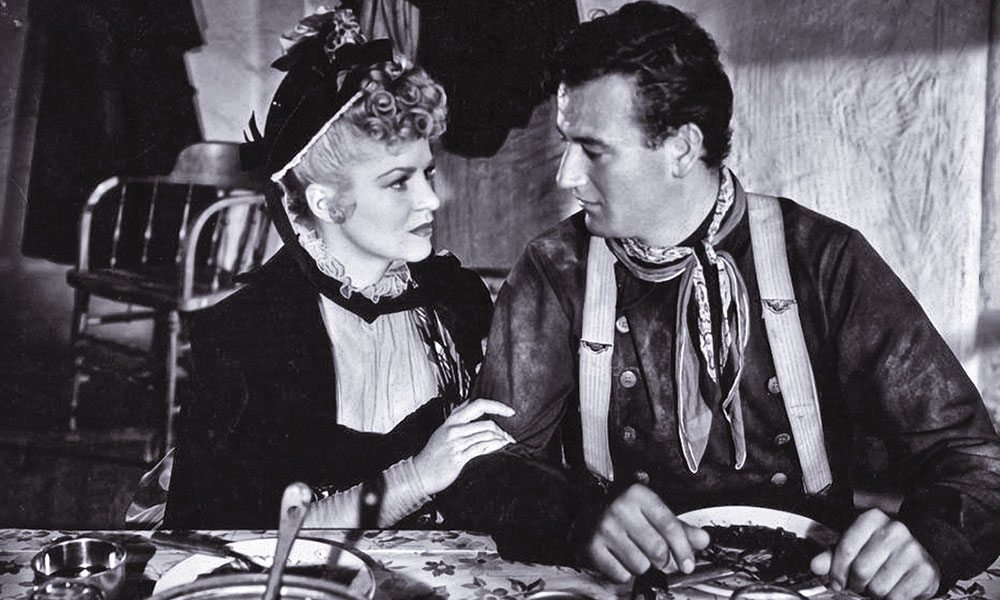 Ever since The Virginian, Owen Wister's genre-defining Western novel, female characters have traditionally been portrayed as the civilizers. Even though in 1939's Stagecoach, we preferred the "bad" woman, Claire Trevor's Dallas, the respectable townswomen were hard at work civilizing their town by running Dallas out of it. But 1952's High Noon, richly borrowed (some might say plagiarized) from The Virginian's final chapters, started changing the rules: the Mexican widow, played by Katie Jurado, was secretly the power of the town; and unlike The Virginian's cowering schoolmarm, Marshal Will Kane's Quaker wife turned out to be the only sideman he needed in a shootout.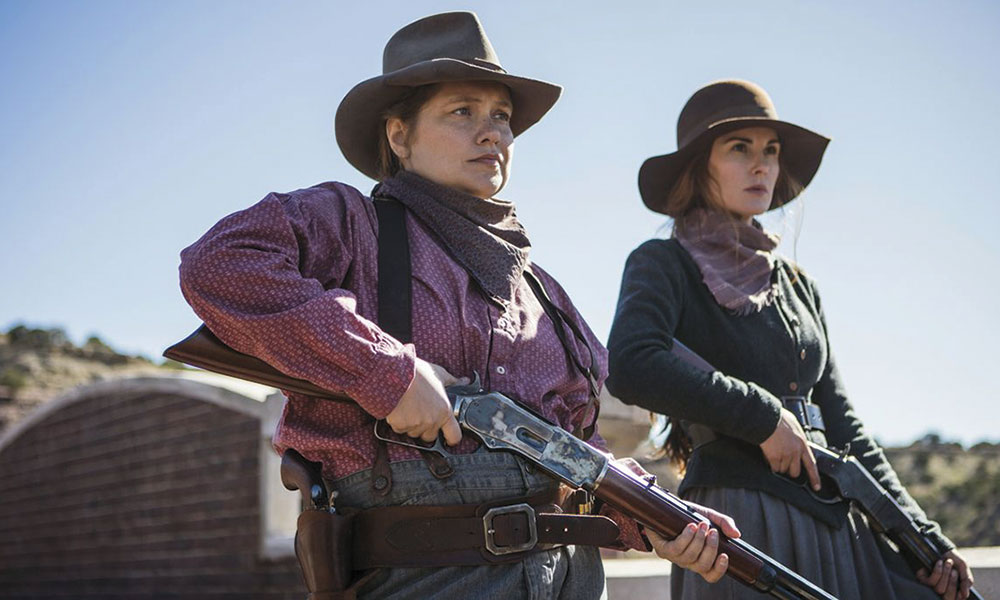 In the current crop of Westerns, the female characters have come so far to the fore that males are now weak, evil or subservient to women. As the man who's built the largest private ranch in America, Yellowstone's Kevin Costner is at the story's core. But while he and his estranged son, played by Luke Grimes, are the nurturers, it's his lawyer daughter, played by Kelly Reilly, who's the real family soldier. In the substantially true story of Woman Walks Ahead, Jessica Chastain's Barbara Weldon is for a time all that stands between Sitting Bull (Michael Greyeyes) and destruction (Sam Rockwell). Westworld's season two is a battle of wits between several female characters, real and robot, played by Evan Rachel Wood, Charlotte Hale and Thandie Newton, who won an Emmy for her performance. The males by and large are reduced to henchmen and villains.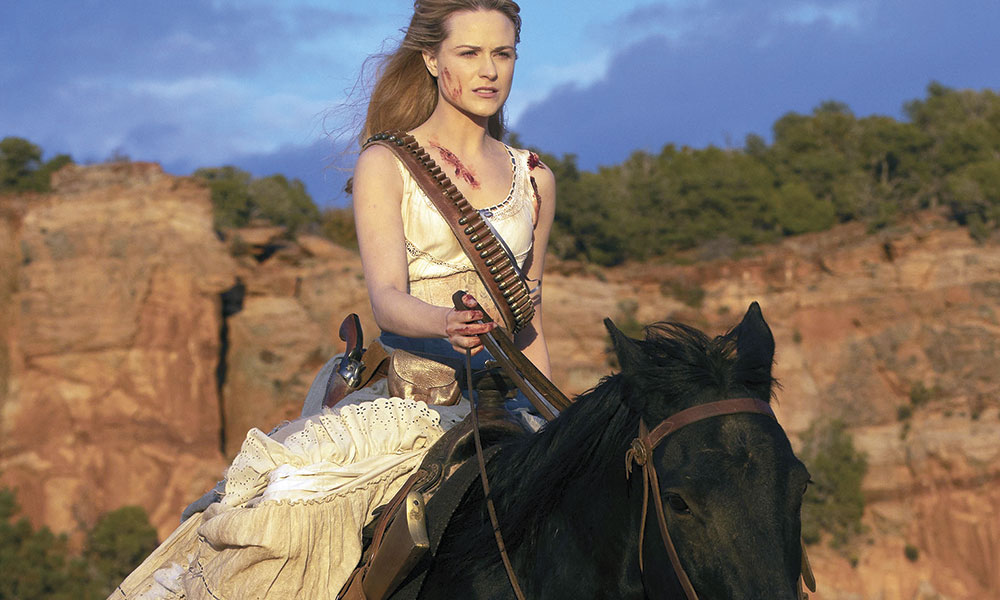 Perhaps the most striking example is Godless.  Here a town has lost nearly all of its men in a gold-mine collapse, and the town's women have to hold things together, and battle with crazy-evil characters like Frank Griffin (Jeff Daniels, who won an Emmy for the part).  The "law" is represented by a wimp sheriff who's going blind (and his young, likable goofy deputy), and the sheriff is soon replaced by his sister, played by Merritt Wever in an Emmy-winning performance. The lead rancher who brings everyone together is a widow played by Downton Abbey's Michele Dockery.  As if Jeff Daniels needed villainy back-up, Kim Coates is the hissable rep for the mining company. An exceptionally fine Western, written and directed by Scott Frank, Godless's success with audiences might be a matter of the third time being the charm.  A disaster leading to a Western town populated almost entirely by women was the premise of the sinister 2014 Lifetime Series Strange Empire, as well as that of When Calls the Heart (yet another mine collapse), a romantic Western series, based on the novel by Janette Oke, which has been laboring with little fanfare on the Hallmark Channel since 2014, and just began its sixth season in December.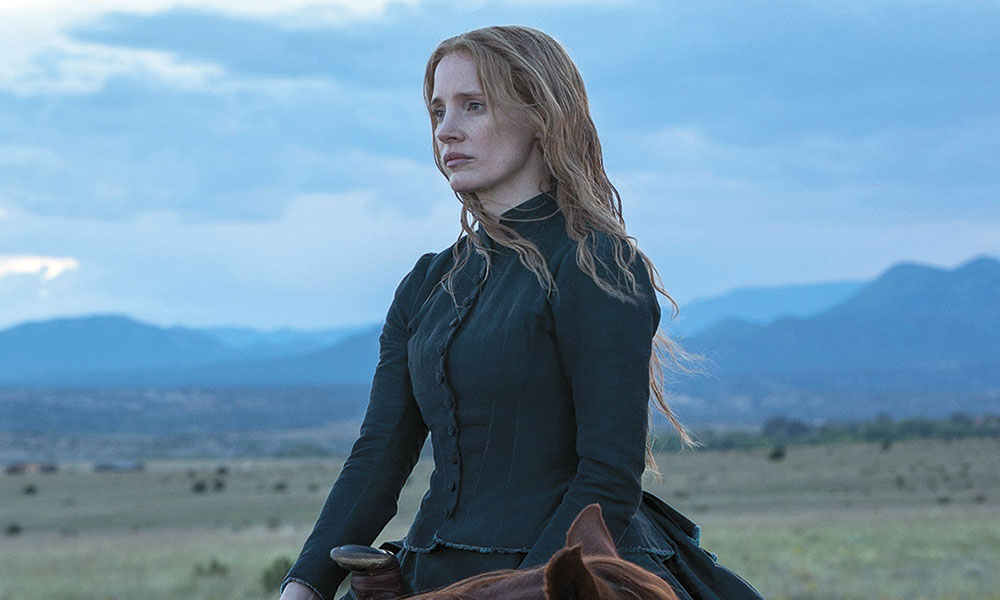 Probably the most extreme of these role-switching Westerns was 1954's campy Johnny Guitar, in which a mannish saloon-operator (Joan Crawford) and a rancher (Mercedes McCambridge) battle over the romantic attentions of Scott Brady as the Dancin' Kid! There's also practically any Barbara Stanwyck Western—her ability to dominate all the men around her,  yet remain feminine, was unique. More recently, we've had 2013's Sweetwater; when the husband of January Jones is murdered and the law won't help, she must go after the culprit. Then there are the girl outlaw gang films like 1994's Bad Girls with Madeline Stowe and Mary Stewart Masterson; 2003's Gang of Roses, the African-American version with Stacy Dash and Lil' Kim; and 2006's Bandidas, the Hispanic version with Salma Hyak and Penelope Cruz.
It's easy to say that the current crop of woman-dominated Westerns is partly a response to the "me, too" movement. That might help a project get green-lit, but doesn't take into account how long development takes. One of the best such films of recent years, 2015's  Jane Got a Gun, was a passion project of its producer-star, Natalie Portman. A director quit, cast members quit, and when the original distributor went bankrupt, who rescued and released the movie? The Weinstein Company.
It's too early to say if men will worm their way back into Westerns in 2019, but we have plenty to look forward to. We'll have season two of Yellowstone and The Son, the feature film of Deadwood, and on Netflix, The Highwaymen, a movie starring Kevin Costner and Woody Harrelson as the Texas Rangers who nailed Bonnie and Clyde.
Best 2018 Western Movie
Ballad of Lefty Brown (Lionsgate)
What would happen if John Wayne was murdered and Gabby Hayes had to advance from sidekick to lawman to avenge his partner? That's the fascinating question posed when a lawman-turned-senator (Peter Fonda) is ambushed, and Lefty (Bill Pullman, in the performance of his career), must identify and capture the culprit. Written and directed by Jared Moshe, the beautifully shot, often brutal film echoes the issues raised in The Man Who Shot Liberty Valance and Lonesome Dove without imitating either.
Readers' Choice:
Hostiles (Lionsgate)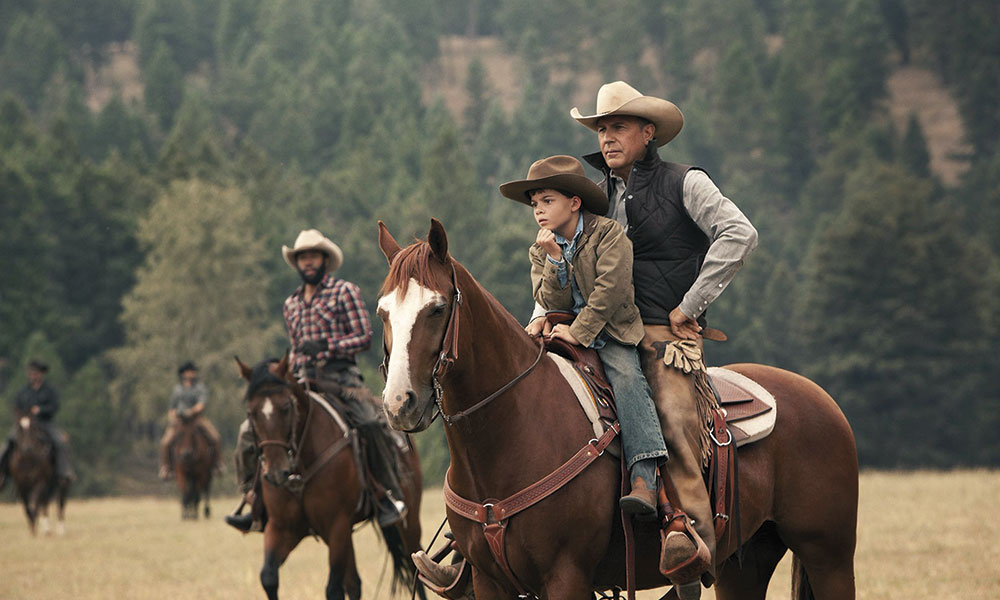 Best 2018 TV Western
Yellowstone (Paramount TV)
John Dutton (Kevin Costner) is the last of the great old land barons, his back to the wall defending his acres and legacy against condo-builders like Dan Jenkins (Danny Huston) and Tribal leaders like Thomas Rainwater (Gil Birmingham). With a son who loves/hates him (Luke Grimes) and a closeted son who loves himself (Wes Bentley), his unstable but fiercely loyal daughter (Kelly Reilly) is his best defense in this Taylor Sheridan (Hell or High Water, Wind River) series with the highest body-count of any family drama in memory.
Readers' Choice: 
Godless (Netflix)
Best 2018 Western Film Book
Junior Bonner: The Making of a Classic with Steve McQueen and Sam Peckinpah in the Summer of 1971 by Jeb Rosebrook with Stuart Rosebrook (BearManor Media) 
Jeb Rosebrook has written a "making of" book of a sort never seen before: the making of a classic movie from the point of view of the man who first conceived the story, and was there for pre-production and for every day of the shoot with director Sam Peckinpah and superstar Steve McQueen. Told with insight, humor and scrupulous attention to detail, this highly personal account of the making of arguably the best rodeo picture of all time, and Steve McQueen's personal favorite among his films, will compel you to re-watch it with new eyes.
Readers' Choice: 
Cowboys, Creatures, and Classics: The Story of Republic Pictures by Howard Kazanjian and Chris Enss (Lyons Press)
Best 2018 Western to Stream
Woman Walks Ahead (A24 Films)
In the 1890s, Brooklyn painter Catherine Weldon (Jessica Chastain) travels across country to Standing Rock Reservation, determined to paint the portrait of Sitting Bull (Michael Greyeyes). She finds herself embroiled in the troubles of Sitting Bull and the Sioux, first with the government's attempts to take their land, then with the rise of the Ghost Dance. With Sam Rockwell as the voice of the Army and whites in general, the history is correct in broad strokes, and the film is a surprisingly even-handed and compelling telling of the turbulent, tragic time.
Readers' Choice: 
Any Bullet Will Do (Sony Entertainment) 
Best 2018 Blu-Ray Western Movie
The Big Country (60th Anniversary Special Edition) (Kino Lorber)
William Wyler's film from Donald Hamilton's novel is truly big, without being overblown like the similarly themed Duel in the Sun. Sea captain James McKay (Gregory Peck) has come West to marry elegant Patricia Terrill (Carroll Baker), inadvertently thrusting himself into a range war between Patricia's father (Charles Bickford) and the prairie trash Hannasseys, led by Burl Ives. It's thrilling, with powerful support from Jean Simmons, Charlton Heston, and a star-making performance by Chuck Connors. The Blu-Ray contains bountiful special features.
Readers' Choice: 
7 Brides for 7 Brothers (Warner Archive)
Best 2018 Western Movie Collection
The William Castle Western Collection—The Fastest Guns of the West (Mill Creek Entertainment)
Before he became the king of gimmicky 1960s horror films like The House on Haunted Hill, William Castle was a "B" contract director at Columbia Pictures, and helmed the eight mostly Technicolor second feature Westerns in this set. Imitating successes in these breezy low-budgeters, Conquest of Cochise (1953) is Castle's version of Broken Arrow (1950), The Gun That Won the West (1955) is his take on Springfield Rifle (1952), and icons of Western history abound in Masterson of Kansas and Jesse James vs. the Daltons. Peppered with second-tier stars like George Montgomery, Dennis Morgan, Richard Denning, Robert Stack and Lex Barker, this collection highlights how much fun entertainment a filmmaker with more imagination than money can produce.
Readers' Choice: 
The Durango Kid Collection (Mill Creek Entertainment)
Best 2018 TV DVD
High Chaparral: Season One (Shout Factory)
Creator David Dortort's second monumental Western series, The High Chaparral, broke all the rules his first, Bonanza, had established, and others had slavishly followed. Unlike the Cartwrights, the Cannons were dysfunctional: John Cannon (Leif Ericson) was often a bully, his brother Buck (Cameron Mitchell) was an irresponsible drunk, his sweet wife (Joan Caulfield) was killed by Apaches in episode one, and he made a strategic marriage to Victoria Montoya (Linda Cristal) in episode two!  High Chaparral set new TV Western standards with maximum on-location action and minimum soundstage work, and has never looked better!
Readers' Choice:
A Man Called Shenandoah (Warner Archive)
Best 2018 Silent Western
The Covered Wagon (1923) (Kino Lorber)
Past and present merged seamlessly in the making of James Cruze's epic tale of an Oregon Trail crossing. Cruze, who shot his film near where he grew up, along the Utah-Nevada border, advertised for authentic wagons, and got more than a hundred, driven by offspring of those who'd made the journey. Although now only Alan Hale Sr., as the villain is familiar, the crew included former D.W. Griffith cameraman Karl Brown, who shot with almost documentary attention to detail; future director Dorothy Arzner as editor; future director Delmer Daves (Cowboy, the original 3:10 to Yuma) as prop man; and future star Col. Tim McCoy as an Indian liaison.
Readers' Choice: 
The Devil Horse (Alpha Video)
Best 2018 Western Documentary
Injun Talk—with Deadline (Alpha Video)
In this 1946 half-hour short, filmed at a pow-wow at the Blackfeet Reservation by Two Medicine River, Col. Tim McCoy and the chiefs of several tribes tell the fascinating history of Indian sign-language. There was real concern that sign-language, then used mostly by elders, would be lost. McCoy was no casual signer; adjutant general of Wyoming before coming to Hollywood, he was considered one of the most articulate of its practitioners. The film is narrated by Ronald Colman.
Readers' Choice:
The Men Who Built America (Stephen David Entertainment)
Best 2018 Foreign Western 
The Sisters Brothers (Annapurna Pictures)
Don't be misled by the jokey but unfunny trailer: this is a humorous but solid hard-action Western with a thoroughly original premise. An inventor (Riz Ahmed) has developed a way to revolutionize prospecting, and the infamous Sisters Brothers (John C. Reilly and Joaquin Phoenix) are dispatched to steal the method and kill him. Shot in Spain and Romania by French writer/director Jacques Audiard, its quirky plot and fine performances brim with unexpected humanity.
Readers' Choice: 
Five Fingers for Marseilles (Uncork'd Entertainment)