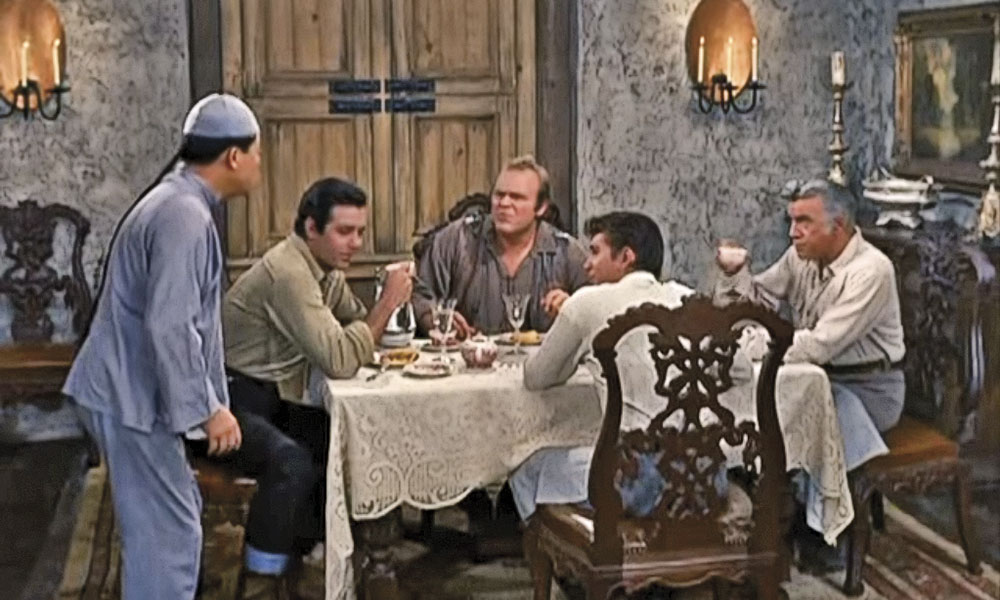 If  you're reading this then you've likely seen a Western. So, does the food on the big screen compare to the real West? Let's digest some food scenes from TV and film.
In John Ford's The Searchers, Ward Bond's reverend character enters a house where they're serving doughnuts and coffee. He says, "Oh, doughnuts. Thank you, sister. I'm sure fond of them doughnuts." While this scene does not seem extraordinary because doughnuts were commonly made by pioneers, doughnuts are rarely depicted as frontier fare in Westerns. In Ford's My Darling Clementine, Wyatt Earp is shown carving chicken for his dinner guests in a restaurant. This scene is completely wrong. Tombstone had sophisticated restaurants and no patron would have carved their own food.
The movie High Plains Drifter is set in a remote area, so meals would have been basic and the filmmakers got it right. Clint Eastwood's character, the Stranger, eats pie, coffee and biscuits for lunch. During the picnic scene they serve up barbequed beef, beer, yellow cake and whiskey. When he takes over the hotel he orders, "chicken, fried, and the best bottle of wine in town." In his hit movie Pale Rider, Eastwood's character accurately has butter, syrup, eggs and biscuits for breakfast. His hosts serve a supper of fricassee, which is a pioneer way of cooking tougher cuts of meat and feeding several people cheaply. In the café scene there's a quick shot of a "bill of fare" that shows plain steak, T-bone, sirloin, porterhouse, ham and eggs, bacon and pork and beans. While these are accurate, it's likely they would have served more than just beef.
The TV series Bonanza was set in the rich silver mining town Virginia City, Nevada. In one episode, a café owner tells her customer the only thing on the menu is beef stew and biscuits. With a variety of restaurants named Ryan's, Delmonico, Palace Eating Stand, St. Louis, Bonanza, Brooklyn, What Cheer House and The Youngworth Oyster and Chop House, no sensible business owner would serve one item. Oysters were highly advertised, but other items included mackerel, salmon, cod, Russian caviar, clam chowder and shrimp served on a regular basis. The French Rotisserie offered wine for breakfast and dinner along with spring chicken. In another episode an Italian immigrant introduces the Cartwrights to Italian food and wine. At the end of the show even the Cartwrights' Chinese cook Hop Sing cooks them chicken cacciatore!
These shows and films also accurately set the tables with china, tablecloths and silver cruets. So, set your table and make this Italian dish.
Chicken Cacciatore
This recipe was called Italian Chicken Gravy in the 1920s.
½ cup dried Italian mushrooms
1 cup of red wine
1 3-4 lb. chicken, cut up
black pepper as needed
salt as needed
¼ cup of extra virgin oil
1 sprig of rosemary
1 onion
1 clove garlic
¼ cup fresh parsley
2 tbsp. tomato paste
Directions:
Soak the mushrooms in the wine until hydrated. Salt and pepper chicken to taste and then fry in a dutch oven over medium high heat. Chop rosemary, onion, garlic and parsley and add to the chicken and cook until all is golden; about 10 mins. Add the mushrooms and wine and tomato paste. Stir and season to taste. Bring to a boil and then reduce to simmer and cook for about 50 to 60 minutes until chicken is done. Serve with pasta.
Recipe adapted from the San Francisco Chronicle, March 11, 1923
Sherry Monahan kicked off her journey into Old West cuisine, spirits and places by authoring Taste of Tombstone. Visit SherryMonahan.com to learn more about her books, awards and TV appearances.