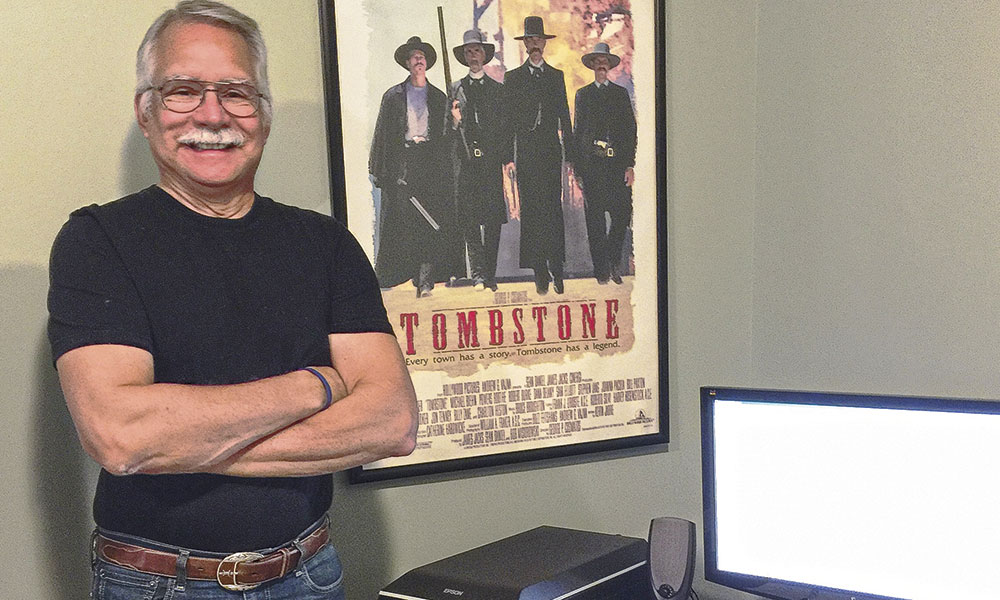 John Farkis was born in Allen Park, Michigan, downriver from Detroit. After earning a business degree at Eastern Michigan University in 1972, he took a position as an accounting trainee in the automotive industry. Thirty-five years later, he retired as a general manager, director of operations and vice president  in a Fortune 100 company. He is the author of four books including, Not Thinkin'…Just Rememberin'… and Alamo Village: How a Texas Cattleman Brought Hollywood to the Old West. His most recent book on the making of the film Tombstone was released by McFarland in December 2018. John and his wife, Jean, are currently enjoying retirement in their lake house, along with their dog, Rikki.
Most people don't realize Tombstone was not initially a box-office failure as some think. Released on Christmas Day, 1993, it really wasn't promoted at all by Disney/Buena Vista and many reviews were absolutely scathing with terms such as "aggressively overlong," "gratuitous hyperrealism," "incoherent" and "campy" peppering their comments. But then an interesting phenomena occurred; word of mouth. By the end of its second week, it was in the black and went on the gross $50.5 million after seven weeks.
The genius behind this movie is the film's first director and screenwriter Kevin Jarre. His absolute insistence on period correct costumes, saddles, firearms and dialogue brought an authenticity to the screen that is seldom seen. When the Earps arrived in Tombstone, you could almost taste the grit in the air and smell the horses on the street. Add to that the marvelous cast he assembled and the film was a can't miss.
Not many know that Billy Zane's sister, Lisa, was originally cast in the role of Josephine Marcus. In fact, Jarre wrote the part with her in mind, as she had been his girlfriend at the time. When Dana Delany came onboard, Lisa was moved to the role of Big Nose Kate. After Jarre was fired, Lisa left the set and was replaced by Joanna Pacula.
The reason why no one has followed up on Tombstone is that for many people Westerns seem so passé.Generally, those who appreciate this sort of film are of a certain age and they value strong characters, an effective storyline and magnificent scenery.
The one person behind the scenes who held it all together was Adam Taylor, first assistant director. If it wasn't for Taylor, the film wouldn't have been made. Director Cosmatos was brutal in his treatment of Taylor. After the day's filming was over, Buck Taylor (Turkey Creek Jack Johnson) would find his son in a trailer, head in hand, shaking with fury. But the next day, Adam Taylor would be out there again doing what he was supposed to do.
The best advice I ever received came from my father: "Try your hardest, do your best and good enough rarely is."
What history has taught me is that what you think you may know, isn't always true. Rarely are events simply random or happenstance.  If you peel away the layers, it's usually more complex than not. Wyatt Earp was not all pure and honest. The Clantons and McLaurys were not all evil and corrupt. Cattle-rustling, politics, partisan news media, altercations and aggression, and misunderstandings and provocations (deliberate or unintentional), all culminated in the historic shootout at the O.K. Corral. It simply wasn't a question of a misdemeanor arrest gone wrong.   
My first job was working for my dad in his trucking company. Changing tires on tractor-trailer rigs quickly taught me this was not something I wanted to do for the rest of my life.
I never dreamed I would be so lucky as to marry Jean. Not only is she my best friend and a constant source of love and inspiration, she also literally saved my life: twice!
Although it may be sacrilegious, given the books I've written, for my money, the best Western ever made is The Wild Bunch. With intense violence, multiple camera placement and ground-breaking slow-motion action-sequences, Sam Peckinpah's film was both creative and revolutionary. An absolute masterpiece. Tombstone comes in an extremely close second.
The problem with Hollywood is sequels, retreads and CGI. Give me John Ford, Howard Hawks and Henry Hathaway any day. Although Marvel films are well-done and extremely entertaining, nothing beats a good, old John Wayne Western.
My favorite place in the West is Monument Valley and Moab. Truly, this is "where God put the West."