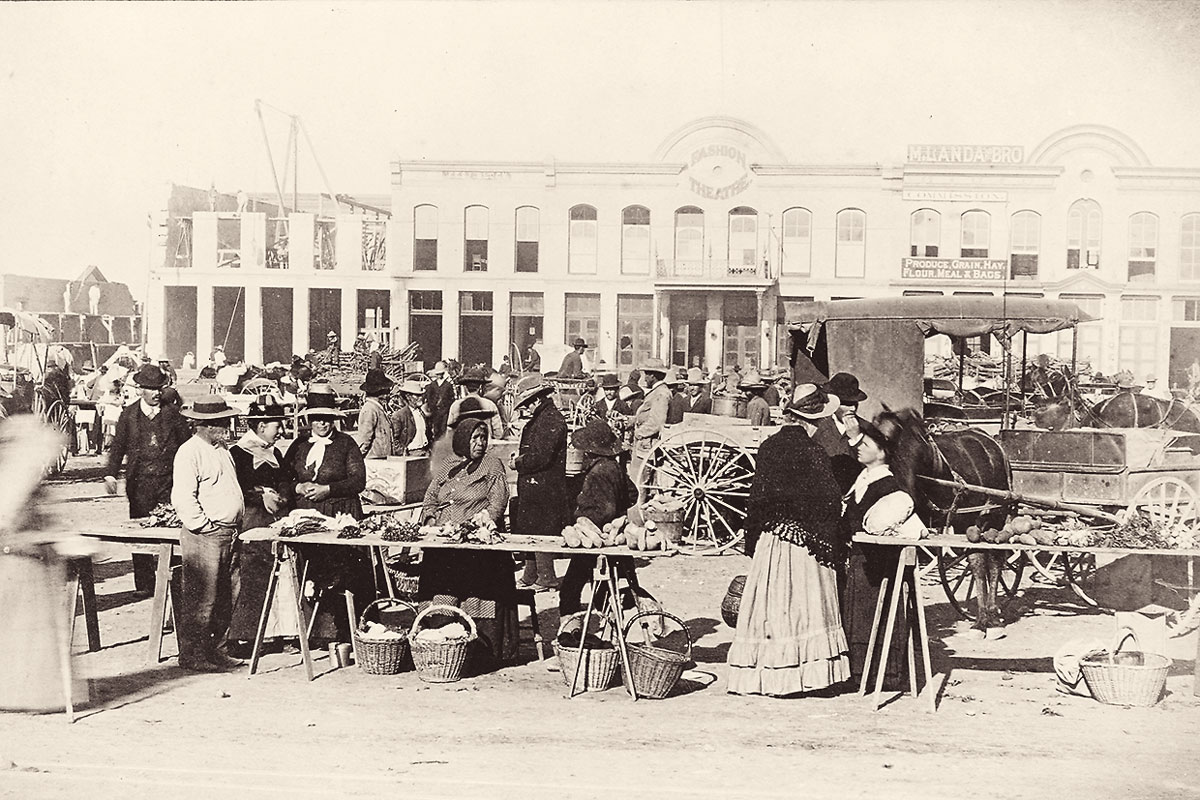 There is a misconception about working women in the Wild West. Many hard-working women served while standing on their feet, and  not their backs. Either single or widowed, they needed to earn a living, so many ran restaurants, cafes, boardinghouses or other businesses that provided food on the frontier. Some of them cooked their own meals, while others only managed their business.
Tombstone, Arizona, is a good example of a place where women owned or man-aged food establishments. Nellie Cashman was well known for her culinary prowess, but she had competition. In 1882 alone, Tombstone's female entrepreneurs included Mrs. Florence Hemsath, Mrs. Jessie Brown, Mrs. Frances Cunningham, Miss Kate Killilea and Mrs. Lucy Young. Food served at their restaurants included everything from home-style cooking to classic French cuisine, which was trendy at the time. They served breakfast items like German pancakes, eggs and hash, and main meals like chicken fricassees and pot pies, lobster, consommé, croquettes, oysters in all styles, fresh fish, vegetables and countless desserts.
Many women owned ice cream parlors, and Wyatt Earp was known to frequent one on Fourth Street in Tombstone. Mrs. Flint ran one in Reno, Nevada, and the paper advertised, "Drop into Mrs. Flint's restaurant any evening and try her ice cream. Take your wife, mother or best girl along to enjoy with you." Mrs. Soffori had a restaurant in San Antonio, Texas, where she offered all the staples, but had an ice cream gallery and ladies' parlor, where women were given special attention. Some, like Mrs. Wolf in Correctionville, Iowa, offered delicious confections at her restaurant. Women were enterprising on the frontier, and Mrs. Cornado of Carson City, Nevada, called on Mrs. Pete Taylor's restaurant or Mrs. Scofield's candy stores to take orders for her tamales.
Miss K. Swanson operated her Auditorium restaurant on the fifth floor in Spokane, Washington, in 1896 and served a scrumptious Thanksgiving dinner from 2 to 5 p.m. Her dishes included lobster soup, traditional roast turkey with cranberry sauce, sweet potatoes and mashed potatoes. Desserts included plum pudding, fruitcake, lady fingers, Charlotte Russe, macarons, ice cream and nuts and candies. Two years later she fell ill and sold the business,
but she landed back on her feet with the Kootenay Café across the border in
B.C., Canada.
Newspaper ads often included terms that made people feel like restaurants run by women were wholesome and homey. In Tecumseh, Oklahoma, the paper noted, "Tables loaded down with good things to eat at Mrs. Webb's" and "Best meals and cleanest tables in town at Mrs. Webb's." Deadwood, South Dakota, had Mrs. Gardner's restaurant and rooming house where the paper reported, "Remember that the place to get your meals and nice furnished rooms is at Mrs. Gardner's." They also noted in March 1881 that she was offering the first radishes of the season along with roasted or stewed chicken and chicken pot pie in addition to her regular bill of fare. She had competition from Mrs. Bryant whose place was popular because it served "good substantial food" that was not surpassed.
Croquettes were popular at many of these restaurants, and now you can try this historic recipe at home.