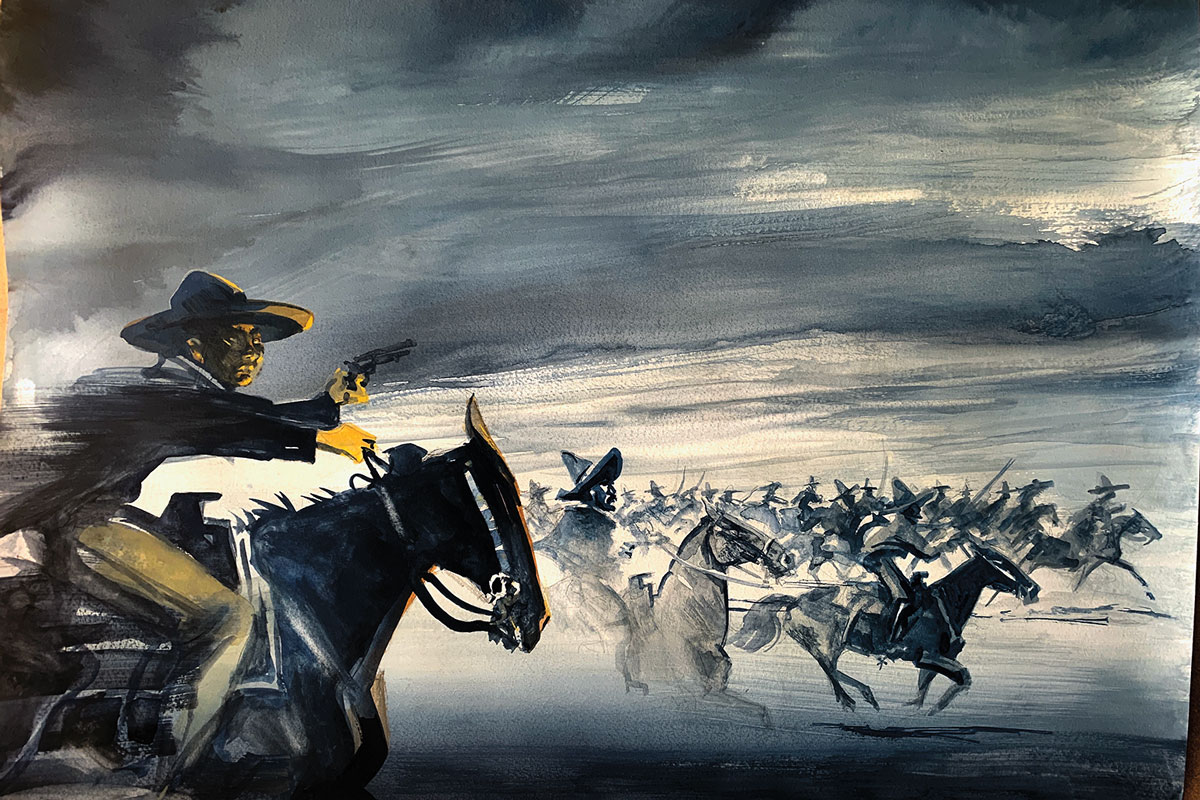 November 1, 1915
Moving into position two miles east of Agua Prieta, Pancho Villa and a force of 6,000 soldiers spread out along a low ridge, shielding them from the fire of the border town defenders. At 1:37 p.m., a vigorous artillery shelling begins with Villa's big guns unleashing round after round on their objective. Several small buildings and a flour mill are hit and set afire. Under cover of the artillery barrage, Villa's infantry advances forward, which draws the fire of the Calles defenders, including their own heavy artillery.
Incredibly, as the Villista infantry troops advance toward a slaughterhouse they veer off to the border fence and beg a line of American spectators for water!
By 3:15 p.m. Villa's second wave of attackers advanced a quarter mile and they also went to the fence and begged for water. The main attack came at 2 a.m., but even the darkness did not protect them as the Carranza defenders utilized searchlights to repel the invaders. By dawn, no attackers had breached the mine-strewn battlefield, or the town itself.
Another attack was attempted on the west side of Agua Prieta on the morning of November 2, but it too was repulsed. Villa and his troops stumbled on to Naco to reassemble, but some 1,400 of his troops deserted him. The battle was over and so was the cavalry charge.
The End of the Cavalry Charge
Pancho Villa was known for his cavalry charges "of unthinking machismo," usually unleashed at around midnight for full surprise effect. After the annihilation of his forces at the Battle of Celaya the previous April—by Obregon, by the way—Villa hedged his cavalry charges at Agua Prieta. Still, 200 Villista horses were killed and left on the battlefield, so some habits die hard.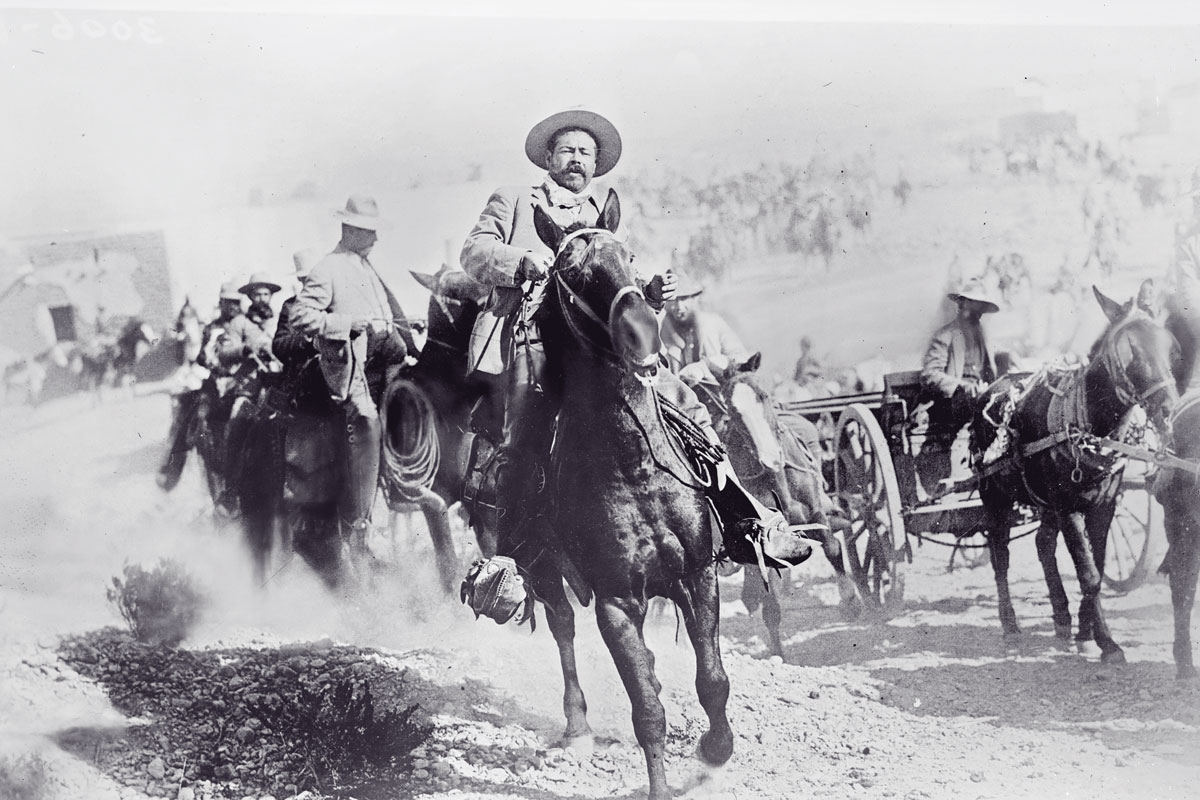 No Stranger to Agua Prieta
In a bizarre prelude to the battle, back in 1914, both Gen. Álvaro Obregón and Gen. Pancho Villa visited the border town together, coming in on the train from El Paso (the same train that brings in the Carranza reinforcements). The two men were allies at that time and they brought their cars along on the train and unloaded them and went to dinners in their honor in Douglas and gave speeches in Agua Prieta. All that changed when Villa broke with Carranza and Obregón sided with Carranza.
But in October 19, 1915, the U.S. recognized the Constitutionalists as Mexico's government. This gave Carranza the legitimacy he needed and Villa was now on the outside looking in. He needed ammunition and he saw Agua Prieta as low-hanging fruit. He would be terribly mistaken at this notion.
All Roads Lead to Agua Prieta
His fortunes in decline, and in need of a win, Pancho Villa mounts an offensive to invade Sonora and capture what he believes to be the poorly defended outpost of Agua Prieta. He intends to then live off the land and take Hermosillo, defeat the rest of the state and then dictate terms to current Mexican president Venustiano Carranza, who is making his life so difficult. Villa leaves Casas Grandes, Chihuahua, with 40 cannons and about 6,000 men on October 18, 1915. His spies inform him there are only 1,200 troops at Agua Prieta and he should take it easily.
On October 22, Joseph D. Lillywhite, a Mormon settler from Colonia Morelos, rides 60 miles in record time to warn the troops at Agua Prieta that Villa is coming.
Reinforcements are brought in by train on the U.S. side of the border, including the 7th and 20th U.S. regiments from El Paso, Texas.
By October 29, 160 cannons and 26 machine guns arrive in Douglas, Arizona, and are carted across the border into Agua Prieta and placed in dugouts and trenches circling the outpost.
On October 30, the vanguard of Villa's troops camp on Texas John Slaughter's ranch and beg for water and strip a field of corn.
On October 31, three trains from El Paso arrive delivering 1,650 Mexican troops to bolster the outpost of Agua Prieta.
On the afternoon of November 1 at 1:37 p.m. the Villa troops begin a "vigorous shelling" of Agua Prieta.
At 2 a.m. on November 2, Villa launches three attacks but by 7 a.m. he is not any closer. He launches a fourth attack on the west side of the town but never penetrates the town. Defeated, Villa and his surviving troops straggle westward to Naco.
The Defenders
Álvaro Obregón, the youngest of 18 children, grew up poor (his father's estate was stolen from him). He became a successful chickpea salesman and later a military leader, outsmarting Pancho Villa at the Battle of Celaya, where Obregón went up against 30,000 cavalrymen with only 12,000 infantrymen, and won, killing 6,000 Villistas and capturing 4,000. Obregón executed all the captured officers (120!) and then lost his arm as Villa attacked again at a hacienda near Leon and a cannon shell took off his right arm. The battle at Agua Prieta will be a rematch and Pancho wants revenge.
General Plutarco Calles built on Obregón's experience at Celaya, constructing extensive fortifications around Agua Prieta with deep trenches, barbed wire and a whole bunch of Hotchkiss machine gun nests. Villa still believed that a swift cavalry charge would win the day in about five hours.
The front machine gun nests were manned by 20-year-old Col. Lázaro Cárdenas, the future 44th president of Mexico.
Slaughter Before The Slaughter
On October 30, 1915, Villa's vanguard camped near Texas John Slaughter's ranch at San Bernardino, on the Mexican side. Several Villa officers rode over to talk to the ex-Tombstone lawman. They asked for provisions but Slaughter told them the 9th Cavalry detachment on his ranch forbade him from selling anything to them from his ranch store. The Villa officers rode away empty-handed, but their Mexican troops later found a Slaughter cornfield and stripped it clean.
Actual Scene of the Battlefield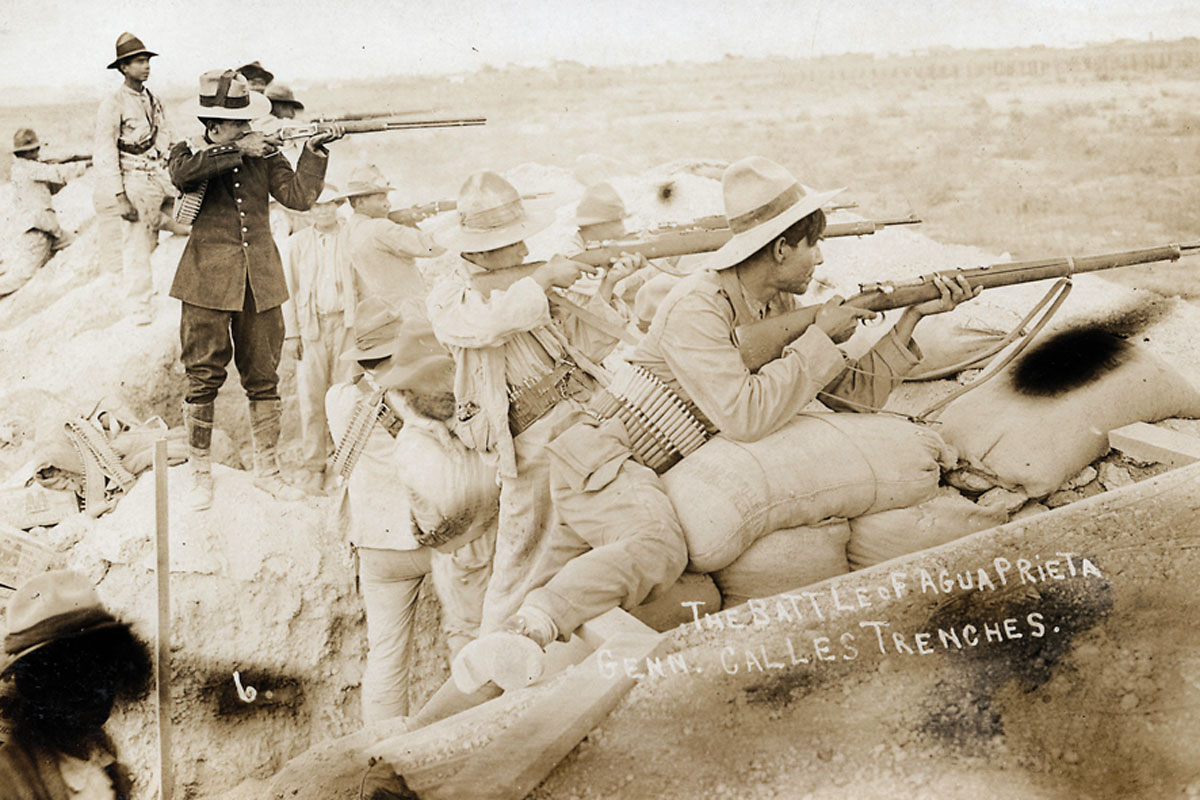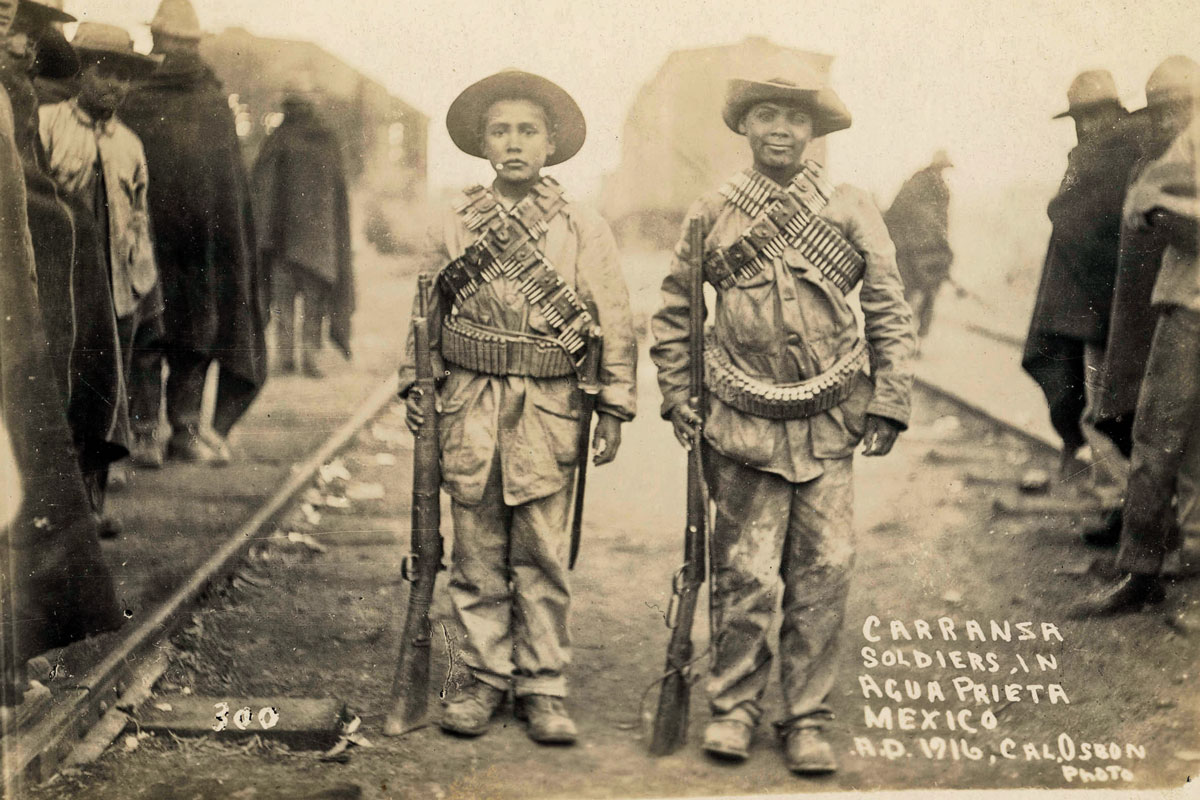 Dispatches
"Reinforcements for Calles have begun to arrive through the United States…the first of nine trains bearing Carranza troops, and equipment from Laredo [Texas] arrived late today for Agua Prieta.
"Further information, concerning Villa forces, was given by Juan Mendoza aged 16, who was wounded in the leg during a skirmish at Gallardo yesterday and brought to the Carranza hospital at Agua Prieta.
"We have had no beans or flour since we left Casas Grandes," the boy declared. "Our food has been just plain vaca—cow." Mendoza declared "the Villa men were tired and hungry."
DOUGLAS, Nov. 1 (11 p.m.)—Corporal M. Jones, Company G. Seventh Infantry, stationed with his company near the United States customs house, was shot through both legs in a sharp firing between 9 and 10 o'clock tonight. The soldier was taken to the Y.M.C.A. building. His wound is not considered dangerous.
DOUGLAS, Nov. 2 (2 a.m.)—The fighting has commenced at 1 o'clock and has grown apace and the bullets from the Mexican rifles are flying over the southern part of Douglas. The artillery bombardment is terrific.
DOUGLAS, Nov. 2 (3:15 a.m.)—Though the firing has abated somewhat there is every indication the fighting will continue all morning. Villa's big guns seem to have stopped and Calles' artillery appears to be, alone, active in this division."
"It was apparent at sundown that Villa had extended his lines to the south and west in an enveloping movement, striving to get to the west of Agua Prieta whence a dash could be made should opportunity afford."
"[General] Calles reported his losses today as eight killed and 24 wounded. He claimed the dash of the Villa troops to the Agua Prieta barbed wire entanglements had been repulsed with a loss of at least 200 to the Villa troops."
One of the Villa attackers, Captain Estrella has been wounded. He crawled over the boundary "west of the slaughter house where he was found by Sheriff Harry Wheeler and taken to the Twenty-Second infantry camp hospital."
—All Dispatches are from The Bisbee Daily Review, October 31 to November 1-2, 1915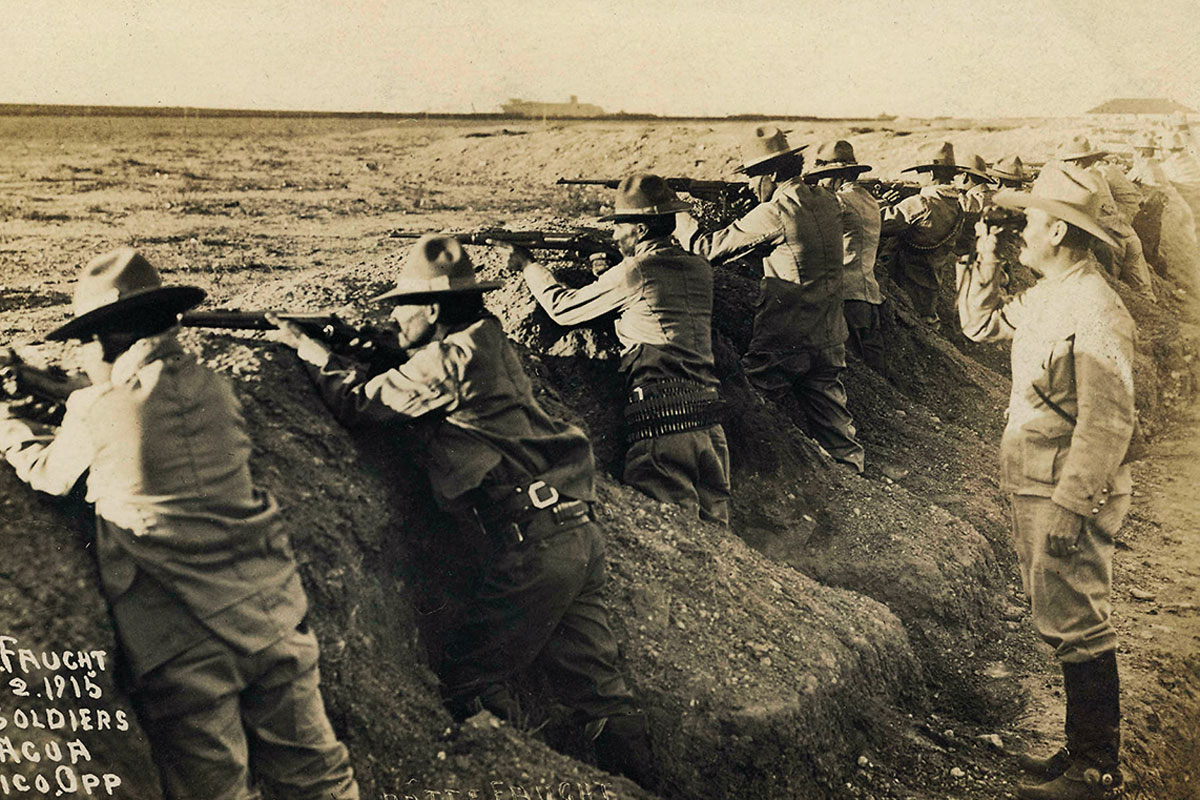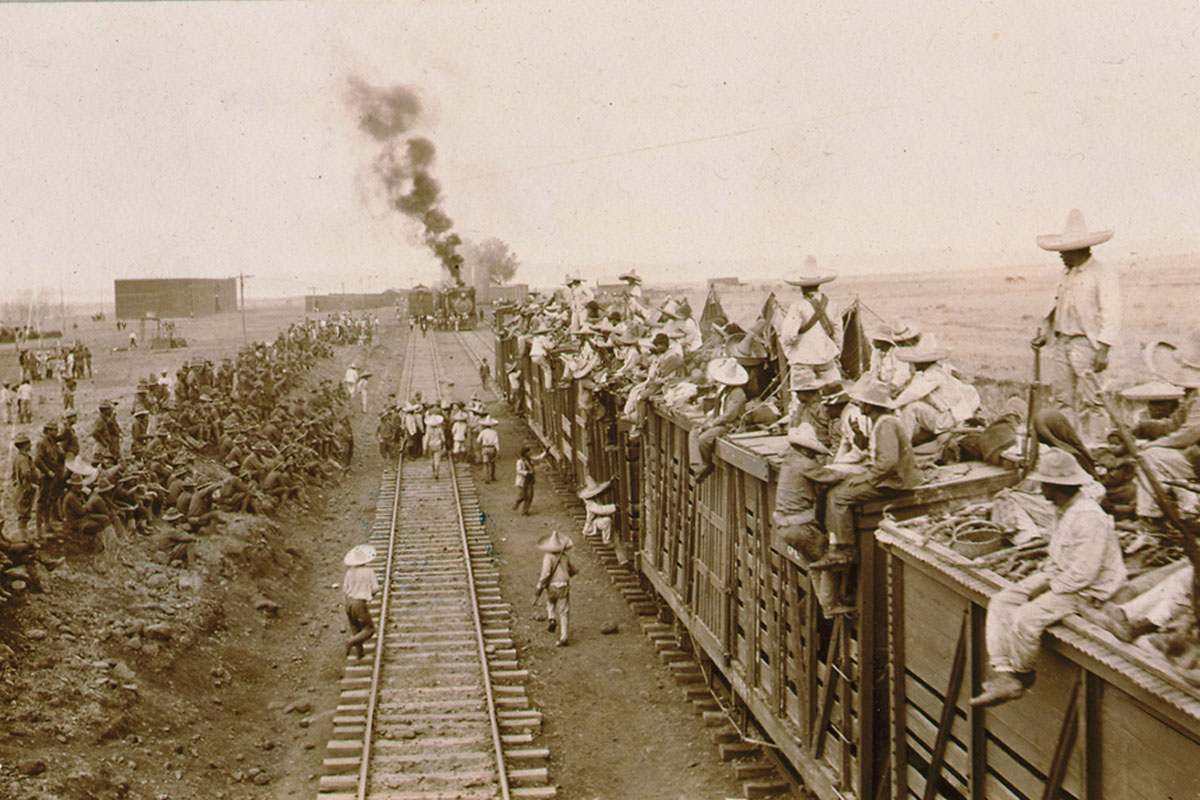 Los Malamigos
The irony of the Agua Prieta fight is that all the combatants are former allies—Villa, Álvaro Obregón (above left), Plutarco Elias Calles and Lázaro Cárdenas. The latter three fighting for Carranza (above, center), face off at Agua Prieta over one of the provisions that no military commander should be eligible to run for the office of president of Mexico. Three of the commanders at Agua Prieta later became president of Mexico: Obregón, Calles and Cardenas.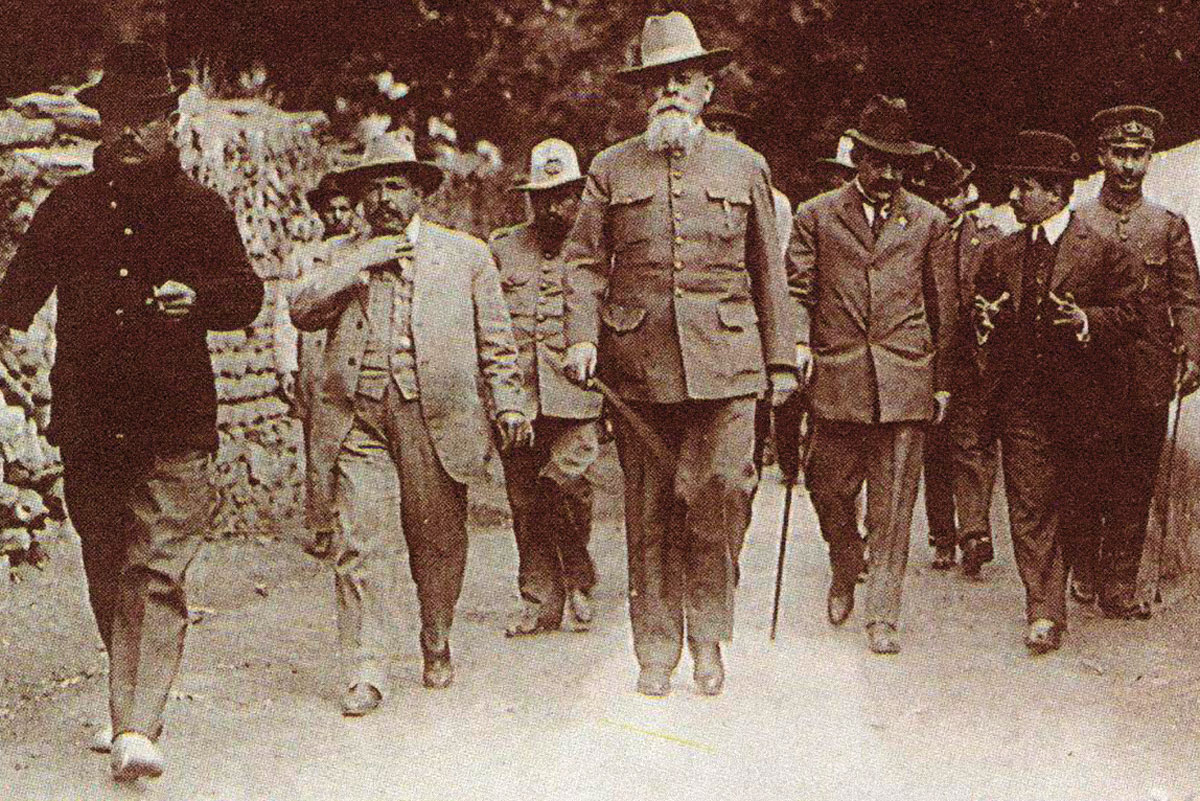 Aftermath: Odds & Ends
After the battle, rumors circulated that the electricity for the searchlights used by Calles and his troops in the fight came from the Phelps Dodge's Copper Queen smelter, but that is not true. Electricity for Agua Prieta did originate from Douglas, but the grid was separate from the smelter.
Douglas residents woke up on November 3rd and many found bullet holes in the walls of their homes. The Gadsen Hotel, the Bank of Douglas and the Phelps Dodge Mercantile all were hit by stray bullets.
Villa and what was left of his command, trudged south to attack Hermosillo but the results there were the same. Defeated and discouraged, the troops turned toward home but they were attacked when they approached the village of San Pedro de la Cueva and several advance guard Villistas were killed. In a rage, Villa executed every male in the village, including the priest.
Still smarting over U.S. involvement, Villa raided Columbus, New Mexico, on March 9, 1916, but by that time the revolution had progressed beyond Villa's grasp and he was eventually assassinated in 1923.
This is an excerpt from the forthcoming book, The Illustrated Life & Times of Pancho Villa by Bob Boze Bell, to be published in 2021.