The once lawless cattle town is now one of the West's most historic Old West destinations.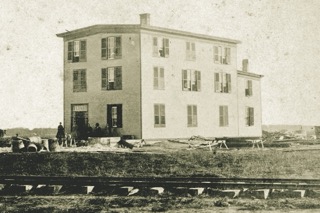 The railhead town of Abilene, Kansas, had a wild range of characters vital to its prosperity on the frontier from the late 1860s into the 20th century. 
Abilene, 150 miles west of Kansas City, was a boomtown from 1867 until 1871, when cowboys drove more than a million Texas longhorn cattle on the Chisolm Trail to its stockyards. From there the cattle were shipped by rail to eastern markets. 
"Abilene was certainly one of the wild and wooliest towns in the West," said Julie Roller Weeks, Abilene Convention and Visitors Bureau director. 
Some of Abilene's key figures included:
 Illinois cattleman Joseph McCoy, Father of the Texas Cattle Trade, who built Abilene's stockyards.
T.C. Henry, the town's first mayor in 1869 and Wheat King, who convinced area farmers to grow winter wheat.
 

Lawmen

Tom "Bear River" Smith

and

Wild Bill Hickok

, who were charged with keeping a lid on the rowdy cowboys and drovers on Texas Street. Smith was killed in 1870 by a homesteader north of Abilene, and Hickok left town, only to be fatally shot in a card game in Deadwood, Dakota Territory, in 1876.

 Years later, Abilene's Dr. A.B. Seelye made a fortune in patent medicines.
Charles Parker, the Carousel King, grabbed the brass ring making amusement park rides and equipment.

 
Of course, Abilene's favorite son was Dwight D. Eisenhower, 34th president of the United States and a leading U.S. Army general during World War II. Ike, as he was later known, was born in Dennison, Texas, in 1890, but grew up in Abilene. 
In a 1945 homecoming speech, he told the crowd: "The proudest thing I can claim is that I am from Abilene."
Abilene celebrates its historymakers, most notably at the Dwight D. Eisenhower Library, Museum and Boyhood Home. He is buried there alongside his wife, Mamie, and firstborn son, Doud.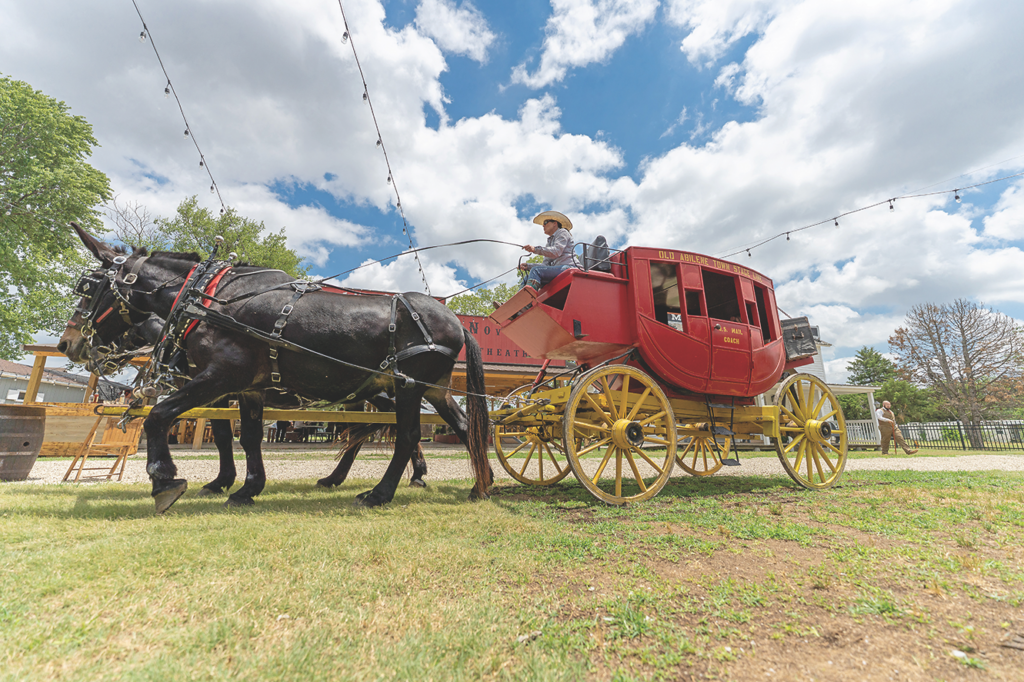 The cattlemen, cowboys, lawmen and misfits of the West are remembered at Old Abilene Town, a 60-year-old recreation of Abilene's wild cowtown era when Texas Street was lined with saloons, gambling parlors, dance halls and boardinghouses. A new version of the Alamo Saloon has the back bar from the original Alamo. 
Visitors on the dusty streets and boardwalk of Old Abilene Town are entertained by cancan dancers and gunslingers staging mock gunfights.
The Great Western Cattle Company Building at Old Abilene has a 1/24-scale model of 1870s Abilene with 40 replica buildings.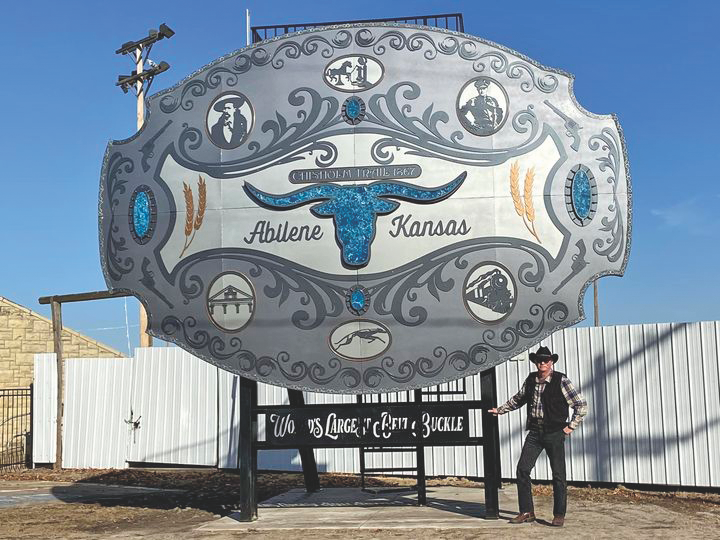 Wild Bill Hickok, although he didn't last long as Abilene's marshal, is still remembered here with the 78th annual Wild Bill Hickok Rodeo, set for August 1-4 at the fairgrounds. 
Another Abilene attraction is Dickinson County Heritage Center, which features history exhibits, a telephone museum and a blacksmith shop. Also, take a spin on a 1901 C.W. Parker Carousel.
Across town, tour the 1905 Seelye Mansion, built by Dr. and Mrs. A.B. Seelye. The family fortune came from selling Dr. Seelye's patent medicines across 14 states, starting in 1890. The beautifully restored home includes a 1920 Steinway grand piano that resident tour guide Terry Tietjens plays for visitors. Guests can also try their luck on a box ball bowling alley. 
If that's not enough, visitors can also track down a 28-foot spur outside Rittel's Western Wear, a dozen pairs of giant, decorated cowboy boots scattered around town and the newest attraction—the World's Largest Belt Buckle. 
"You can't see it all in one day, that's for sure," Roller Weeks said of Abilene's attractions.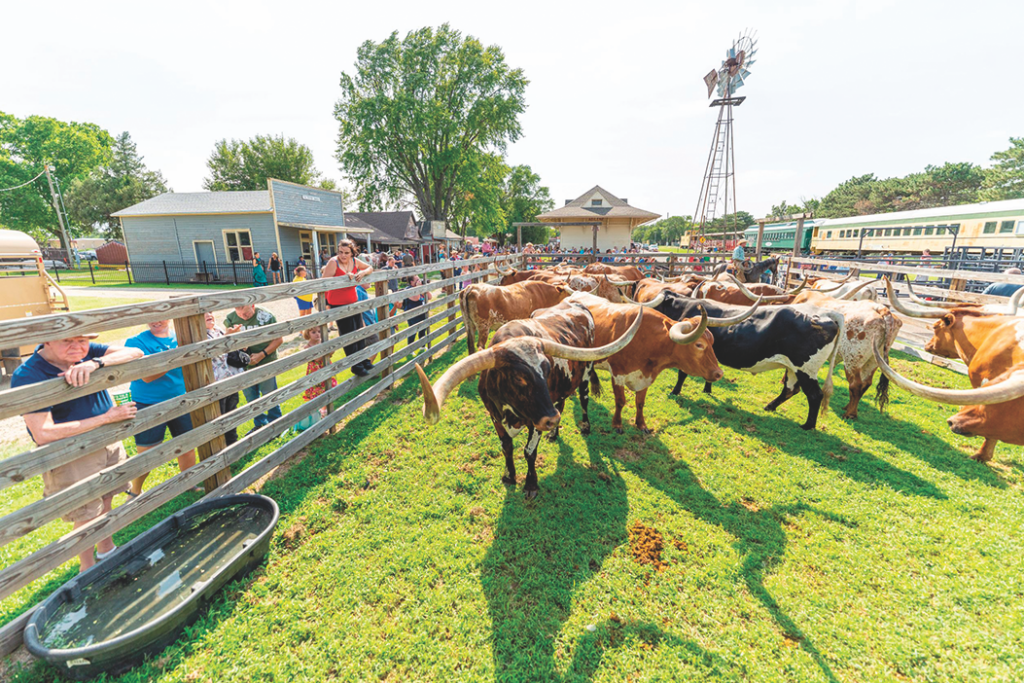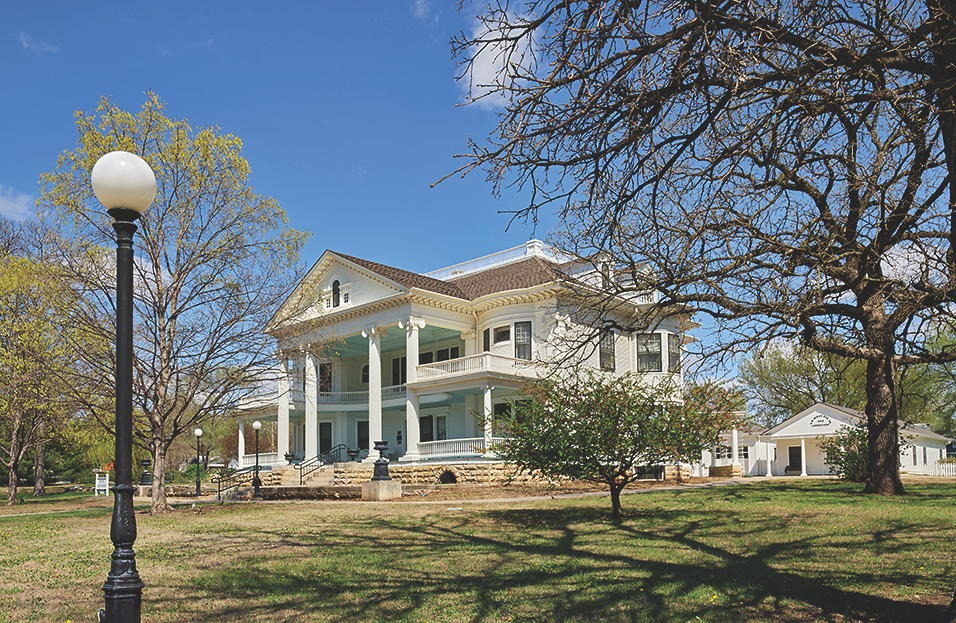 Where History Meets the Highway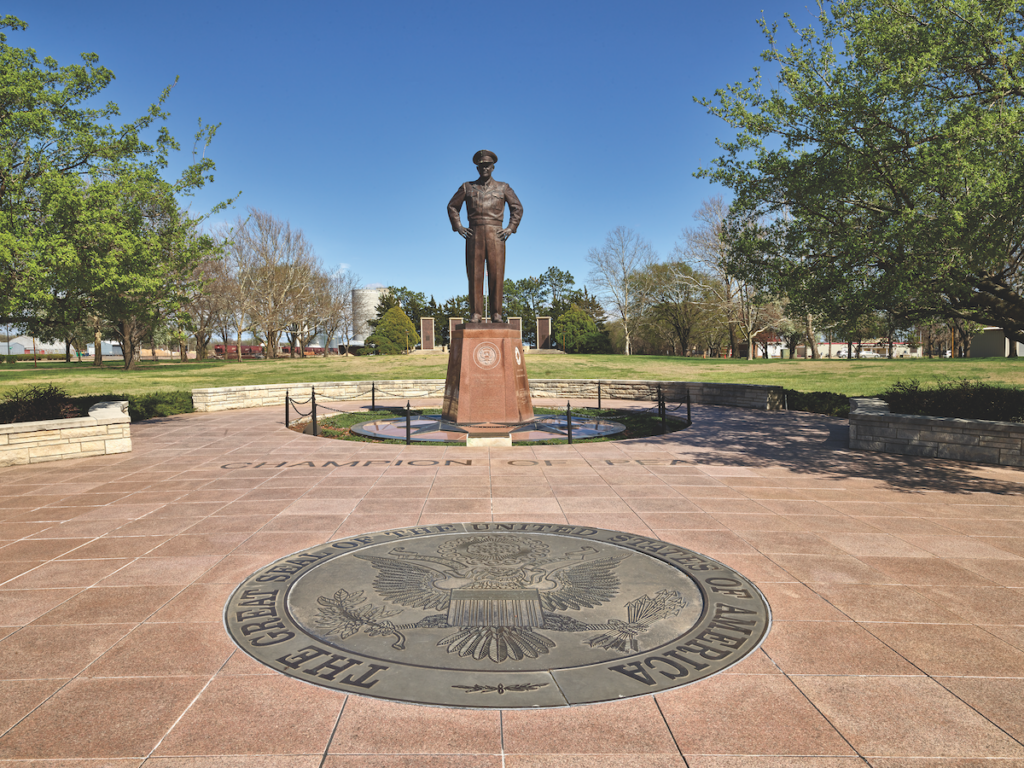 FIRST STOP
Plan your visit at the Abilene Convention and Visitors Bureau in the restored 1928 Union Pacific Railroad Depot, 201 N.W. Second St.
AbileneKansas.org
I LIKE IKE LIBRARY
Set aside a few hours to tour the Dwight D. Eisenhower Library, Museum & Boyhood Home. 
EisenhowerLibrary.gov
RIDE THE RAILS
The Abilene and Smokey Valley Railroad runs on select days from May to October with steam trains, dinner runs and regular tours on a 10.5-mile roundtrip to Enterprise, Kansas.
ASVRR.org
GIANT COWBOY BELT BUCKLE
Abilene has a new roadside attraction touted as the World's Largest Belt Buckle—just shy of 20 feet wide and 14 feet high. Get a selfie with it in Eisenhower Park at Pine and N.W. Fourth streets.  
AbileneKansas.org
HITCH A RIDE TO ABILENE'S PAST
Old Abilene Town presents a sample of the Old West with historic buildings, staged gunfights, cancan dancers, country music and a cattle drive. 
OldAbileneTown.org