Firearms at the Rock Island Auction tell stories of violent days of frontier law and order.
Rock Island Auctions presents firearms collectors with thousands of choices each year. Some of those firearms may not be inherently unique, but they receive their value from the stories associated with their users. In December 2022, firearms linked to both the lawful and the lawless were among the standouts at the Rock Island Company's Premier Firearms Auction.
Theodore Roosevelt's Smith and Wesson New Model Number 3 was shipped to him on May 12, 1898, perhaps arriving in time for him to use it in the Spanish-American War. By that time, he had served as New York City Police commissioner, and not too many years later, he would become vice president and then president of the United States. The provenance of this revolver was enough to gather $910,625, the highest price at the auction.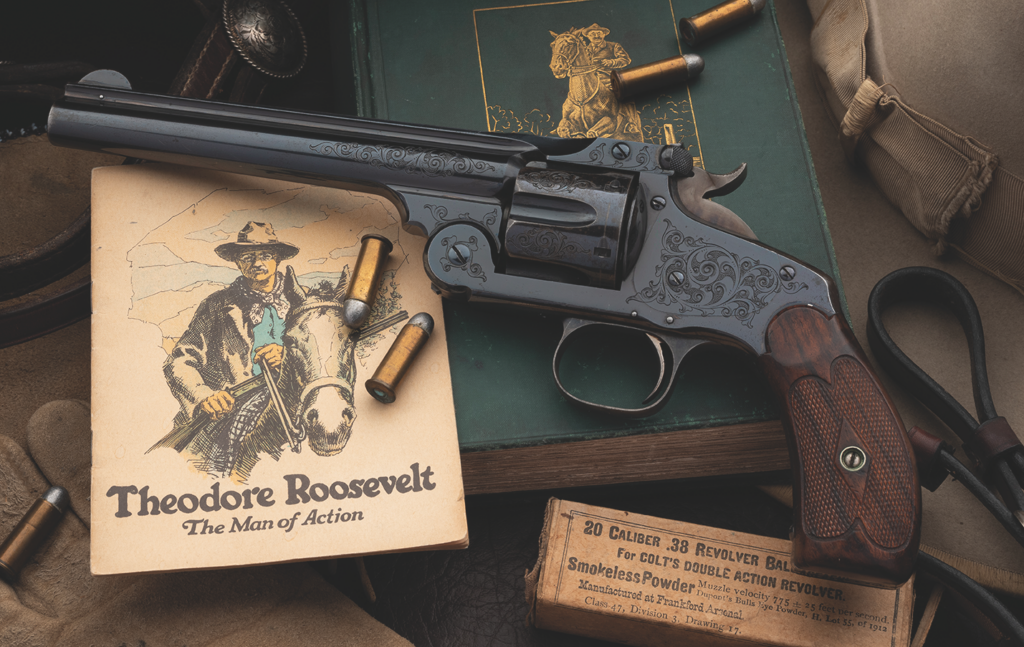 A Smith and Wesson revolver associated with the Sioux War also was sold at the auction. The story accompanying that firearm stated it was used to kill Sitting Bull when he resisted arrest by tribal police during the Ghost Dance. More provenance was needed to definitively prove it, so it sold for just $26,438.
On the losing side of an earlier conflict, the Civil War, Jesse James became one of America's most notorious outlaws. A Smith and Wesson First Model Schofield revolver reported to have belonged to him, with holster, factory letter and other documents, brought $152,750. The Civil War figured prominently in other offerings at the auction. A Burnside Carbine presented by President Abraham Lincoln to Kentucky Congressman John J. Crittenden went for $105,750. The Crittenden story is just one of many poignant stories of families split by the conflict; Crittenden supported the Union while his eldest son fought for the Confederacy.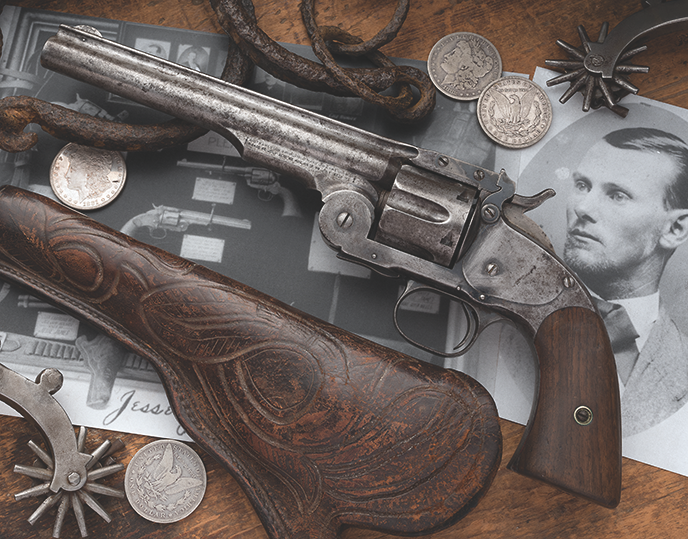 Cowboy D.B. Gardner founded the Pitchfork Ranch in Texas. With an eye to enforcing the law, he also started the Texas & Southwestern Cattle Raisers Association to fight cattle rustlers. His Colt Model 1862 Pocket Navy Conversion Revolver sold for $5,288. Cattlemen, lawmen and outlaws alike used the Colt 45, nicknamed the Peacemaker. The Colt Single Action Army Sheriff's Model revolver was a variation on it. An 1889 model sold for $64,625 at the auction. 
From Theodore Roosevelt to Jesse James, Rock Island's Premier Firearms Auction offered plenty of tantalizing tales of the lawful and the lawless for collectors of the West.
Upcoming Auctions
April 14-15, 2023
Scottsdale Art Auction (Scottsdale, AZ)
ScottsdaleArtAuction.com • 480-945-0225
May 19-21, 2023
Premier Firearms Auction #88
Rock Island Auctions (Rock Island, IL)
RockIslandAuctions.com • 800-238-8022
June 19, 2023
Arms & Armor, Civil War & Militaria 
Heritage Auctions (Dallas, TX)
HA.com • 214-528-3500