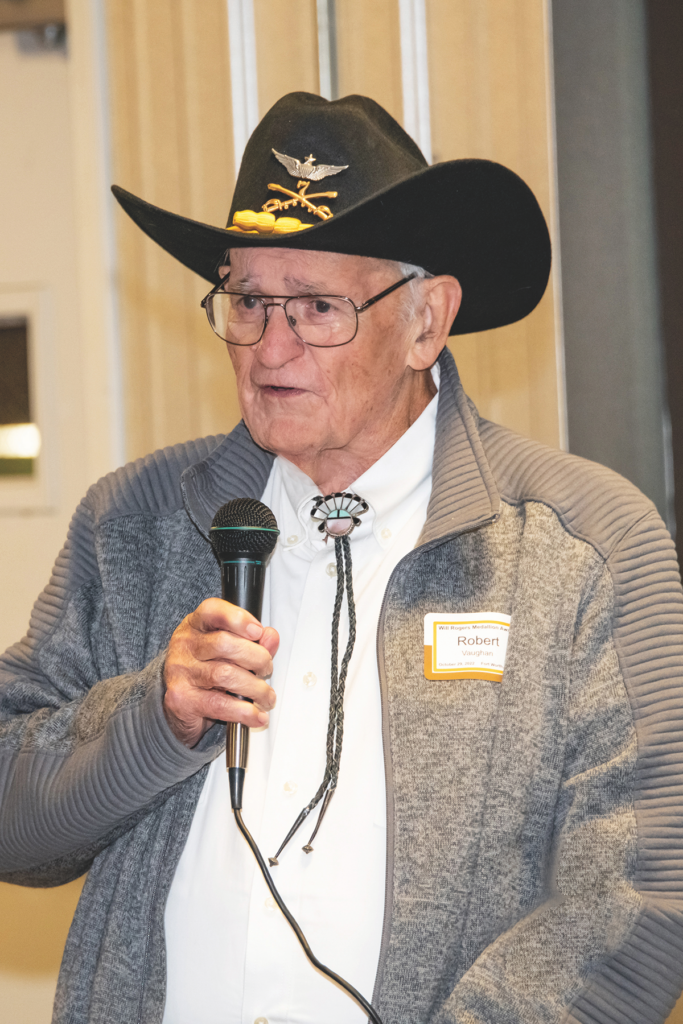 Robert Vaughan, Author
Robert Vaughan sold his first book when he was 19. That was 57 years and nearly 500 books ago. He also wrote, produced and appeared in the History Channel documentary Vietnam Homecoming. His books have hit the NYT bestseller list seven times. Now, known primarily as a Western novelist, he has also written about America's conflicts from the Civil War to Vietnam. His father served in the military, and Robert followed him in the 1950s, entering Army aviation. He lives with his wife, Ruth, in
Gulf Shores, Alabama.
Growing up in Sikeston, Missouri, meant that as soon as we were old enough to have a bicycle, the entire town was open to us, as long as we were back home by the time the streetlights were on.
My dad was a truck driver/owner for most of his life. He was in the Army during WWII, and Mother would put me and my two younger brothers, Tom and Phil, in the car and follow him from Army base to Army base until he deployed overseas.
When I was quite young, I used to attend the Saturday matinees to watch Roy Rogers, Gene Autry, Red Ryder and others. Then, my dad bought the entire series of Zane Grey books, and I was hooked.
My teacher, Mr. Robert Walker, made the biggest impact on my education. It was from Mr. Walker that I developed a thirst for research. It was also from Mr. Walker that I developed a rather significant ability as a public speaker.
I cannot remember when I didn't want to be a writer. 
If I could speak to Mark Twain, I would have him tell me how his growing up on the Mississippi River in Hannibal, Missouri, influenced his early writing career. I've always related because I grew up very close to the Mississippi and was always fascinated by watching the great barges and river boats ply its waters.
I'm not sure how many pseudonyms I used, considerably over 20, I'm sure. 
The draft was in full swing when I graduated from high school, and every young man realized that we would have to deal with it. Rather than face the draft, I joined the Army, and discovered that I very much liked it. 
Before my first deployment to Vietnam, I was in Korea as an NCO, then after receiving my appointment to Warrant Officer, I was with the 7th Cavalry (Custer's Own) in Germany. I loved my time in the 7th, and became historical officer for the regiment. 
I got tremendous satisfaction from flying helicopters during combat missions, and received the Air Medal with the "V" device for valor. But I also flew in Germany and at Fort Eustis, Virginia, where I taught maintenance test flight procedures. 
Like writing, flying had always been a boyhood ambition for me. During WWII there was an Army Air Corps training base in my hometown, and the sky was always full of the blue and yellow training planes. I'm sure that's where my love of flying first developed.
My first published novel was Girls of Carnation House, set in Korea, and to my total surprise, it sold to Saber Books, the first publisher I sent it to. 
I'm not sure you can inspire someone to develop a writing discipline. I, and almost every writer I know, write because we are driven to it. We can no longer go a day without writing, than we could go a day without brushing our teeth. I once heard this referred to as "A Divine discontent to write," and that works for me.
Westerns are loved all over the world. It is the quintessential story of good versus evil. 
My current marriage is at 48 years and counting, and I consider myself blessed to have found a lifetime mate.
What history has taught me is that studying history can provide a guideline (think of it as GPS) for how best to live your life. And, in this case I am speaking, both of the history of mankind and one's personal history. I am a great believer in the old saying: Those who do not know history's mistakes are doomed to repeat them.