Tap Duncan vs. Bill Hayes
"You can have Idaho, but you S.O.B.sbetter not follow me to Arizona."
Maps & Graphics by Gus Walker. Based on the research of Mary Hall-Bailey and Tap Lou Duncan Weir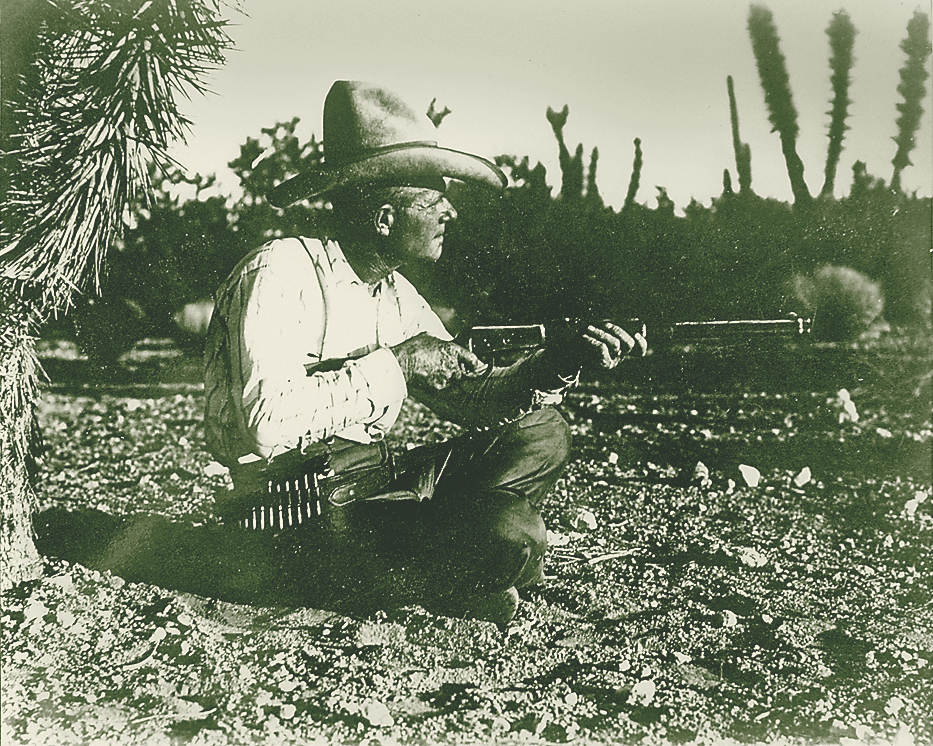 October 15, 1894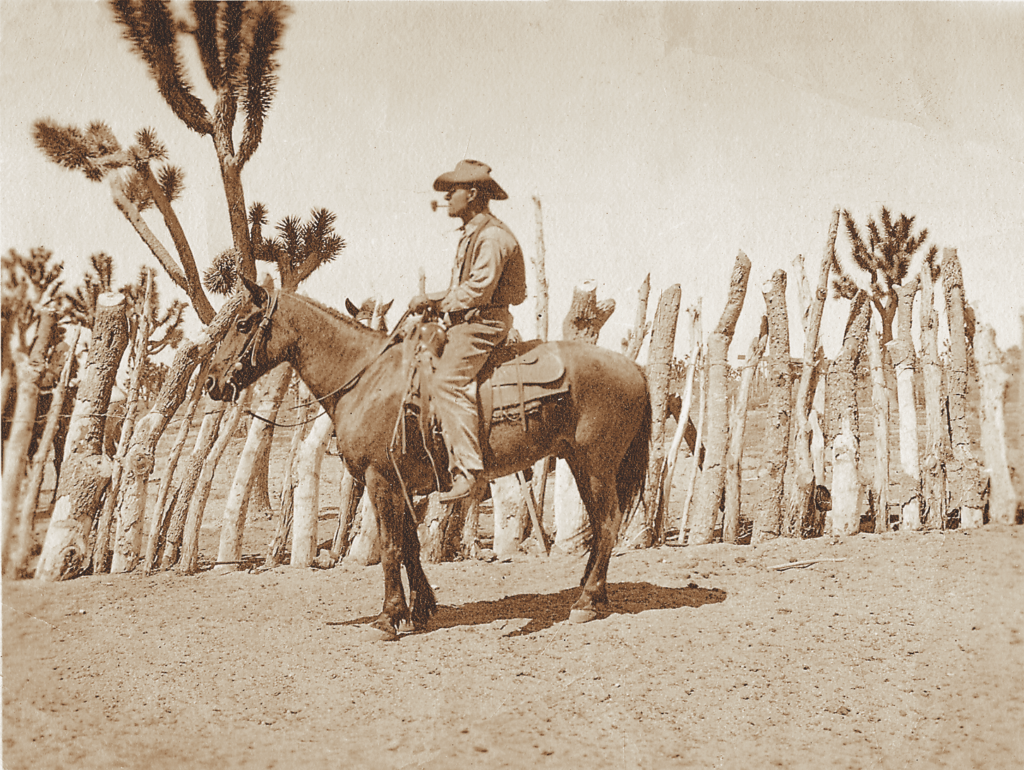 A political rally is being held in Tucker's Saloon in Bruneau, Idaho. After the speeches have finished, words are exchanged between two well-known local cowboys, Taplin Duncan and William Hayes. The two decide to go outside to settle their differences. 
As Duncan walks through the swinging doors, he hears a pistol being cocked behind him. Realizing he is about to be shot in the back, Duncan pulls his pistol and turns, shooting three times. Hayes gets off three shots himself. Duncan, described by a newspaper as an expert shot, fires three more times, hitting Hayes all three times near the heart. 
Hayes fires three times as well, hitting Duncan in the belt buckle, which slows the bullet as it goes under the skin and slides around to lodge in his back. 
Duncan, wounded in the gut, escapes, while Hayes attempts to run toward a door about 10 feet away, only to fall dead on the doorway step.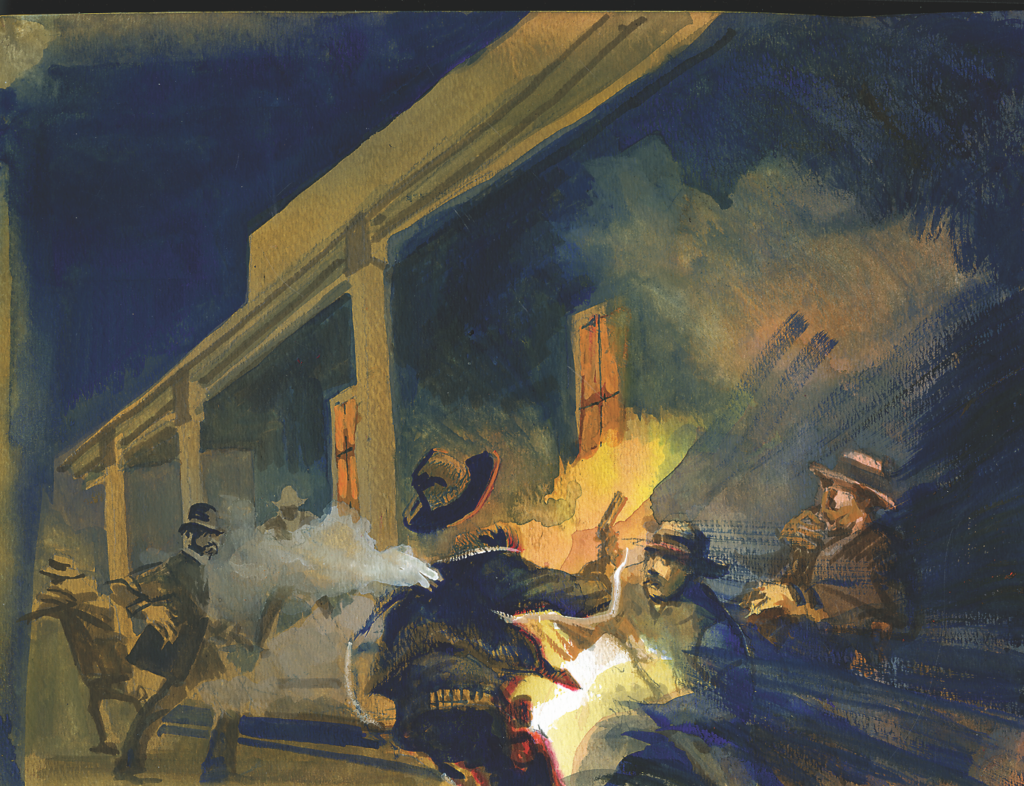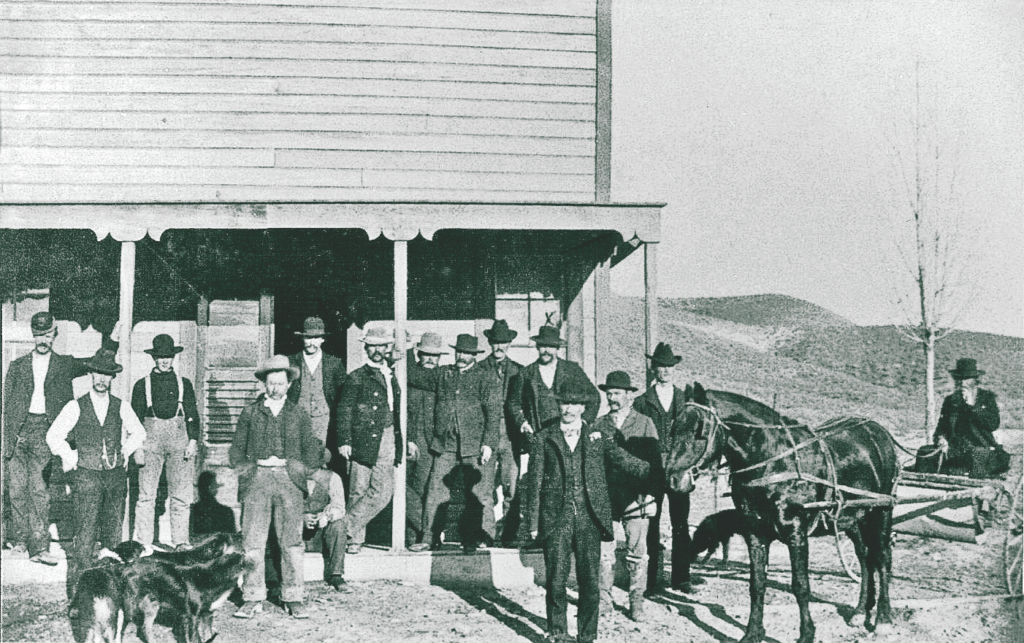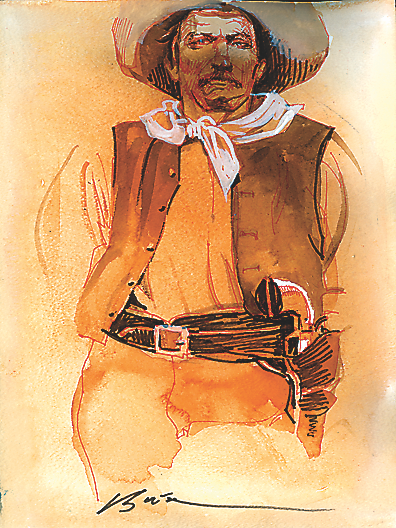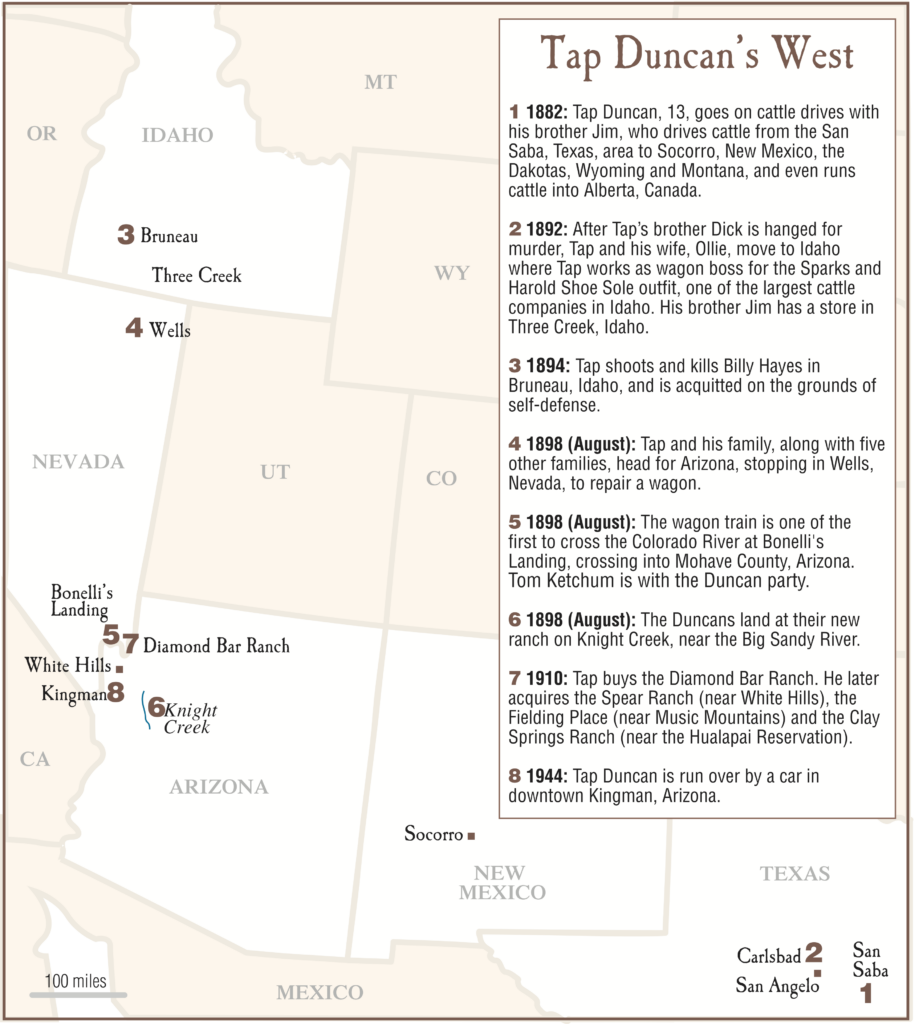 Aftermath: Odds & Ends
A hearing was held at Tap Duncan's bedside on October 22. The court was "led to believe that William Hayes called the defendant out with the intention of killing him and that the defendant did the killing in self defense and therefore the court ordered the defendant discharged," Justice of the Peace William C. Schenck recorded in his ledger.
According to Duncan family lore, the dead man's son was being groomed to avenge his father's death. Duncan didn't want to kill a mere boy, so he went to the family and told them he was leaving the state, saying as he left: "You can have Idaho, but you S.O.B.s better not follow me to Arizona."
Duncan purchased a new wagon to transport him and his wife, loaded their goods and herded a string of saddle horses toward Arizona. (According to Hayes family lore, Duncan stole the horses.) After stopping in Wells, Nevada, to fix the wagon, the Duncan wagon train crossed the Colorado River at Bonelli's Landing and headed into Arizona's Mohave County. Duncan often told the story that as the wagon train came through the towns of White Hills and Chloride, one of the cowboys would ride wide around the towns and meet the wagon on the other side. His name was Tom Ketchum.
Duncan acquired a reputation as a promoter (he cut a deal to have Buster Keaton film five shorts on his ranch in 1925). Over the years, he received many visitors, including legendary writer Louis L'Amour, who claimed Tap Duncan taught him everything he knew about "cowboying."
Duncan was run over by a car just off Route 66 in Kingman and died in 1944.
Recommended: Bruneau Then and Now: A History of Bruneau, Idaho, 1811-2010 by Mary Hall-Bailey, published by Caxton Printers.