The latest biography of Daniel Boone, plus new bios of Doc Holliday and Buffalo Bill, and histories of the Chiricahuas and California good-time girls.

 
Bob Drury and Tom Clavin make an excellent writing team and have found success in recent years with their creative collaboration, including their best seller The Heart of Everything That Is: The Untold Story of Red Cloud, An American Legend (2013). Most recently they have tackled together the American Revolution with Valley Forge (2018) and World War II with Lucky 666: The Impossible Mission That Changed the War in the Pacific (2016). I am not sure why they decided to return to American 18th- and early-19th-century history with Blood and Treasure: Daniel Boone and the Fight for America's First Frontier (St. Martin's Press, $20.99), but it might have been that together and separately they have found success in big-concept, narrative popular history books and biographies that toggle between different centuries of America's past, and can be broadly marketed to hit target audiences.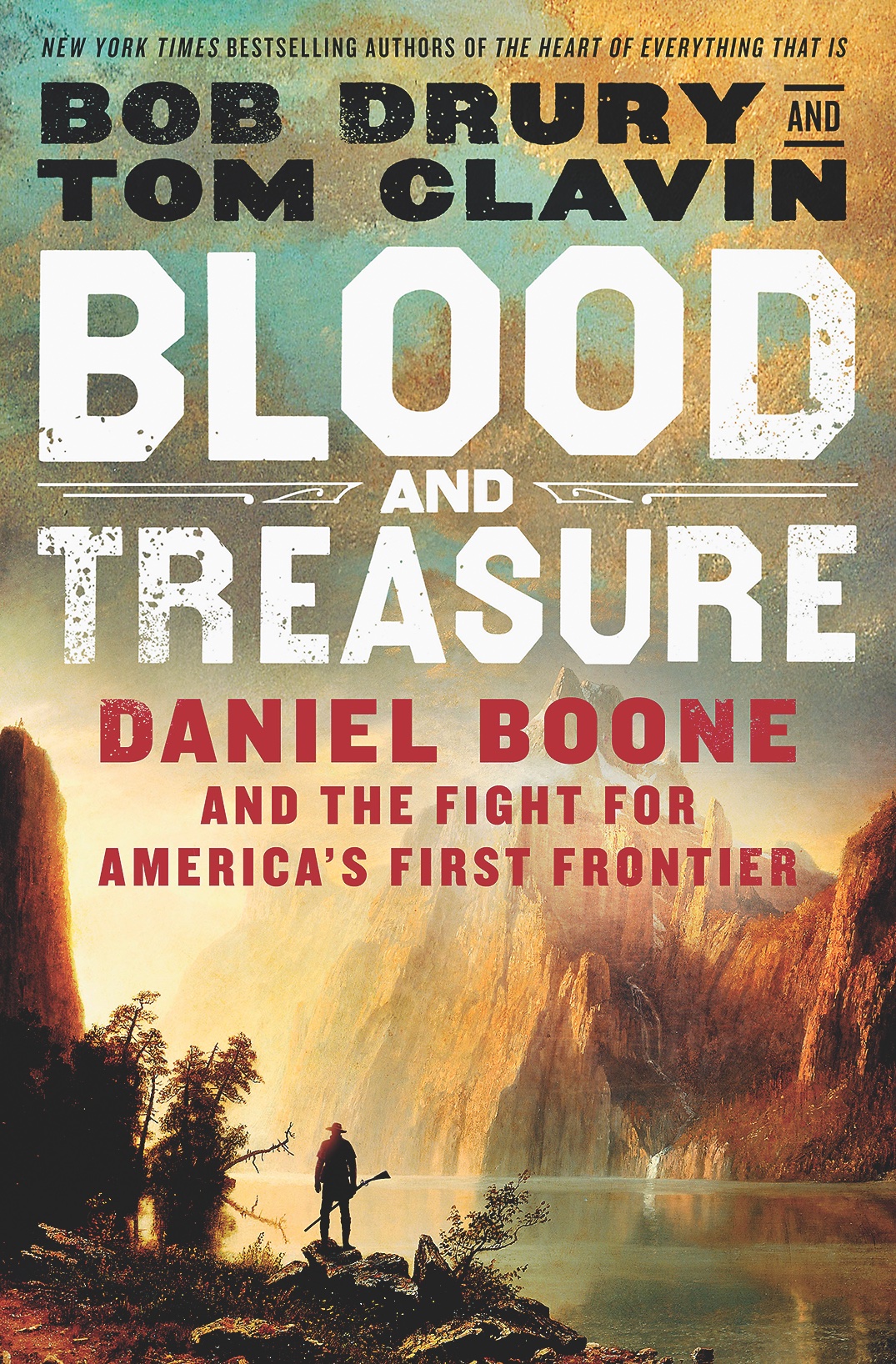 Readers of Blood and Treasure who are not familiar with Daniel Boone, or have not read another biography of the legendary American frontiersman, will walk away with a mixed message: Is it a biography of Daniel Boone or an amalgamated condemnation of Frederick Jackson Turner's Frontier Thesis, American-Indian relations in the New World (although the Spanish, French and Portuguese receive little coverage) and Euro-imperial conquest of the New World? As a historian, I prefer my biographies straight-up, and this is definitely not what readers will discover in the pages of Drury and Clavin's Blood and Treasure. I know they have a good formula going at St. Martin's Press, and I applaud them for their success and notoriety, but they need to pull back, in my opinion, to what made them successful in the first place: good solid, popular history that avoids political correctness and over-contextualizing. I also believe that if publishers are not going to include footnotes or endnotes, they should not add little asterisked, briefly annotated authors' notes throughout the book instead of finding a way to incorporate them into the narrative. 
I was also particularly offended by the use of the word infestation to describe white settlement in North America. I believe the use of infestation to describe human beings anywhere at any time in history weakens the narrative of a history book. Choosing a different noun—like the word invasion or something similar—that does not carry such a history of prejudice, is more appropriate and would not have detracted from Drury and Clavin's outstanding storytelling. 
I do recommend True West readers continue to support and read Drury and Clavin, including Blood and Treasure, despite my critique. They are a successful for a reason: they write excellent historical narrative and are extremely adept at finding great topics and subjects to cover. I am always eager for their next book, whether written together and individually. 
—Stuart Rosebrook
Doc in Life and Images
Victoria Wilcox, author of the celebrated Southern Son trilogy of books about the life of Doc Holliday, has released her first nonfiction book on the dentist turned gambler. Packed full of images, Wilcox's The World of Doc Holliday: History and Historic Images (TwoDot, $25.50) follows Holliday's life from his earliest years in Georgia through the rowdy Kansas cowtowns and into the Rocky Mountain West. Wilcox admits that her book is a different kind of history on Holliday, however. "[It is] a travelogue of his adventures, filled with images and anecdotes about the people and places that filled his world." Wilcox is right. Reading The World of Doc Holliday sets the reader on an adventure, and not since Bob Boze Bell's The Illustrated Life and Times of Doc Holliday (1993) has there been a book such as this to complement the stout biographies of Holliday such as Dr. Gary L. Roberts's monumental Doc Holliday: The Life and Legend (2007).  
—Erik J. Wright, author of West of Hell: The Badmen, Hardcases & Intrepid Lawmen Who Made the West Wild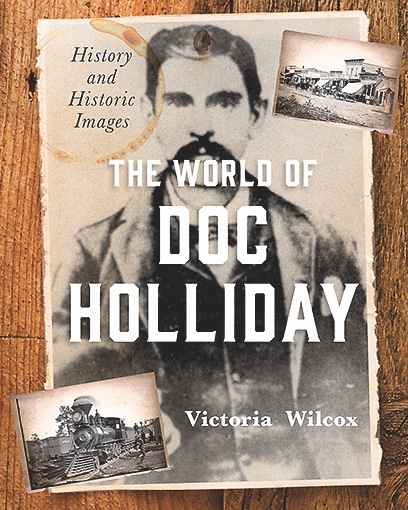 A Man of the People
William F. Cody created Buffalo Bill's Wild West for general audiences. As Kellen Cutsforth explains in his "Introduction," Buffalo Bill and the Birth of American Celebrity (TwoDot Books, $29.95) is not an academic treatise. Like Buffalo Bill's Wild West, it is a book for general audiences. As such, it provides a very readable narrative that keeps the reader's attention from beginning to end. Despite its conversational style, the book does not drop the ball when it comes to providing solid information about Buffalo Bill and his Wild West. A relatively short book, it could be considered an introduction to Buffalo Bill, providing an overview of his life that will stimulate the reader to seek out some of the more in-depth examinations contained in Cutsforth's bibliography. 
—Steve Friesen, author of Buffalo Bill: Scout, Showman, Visionary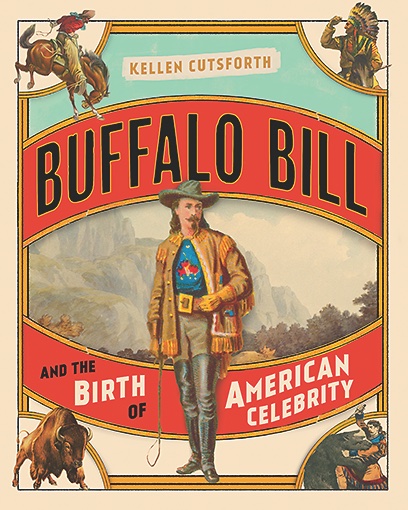 Cochise's People of the Southwest
Bill Cavaliere's The Chiricahua Apaches: A Concise History (Herpetological Publishing, $15.95), an easy-to-read history of the Chiricahua Wars includes a graphic account of almost every incident and battle. Remaining true to the history, the account is balanced showing the concerns of and suffering experienced by both sides. A friend of historian Ed Sweeney, Cavaliere reflects his respect for the Apaches and their leaders, especially those in the family of Cochise. While historians might fault the work for failing to expound at length on causes of conflict, this is a wonderful book for those with a casual interest in the Chiricahuas and an excellent quick reference for the serious historian who needs to keep his timeline straight. There are many color photos of the land where these people lived as well as historic photos.
—Doug Hocking, author of Tom Jeffords: Friend of Cochise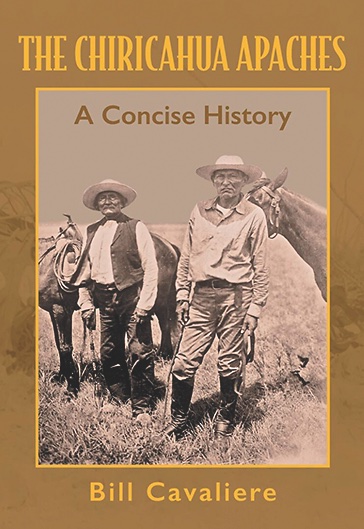 Golden Girls
Not every prostitute in Gold Rush California lived a difficult life. Certainly, many lived in squalid conditions and died young, but Jan McKell Collins's Good Time Girls of California (TwoDot, $19.95) wore fancy dresses and caused a stir with the "proper" women who wanted dresses as beautiful as what the "harlots" wore. With the Gold Rush came thousands of miners and right behind them came women looking to make a better life and grand profit. Good Time Girls explores the lives of several of the better-known women, including Cora Phillips, and a few lesser-known prostitutes, including the Chinese sex workers, whose roles in this illicit trade help shape our understanding of the American West. This well-researched, entertaining look at women in the world's oldest profession, is well worth a place on your shelf.
—Melody Groves, author of When Outlaws Wore Badges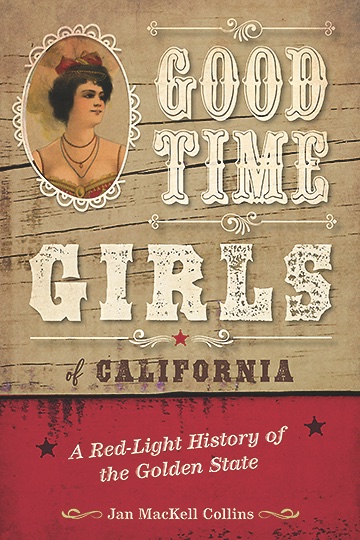 Rough Drafts
Western Writers of America 2021 Spur Award-Winners
Robert M. Utley's The Last Sovereigns: Sitting Bull and the Resistance of the Free Lakotas, published by the University of Nebraska Press, won for Best Historical Nonfiction. It is the 91-year-old "Dean of Western History's" fourth Spur. 
Winners and finalists are scheduled to be honored June 16-19.
Congratulations to this year's winners in the following categories:
Best Historical Nonfiction: The Last Sovereigns: Sitting Bull and the Resistance of the Free Lakotas by Robert M. Utley (University of Nebraska Press) 
Biography: Tecumseh and the Prophet:
The Shawnee Brothers Who Defied a Nation by Peter Cozzens (Alfred A. Knopf)
Mass-Market Paperback Novel: A Thousand Texas Longhorns by Johnny D. Boggs (Pinnacle/Kensington) 
Historical Novel: All Things Left Wild
by James Wade (Blackstone Publishing)
Romance Novel: Midnight's Whisperer
by Tom Lowe (Kingsbridge Entertainment)
Traditional Novel: Like Rum-Drunk Angels
by Tyler Enfield (Goose Lane Publications)
Short Nonfiction: A three-part series "Daniel Boone's Life in the Far West: An Inquiry into his Alleged Yellowstone Hunt" by Ted Franklin Belue (Muzzleloader magazine)
Documentary Script: Charlie Russell's Old West by Paul Zalis (Montana PBS).
First Novel: Winter Counts by David Heska Wanbli Weiden (Echo/HarperCollins)
First Nonfiction Book: Laura J. Arata's Race and the Wild West: Sarah Bickford, the Montana Vigilantes, and the Tourism of Decline, 1870–1930 
For a complete list of winners and finalists in all categories, visit WesternWriters.org.
—Stuart Rosebrook
Building your Western Library
Award Winning Texas Author Shares Her Love of Western History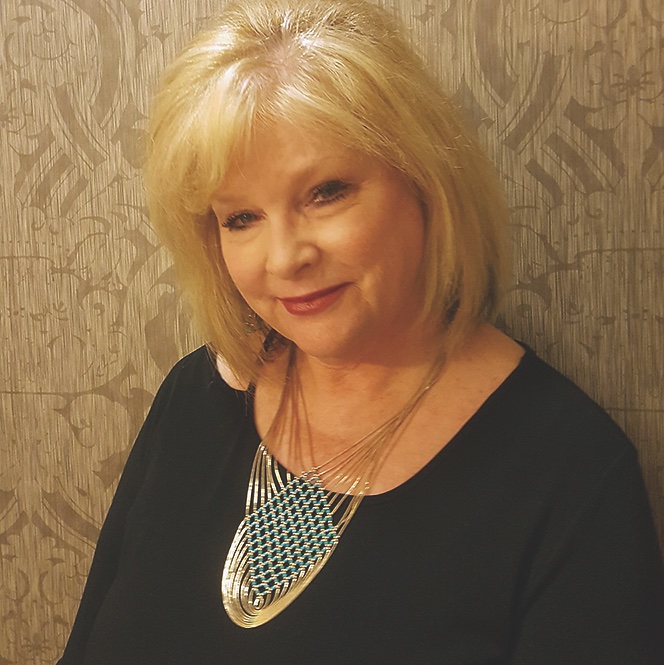 A two-time Spur Award-winner, Jane Little Botkin turned to historical investigation and writing after 30 years of teaching English to high school seniors. Though a lover of Texana (her Western library consists of 350 volumes), her own books have been biographical, often involving Western labor. Recently released is The Girl Who Dared to Defy: Jane Street and the Rebel Maids of Denver. Botkin is currently researching Wyoming lawman Hank Boedeker and his relationship with Butch Cassidy. Here are five books she recommends:
1 A Darkness Lit by Heroes: The Granite Mountain-Speculator Mine Disaster of 1917 by Doug Ammons (Water Nymph Press): This award-winning narrative, using newly discovered eyewitness testimonies, rebuts traditional stories about the worst hard-rock mining accident in American history.
2 Border: The U.S.-Mexico Line by Leon Claire Metz (Mangan Books): What Metz calls an "untold story of lines drawn in water, sand, and blood, of an intrepid, durable people," this historical accounting is a timely contextual study for the 21st century. 
3 Copper Camp: The Lusty Story of Butte by the Writers Project of Montana (Montana State Dept.): Copper Camp contains stories about Butte during the height of copper mining in the late 1800s and early 1900s, providing rich context for authors and lovers of Montana history. 
4 The Corpse on Boomerang Road: Telluride's War on Labor 1899-1908 by MaryJoy Martin (Western Reflections Publishing Company): Martin's research reveals that the Western Federation of Miners (WFM) was not the mythological union of villains and assassins during Colorado's labor wars. 
5 The Women's West by Susan Armitage and Elizabeth Jameson (University of Oklahoma Press): This collection of articles rejects one aspect of traditional Western history on the 19th-century frontier. Here, pioneer women are actors in their own lives, not passive participants.
Telling Tales out West
Short story and essay collections are great for summer reading.
With the recent passing of Larry McMurtry (see Johnny D. Boggs's memorial, page 40) and the early April release of Ken Burns and Lynn Novick's PBS series Ernest Hemingway, we have been reminded of the power of well-written short stories and essays. Both Pulitzer Prize-winners, McMurtry and Hemmingway are regarded as two of the best 20th-century American writers, although most critics would agree that McMurtry's body of work as an essayist surpasses Hemingway's nonfiction, and Hemingway is considered one of the greatest short-story authors, a category in which McMurtry rarely, if ever, wrote. So where do you start this summer? Why not with Hemingway's Men Without Women (Scribner) and McMurtry's Roads: Driving America's Great Highways (Simon & Schuster). Guaranteed, you will soon have more Hemingway and McMurtry on your shelves waiting to read this fall!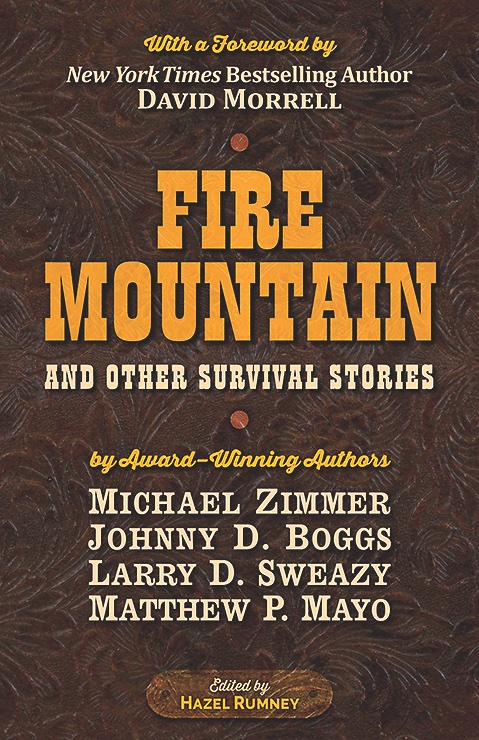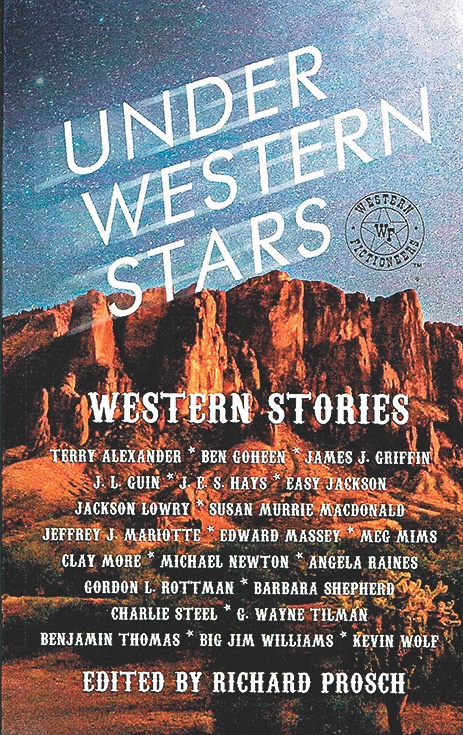 Currently, we have to thank Western publishers for a recent renaissance in releasing Western short stories and essays. The two short forms of fiction and nonfiction are perfect to throw in your bag or backpack during summer travel, and for modern, minimalist travelers, most of these collections can be read as e-books. 
The most recent collection of short stories to hit my desk is Fire Mountain and Other Survival Stories by Michael Zimmer, Johnny D. Boggs, Larry D. Sweazy and Matthew P. Mayo (FiveStar). Edited by Hazel Rumney, with a foreword by David Morrell, the book will be released on June 23. A great companion to Fire Mountain is Five Star's 2020 collection of Western short stories, Hobnail and Other Frontier Stories: A Century of the American Frontier, also edited by Rumney. Also from 2020 is Richard Prosch's finely edited Under Western Stars: Stories by the Western Fictioneers (Western Fictioneers), which earned a WWA Spur Award in Short Fiction for Kevin Wolf's "Belthanger." From Wolfpack, I also recommend John D. Nesbitt's recently published West of Dancing Rock & Other Western Stories.
I also have to tout the spectacularly illustrated Men's Adventure Quarterly: The Most Wanted Wild West Issue, Volume 1 edited by Robert Deis and Bill Cunningham with guest editor Paul Bishop (Subtropic Productions, LLC). If you love the graphic, over-the-top fiction and nonfiction from vintage men's adventure magazines, then this is one fun collectible you need to read this summer.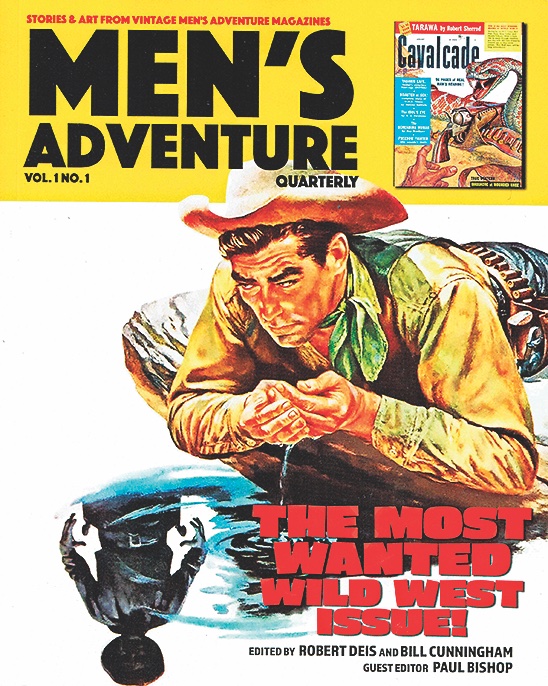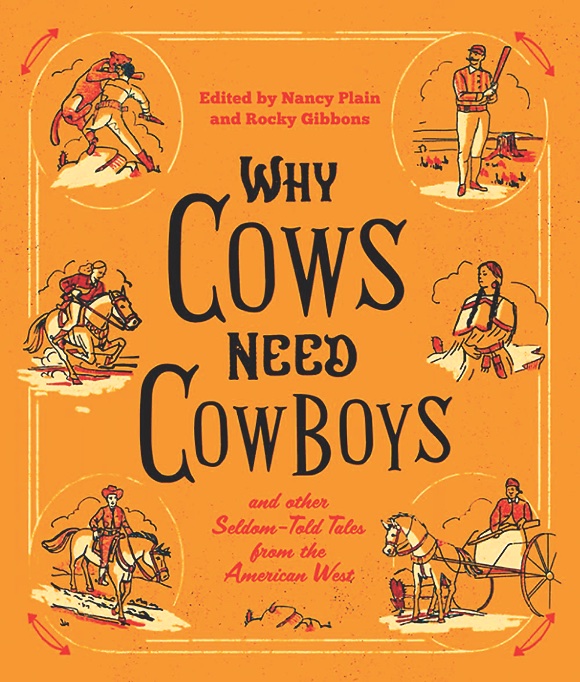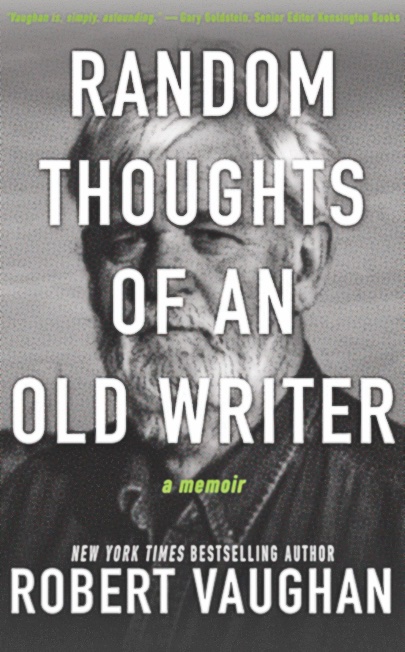 For fans of short form Western nonfiction, hot off the press and ready for summertime R&R is Why Cows Need Cowboys and Other Seldom-Told Tales from the American West edited by Nancy Plain and Rachelle "Rocky" Gibbons (TwoDot). Contributors are a who's-who from Western Writers of America and the volume's essays cover the arc of history from ancient times to the present.
Two other timely books of essays just published on writing and the West are perfect for fans of McMurtry's essays: Robert Vaughan's Random Thoughts of an Old Writer: A Memoir (Wolfpack) and Rick Bass's Fortunate Son, Selected Essays from the Lone Star State (University of New Mexico Press). 
Happy Trails and Happy Reading!