Bouncing Back After a Year of Online Displays, Curators Eagerly Await Visitors.
After more than a year of COVID-19 restrictions, Western art museums are opening their doors—not just online exhibits and presentations on Zoom—revealing what they have been illustrating for decades: That art of the American West—past and present, created by men and women of all cultures—remains alive, vibrant and relevant and continues to grow.
What follows are the best art museums.
Top Western Art Museums of the West 2021
The Brinton Museum (Big Horn, WY)


For the second year in a row, the Brinton Museum of Big Horn, Wyoming, is the top Western art museum of the year. Brinton Museum, Big Horn, WY
Courtesy Wyoming Office of Tourism

No surprise that The Brinton repeats as the Western Art Museum of the Year. Located on a picture-perfect historic property, The Brinton is more than just an art museum, as evidenced by its plethora of historical presentations, concerts, artist-in-residence shows, birding programs and art camps. The museum—including an 1892 ranch house that was expanded in 1927-28 and a modern, 24,000-square-foot, three-story facility housing centuries of great art—opened 50 years ago.

"T. Allen Lawson: Recollections and Reflections" (through September 5) brings the work of the Wyoming (and part-time Maine) artist who first showed at a museum, The Brinton, in 1999.

We're looking forward to "The Graveyard Shift" (October 23-December 19), in which guest curator Tony Hochstetler invites 15 artists to present interpretations of old headstones through oils, pastels, photographs, etc.

TheBrintonMuseum.org 

 

C.M. Russel Museum (Great Falls, MT)


C.M. Russell Museum, Great Falls, MT
Courtesy C.M. Russell Museum

Lovers of contemporary American Indian art should rush to catch Onondaga/Nez Perce Frank Buffalo Hyde's "I-Witness Culture" (through September 13), which blends the past with the digital age, while traditionalists should look forward to "The Joseph Henry Sharp Photograph Collection," opening next summer and featuring more than 2,900 photographs, negatives, glass sides, etc. The permanent exhibit "The Bison: American Icon" remains a wonder, and, of course, you can see plenty of Charles Marion Russell artwork, plus his house and studio. CMRussell.org 

 

A.R. Mitchell Museum of Western Art (Trinidad, CO)


A.R. Mitchell Museum, Trinidad, CO
Courtesy A.R. Mitchell Museum

This remains the museum for lovers of the vibrant pulp art from magazines and novels during the 1920s through the 1940s—though hometown artist A.R. Mitchell painted more than just genre art. And since Mitchell taught art, we salute the museum for bringing in Colorado hatmaker Tom Hirt (the man behind the stars' lids in 1993's Tombstone) for Trinidad State College's hat making class.

ARMitchellMuseum.com

 

Desert Caballeros Western Museum (Wickenburg, AZ)


Sioux Chief by Frederic Remington, Desert Caballeros Western Museum, Wickenburg, AZ
Courtesy Desert Caballeros Museum

This landmark museum's "The Arizona Questers' Women's Suffrage Traveling Exhibit" revealed its focus on state and national events, while its 2021 "Collectors' Legacy: Wickenburg's Treasures" focused on its local donors. Of course, "Cowgirl Up! Art from the Other Half of the West" (through September 5) is proof that the Desert Caballeros ranks among the biggest supporters of women artists, and we're excited about "Bill Anton Paints the West" (December 18-February 27). WesternMuseum.org

 

The Museum of Western Art (Kerrville, TX)


Museum of Western Art, Kerrville, TX
Courtesy Museum of Western Art

Formerly the Cowboy Artists of America Museum, this 14,000-square-foot facility—with 23 bovedas—houses works from past masters, regional artists, all looking at the West of yesteryear and today. But the museum also includes the Griff Carnes Research Center with more than 6,000 volumes and offers art education programs. Don't forget the 38th annual Roundup Exhibition and Sale, scheduled for September 23-October 30.

MuseumOfWesternArt.org 

 

Eiteljorg Museum of American Indians and Western Art (Indianapolis, IN)


Eiteljorg Museum, Indianapolis, IN Courtesy Eiteljorg Museum

This mecca for art lovers certainly had the right idea, after more than a year of COVID, with "Laughter & Resilience: Humor in Native American Art," which closed in August. But the permanent galleries are always mesmerizing, with works by Russell and Remington, plus a collection of American Indian artifacts and stunning beadwork, and the Eiteljorg salutes today's contemporary artists who have unlimited imagination.

Eiteljorg.org 

 

Panhandle-Plains Historical Museum (Canyon, TX)


Boneta, Comanche by Elbridge Ayer Burbank, Panhandle-Plains Historical Museum, Canyon, TX
Courtesy PPHM

Illustrators often get short-changed in the art world, but this sprawling, all-encompassing museum south of Amarillo pays tribute to artists who illustrated magazines and novels—N.C. Wyeth and Joseph Henry Sharp, just to name a few—in the Foran Family Western Illustrators Gallery. "SOUTHWEST ABSTRACTIONS of Emil Bisttram," opening September 21 in the Harrington Changing Gallery, focuses on the abstract works of one of the founders of the Transcendental Painting Group.

PanhandlePlains.org 

 

Booth Western Art Museum (Cartersville, GA)


War Paint and Gun Powder by Joe Beeler Booth Western Art Museum, Cartersville, GA
Courtesy Booth Museum 

Why does this museum consistently make this list? It's because of exhibits like "CAPTIVATED: Rossin's Southwest & BEYOND" (through September 26), featuring a Bulgarian artist, Ross Rossin, who loves Western movies and spent nine days traveling through the Southwest in 2019 with Seth Hopkins, the Booth's executive director; and "Graham Hobart: Out of Africa and Into the West" (through January 23), because Hopkins dared this South Africa wildlife photographer to capture the West on film just as he has chronicled African wildlife.

BoothMuseum.org 

 

National Museum of Wildlife Art (Jackson, WY)


National Museum of Wildlife Art, Jackson, WY
Courtesy Wyoming Office of Tourism

"Exploring Wildlife Art–National Museum of Wildlife Art Gallery Reinstallation" (through August 27, 2022) shows the gallery's new layout, featuring works by Thomas Moran and Georgia O'Keeffe, American Indian birdstones from 2500 BC to Euro-American paintings and sculptures. Meanwhile, "Valued Species: Animals in the Art of Andy Warhol and Ai Weiwei" (through October 3) illustrates the works of two artists probably never considered wildlife lovers. WildlifeArt.org

Taos Art Museum (Taos, NM)


Watching the Ballgame by Oscar E. Berninghaus, Taos Art Museum, Taos, NM
Courtesy Taos Art Museum

The collection features works from the Taos Society of Artists—including Bert Geer Phillips, Eanger Irving Couse and Ernest Blumenschein—but this iconic landmark offers much more. "Through the Eyes of Fechin" (through January 9) looks at the work of Nicolai Fechin (1881-1955), the Russian artist whose historic, 4,000-square-foot adobe home houses the museum.

TaosArtMuseum.org
Favorite Western Regional Art Museums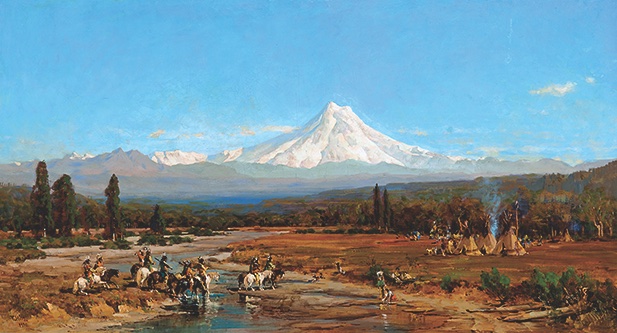 Kenedy Ranch Museum, Sarita, TX
A history museum of a legendary Texas rancher, Mifflin Kenedy (who partnered with King Ranch founder Richard King), tells its story with colorful murals by Daniel Lechón and sculptures.
Kenedy.org 
Fort Smith Regional Art Museum, Fort Smith, AR 
It might not be Western, but "Creative Forces Honoring Heroes" (September 24-January 30), open to current and former service men and women from Arkansas, Oklahoma, Missouri and Texas, aims to raise awareness about PTSD. FSRAM.org 
Woolaroc Museum & Wildlife Preserve, Bartlesville, OK 
The 1920s ranch retreat of oilman Frank Phillips includes artwork by a who's who, including Frederic Remington and Charles M. Russell, plus an extensive collection of 101 Ranch material and Colt firearms. The property itself is a work of art. Woolaroc.org 
Bullock Texas State History Museum, Austin, TX
"Mystery and Benevolence: Masonic and Odd Fellows Folk Art from the Kendra and Allan Daniel Collection" (November 13-March 27) promises to be a delightfully educational look at Masonic and Odd Fellows folk art. Bonus points for programs on literature and film (including the Bullock IMAX), while the rock'n'roll in us loved "GUITAR: The Instrument That Rocked the World," which closed in August. TheStoryOfTexas.org 
Chisholm Trail Heritage Center, Duncan, OK
More than cowboys and longhorns, this iconic stop on the historic cattle trail is known for art exhibits, including works by Osage Joe Don Brave (through September 30) and Apache-Kiowa Jackie "Blackhorse" Tointigh (October 1-December 31). OnTheChisholmTrail.com 
The Thomas Gilcrease Institute of American History and Art, Tulsa, OK
The Gilcrease's ongoing exhibitions "Americans All!" and "Enduring Spirit: Native American Art" should be on every Western art lover's bucket list. More than 13,000 pieces of work illustrate more than 400 years of the art of America. And the Helmerich Center for American Research is first-rate. Gilcrease.org
San Angelo Museum of Fine Art, San Angelo, TX 
Its collection of Spanish Colonial and Mexican religious art has been steadily growing since 2005, especially its Mexican Baroque acquisitions. Some of the names of the artists might not be familiar, but the artwork surely dazzles. SAMFA.org 
Joslyn Art Museum, Omaha, NE
Better hurry: "American Art Deco: Designing for the People, 1918–1939," a co-venture with Kansas City's Nelson-Atkins Museum, ends September 5. And if you love Karl Bodmer, you need to see the permanent collection "Faces from the Interior: The North American Portraits of Karl Bodmer." Joslyn.org 
Olaf Wieghorst Museum and Western Heritage Center, El Cajon, CA
This museum promotes more than the Denmark-born stunt rider turned cowboy, then cowboy/Western artist. New York's Salmagundi Club, whose past members include Thomas Moran and Norman Rockwell, visits September 17 to promote plein air painting. WieghorstMuseum.org 
Maynard Dixon Museum, Tucson, AZ
Located in Mark Sublette's Medicine Man Gallery, the wing displays Dixon's art, as well as photographs, books Dixon illustrated and even Dixon's easel. Sublette is one of the nation's leading experts on Dixon. MaynardDixon.org